I hope you enjoy reading the blog post.
If you want to chat now about your matchmaking search, click here.
Best Utah Matchmakers [2 Services Worth Considering, Plus Cost!]
Curious about Utah matchmakers? When you're on the search for your perfect match, hiring the right dating service is essential.
These are the 2 best matchmakers for singles in Salt Lake City and around the state, so start your search here! You'll get cost, what to expect, and all the other details you need to help choose the best service for you.
Our team has reviewed well over 200 matchmaking services, delving deep into their operations, success rates, and client experiences. With more than 14 years of first-hand industry experience, our reviews are built on extensive research and a keen understanding of the matchmaking industry.
So if you're also considering a matchmaker not on this list, make sure to check out the valuable advice at the end!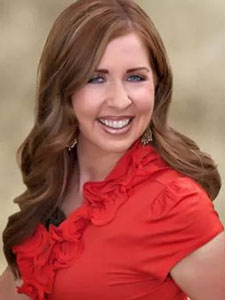 Amy Stevens Seal's LDS matchmaking service made headlines around the US back in 2019 when it rented billboard space advertising a VIP mixer event for an anonymous millionaire client hoping to meet his future wife.
Prior to matchmaking, she was an employment recruiter for 15+ years. When it first launched, Latter-Day Matchmaker was called "The LDS Matchmaker" and later rebranded to reflect the Church's preferred terminology for its members.
Clientele
Latter-Day Matchmaker works exclusively with Latter-day Saint singles from all over the world who are seeking a serious relationship with someone who shares their faith.
Cost & Contract
Joining the database of LDS singles these SLC matchmakers use to pair clients is free.
At the "Online Concierge" level, your matchmaker selects compatible profiles from the database and exchanges contact information if there is mutual interest. It costs $3,250 per month for both men and women, and includes perks like dating coaching.
The "Online Matchmaking" level is for women, and costs $4,000 per month. In addition to selecting compatible profiles from the database, your matchmaker also conducts more in-depth screening and arranges dates.
The "VIP Matchmaking" level costs $5,000 per month, and is for men. It includes both matching with singles in the database as well as personalized scouting for potential matches nationwide.
All levels include access to members-only events.
What To Expect
Whether you're interested in personal matchmaking or just joining the database as a Matchmable Member, the first step is filling out the online profile. If you sign up as a paying client, your matchmaker helps you identify 10 to 15 traits you're looking for in an ideal partner.
She then consults the database and selects a pool of compatible potential matches, then screens that shortlist. If you opted for the VIP package, the Latter-Day Matchmaker team scouts outside of Utah as well.
Stevens Seal combines ongoing dating coaching with matchmaking, and offers practice dates with employees so clients can get feedback on how they present themselves in social situations.
Founded In
2010
Further Reading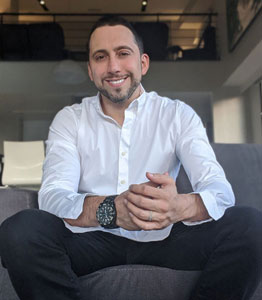 The perfect choice for Salt Lake City singles looking to meet someone incredible, VIDA Select's team of matchmakers uses a powerful combination of technology and intuition to find your ideal partner.
Clientele
VIDA clients are typically in their late 20s to 60s, successful, and committed to finding a serious relationship.
Cost & Contract
Clients can choose from a range of matchmaking packages at three levels: Basic, Premium and Elite. The cost of each package is highly reflective of the total number of hours that should be devoted to finding highly compatible matches each month.
Basic matchmaking packages begin at $1095 per month, and VIDA's Premium matchmaking options start at just $1695 per month. Elite monthly options begin at $2595. All services are paid as-you-go, with no long-term contract required.
What To Expect
The road to finally meeting your perfect match starts with a quick screening process to ensure you're a good fit for VIDA's services.
Then, you'll have an in-depth consultation with your personal matchmaker. She'll learn all about you, your lifestyle, and, of course, everything you're looking for in an ideal partner.
VIDA is a traditional matchmaking service in that you'll get to review a full profile of all the candidates identified as a potential match. That means you can look forward to first dates with amazing people who check all your compatibility boxes.
But unlike traditional matchmakers, VIDA Select isn't limited to an internal database. You'll be meeting highly compatible matches pulled from Utah's largest source of eligible singles - and the pool is nearly limitless!
You can also benefit from VIDA's comprehensive dating coaching, image consulting, pro photography and more.
On average, a client "clicks" with someone incredible after just 11 dates - so what are you waiting for? Go here to see if you qualify!
Founded In
2009
2 Ways To Hire The Best Utah Matchmaker For You
When it comes to hiring a matchmaker, there's good news and bad news.
The good news is you're not lacking for choice. From Salt Lake City matchmakers to national companies who can help singles living just about everywhere, there are plenty of dating services out there.
Now the bad news. The quality of the service you'll receive varies wildly. Unfortunately some matchmaking services have their hearts set on your wallet, and not much else.
You're savvy enough to be looking for matchmaking reviews, so here are two ways you can get the most out of what you find!
#1: Look At More Than Just The Numbers
A star or numerical rating is helpful. But seeing how (and if) a representative from the matchmaking service responds to the review can be even more valuable.
That peek behind the curtain can provide a goldmine of information, and sometimes even a glimpse at some of the language that's included in the contract if the service requires a long-term commitment.
You can also see if any specific complaints trend across multiple review platforms.
For example, consider these three reviews of a Salt Lake City matchmaker not included in this article.
Utah Matchmaker Review Example #1:
Utah Matchmaker Review Example #2:
Utah Matchmaker Review Example #3:
As you can see from the highlighted portions, these 3 clients all complained about not having a consistent point of contact.
You can use that intel to...
#2: Formulate Insightful Questions
Building on the example above, if having a dedicated personal matchmaker is important to you, you'd definitely want to ask about that aspect of customer service during your initial consultation with that particular Utah matchmaker.
Some people may not mind explaining who they are and what they're looking for every time they call in. But others may find it a lot more convenient to work with the same matchmaker throughout the process so she's already familiar with you and your matching criteria.
Take notes on anything in the reviews you want clarified, and ask direct questions during your initial consultation.
That phone or video call shouldn't be a one way street where the company learns more about you. It should be an exchange of information, where you're learning about their approach to matchmaking as well.
You may find getting answers to questions like these is helpful in making your final determination: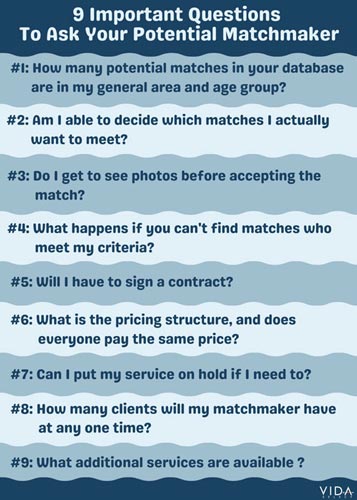 There are no "correct" answers - it all boils down to what you're comfortable with.
Ready to meet your perfect match? Find out how VIDA Select can make it happen! See if you qualify here!
All product and company names are trademarks™ or registered® trademarks of their respective holders. Use of them does not imply any affiliation with or endorsement by them.
Why Choose VIDA Select?

Since 2009, thousands of clients have discovered true love thanks to VIDA Select's fresh, modern approach to matchmaking – which has finally thrown blind dates and long-term contracts out the window. This isn't your grandmother's matchmaking!
Instead of working with a single matchmaker using a small rolodex of potential partners, VIDA Select's matchmaking team taps into the world's largest database of available singles. We'll quickly identify the matches who check all of your boxes so you can finally experience true chemistry. Are you ready to become our next success story? Schedule your complimentary consultation now by clicking the button below!
Get Started Now