I hope you enjoy reading the blog post.
If you want my team to just do your online dating for you, click here.
Veggly Review: Best Dating App For Vegans? [2023 Edition]
Veggly is a dating app that caters to vegans and vegetarians who are looking to connect with like-minded individuals for friendship, romance, or even just a conversation.
We've been in the dating industry since 2009, so we've logged hundreds of thousands of hours on all the most popular dating apps and sites - and we're familiar with all the niche platforms too.
In this Veggly dating app review, VIDA Select's dating experts dive into the ins and outs of the app, exploring its features, pricing, user experience and more to help you decide if it's the right fit for you.
Veggly Review Table of Contents
Start from the top, or jump to the section that interests you most!
Veggly: Best Dating App For Vegans?
Founded by Alex Felipelli in October of 2018, Veggly offers a solution for vegans and vegetarians who want a dating platform that prioritizes their lifestyle choices.
Felipelli, a newly single computer engineer, launched Veggly after having concerns about his online dating experience after his divorce. As he explained in an interview with Twisted, "It's hard for a vegan to date a meat-eater."
He seized the opportunity to provide a better dating experience for singles following a plant-based lifestyle, and Veggly was born. Veggly's primary goal is to create a safe and welcoming space for like-minded singles to connect, share experiences, and find compatible partners.
The app is available for both Android and iOS devices, and has a rapidly growing user base.
But is it the best dating app for vegans and vegetarians? Maybe not. That's because Veggly's biggest drawback is this:
It simply doesn't attract the same number of users as more mainstream dating apps like Bumble, Hinge and Match.
If you're not in a big city with a lot of other users, you may not find anyone compatible in your area - or any users at all. If you do decide to give Veggly a whirl, make sure you're also using a more popular dating app as well.
Many mainstream dating sites have interest badges that make it easier to spot singles who share your lifestyle than it used to be.
Who's Using Veggly?
There are over 9 million Americans who consider themselves vegan, and millions more worldwide. A survey conducted by Veggly revealed that 52% of their vegan users would not consider a relationship with a carnivore. Their Vegetarian users, a close second, had 39% mirror this sentiment.
"These findings help us understand why Veggly has become popular," according to app founder Alex Felipelli.
Currently, Veggly boasts over 500,000 users worldwide. However, you don't have to consider yourself a vegan to sign-up for the app. Its users include vegans, vegetarians, and those who are transitioning into a herbivore lifestyle.
Veggly's mission statement sets out to connect people for dates and help people within the community make friends, according to Felipelli.
"When people turn vegan, it's normally very hard because they don't have many friends or family who are vegan. We (want to help) people find friends or maybe a partner - our mission is to help people in that transition."
Veggly Reviews
Seeing what others are saying about Veggly after using it can help you decide if it's right for you.
The Veggly dating app has a rating of 3.7 on Google Play, and you'll see users sharing both positive and negative experiences.
Several of the 1 and 2-star ratings mentioned a poor user interface, like this one:

Others recommended Veggly consider adding some kind of indicator to profiles showing the last time that person was active.
This might be helpful, so you don't waste your time and energy on someone who hasn't been on the app for weeks or months.

Some of the 5-star reviewers had a positive experience, noting that the number of users is on the rise:
With a 4.2, the Veggly dating app's rating was a bit higher on the App Store.
Veggly complaints included not being able to flip through photos without individually tapping on a profile, and continuing to get Veggly notifications even after they deleted their account.
The more favorable reviews were similar to the ones on Google Play, with people saying the number of users is slowly increasing and that the people they did connect with had similar interests and lifestyles.
Veggly Pros & Cons
Let's round out the reviews section with a recap of the pros & cons.
Pros:
Exclusively designed for vegans and vegetarians
Easy-to-use interface
Veggly Premium offers additional features for an enhanced experience
Upgrading is relatively inexpensive compared to some other dating apps
Cons:
Smaller user base compared to more mainstream dating apps
Limited features in the free version
Geographic location may impact the number of potential matches
Veggly Review Verdict:
The Veggly app is user-friendly, with a clean and modern design that makes navigating the app a breeze. Users can easily swipe through potential matches and engage in conversations with their matches without any hassle.
Veggly could be a good dating app for vegans and vegetarians looking to connect with like-minded individuals who share their lifestyle choices. But if you decide to try it, keep your expectations realistic. It's geared towards a niche audience, and that means the user base is much smaller than what you'd find on other apps.
How Veggly Works
On your Veggly home screen, you can browse profiles of users who fall within your preferences. You can sort your feed by recently online (which is the default filter), proximity to you, or new users.

You can send a "Like" if you are using the app as a free member or a "Super Like" if you're a premium subscriber (more on that coming up!).
To see who has sent you a Super Like, tap on the star icon in the menu bar.

Veggly profiles show photos, age, location, proximity to you, dietary habits, and anything else they allow you to see from their profile.
If interest is mutual, it becomes a 'Veg-Match.' Premium members get notified through email, an in-app notification, and the profile will show up in the Super Likes tab.
You have the ability to hide another user's profile for any reason by simply clicking on the 3 dots in the top right-hand corner. You can even hide someone after you have liked them; however, the two of you could still Veg-Match if they like you at any point.
How Messaging Works On Veggly
You can chat with your Veg-Matches as a free or paying member. Once you have matched with someone, either of you can initiate a conversation.
Chats will appear in your 'Chat Tab' with the most recent showing up first. Access your chats by tapping on the conversion icon in the menu bar.
Veggly also gives you the ability to send audio messages, which can be recorded directly within the app.
Teleportation On Veggly
Similar to Bumble's Travel Mode and Tinder's Passport feature, Veggly's Teleportation feature lets you search for other Veggly users while traveling or from the comfort of your couch by changing your current location.
However, this feature is only available for premium members. To use the Teleportation feature, go to settings, then preferences, and click the teleportation button. A new screen will open and allow you to type in the city, state, and/or country anywhere in the world.

Now you can enjoy checking out Veggly users in Dubai while drinking your morning coffee in San Bernardino.
How Much Does Veggly Cost?
You can download Veggly and sign-up for free. Free access allows you to search for other members and chat at no cost. But if you want to access all the features, you'll want to become a paid subscriber to the Avocado Club. That runs between $7.99 and $14.99 per month, depending on your membership length.
Avocado Club benefits include:
Message read confirmations
3 carrots per month
Unlimited Veggly Teleportation use
An ad-free app experience
Seeing who 'liked' your profile
Here is how much joining the Avocado Club on Veggly costs:
Veggly Premium (Avocado Club) Costs* (2023)
$14.99 - 1 month
$33.99 - 3 months ($11.33/month)
$55.99 - 6 months ($9.33/month)
$89.99 - 12 months ($7.50)
*Pricing may vary by location
As with most dating apps, your subscription will auto renew until you cancel it.
Veggly's in-app currency is called Carrots, and free users can purchase them to unlock some premium features on a per-use basis.
Carrots can be spent to send Super Likes, boost your profile, and see who's viewed your profile. You can earn free carrots as you use the Veggly app, like getting one free when you complete your profile.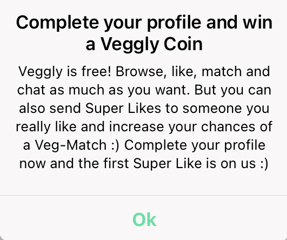 Similar to a Super Like on Match or a SuperSwipe on Bumble, sending a Super Like on Veggly is a way to let a potential match know you're genuinely interested in them. 1 Carrot gets you 1 Super Like.
Boosting your profile costs 5 Carrots for 1 VegBoost. A VegBoost makes your profile more visible for 12 hours.
Carrots (or Coins, as the app's FAQ refers to them) cost $2.99 each. The price drops when you buy in bulk:
Veggly Carrot/Coin Cost* (2023)
1 Carrot - $2.99
10 Carrots - $7.99 (80 cents each)
50 Carrots - $24.99 (50 cents each)
100 Carrots - $39.99 (40 cents each)
*Pricing may vary by location
Getting Started on Veggly
You can download the Veggly app from the iOS store or Google Play. Veggly does not have an online version of the dating platform.
You'll need a valid email to sign up and create a unique password. You've also got the option to sign in via Apple, Google or Facebook. Then you'll be prompted to provide some additional information about your lifestyle and preferences.
This information includes your dietary preference (vegan, vegetarian, or transitioning), your reasons for choosing this lifestyle, and what you're looking for on the app (friends, dating, or both).
While you can start scrolling through your potential match feeds right away, Veggly requires you to upload at least one photo to send a Super Like. And unless this is your first dating app experience ever, you already know how important photos are.
We recommend a selection of 3 to 7 photos that provide enticing peeks into your lifestyle, interests and hobbies. (For more expert advice, check out these dating photo tips!)
Your Veggly Profile
From the Profile tab, you can upload up to 9 photos and fill out the 'About Me' section, which has a 1000 character limit.
That's twice the length of a Tinder bio, but remember - potential matches are checking out your profile on a phone screen. Less is generally more in this situation. You want a bio that makes a big impact in a short amount of space.
To do that successfully, focus on the traits you have that you think the type of person you want to date would be looking for in a partner. Then, use the "show, don't tell" method to convey how you embody those traits.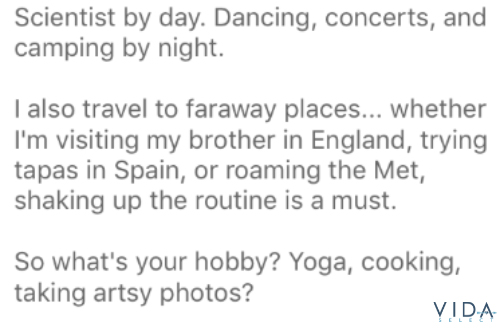 It's the difference between writing "I love travel" like everyone else does, or standing out with a sentence like "Whether I'm visiting my sister in England, trying tapas in Spain or roaming the Met, shaking up the routine is a must."
In addition to the About Me, there is also a "More Details" section where you can add additional badges and details to your profile:
Vegetarian since
Activism
Profession
Education
Height
Physical Exercise
Children
Astrology Sign
Religion
Politics
It's generally best to complete all these sections, as you never know what detail may resonate with someone who turns out to be your perfect match.
Taking the time to polish your profile also shows you're invested in the dating process, and that's attractive to singles who are looking for a serious relationship.
Looking For Your Perfect Partner?
Thanks to apps like Veggly and Grazer, herbivores have more options than ever to connect with other non-meat eaters. While Veggly gives you the ability to meet and chat with people for free, it still takes time to optimize your profile, sort through potential matches, and build up attraction via your message exchanges.
If you're struggling to meet compatible vegan singles, the dating experts at VIDA Select can help! Our modern matchmaking service handles every aspect of online dating for you, from crafting an effective profile to selecting your most effective photo lineup.
We'll even screen all your matches and handle all your messaging, representing you in a genuine and authentic way.
VIDA's been helping singles find love since 2009, and you could be our next success story. Find out how the service works here!
Want us to do your online dating for you?

Hey, I'm Ally, VIDA Select's Director of Matchmaking.
We take all the frustration, hard work and hassle out of modern dating!
Imagine your very own Dream Team of highly skilled dating experts searching for the very best local matches, sparking their interest, and arranging all the dates for you.
Wouldn't it be nice to finally stop swiping and start dating higher quality matches so you can meet someone special?
We've helped thousands of singles just like you since 2009, and we're ready to make you our next success story!
What are you waiting for? Take the next step now…
See If You Qualify