I hope you enjoy reading the blog post.
If you want to chat now about your matchmaking search, click here.
Vows For Eternity Review [Best Matchmaking Service For You?]
Thinking about trying Anuradha Gupta's matchmaking service? This Vows for Eternity review has all the information you need to help you decide if it's your best bet. Keep reading to find out how she got started, what to expect, cost, and more!
Our team of experts has reviewed over 200 matchmaking services, diving into their processes, success rates, costs, and customer experiences. With our industry experience dating back to 2009, our reviews are built on extensive research and a keen understanding of the matchmaking landscape.
Vows For Eternity Review Table Of Contents:
First, let's…
Meet Matchmaker Anuradha Gupta
Anuradha Gupta is the Founder and CEO of Vows For Eternity, a bespoke matchmaking service headquartered in New York.
Before joining the ranks of NYC's elite matchmakers, she had a career with Arsenal Football Club in London as a strategist. But as her professional endeavors flourished, she realized that she was surrounded by friends who were already happily coupled up or married.
Despite being 33 at the time, Gupta was determined not to conform to her culture's traditional norms of arranged marriages. She knew she wanted a different path to find her soulmate, one that aligned with her own values and aspirations.
As she explained to Sunday Guardian,
"I wanted someone to be able to tell me I would at least share similar values with the person, that their backgrounds were similar to mine, that we had similar educational qualifications, that our ambitions would complement each others. None of that happened. And that's how Vows for Eternity was born."
Today, Vows For Eternity has a global reach with a presence in Canada, New Delhi, Mumbai, and London. While already serving a diverse clientele, the company aims to extend its presence across the Middle East, with a special interest in Dubai.
According to Gupta, "Dubai offers an incredible mix of cultures with a strong East meets West ethos that matches very much with the core values at Vows For Eternity."
Vows For Eternity clients range from industrialists, execs and other corporate professionals to celebrities, and Gupta works with singles from all over the world. She describes them as coming from progressive families, and genuinely committed to finding a life partner.
She describes the clientele this way:
"Our member base spans 65 countries, with almost 50 percent of members being based in India. They are dynamic in their thought process and have a contagious energy and a love for the finer things in life with the drive to match it."
The majority of her clients are between 24 and 40 years old.
Vows For Eternity: What To Expect
The first step for prospective members is to submit an online application through Gupta's matchmaking website.
Next, the team will reach out to learn more about you and the type of person you are looking for, as well as discuss the available membership options.
If both parties are interested and you decide to move forward, you'll complete a comprehensive questionnaire that delves into various aspects of your personality and life. This part of the process is designed to gain insights into what truly matters to you as you're looking for a life partner.
Gupta emphasizes the importance of understanding qualities sought in a partner, family values, and self-reflection.
"Our questionnaire is quite introspective - we hope to understand things that are important to a person's search. We ask about family, what qualities they look for in another person, and how they would describe themselves. Our video chat also asks about how they value their friendships and family."
After completing it, you'll have a 90-minute+ video call with a relationship manager.
Vows for Eternity focuses on a tailored approach to matchmaking.
While they prioritize understanding your preferences and expectations, Gupta says sometimes a client's initial preferences are not adhered to.
Or as she explains,
"In a world where you can create detailed checklists of likes and dislikes, we have had people who have been quite sure that they wanted someone very similar to themselves in terms of interests and then ended up feeling connected to someone who had a very different set of interests from their own."
As a member, you will work closely with your matchmaker and the Vows for Eternity team.
Ongoing conversations with your matchmaker will help manage expectations, and you'll have opportunities to provide feedback throughout the process. Certain levels of membership allow for working directly with Gupta, who describes herself as "the bridge between potential partners."
As part of their holistic approach, Vows for Eternity encourages members to examine each facet of their lives during the matchmaking process.
As Gupta puts it,
"Finding 'The One' is not about connecting two people who are incomplete, but who want to come together because life is even more beautiful when shared."
Vows For Eternity also offers access to a "Wellness Panel" comprised of experts from various fields such as fitness, healing, nutrition, and life coaching.
How Much Does Hiring Vows For Eternity Cost?
Vows for Eternity offers a variety of membership options that fall within one of three categories: Base, Mid-Level, or Private.
The Circle and Circle Plus options are offered as a Base membership, with prices ranging from $2,800 for a 6-month membership to $4,200 for a full year.
The Pyramid and The Icon are both Mid-Level memberships. Both are 1-year memberships that cost between $7,200 and $15,000. Pricing varies based on what other services you want included, such as image consulting and/or access to their wellness team.
Vows for Eternity's Private Club is their signature service, designed exclusively for industrialists, celebrities, and successful professionals. Pricing is not openly disclosed on their website, but this level of service means that Gupta herself will be guiding your dedicated matchmaker.
For those aged 50 years or older, they offer a 2-year membership called The Arch. This package starts at $3,000.
In addition to their main offerings, Vows for Eternity extends their base-level memberships to individuals residing in Canada, the UK, and Australia. These are 1-year memberships, priced between $1,500 and $2,000
Vow For Eternity Reviews
Anuradha Gupta has received a fair share of international media attention, having been featured in publications like Vogue, Coventry Telegraph, and Forbes India.
And when it comes to clients discussing their matchmaking experience, you'll find a handful of reviews on their Google Business listing. Vows For Eternity has a 4-star rating based on 10+ reviews.

Some clients reported meeting someone special through the service, like these two:

This reviewer appreciated the matchmaking process, although it had not been successful yet:
There were a handful of 1-star reviews. One was from someone who hadn't actually used the service themselves, and the other was from a client who expressed a few frustrations with his experience:
Vows for Eternity has a 4.4 rating on Trustpilot, with reviews ranging from 4 to 5 stars.
All the reviews reported positive experiences, like these three: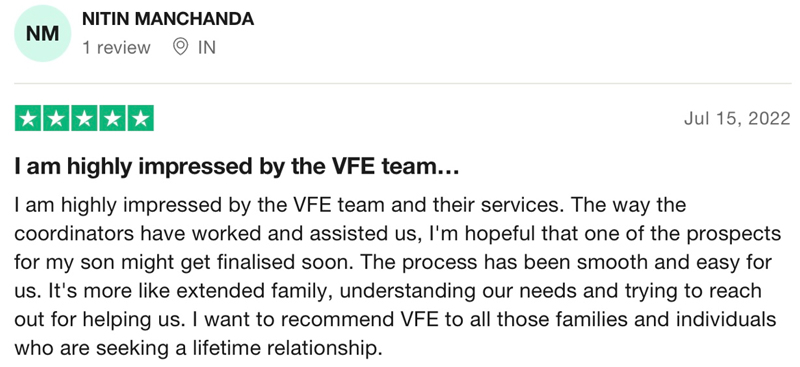 Can Anuradha Gupta & Vows For Eternity Find You Someone Special?
Whether you're considering Vows For Eternity or any other elite matchmaking service, your hiring decision will likely come down to a few key factors: budget, how you feel after your initial consultation, and where your matches come from.
For instance, traditional matchmakers like Vows For Eternity match clients with other clients. And while your ideal partner may indeed have signed up for the same service, it's statistically difficult for any matchmaker to have enough clients in one city to consistently make high-quality referrals.
That may not be an issue if you're willing to travel to meet matches. But you may also want to consider services that search beyond an internal rolodex as well.
Enamour, for instance, matches clients with other clients. The team also proactively screens potential matches, curating an extensive invitation-only database of eligible singles from all over the world.
But your search doesn't stop there, because the Enamour team also employs both recruiting tech and a network of scouts to source highly compatible matches. Enamour's matchmaking packages begin around $20,000.
And if you'd like your matchmaker to leverage the largest source of eligible singles there is, you should also consider working with VIDA Select.
When it comes to finding relationship-worthy people for you to meet, compatibility is a two-way street. It's not just about finding someone who meets your criteria; you also need to align with their preferences.
That's why it's so crucial to have access to a diverse and extensive dating pool, which is exactly what VIDA's modern approach to matchmaking unlocks.
VIDA also offers a flexible pay-as-you-go pricing structure, with service offered on a monthly basis. No long-term contracts!
Monthly package prices highly align with the number of hours that should be devoted to your search. Basic packages start at just $1095, with premium and elite options starting from $1695 to $2595.
Intrigued? To learn more, start here!
All product and company names are trademarks™ or registered® trademarks of their respective holders. Use of them does not imply any affiliation with or endorsement by them.
Why Choose VIDA Select?

Since 2009, thousands of clients have discovered true love thanks to VIDA Select's fresh, modern approach to matchmaking – which has finally thrown blind dates and long-term contracts out the window. This isn't your grandmother's matchmaking!
Instead of working with a single matchmaker using a small rolodex of potential partners, VIDA Select's matchmaking team taps into the world's largest database of available singles. We'll quickly identify the matches who check all of your boxes so you can finally experience true chemistry. Are you ready to become our next success story? Schedule your complimentary consultation now by clicking the button below!
Get Started Now