I hope you enjoy reading the blog post.
If you want to chat now about your matchmaking search, click here.
Wisconsin Singles Reviews [Including How Much They Cost!]
Investing in a matchmaking service is a big decision. So doing some research and reading Wisconsin Singles reviews first is smart. When you're already frustrated by the Madison singles scene, choosing the wrong matchmaker is the last thing you want to do.
Keep reading for a full rundown on this Madison matchmaker, including how much they cost, who runs the show behind the scenes, and what actual clients thought of the service!
Wisconsin Address, Not-So-Local Ownership
They've got a local office in Middleton: 8500 Greenway Blvd. But the company that owns Wisconsin Singles isn't anywhere near Madison. It's actually part of a nationwide network of matchmaking websites.
You'll notice a similar look and feel across all of them, and they also share the same process. If you want to learn any specifics about the matchmaking service, you'll need to either call them or arrange to have them call you by filling out the simple contact form:
Check Out The Fine Print
Did you catch the fine print about the Privacy Policy? Clicking "Complete" means you agree with it, and chances are you didn't read it first. Here are a few key snippets you may have missed:

The main takeaway from the above paragraphs is you're more than likely about to get more telemarketing calls than usual. You may also notice an increase of banner ads when you hop on social media.
That's because Wisconsin Singles, like all the matchmaking services under the same ownership, probably sell that personal contact info you just provided as a sales lead to other marketing companies.
Should you go ahead and tap that big orange "Complete" button, you'll see a screen with some questions like these:
Most of the questions on the form are pretty standard fare for a matchmaking service. After all, they've got to get to know you first if they're tasked with finding your dream partner.
But you don't have to fill the form out online. You can hold off and discuss everything when a Wisconsin Singles matchmaker calls to set up the initial appointment.
You'll likely find you can't get answers to many of your questions over the phone. That's what the face-to-face sales pitch is for. It's also when you'll get down to the important stuff, like the price.
How Much Does Wisconsin Singles Cost?
According to a FOX6 investigation, it depends on when you sign up. There's the "good today only" price tag, which goes up significantly if you want to take a day or so to think it over.
A Wisconsin Singles matchmaker insisted that wasn't to pressure people into signing the contract, but rather to help them avoid procrastinating. As company spokesman Gerry Gross told reporters, "One of the biggest reasons single people are single is because they continue to put this part of their life off."
Clients told Fox6 investigators they'd paid between $5,000 and $7,000 for matchmaking services, and those prices are in line with what clients mentioned in their Wisconsin Singles BBB reviews (you'll see a few of those coming up!)
Typically, you'll be asked to pay the entire membership cost upfront. The duration of your membership, how many introductions you can expect, and other details will be outlined in your contract.
Make sure you read that contract thoroughly before signing it. Wisconsin Singles only offers refunds within the first 3 days. Once the clock strikes midnight at the end of that third day, you're likely out of luck.
And as the Fox6 reporters discovered, you may not have even heard from your matchmaker within that period:
If you do sign up for Wisconsin Singles...
You'll be matched with other Madison singles in their database. This dating agency doesn't actually arrange the dates. Instead, both halves of the match receive contact information, plus some basic background facts like occupation and where they live. That counts as a "match," which will be deducted from the total listed in your contract.
One thing you don't get to see prior to the date? Photos.
As one of the Wisconsin Singles matchmakers told Fox6 reporters - the staff does "all the work" when it comes to determining compatibility, including choosing someone they think you'll find attractive.
Great time saver in theory. But in practice, does it really work? Check out what some real Wisconsin Singles customers wrote in their matchmaking service reviews...
Wisconsin Singles Reviews
This Madison matchmaker doesn't have a rating with the Better Business Bureau, but you will see an "Alert":

You'll also see 9 negative reviews and 7 customer complaints, but no positive reviews (yet).
Many of the reviewers mentioned low quality matches, and felt their "ideal partner" criteria wasn't taken into consideration at all: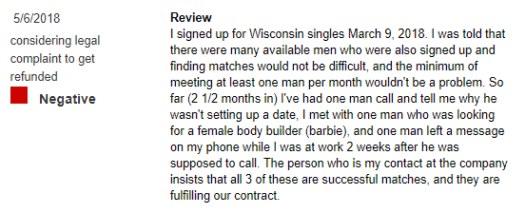 This reviewer was upset not only at the low quality of her matches, but also because some of them paid far less for the matchmaking service than she did: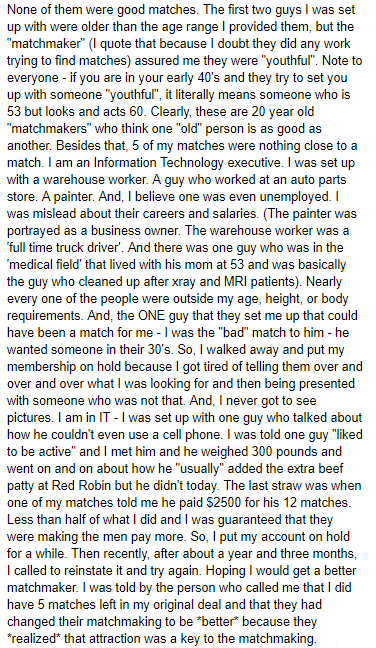 This client was frustrated she wasn't dealing with a local matchmaker:
Wisconsin Singles has a 1-star rating on Yelp, based on 2 negative recommended reviews. This client mentioned several of the same complaints that were raised in the BBB reviews, like low quality matches and working with multiple matchmakers:
The other recommended review for Wisconsin Singles was from a client who was upset that he was asked to pay an additional $900 to reactivate his membership after putting it on hold:

There were quite a few negative reviews for Wisconsin Singles on Ripoff Report. Most of them again echo the same complaints:
And finally, the customers who spoke with the Fox6 reporters also had negative things to say about this Wisconsin dating agency:
So does the lack of positive reviews online for Wisconsin Singles guarantee your experience will also be bad? Not necessarily. After all, when someone has a positive experience they generally aren't as likely to share it on local review sites as people who feel they've been burned in some way.
But it does indicate you should probably proceed with caution. And maybe consider a few more matchmaking service options as well. Given all the reviews you just read, maybe you'd feel more comfortable hiring a matchmaker that doesn't require you to commit to a contract?
Meet Incredible Madison Singles, Without A Risky Contract!
VIDA Select is a different kind of matchmaking company - you pay by the month, work with a dedicated matchmaker, and get unlimited matches.
All that, without having to sign a long-term contract!
Plus, you'll get unlimited matches, carefully selected from Madison's largest pool of singles. No need to worry about disastrous blind dates - you pre-approve all your matches based on photos and a full profile.
The first step to finally meeting your perfect partner is a quick, confidential, and free phone consultation.
No need to worry about high pressure sales tactics! VIDA's pricing is clearly explained.
Matchmaking services are offered at 3 levels, Basic, Premium and Elite. Package pricing highly reflects the number of hours that should be devoted to your search every month, taking into consideration how many cities you'd like to look in, how complex your matching criteria list is, which matchmaker you work with, etc.
Basic matchmaking services start at $995 per month. Premium package options begin at $1595 per month, and Elite matchmaking packages start at only $2395 per month.
The average VIDA client feels a spark within the first 90 days, so what are you waiting for? Click here!
All product and company names are trademarks™ or registered® trademarks of their respective holders. Use of them does not imply any affiliation with or endorsement by them.
Why Choose VIDA Select?

Since 2009, thousands of clients have discovered true love thanks to VIDA Select's fresh, modern approach to matchmaking – which has finally thrown blind dates and long-term contracts out the window. This isn't your grandmother's matchmaking!
Instead of working with a single matchmaker using a small rolodex of potential partners, VIDA Select's matchmaking team taps into the world's largest database of available singles. We'll quickly identify the matches who check all of your boxes so you can finally experience true chemistry. Are you ready to become our next success story? Schedule your complimentary consultation now by clicking the button below!
Get Started Now