Isn't It Time You Finally Meet The Man Of Your Dreams?
The bar scene is full of Mr. Wrongs, and if your friends really had "the perfect guy for you," you wouldn't still be single.

Bumping into Mr. Right at the grocery store? That only happens in the movies.

Maybe you're "always the bridesmaid and never the bride." Or perhaps you've recently come out of a divorce, and feel you could use a little extra help getting back into the dating scene.
Whatever your case may be, you want to find a guy.
But not just any guy. You want to find a great guy!
Dating apps like Bumble and Match seemed promising until you realized two things:

1) Online dating's a part-time job.

Wouldn't you prefer to spend those hours with your friends, at the gym, a salon or heck, doing just about anything other than swiping through endless profiles?

Well, you're not alone. According to academic research, the average online dater spends 12 hours per week on dating apps. Who even has that kind of time?

2) You're attracting all the wrong men.

It's frustrating when all you have to show for all of that effort is an inbox full of guys who don't particularly interest you!

You know what you want. And you're not settling for less!

Why does your search for the perfect match have to be so difficult?

Surely, there has to be a better way.
Stop Wasting Time Talking To All The Wrong Guys…
Instead, Let Us Find "The One" For You!
Wouldn't it be nice to have an expert doing all the hard work for you, so you can simply meet higher quality matches?

With your VIDA Select matchmaker by your side, you'll skip the frustration of modern dating and fast-forward to the fun part: getting to know your perfect match!
Meet Dylan & Julie, VIDA's Latest Success Story 💍
Isn't Meeting 'The One' Worth A Quick Conversation?

Introducing VIDA Select, Matchmaking With A Modern Twist
Here's how your seasoned matchmaker will find the perfect catch for you:

After learning about you and your ideal partner, a captivating dating profile will be designed to attract just the type of guy you'd like to meet.

Your best qualities will be highlighted in an authentic way that makes "the real you" irresistible!

Your perfect profile, combined with our professional matchmaking touch, will have more eligible men vying for your attention than ever before.

We carefully curate and prescreen your most compatible matches, then send them to you for approval.

Finally, we'll handle all of the tedious back-and-forth messages and ask all of the right questions before you meet your match.
We reel in the "keepers" and weed out the "creepers" while you relax with the peace of mind that your search for love is in expert hands.
Wasting hours of your time meeting the wrong men is emotionally draining. Why continue doing the same thing over and over again when what you really need is a new approach?

With VIDA Select, you can show up to your dates knowing that the man you're about to meet actually "checks all your boxes."
You'll feel like "The Bachelorette." The only question is… who will earn your rose?
Find Out Why So Many Smart, Successful Singles Have Been Choosing Us Since 2009…
…and why media outlets like CNN, the Washington Post, Global News, Fox & Friends, and The Today Show love what we're doing, too.
What Other Women Are Saying About Our Service: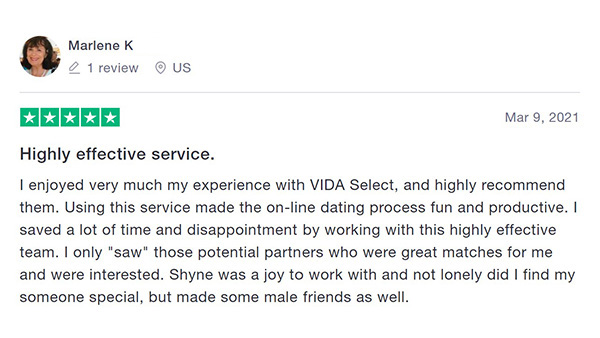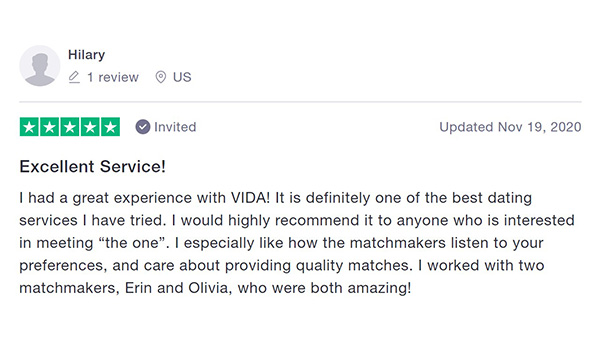 VIDA has definitely improved my dating life 100%! And it's been so lovely to get to know these guys, and to have a laugh with them - not to mention be on the receiving end of all these compliments and sweet texts. The best part is, I think I've found The One. So many thanks for the amazing job you've done!

Laura K.

Seattle, WA

Every single guy VIDA set me up with until I met my new boyfriend was hot and a great person. It's such a wonderful service that VIDA provides. I'm so lucky I heard about you on TV (especially since I barely ever turn it on)! I've told like a dozen of my single girlfriends because I can't recommend this service enough.
Erica M
Los Angeles, CA

My sister told me about VIDA after she used the service and met someone. They re-wrote my profiles, responded to messages, and all I had to do was show up for the date! Within 2 months, I had gone on 13 dates with different successful guys!! I'm now seeing someone seriously that I REALLY like so hopefully I'll be announcing my engagement soon. ♥

Charlene S.

Chicago, Illinois

I used to think I was cursed to attract only the creepiest guys, wondering why can't I just meet a normal, cute man? I had no idea a great profile would do all the hard work for me and introduce me to all these guys who are fun, attractive, and interesting. I can definitely say it's made a huge difference because I've already met 2 Keepers in the first 2 weeks with my new profile!

Karen H.

Orlando, FL

VIDA's service has been great so far. I already went on one date and have another lined up. I definitely needed the photo shoot and I'm glad my Matchmakers set that up for me. Both Maria and Sheri are really prompt in answering questions. The list goes on and on and... I definitely see the value VIDA provides!

Victoria T.

Toronto, Canada

I do have to say that you and the writer have been wonderful. It's amazing reading all the messages that were sent out. I am really impressed. So worth it! I am glad that I don't have to be the one dealing with some "jerks" on these dating sites. Boy, I just can't deal with them.
Angie L.

Bismarck, ND

Your Perfect Match Could Be Just A Few Clicks Away...
Meeting your ideal partner begins with a short questionnaire followed by a casual, confidential conversation with one of our matchmaking experts.

We'll learn more about you and what you're looking for, and make sure we're a good fit to work together. The call is free with no pressure to join!

Click on the button below and answer a few quick questions. If you qualify, you'll be invited to schedule the consultation via our automated booking system. It just takes around 47 seconds!

Why wait a minute longer to finally meet someone special? You have nothing to lose and so much to gain!
Get Started Now

MEN GO HERE