Say Goodbye To The Swipe & Hello To Your Perfect Match With These 3 Proven Steps...
1. We Get To Know You

2. We Attract The Right Matches

3. We Screen & Schedule Your Dates

Step 1.

Getting To Know You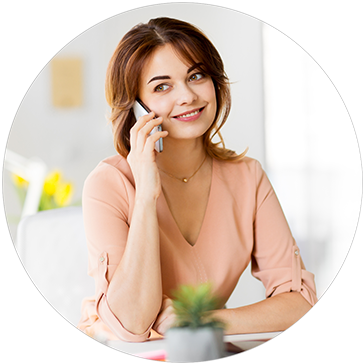 Your matchmaker's the first match we'll be making for you. She gets to know you during a laid-back and confidential phone conversation, and is your guide, coach, and confidant throughout the entire process.
It's like having your own personal Cupid who's always there, lining up new matches, lending an ear, and offering advice.
This first stage is all about crystallizing your ideal type and identifying the relationship dynamic that will work best. Your matchmaker skillfully gets to the heart of what matters most in your search for the perfect guy.
Our proprietary personality profiling and carefully constructed questions guide your entire journey. It's also how we represent you authentically at every stage.
Step 2.

We Set You Up To Attract The Right Matches

Most of our clients don't have any problems meeting men. They tell us they simply attract too many of the wrong ones on their own!
After all, modern dating isn't easy.
First, most dating apps are a total waste of time, so you need to know which ones to use.
Then you have to communicate just the right things in your profile and photos. Using our archetype of your ideal man, we'll meticulously design every character and pixel to make you irresistible to him.
Photos are just too important nowadays to leave to mere guesswork. That's why 15+ in-house experts participate in our data-driven process to determine your optimal photo lineup.
If we feel you could benefit from professional photos, we'll send out a photographer we've trained to take natural, candid-looking pictures. We can even hook you up with our in-house stylist to ensure you shine your brightest.
Get ready to meet much higher quality matches! And the best part is… Thanks to our extensive personality profiling and commitment to authentic representation, you'll be set up for success on each and every date - guaranteed!
Step 3.

We Screen & Schedule Your Dates
Your new profile is guaranteed to attract more attention from just the kind of men you want to meet. But when you're looking for the man of your dreams, that's not enough.
Why play "the waiting game" and leave love to chance?
We sift through thousands and thousands of profiles in search of the most compatible matches in your area.
Sometimes we casually break the ice with a pre-approved message that's short, fun, and lighthearted. Other times he'll eagerly send you the first message when we put your profile on his radar.
This is where our most important work begins. Your dedicated VIDA Select expert will weed out the players, time-wasters, and losers by artfully asking just the right questions.
We aren't just saving you from bad first dates. Many women waste years of their lives in relationships with the wrong men simply because they keep meeting the wrong men.
As we handle your back-and-forth messaging, we'll weed out the duds and capture the full attention of your most relationship-worthy matches. You can finally focus your energy on men who are truly worth your time!
And just to be absolutely certain, we'll ask you to confirm which matches interest you most before we begin setting up your dates. That way you can rest assured that you'll always be excited about each and every one.
Before you meet him over the phone or in person, we'll make sure you know everything there is to know. The last thing we want to hear is how you mixed up Mike with Mark!
After each date, your matchmaker loves to hear about the chemistry you felt with your match, how it all went, and whether you plan to see him again.
Most clients meet someone with true, long-term potential within just a few months, and we can't wait to make you our next success story!
You Could Keep Trying To Meet Him On Your Own, But...
They say the definition of insanity is doing the same thing over and over and expecting a different result.

You're not the only one stuck in that loop, and it's not getting any easier…

In fact, a recent study by Pew Research Center revealed that nearly half of US adults say dating is now harder than it was just 10 years ago.

Most singles spend about 2 hours a day on apps trying to find the perfect match, but come up empty-handed.

You've probably already seen how the amount of interest from men can be downright overwhelming-and yet it's still really difficult to meet the right ones.

You deserve better! Thanks to our proven approach to modern dating, 99.6% of VIDA clients meet quality matches, and 78% start a relationship within 3 and a half months.

We realize you probably don't want to be on dating apps, you just want to meet the right match for you. When we introduce you to him, we'll be happy to take your profile down for you - hopefully forever!
So, Are We The Right Fit?

It may surprise you to hear that we don't take on everyone who wants to sign up for our service. We only bring on new members we're confident we can successfully match.

While we're very good at what we do, we don't have a magic wand. You have to be emotionally ready for a serious relationship!

And if you want to see the same outstanding results as our other clients, you also have to be willing to trust our team of experts to do what they do best.

You're only a few clicks away from meeting the attractive, successful, committed man you've always wanted...
Ready To Get Swept Off Your Feet?
Here's what to do next…
If you're ready to finally start meeting matches who check all of the right boxes, let's take the next step and see if we're a good mutual fit to work together.

There's no pressure to sign up. Just take 47 seconds now to answer a few quick questions and see if you qualify for VIDA Select's signature service.
Get Started Now

MEN GO HERE