I hope you enjoy reading the blog post.
If you want my team to just do your online dating for you, click here.
Zoosk Review [2023] - Legit Dating Site Or Waste Of Time?
Want the full scoop on Zoosk? Look no further! This comprehensive Zoosk review includes an in-depth analysis of Zoosk, its features, and whether or not it's worth your time and money!
Zoosk Review Table of Contents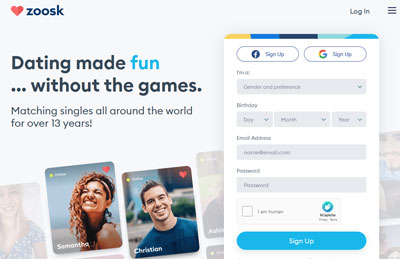 Originally launched by entrepreneurs Shayan Zadeh and Alex Mehr in 2008, Zoosk was acquired by Spark Networks SE in 2019. Spark Networks owns a portfolio of dating sites and apps, including EliteSingles, SilverSingles, Christian Mingle and JDate.
Zoosk might be a solid choice for those looking for a user-friendly dating platform with a large(ish) user base and unique matching algorithm.
If you're looking for a more personalized dating app experience, you may appreciate the algorithm's focus on behavioral matchmaking and the SmartPick features. (More on those coming up!)
But that being said, Zoosk doesn't have the overall draw of industry staples like Match.com, Plenty Of Fish, Tinder, Bumble and Hinge. So it may take you longer to get the results you want. VIDA Select's dating experts recommend using Zoosk in conjunction with a more popular dating app, if you do decide to try it.
To help determine if Zoosk is right for you, let's take a look at its advantages and disadvantages.
Pros & Cons Of Zoosk
Starting with the good news…
Zoosk Pros
It learns from your interactions. The behavioral matchmaking algorithm analyzes your actions as you "❤️" or "X" each profile, and uses that data to present more compatible profiles in the Zoosk SmartPick feature.
It gives you insights: With the Zoosk Insights feature, you get a report of your dating interactions, showing who you like, who likes you, and your dating style. This reflects what you have in common with your top picks and the type of people you attract.
It has a large user base. Zoosk is available in over 80 countries, providing an opportunity to meet someone who lives abroad or international singles who live nearby.
It attracts singles looking for a long term relationship: Messaging is a premium feature, which helps weed out the flakes & fake profiles.
It has a companion app: You can download Zoosk for Android or iOS devices.
And the bad news…
Zoosk Cons
It's not as popular: Zoosk is less popular in the US when compared to more established dating sites such as Match and POF.
There's not much you can do for free: You can browse profiles, but you'll need a paid membership to engage in conversation or interact with other singles.
The algorithm has its limitations: Adaptive matching technology can only do so much when it comes to predicting real-life compatibility, so you'll have to vet people you're interested in for common interests, etc.
The app version has limited functionality: It doesn't include all the features you get using Zoosk online, such as the Insights.
Browsing online review platforms is a good way to get a sense of what other users experienced, which can help you determine if signing up is worth your time.
Zoosk Reviews Roundup
On Consumer Affairs, Zoosk has a 3.9 star rating from over 1,000 users. Reviews were mixed, but the 5 & 4 star reviews outweighed the negative ones.
Users like these two shared that they found a long-term relationship via the dating site:


Several Consumer Reports Zoosk reviews like this one mentioned that the cost was higher than other dating sites, but that helped improve the match quality:

On the other end of the spectrum, the negative Zoosk reviews mentioned drawbacks like perceived "fake" activity: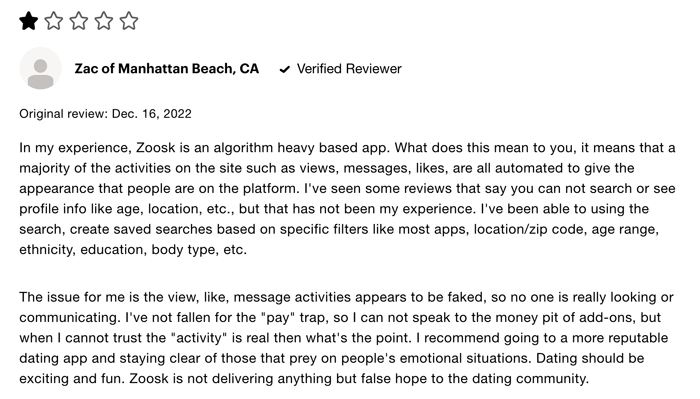 And lack of matches in the reviewer's area:


Zoosk reviews on Trustpilot also vary from good to bad. But in this case the complaints outweighed the praise, with more 1-star than 5-star reviews. But overall, Zoosk has a 2.5 star rating.

Lack of nearby matches was a common theme: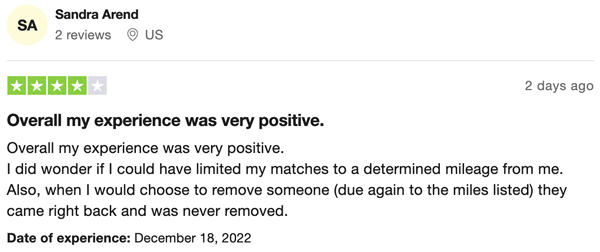 With some reviewers complaining that matches they'd passed on kept popping up:

When it comes to the Zoosk dating app, reviews are mostly positive at the App Store - Zoosk has a 4.2 / 5 star rating, based on 70K+ reviews.
Android users reviewing the app on Google Play weren't quite as happy with the experience, resulting in a 3.3 / 5 star rating overall, based on 62K+ reviews.
User reviews and star ratings are helpful guides, but your individual experience may vary depending on many factors, including where you live, what kind of match criteria you specify, etc.
Zoosk does periodically offer free trials or promotions, so if you're on the fence about trying it you may want to wait for one of those. To see if Zoosk is currently offering a promotion, go to the "Does Zoosk offer free trials or promotion codes" section of their help page.
Is Zoosk Worth Paying For?
When considering whether Zoosk is worth paying for, it's important to look beyond just the overall user ratings. Some recent customer reviews raise concerns around poor customer service, lack of compatible matches, and difficulties removing profiles from the platform. But other reviewers were able to use it successfully. If you're willing to take on some potential risks, Zoosk may be worth exploring as a possible dating platform if you live in a highly populated area with a lot of other users.
Zoosk Premium Cost
Zoosk is free to sign up, but messaging and connecting with users requires a paid subscription. The longer the subscription, the more you'll save:
Zoosk Premium 2023 Cost*
1 month - $34.99
3 months - $21.66/month ($64.99)
6 months - $15.00/month ($89.99)
12 months - $11.67/month ($139.99)
*Cost may vary by location
Your membership plan will automatically renew unless you cancel it.
To cancel your subscription via your Zoosk online account:
Login to Zoosk
Click on "Settings" from the menu
Select "Subscription" menu on the right
Select "Cancel Subscription"
Click "Unsubscribe" then select the reason for canceling your Zoosk account
Confirm your action, which will bring up a confirmation screen displaying your subscription's end date
To cancel your Zoosk subscription via the dating app:
Login to your Zoosk account
Tap on the 3 lines icon in the top left
Tap the gear icon to navigate to "Settings"
Tap "Subscription"
Tap "Cancel Subscription"
Follow the instructions provided for your device
Keep in mind that canceling your Zoosk subscription does not deactivate your Zoosk account.
If you're a free user and/or you want to deactivate your Zoosk profile, follow these instructions.
To deactivate your Zoosk account via your computer:
Log in to Zoosk
Click on "Settings"
Click on "Account"
Select "Account Status"
Click on "Deactivate Account" and select "Deactivate"
Select the reason
Select "Continue Deactivation"
Click on "Deactivate Account"
To deactivate your Zoosk account via the dating app:
Login to your Zoosk account
Tap on the 3 lines icon in the top left
Tap the gear icon to navigate to "Settings"
Tap "Account"
Tap "Account Status"
Tap "Deactivate"
Choose the reason
Select "Continue"
When you deactivate your Zoosk account, your profile is no longer visible to other members. If you deactivate your account before your premium membership ends, you will lose any subscription benefits you had remaining.
Zoosk Upgrades
Zoosk subscribers can also purchase upgrades to unlock extra perks. These add-ons cost approximately $9 - $10 extra a month.
These 3 upgrades can be purchased at any time by going to the Subscriptions settings and selecting "upgrade":
Premium Messaging
If you upgrade to Premium Messaging on Zoosk, that means free members can reply to messages you send them. This add-on costs an additional $9.99/month.
Hide & Seek
This add-on lets you control your visibility on Zoosk. When you "Hide" your profile, only the people you like can see you. It's the same principle as Tinder and Bumble's Incognito Mode.
If you stay in "Seek" mode, that means your profile is fully visible and other users will know when you visit their profiles.
In "Sneak" mode, your profile is still fully visible, but other users won't know that you've checked out their profiles.
Instant Crush
This upgrade gives you a way to make more connections when you're playing Carousel.
You'll get 5 Crushes a day, which is the equivalent of a Match Super Like or a Bumble SuperSwipe. It's a way to let someone know you're "really" interested in them.
The Instant Crush upgrade also allows you to undo a "No" so you can change your decision to "yes".
Users can also purchase some upgrades ala carte, using Coins.
Zoosk Coins
Zoosk coin packages allow users to spend coins to enable additional features. The more you purchase at once, the less each coin costs:
Zoosk Coin Cost* 2023
$9.99 - 60 coins
$19.95 - 180 coins
$39.95 - 480 coins
$99.95 - 1800 coins
*Cost may vary by location
These coin packages are a one-time purchase, so your package won't auto-renew like a subscription does.
Here are 3 features you can use Zoosk coins to unlock:
Go Invisible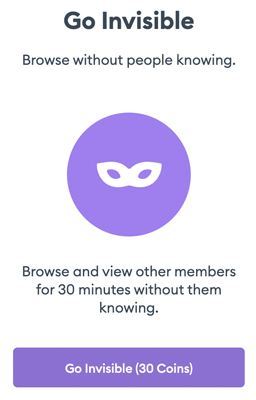 Go Invisible allows you to browse profiles anonymously for 20 or 30 minutes, depending on which device you're using when you activate it. Otherwise, Zoosk users will receive an alert when you check out their profile.
To Go Invisible, log in to Zoosk and navigate to the bottom of the Search page. There will be a "Go Invisible" button that looks like this:
Or browse through your Views to find a "Go Invisible" banner. When this feature is running, you will notice a purple bar at the top of your profile with a countdown noting the time you have left.
Zoosk Boost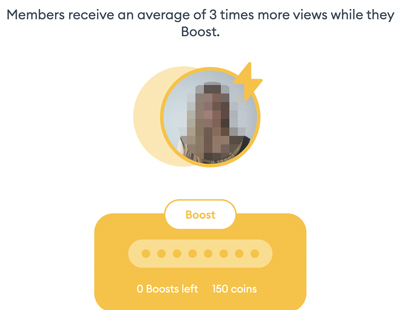 A Boost gives your profile more visibility, just like a Match Boost or Bumble Spotlight.
For 150 coins, users can promote themselves on Zoosk through Carousel and in people's messages. The more you Boost, the more people will see you.
To activate a Boost, tap the lightning bolt icon.
Super Send
Super Send is a tool you can use to promote yourself. Choose a message to break the ice and Zoosk will send it out to loads of singles in the equivalent of an email blast.
When someone messages you back, you can view each other's profiles. Similar to Boost, users click the lightning bolt icon to access the Super Send feature.
Keep in mind that you'll need a premium subscription to read all the responses.
How Does Zoosk Work?
Remember, Zoosk is not a dating site you can use effectively for free. As a free member, you're basically limited to signing up and browsing profiles. If you want to do just about anything else, including send and reply to messages, you'll need to pay for a membership.
Finding Matches On Zoosk
Like most dating platforms, Zoosk has several sections where you can view potential matches and decide which ones you like and which ones you're not interested in.
The algorithm tracks your activity on the platform and uses this data to provide more compatible matches over time. This means that the more you interact with the platform, the better Zoosk becomes at suggesting potential partners for you.
Zoosk Carousel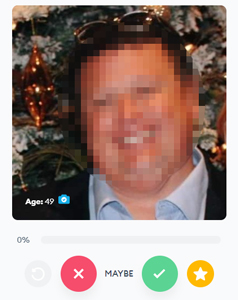 Users can browse profiles using the Carousel feature, which allows them to swipe right if interested or left if not. If two users swipe right on each other's profiles, they become a match and can start messaging.
Swiping through profiles in the Carousel is a good way for the algorithm to learn your preferences.
But one common Zoosk complaint is you're making decisions based solely on appearance, age and match percentage, as there is no other information available about each potential match in the Carousel section.
In the Carousel, you have three options:
Tap the red X button to pass
Tap the green check button to "like"
Tap the yellow star button to send a "Crush" (only available to upgraded members)
When you select Like or Maybe in Carousel, that user will receive a notification that you're interested in meeting them. It will also ask that user if they are interested in meeting you as well.
If they are, Zoosk will create a mutual match and it will show up in your Connections section.
In order for your profile to show up in Carousel for other users, you'll need to purchase a Boost.
SmartPick
Zoosk's SmartPick feature is similar to Tinder's Top Picks and Match's Highlights.
This feature evaluates your compatibility and suggests matches based on your "yes" and "no" votes. To better improve your results you can answer the SmartPick survey questions.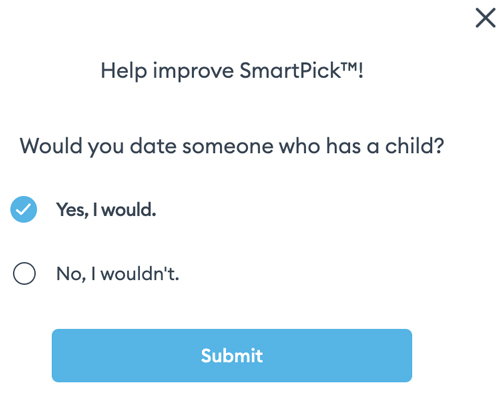 These SmartPick potential matches are only available for a limited time.

Review the profile that's been selected for you and decide if you're interested. Your vote remains private unless you both select the heart icon. When this happens, both users are notified that it's a match.
Since this feature is adaptive, you should ideally review matches every day and vote so it learns your preferences.
SmartPick is free to use but requires a subscription to connect with users.
Online Now
As the name implies, Online Now allows you to view who is currently active on Zoosk at this very moment.
Search
In this section, you can browse through potential matches Zoosk suggests based on your age and distance preferences. You can also do an advanced search, however that requires a premium membership.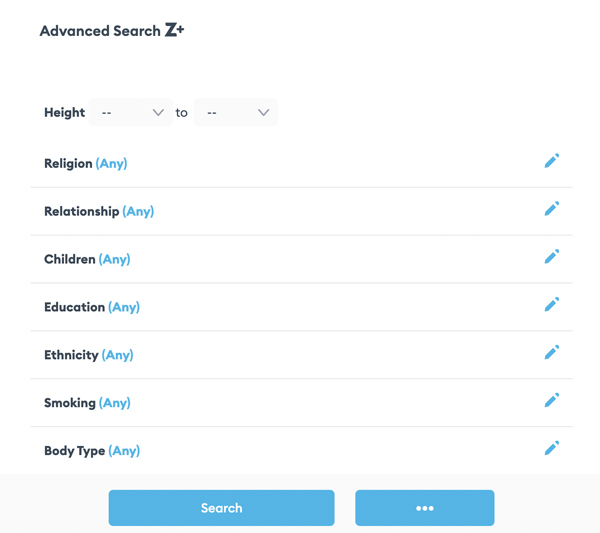 The advanced search allows you to screen for height, religion, relationship sought, children, education, ethnicity, smoking, and body type.
Messaging On Zoosk
Messaging on Zoosk is straightforward, but remember you'll need a paid subscription to do it. The exception is that free members can reply to messages sent by paid users who have also purchased the Premium Messaging upgrade.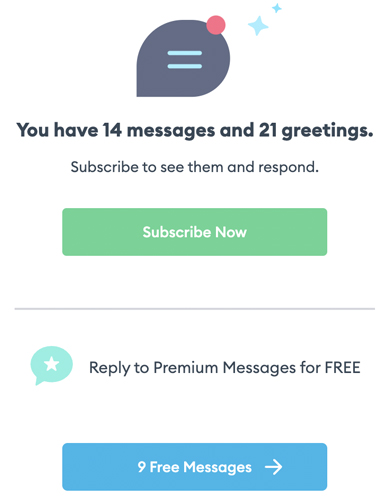 You can access all of your matches and conversations in the Connections section. Whenever you get a new match, it will pop up here.
You don't need to match with someone before sending them a message in the Search and Online Now sections. You can send your message right from the profile screen.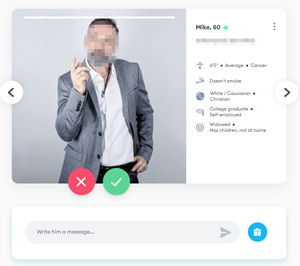 An effective first message on Zoosk needs to stand out, because there's a lot of competition on dating sites. Especially for the most attractive users!
VIDA Select's team of dating experts recommend including the recipient's first name as a way to draw attention to your message. Then, ask a fun question that's easy to respond to, like this:

Make sure to periodically check out your "Views" feed, where you can browse through profiles of users who have visited your profile. If any of them catch your eye, send a message!
Getting Started On Zoosk
Now that you know how Zoosk works, let's go over how to sign up.
Zoosk Sign Up
First, you will have to set up your profile with your email, date of birth, password, as well as your gender and preference.
Zoosk only offers four options when it comes to gender and preference. "Man interested in women," "Woman interested in men," "Man interested in men," and "Woman interested in women."
It's not the most inclusive dating site out there for LGBTQIA+ singles. If none of those options cover you and what you're looking for, you're likely better off using a dating site like OkCupid instead.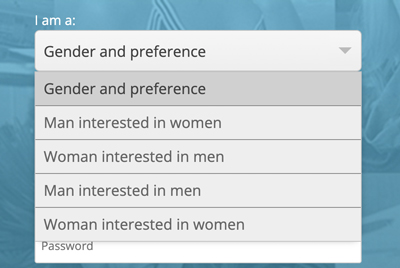 Second, answer a few basic questions about yourself:
What's your gender?
What's your ethnicity?
Are you a smoker?
What's your religion?
Do you have children?
What's your height?
What's your highest level of education?
Third, include photos of yourself. These can be taken from Facebook or uploaded directly from your device.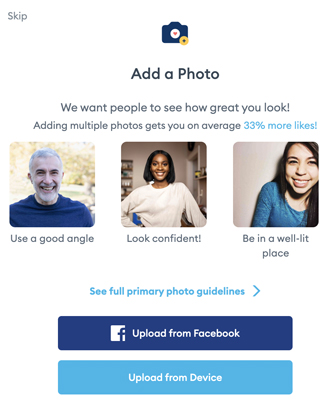 Zoosk does let you skip adding a photo, but you won't have access to many of the site's features, even the free features, without uploading at least one.
First impressions are everything, especially when it comes to choosing your primary photo.
Online dating has been around for a long time, so you likely know the basics: choose a photo where you look good, taken with good lighting, that's a high-quality image. Blurry, out-of-focus, low quality images won't attract the type of matches you want to meet!
But keep in mind that Zoosk's Carousel is *all* about the photo - the only other information included on it is your age and match %.
That means not only do you want to choose a flattering photo, you also want a photo that speaks to your lifestyle, interests and hobbies.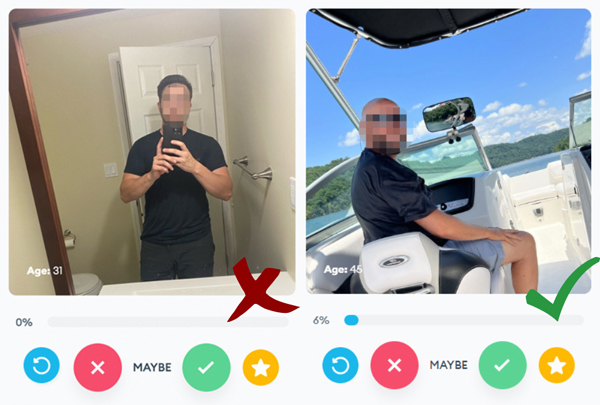 See the difference? Ideally, you want to choose a background that makes your potential matches want to spend time with you.
Select a range of 3 to 7 photos where you look equally good. It only takes one bomb to turn a yes or a maybe into a no.
When you are finished answering questions and uploading photos, you end up on the Zoosk main page. But before you start looking for singles, you'll want to complete your profile.
Just click on your photo to see what else is required to finish your profile:
Zoosk will tell you exactly what you still need to add. While you only need to add at least one photo to have full use of all the free features, you'll make more meaningful connections with a complete profile.
Especially if you're looking for a serious relationship.
Zoosk Verification
All dating sites and apps have their fair share of fake profiles, so it's generally a good idea to verify yours as a way to attract more matches.
To verify your account on Zoosk, you can connect it to one of your social media (e.g. Twitter, Instagram, Facebook), provide your mobile number, or verify it by photo. For the last option, Zoosk will review a video of you and compare it to your photos to confirm it is you.
Most dating sites and dating apps use verification technologies to protect their users against catfishers and scams.
Zoosk claims that users who have verified photos can get up to 100% more messages. That's a pretty good reason to verify, especially when it also legitimizes your profile.
Zoosk Icebreakers
You can add up to 4 icebreakers to your profile, which are questions you can answer as a way to share your personality, interests, hobbies and lifestyle with potential matches.
How To Choose The Best Icebreakers For Zoosk
For the best chances of success on Zoosk, get strategic about which prompts you choose to answer.
Start by identifying a trait you have that most singles look for in a partner, or by picking an interest that you would like to have in common with a match. Then choose the prompt that best lends itself to that answer.
This will encourage like-minded people to message you.
For example, the "Mountain or sea?" icebreaker is a fun opportunity to highlight your sense of adventure and love for travel, while also hinting that you're physically fit: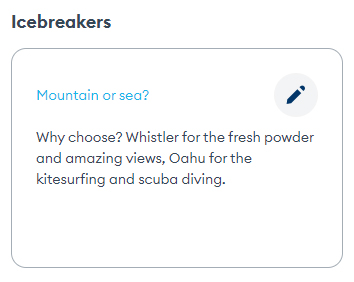 Some icebreakers give you up to 1500 characters, but be mindful of how difficult it can be to read (and focus on!) large blocks of text in a dating profile.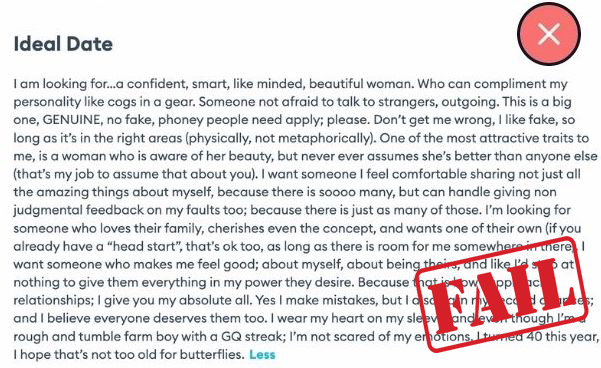 This long paragraph is not inviting. Breaking up this paragraph into easy-to-follow sections would be more engaging.
Mind your grammar, keep your profile positive, and choose at least one prompt that highlights what type of people you're hoping to meet.
Want a Zoosk profile that gets results? Check out these Zoosk tips!
Want To Meet The Best Singles On Zoosk, The Easy Way?
Zoosk isn't a dating site you can use for free, so you're looking at an investment of both time and money to use it. You want the best profile possible to ensure you're not wasting either one.
The key to success is making yourself look like a great catch, and that's not something most people know how to do in an engaging, compelling and natural way!
VIDA Select's dating experts can optimize your profile for you, and that's not all. Imagine having a pro choose your strongest dating photos, screening your matches for compatibility, and handling all your back and forth messaging.
All the hard work modern dating requires, done for you. With VIDA, that's possible. All you have to do is show up for all the dates with singles who can't wait to meet you.
Want us to do your online dating for you?

Hey, I'm Ally, VIDA Select's Director of Matchmaking.
We take all the frustration, hard work and hassle out of modern dating!
Imagine your very own Dream Team of highly skilled dating experts searching for the very best local matches, sparking their interest, and arranging all the dates for you.
Wouldn't it be nice to finally stop swiping and start dating higher quality matches so you can meet someone special?
We've helped thousands of singles just like you since 2009, and we're ready to make you our next success story!
What are you waiting for? Take the next step now…
See If You Qualify