Struggling to come up with the perfect profile to attract women?

You're not alone. Most men have a very hard time figuring out what to write about themselves on a dating site, much less doing it in a way that women find irresistible. The majority never get it right.
And whether it's Tinder, Bumble, CoffeeMeetsBagel, Match.com, POF, OkCupid, MillionaireMatch or one of the many others, your dating profile is truly make or break.
Write the wrong thing, and you're doomed to fail, with your empty inbox serving as a constant reminder that your profile's problematic.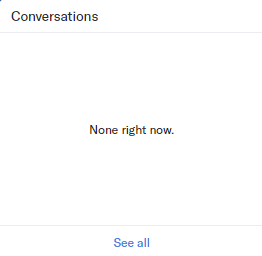 On the other hand, when you write a compelling profile, you can watch messages from high-quality women pile up in your inbox, and fill your dating calendar like clockwork.
If you'd like to experience that for yourself, you've come to the right place. You're just about to see 8 irresistibly attractive online dating profile examples for guys that you can use today!
Instant Bonus:

Get a downloadable version

of The 8 Irresistible Profile Examples so you can copy & paste your way to more dates on any dating site or app you choose.
At VIDA, we've written 1000s of uber-effective dating profiles for guys like you since 2009. How do we know the profiles really attract beautiful women? We handle the messages and set up the dates too! (Want dates with amazing women too? Click here to find out how we can make that happen for you.)
There are 100s of online dating sites and apps out there, but what reels in the ladies on Tinder will torpedo your chances on Bumble. So we're not only giving you incredible, witty profile examples you can use, we're also telling you which dating site or app they work best on.
Let's get started!
Tinder Profile Example
In general, profiles on dating apps are much shorter than profiles for online dating sites like Match. Tinder's character limit is 500, and on many apps profiles are even shorter than that.

While it's tempting to skip writing anything at all and just rely on your awesome pictures, why miss the chance to win her over?
If she's hesitating to swipe right based on your looks alone, she'll use your profile to make up her mind. And virtually all women will read it before responding to your message.
Epic Tinder profiles have three things in common:
They keep it clean (sleaze doesn't play well, even on Tinder)
They snag her attention
They maker her laugh, or at least crack a smile
You can get away with more exaggerated humor and funny/cocky attitude on Tinder than you can on other apps and dating sites. So this is your chance to get creative and have a little fun. Here is a funny online dating profile example for men that really works:
"Humorous, Over-The-Top" Profile for Tinder
And if you really want to rise above the competition, try a Tinder profile like this:
"You Want Some of This?" Profile for Tinder
(For even more fool-proof Tinder profile examples, click here.)
Bumble Profile Example
On Bumble, only women can send the first message – and she's only got 24 hours to do it. So your profile needs to stand out from all those other guys if you want her to send a message your way.
Bumble mainly attracts women in the 25-35 age range who are intelligent and successful. It's been marketed as a "woman-friendly" alternative to Tinder, so you definitely want to keep your profile classy to be successful on this app.
Bumble's 300 character or less limit means you have to make a big impact in a short space. Highlight all your most attractive traits, whether that's your job, your hobbies, or your love for travel.
But the key here is Show, Don't Tell. This rule holds true for any type of profile.
She doesn't want to read a boring list of adjectives.
So don't tell her that you're adventurous, loyal, fun, and curious about the world. Nothing about that sentence will hold her interest; she's already rolled her eyes moved on to the next guy by the time she got to "fun".
Show her what you're like instead by giving specific examples of things you've done that illustrate qualities like "adventurous":
"Show, Don't Tell" Profile for Bumble
When space is at a premium, emojis give you a lot of bang for your buck. These colorful symbols instantly convey your message, and only take up 1 character each.
Bumble Profile Using Emojis:
(For even more short dating profile examples, click here.)
CoffeeMeetsBagel Profile Example
CoffeeMeetsBagel feeds users a limited number of matches per day, so she'll definitely peruse your profile.
And the clock is ticking – she's only got 24 hours to "like" you. You really need to bring your profile writing A-game to this dating app – and that can be hard to do with a 276-character limit!

The women you'll find on CMB are typically sophisticated, young professionals who are looking for a relationship. The over-the-top attitude you can get away with on a more casual dating app like Tinder can be a turn-off on CMB if women think you're not taking the app seriously.
But that doesn't mean you can't be funny or creative when answering CMB's three profile questions: "I am…", "I like…" and "I appreciate when my date…"
The "Show, Don't Tell" rule still applies, and now we're going to add another one: The "70/30" rule. On longer profiles, you want 70% of it to be about you, and 30% of it to describe what you're looking for. CMB profiles lend themselves naturally to this, since the entire last question is all about your dream woman.
Here's an example to illustrate both rules in action:
"Fool-Proof" Profile for CoffeeMeetsBagel
(For everything you need to know about meeting high-quality women on CoffeeMeetsBagel, click here.)
Match.com Profile Example
Match is one of the most popular mainstream online dating sites, and it's a great place to meet attractive, intelligent women. But since it's so popular among successful, career-driven singles, your profile is up against a lot of competition.
We know a lot of tricks that will triple your response rate on Match, but in order for those to pay off, your profile needs to stand out from the crowd:
"Attention-Grabbing" Profile for Match.com

POF Profile Example
POF (PlentyOfFish.com) is one of the most popular free online dating sites out there, with one of the largest user pools. But to attract the pretty fish, your profile needs to be tantalizing bait. (And it helps to know all the Advanced Search hacks, too).
The good news is, you can reuse the "In My Own Words" section of your Match profile on your POF profile. There's no need to reinvent the wheel – when you've got something good, roll with it.
There is, however, the prominently displayed "First Date" section and you need to knock it out of the park. Anyone can suggest dinner, a movie, meeting for coffee, etc… but why do what everyone else is doing?
Capture her imagination with something so over the top she can't help but be intrigued, and then suggest the more mundane 'cup of coffee' at the end. Here's an example of a first date idea that's sure to get her smiling:
"First Date" Example for POF
OkCupid Profile Example
OkCupid is a melting pot of all different types of women, from "alternative" types to hipsters and nerds and everything in between. For maximum success, you want your OkCupid profile to appeal to a broad range of women, because "hot" comes in all categories.
The profiles on OkCupid are comprised of 9 main sections, each with a choice of 5 to 6 prompts. You also have the opportunity to add even more topics to your OkCupid profile if you wish.
For each section you want to fill out, choose the prompt you like best. You can also add a photo.
No matter which prompts you choose to answer from the first two sections, the answers need to catch – and hold – her attention. Only two answers, or "essays", will be visible on your profile, unless she hits "+more" to see the rest.
Two of the more difficult prompts are "My Self Summary" and "What I'm Doing With My Life." The others pretty much write themselves….
"Mass Appeal" Profile for OkCupid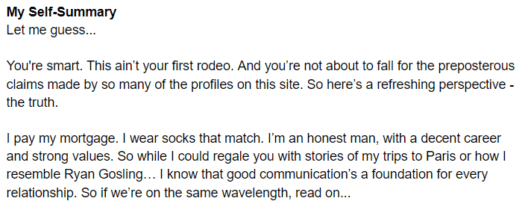 (For even more OkCupid profile tips that will help you crush the competition, check out this article.)
MillionaireMatch Profile Example
MillionaireMatch boasts some of most beautiful women and highest response rates of any website we've tested. If you're in the right tax bracket for this type of site, it's a must use.
As with any "exclusive" dating site, you'll want to showcase your best assets in your profile, because the most beautiful women on the site have their pick of men. You want to look like an attractive prospect in more than just your photos.
Here's how to do it right:
"Irresistible" Profile for MillionaireMatch
(For more tips on attracting beautiful women on MillionaireMatch, go here.)
But having the perfect dating profile is just the first step in the process. Once you've got her attention, you need to keep it. If your messages suck, it doesn't matter how good your profile is… you still won't meet the women you deserve.
Beginning to sound like a lot of work? It is. In fact, the average online dater spends 11.9 hours per week on dating sites (according to academic research). Part time job? You bet!
The worst part is: Most men quit online dating within 3 months due to a lack of results. Clearly, you need more than just a solid dating profile. What you really need is an expert in your corner…
What Beats The World's Best Dating Profile Examples For Men?
As good as they may be, the examples you've seen today cannot compete with a dating profile that's so uniquely "you" it could never be used by anyone else! After all, there's a lot of guys out there looking for good online dating profiles to copy.
That's why our professional dating writers are standing by to craft a highly-personalized, über-compelling profile for you. We'll build your profile from the ground up, just for you, using a proven formula that's guaranteed to make your most attractive qualities irresistible to women.
And it doesn't stop there. We'll break the ice with highly-qualified matches, handle all your back-and-forth messages, and even set up your dates for you with the women you like best!
Why continue struggling on your own when you can have your online dating done for you by the world's leading experts? If you're truly ready to give your dating life an upgrade and meet the woman of your dreams, click here to get the pros on your team today.