I hope you enjoy reading the blog post.
If you want my team to just do your Bumble for you, click here to chat with me.
12 Bumble Profile Examples Women Can't Resist [2023 Edition]
Not getting messages from the women you really want to meet on Bumble? The Bumble profile examples you're about to get will help you change that!
Because when it comes to attracting high-quality matches on a "serious" dating app like Bumble, it's not just about choosing attractive profile pictures.

You're savvy enough to know you need a good Bumble profile too - otherwise you wouldn't be reading this.
These 12 Bumble profile examples and profile tips that will make women eager to message you - and meet you in person!
Keep reading for Bumble profile examples that...
Plus, if you read to the very end you'll get 3 bonus Bumble photo tips that are sure to make your profile stand out.
Bumble Profile Examples That Help You Sell Yourself
Remember that Bumble's the only popular dating app where women have to message you first. If your Bumble bio doesn't bait women into writing you, chances are… they won't (unless you're strikingly handsome!)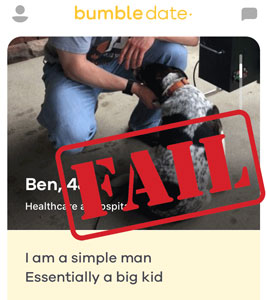 When it comes to deciding what to write in your Bumble profile, the goal is clear: make yourself look like an attractive, right swipe worthy prospect.
Without sounding like you're bragging.
Example #1: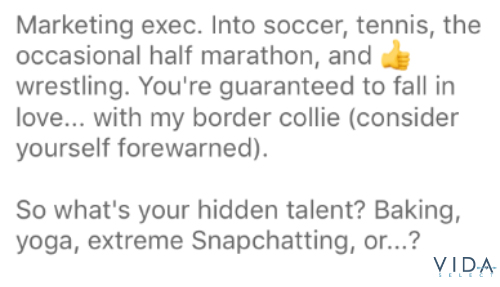 But that isn't easy, and it gets even harder when you're working with only 300 characters in a Bumble profile.
That's not a lot of room to work with, especially given that Bumble attracts singles looking for long-term relationships. You need to stand out as boyfriend material, so… what should you write in your online dating profile?
Highlight Your Most Attractive Traits
The best Bumble bios intrigue her at first glance.
You know how Lexus commercials are all about the features? When it comes to your Bumble app, you're the luxury sedan.
Example #2: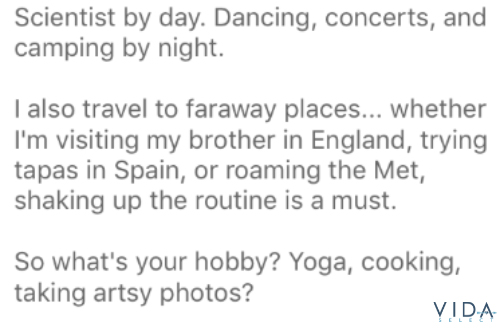 Hit her with your best features in your dating profile, and she'll want to buy what you're selling.
But remember - you don't want to sound like you're bragging.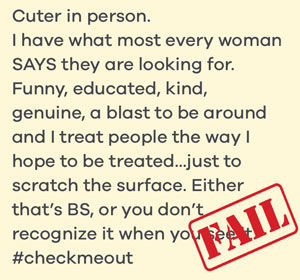 Self-presentation, AKA describing yourself in a way that makes you sound really good, can be a turnoff if you do too much of it.
Instead, show her some of the reasons you're awesome by letting another source do the bragging for you.
This is called "high warranting."
Studies have shown the combination of low self-presentation/high warranting is by far the most attractive approach, whether you're creating a profile for Bumble Dating, Bumble BFF, or Bumble Bizz.
For instance, instead of just writing "I've got a knack for oil painting," include a picture of yourself showing off one of your best works.
Or better yet, connect your Instagram to Bumble so she can come to that conclusion just as easily by looking at some of your work. Just do a little spring cleaning first to ensure everything she'll find there truly does make you look good!
Including specific details makes your profile seem more genuine. That's key considering a recent survey found 84% of singles want more authenticity when it comes to dating profiles.
Here are 2 more dating profile examples that show you how to harness the power of your inner Don Draper.
The first one uses emoji to add a few color pops to your Bumble bio.
Example #3:

The second is a funny twist on an old staple - the pros/cons list.
Example #4: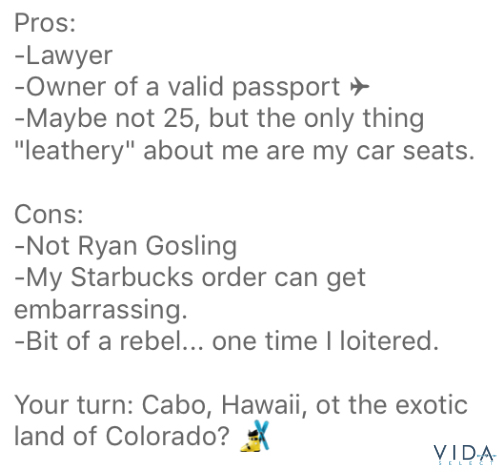 Bumble Profile Examples That Win Her Heart With Humor
Humor done right is hot, because most women are into guys with a sense of humor.
Example #5: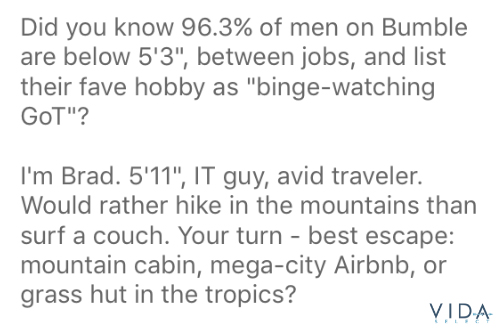 But there's a catch - and it's the "done right" part.
If your jokes fall flat, you risk an eye roll at best, and totally turning her off at worst.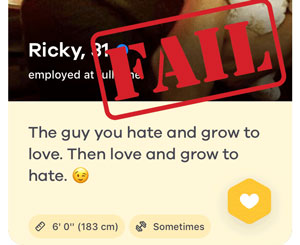 These funny Bumble profiles will have your hottest Bumble match eagerly messaging you in no time.
You can try a review format customized for online dating...
Example #6: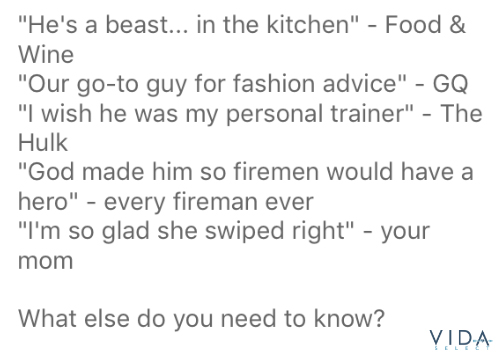 Or pay homage to all those terrible bios floating around out there, and end by showing how you're a much better catch...
Example #7: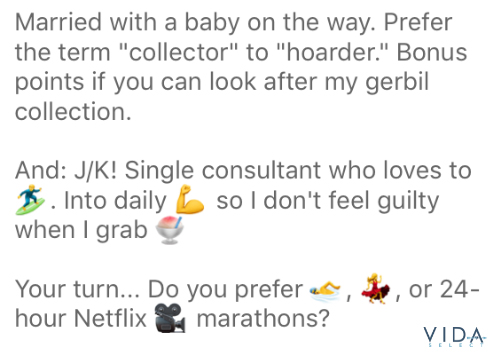 Bumble Profile Examples That Use Science To Your Advantage
Studies have shown that women are hardwired to find traits like courage, bravery and the ability to take calculated risks attractive.
Alpha traits are still attractive, so pick a couple you have and run with it, like in these online dating profile examples:
Example #8: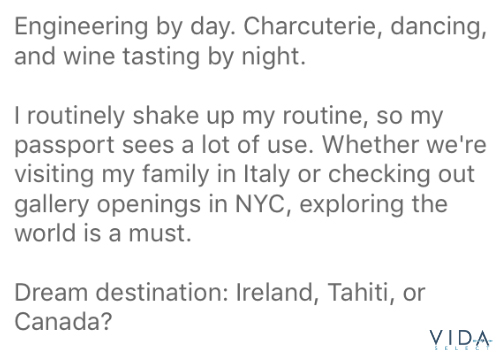 And while it's not exactly science, a popular dating site analyzed data from their millions of users and discovered that men who use the phrase "knight in shining armor" got 67% more messages.
Granted, that's on a dating site… but you may as well give a potential match what she wants, right?
Example #9:
Bumble Profile Examples That
Make Starting The Convo Easy
You may have noticed that all the bio examples you've seen so far have one thing in common: they all end with built-in conversation starters.
Example #10: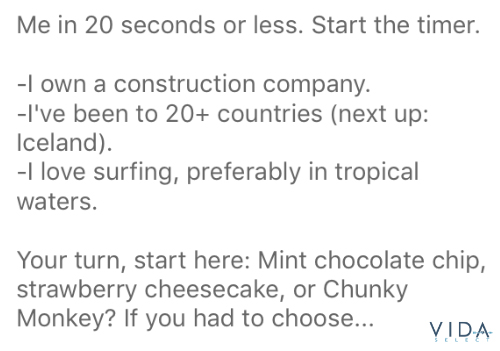 The best Bumble bios borrow a page from the Marketing 101 playbook. They end with a "Call To Action" (CTA).
Asking her a fun, interesting or creative question in your profile is metaphorically grabbing the reins of the conversation, even though she has to come up with the opening lines.
But you've made it simple for her to write you something 10x more interesting than a simple "Hi!"
Example #11: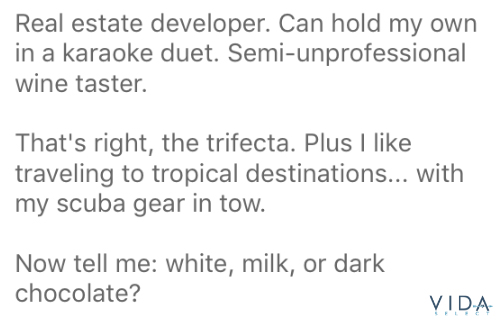 If you've used Tinder or other dating apps and sites, you've probably looked at someone's profile before and then had no idea what to write.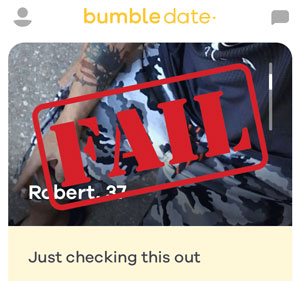 That's the last thing you want to happen to an attractive woman with an endless queue of other matches in her inbox.
So make it easy for her to start the conversation on Bumble!
Example #12: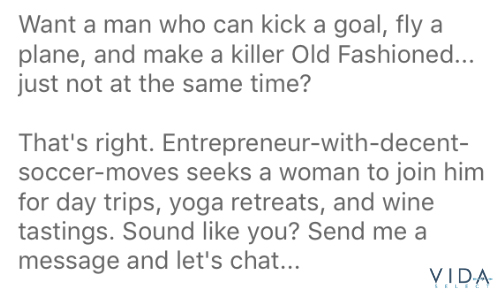 Keep The Attraction Building By Answering A Few Bumble Prompts
Bumble profile prompts are a chance to share more information about you.
Formerly called "Move Makers," your prompt answers can include up to 120 characters and will be displayed in between the photos in your lineup.
This is a perfect way to highlight an aspect of your personality or share a talent, hobby or passion that you didn't have room to include in your main bio.
Prompts also make it easy for her to use the Reactions feature to send an emoji - or a message - in response to one of your answers.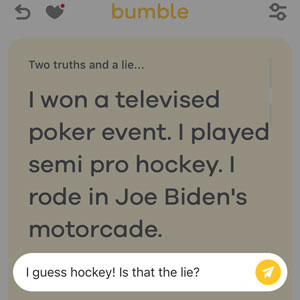 All of the Bumble profile advice you just read applies to your prompt answers as well.
You can only include up to 3 prompts, so you need to choose the ones that allow you to shine the brightest.
The last thing you want to do is answer in a way that makes her think twice about spending time with you: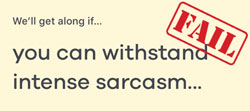 Another common prompt mistake guys make is wasting that valuable real estate with boring one-word answers like these that do nothing to make them seem like a great catch:
Including specific details not only makes your prompt answers more interesting, it also increases the likelihood of her really connecting with your profile - and reaching out with a message.
Here are 3 much better answers for those same Bumble prompts: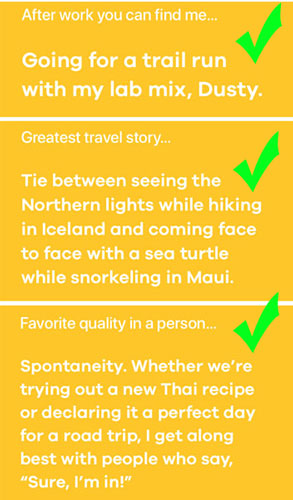 Want more tips on how to answer Bumble prompts in an attractive way? Check out these Move Makers examples!
Bonus Tip: For The Best Bumble Bio, Choose The Perfect Primary Profile Photo
It doesn't matter how great your dating profile is if she swipes left based on your profile photos.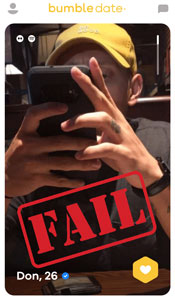 To stand out in her match queue and increase your odds of a right swipe, your primary profile pic should check all these boxes:
There's enough contrast between you and the background to make her instantly focus on you. If you don't command the frame, it's not a good primary photo candidate.
She can lock eyes with you. That's an easy way to make a powerful connection, so don't waste the opportunity by choosing a picture where you're wearing sunglasses or looking away from the camera.
It's not a selfie or a group photo. Selfies are tricky. Without a lot of practice, it can be difficult to find an attractive angle. Besides, a recent study found that when presented with a selfie and a non-selfie of the same subject, people generally rated the person in the non-selfie as more likable, more attractive and less narcissistic. That's 3 pretty compelling reasons to not lead with a selfie.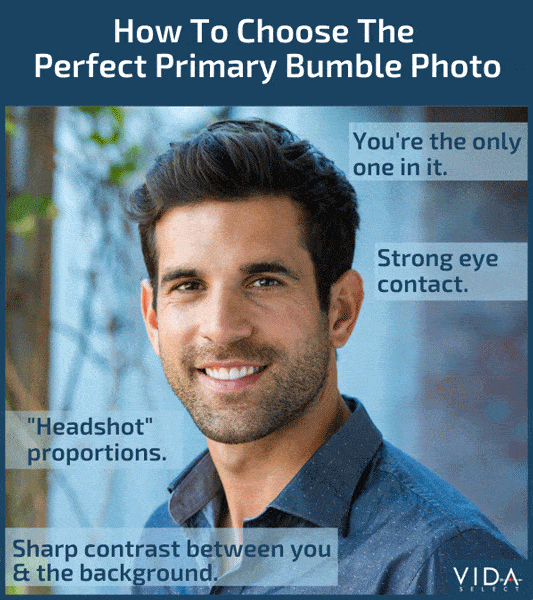 The traits listed above were also determined by a group of scientists to be qualities that the most highly rated Tinder photos all had in common. And since attractive is attractive no matter what dating app you're using, keep them in mind when choosing your Bumble photo!
Are You Making Any Of These Bumble Photo Mistakes?
On the other end of the spectrum, mirror selfies, Snapchat filters, and group photos where she has to guess who she's swiping on are Bumble photo mistakes that can sabotage your profile with a quickness.
Plenty Of Fish recently interviewed singles across the US, and found bathroom selfies, gym selfies, and heavily edited or filtered images to be their least favorite dating app photos.
Plus, the majority of people thought face filters were deceptive, and half thought dating apps should ban them entirely.
Want a scientific reason to forgo the cartoon bunny ears or puppy tongues?
The average person's brain is wired to find simple, easily processed images more attractive, and those cartoonish accessories add an unnecessary layer of visual complexity.
Now Comes The Hard Part... Overhauling Your Bumble Profile
Simply "stealing" any of these 12 Bumble profile examples is sure to boost your results.
But copy and pasting can only get you so far. If you want to maximize your efforts and date much higher quality women, your profile needs to outshine the competition, be original and reflect your authentic self.
And all that's going to take some real effort.
Writing about yourself in a way that captivates women's attention is not an easy thing. Especially since you probably don't spend your waking hours testing what women actually respond to.
Further, your photos, bio, and messages need to work together to present the "perfect package" if you really want to find the perfect woman for you.
In short, you need a complete Bumble strategy to beat out your competitors.
That's where having a dating expert on speed dial comes in handy.
VIDA Select can create an irresistible Bumble profile for you, send messages that make women excited to meet you and set up your dates with the women you like best.
Now you can just kick back and relax while all the work's done for you on Bumble and any other dating apps or sites you'd like. With VIDA, all you have to do is give the messages and her profile a quick skim before you show up to meet your ideal woman.
Intrigued? Find out how VIDA can streamline your dating life!
Want us to do your online dating for you?

Hey, I'm Ally, VIDA Select's Director of Matchmaking.
We take all the frustration, hard work and hassle out of modern dating!
Imagine your very own Dream Team of highly skilled dating experts searching for the very best local matches, sparking their interest, and arranging all the dates for you.
Wouldn't it be nice to finally stop swiping and start dating higher quality matches so you can meet someone special?
We've helped thousands of singles just like you since 2009, and we're ready to make you our next success story!
What are you waiting for? Take the next step now…
See If You Qualify