I hope you enjoy reading the blog post.
If you want my team to just do your online dating for you, click here.
Is Donald Trump The Reason You Can't Get A Date?
No matter which way you lean, everyone can agree that Donald Trump has had a polarizing effect on the nation. And the "Trump Effect" has manifested itself in some surprising places, like online dating.
It would seem the more polarized the nation gets, the more singles want to find someone to connect with. eHarmony reported activity on the site jumped 35% between Trump's election and February, 2017. TrumpSingles.com says its membership tripled.
VIDA has also seen an increase in singles looking for personalized matchmaking services, and politics frequently comes up when clients describe their "ideal partner." But has sentiment towards Trump become the new litmus test in determining compatibility?
When we send messages for our clients online, we store all of the data points available on each recipient's profile in our database. Using this data, we analyzed 135,000 messages we sent to women on behalf of 1,000 male clients on a popular dating site between January 1, 2015 and September 30, 2018. We wanted to see whether or not politics impacted a woman's likelihood to respond.
We discovered that women who don't have strong political viewpoints don't want to have anything to do with politics anymore.
Notice on the graph below how the light blue section representing "Middle of the Road" is shrinking, while the yellow section representing women who chose "No Answer" is growing:
You can also see how the percentage of women who identify themselves as "Conservative" or "Liberal" on dating sites hasn't fluctuated much.
We expected that matching political beliefs would increase the chance of a response, while opposing beliefs would decrease the response rate. But that's not what happened - matching and opposing beliefs both decreased the chance of a response: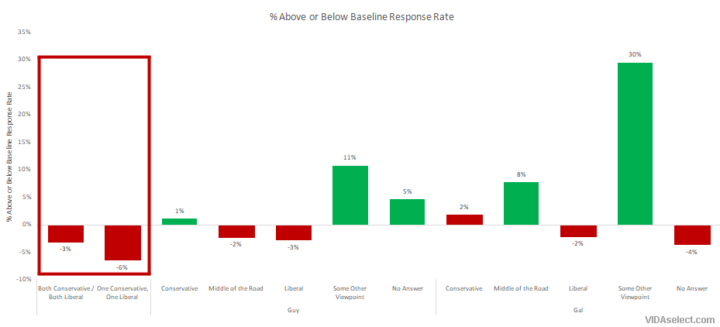 Instead, women prefer responding to men with no opinion or "Some Other Viewpoint" displayed on their profile, and are increasingly choosing "No Answer" when it comes to specifying their political leaning in their own dating profiles:
Why? Here's one theory the data supports: people are simply tired of thinking about politics. Trump currently dominates the news cycle, and where a relationship was once a safe place to share political opinions, it has become a new shelter to avoid an overflow of political bombardment.
That being said, the older and more educated a woman is, the more likely she is to make her political beliefs apparent:
So what does all this mean for you?
If you want to maximize your response rate, make sure you select "No Answer," "Some Other Viewpoint" or whatever is the most neutral option offered in the dating site's Politics menu.
The most popular dating platforms make it easy to avoid mixing politics with your potential love life. Match.com defaults to "No Answer" if you don't choose a party affiliation from the "Political views" pull-down menu. MillionaireMatch defaults to "Please ask me."
OkCupid relegates politics to the choice between "Social conservatism" and "Social liberalism" - and leaves it up to you whether to mention the topic at all by making it an optional prompt you can include in your profile.
Tinder skips politics altogether, and Bumble allows users to specify their political leanings or to simply leave it off their profile.
Our leave-it-blank rule may not apply to everyone. If your political views are extremely important to you (i.e. deal breaker-level important) and you want your potential matches to know that up front, then go right ahead and list it.
Just make sure you do it in a classy way because coming off as confrontational in your dating profile will likely turn off even the singles who agree with you.
To sum it up: For the best results, some topics, like politics, are usually better broached in person.
Want us to do your online dating for you?

Hey, I'm Ally, VIDA Select's Director of Matchmaking.
We take all the frustration, hard work and hassle out of modern dating!
Imagine your very own Dream Team of highly skilled dating experts searching for the very best local matches, sparking their interest, and arranging all the dates for you.
Wouldn't it be nice to finally stop swiping and start dating higher quality matches so you can meet someone special?
We've helped thousands of singles just like you since 2009, and we're ready to make you our next success story!
What are you waiting for? Take the next step now…
See If You Qualify