I hope you enjoy reading the blog post.
If you want to chat now about your matchmaking search, click here.
East Bay Matchmakers Reviews - Is This Alamo Matchmaker Legit?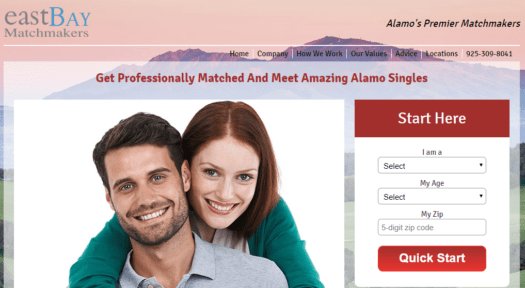 Executive matchmakers are practically a dime a dozen in California. It's no wonder you're looking for East Bay Matchmakers reviews! After all, you're not willing to settle when it comes to your soulmate. Why would you settle when it comes to a matchmaking service?
Keep reading for all the details you're looking for, including cost and real customer experiences!
Is East Bay Matchmakers A Local Dating Service?
While you'll be matched with Alamo singles, East Bay Matchmakers isn't a local company per se. It's actually owned by a company that runs a host of matchmaking websites across the US.
Different Sites, Same Process
Potential clients need to contact them to learn the specifics of the service, which you can do by calling directly or submitting your info via a website form:
Note that by clicking on "Complete", you've agreed to the Privacy Policy. You're likely not in the habit of skimming those, so here's a sampling of what they'll have them permission to do:

All that can be summed up in two words: "sales leads." East Bay Matchmakers is more than likely selling your private contact information to third parties, which means they'll probably make money off you whether you end up hiring them or not.
But you never know, maybe one of those third party offers you'll get turns out to be a great deal!
If you do submit your phone number, email, and other personal data, you'll be directed to complete a "Compatibility Profile."
It's filled with questions just about any matchmaking service will ask you. They'll need to know your background, relationship goals, and that type of thing in order to find you suitable matches:
You can hold off on submitting the form, though, if you'd rather just save it for the initial phone call. You'll go over your background, and she'll also ask you to come in for the in-person consultation at their office, 3195 Danville Blvd. in Alamo.
This is when you'll get answers to all of your burning questions that can't be answered from looking at their website, like cost and membership packages.
So How Much Does East Bay Matchmakers Cost?
There's no cut and dried answer, as membership prices can vary by client. How long your membership lasts and how many matches you want will affect the bottom line, as will more personal details like your credit limit, history, and score.
East Bay Matchmakers reviews on Yelp mention prices ranging from $3,000 to $8,000, so you can expect to pay somewhere in that neighborhood.
But before you pick up your pen and sign on that dotted line, read through all the fine print carefully so you know exactly what East Bay Matchmakers is - and isn't - promising to deliver.
If you end up not being happy with the service, you're basically out of luck when it comes to getting a refund. The only way for that to happen is cancelling within 3 business days of signing the contract.
Understand What You're Signing Up For
The VP of East Bay matchmakers parent company, told NBC Bay Area Responds that not fully understanding the contract leads to unhappy customers down the road:
He was interviewed as part of an investigation into a pattern of complaints from customers who felt duped by the matchmaking services the company runs.
One client, Kim Williams, said she was promised a "personal and local service" with a "surplus of available men."
She paid $3k for 6 months of matchmaking services. But she only had 4 dates - which she said were set up via phone by matchmakers who weren't local.
"Ultimately, what it is is very little service for a lot of money. I've been totally taken advantage of. Taken to the cleaners."
He responded that the complaints don't "alarm" him, as more than 6,000 Bay Area singles have signed up in the last 5 years.
Let's see what a few of those 6,000 singles have to say on local reviews sites...
Real Customer Reviews for East Bay Matchmakers
On Yelp, East Bay Matchmakers has a 2-star rating, with the majority of recommended reviews being 1- or 2-star.
But there were a handful of 5-star reviews from clients who were happy with the service, like this one who thought she met someone pretty special after a few not-so-great matches:
And this client thought his matches met his specified criteria:

Those are the high points. The rest of the Yelp reviews painted a somewhat different picture of this California matchmaking service.
For instance, this client felt that what was promised during the initial consultation wasn't what she ended up getting, both in terms of her matches and customer service:
These two unhappy clients also thought their matches were low quality:
BBB Reviews For East Bay Matchmakers
This Bay area matchmaker has an A- rating with the Better Business Bureau. Which is a bit surprising given there are 7 complaints listed, but no reviews yet.
East Bay Matchmaker complaints include low-quality matches and customer service, as this client experienced:
East Bay Matchmakers Google Reviews
They have a solid 3.5 star rating on Google, with reviews ranging from 1 to 5 stars. On the positive side, this client thought he received great customer service and was happy with his matches: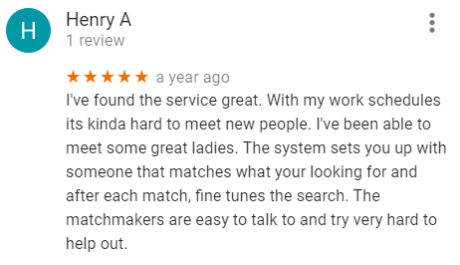 And these two clients weren't thrilled with the service originally, but thought East Bay Matchmakers was able to fix the problems:
But other clients felt like their list of criteria for the matchmakers to take into consideration when selecting matches was ignored:
This reviewer wasn't happy with her overall experience:

And this reviewer didn't enjoy her initial consultation at all: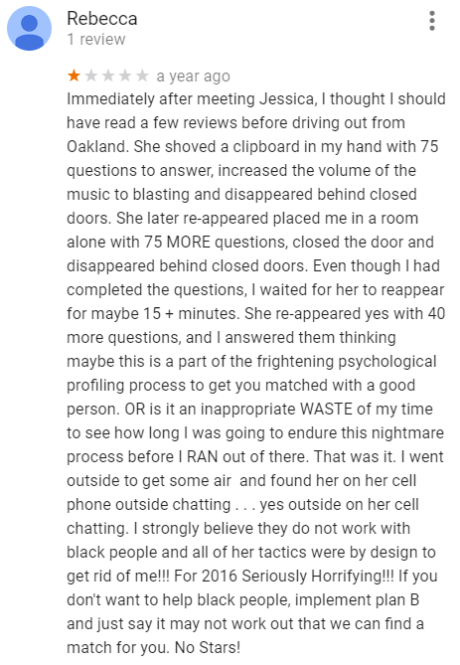 That's a fairly mixed bag of East Bay Matchmakers reviews. But whenever you see the same core complaints being mentioned again and again, on multiple local review sites, that could indicate the need to proceed with caution. Especially when you're paying for the service up front!
Is This The Best Bay Area Matchmaker For You?
Only you can decide. Are you comfortable signing a contract and paying in full for a matchmaking service you haven't experienced yet? You don't have much recourse if you aren't satisfied with the results, since you only have 3 days to back out of your membership.
What if there was an affordable executive matchmaking service that let you pay as you go, and didn't limit you to a set number of matches?
If that sounds like exactly what you're looking for, why not consider VIDA Select?
Not only does VIDA's elite matchmaking team have access to a near limitless pool of high-quality Bay Area singles, but you get to pre-approve each one! That means you're only meeting people you're already interested in - singles that check all your "must have" boxes.
We're so confident in our matchmaking process we don't require contracts, and on average our clients begin dating someone intriguing within the first couple months of service!
Getting started is so easy, all you need to do is schedule a quick no-pressure/no-obligation phone call with one of our best matchmakers. The road to finding your soulmate starts with clicking here...
All product and company names are trademarks™ or registered® trademarks of their respective holders. Use of them does not imply any affiliation with or endorsement by them.
Why Choose VIDA Select?

Since 2009, thousands of clients have discovered true love thanks to VIDA Select's fresh, modern approach to matchmaking – which has finally thrown blind dates and long-term contracts out the window. This isn't your grandmother's matchmaking!
Instead of working with a single matchmaker using a small rolodex of potential partners, VIDA Select's matchmaking team taps into the world's largest database of available singles. We'll quickly identify the matches who check all of your boxes so you can finally experience true chemistry. Are you ready to become our next success story? Schedule your complimentary consultation now by clicking the button below!
Get Started Now