I hope you enjoy reading the blog post.
If you want my team to just do your online dating for you, click here.
How Much Does eHarmony Cost In 2023 [& Is It Worth It?]
Although you can sign up and create a profile on eHarmony for free, you can't exchange messages or see photos. For that you need a premium subscription.
How much does eHarmony cost?
$25.90 to $55.90 per month.
It's quite a range, because eHarmony cost depends on how long your premium subscription is and what (if any) promotions are running at the time you sign up.
Let's take a look at your options…
eHarmony Cost Per Month In 2023
A free "Basic Membership" doesn't allow you to do much. You can:
Receive unlimited matches (but without access to their photos)
Send and receive smiles, icebreakers, & greetings
Respond to a first message
Browse anonymously
See recent visitors to your profile
Access the eHarmony dating app
To do all the essentials like see photos and unlock unlimited messaging, you need to upgrade to a Premium Membership:
Premium Light - 6 months
In the US, a Premium Light eHarmony subscription costs $55.90 per month for a total cost of $335.40 (plus any applicable taxes). You can split that total cost into a series of 4, 3, 2 or 1 payment(s).
In Canada, this membership costs $49.90 CAD per month for a total cost of $299.40 CAD (plus any applicable fees).
In Australia, an eHarmony 6-month membership costs $49.90 AUD per month for a total cost of $299.40 AUD (plus any applicable fees).
One thing to note - your subscription automatically renews to a 1-year Premium Plus plan, but at the Premium Light monthly cost. The yearly total of $670.80 (plus tax) is split into four payments, unless you cancel the auto-renewal before your original membership expires.
Premium Plus - 1 year
A year-long eHarmony Premium Plus membership costs $35.90 per month for a total of $430.80 in the US, Canada and Australia.
You can pay the entire amount upfront or in a series of up to 4 payments. Just like the Premium Light option, your subscription automatically renews for the 1-year plan unless you cancel it.
Your subscription automatically renews at the 1 year Premium Plus plan rate. The total of $430.80 (plus tax) is split into four payments, unless you cancel before your original membership expires.
Premium Extra - 2 years
A 24-month Premium Extra eHarmony membership costs $25.90 per month in the US, Canada and Australia, with the same ability to split the total amount into up to 4 payments.
It also auto-renews to a Premium Plus membership, but the monthly cost stays the same. If your subscription renews before you cancel it, you would pay an additional $310.80 (plus taxes), split into four payments.
All pricing quoted is subject to change, and may vary by location. You can purchase eHarmony subscriptions with any major credit card, debit card, or by using PayPal.
It's worth it to watch for membership sales, which are essentially like having an eHarmony coupon or promo code.
Keep an eye on the notifications when you log in, especially when you're a new member. You can often score a significant discount:

Premium eHarmony member benefits are the same across all plans. Premium perks include:
Seeing who's viewed you
Unlimited messages
View unlimited photos
Filtering your matches
Searching by distance
Detailed personality profile
Regularly updated matches
Profile check
To cancel the auto-renewal on your eHarmony subscription if you purchased it online:
Click the down arrow next to the portrait icon to access the drop down menu.
Select "Data & Settings"
Click "Amend Subscription"
Click the link at the bottom of the page to begin the cancellation.
Follow the prompts through to the confirmation page.
Please note cancelling the auto-renewal does not cancel your current subscription, any remaining payments will still be charged according to schedule.
If you purchased your membership via eHarmony's app, you'll need to turn off the auto-renewal via the iTunes subscription settings.
Match VS eHarmony VS Elite Singles Cost Comparison
eHarmony frequently gets compared to Match.com and Elite Singles, as they are all considered "long term relationship" sites and they cost money to use.
VIDA Select's team of dating experts have used all three dating sites extensively on behalf of the clients we represent. This is how they stack up against each other for a 6-month subscription: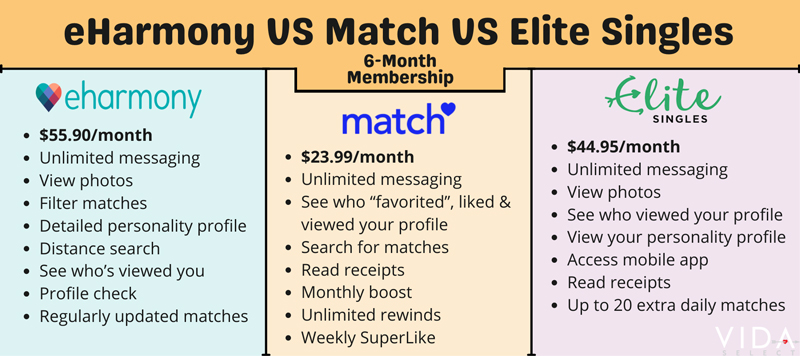 Should I Try eHarmony?
These 3 factors to consider should help you answer that question:
#1: eHarmony generally attracts relationship-worthy singles who are quite serious about online dating. The site is on the expensive side, so users are typically fairly active and engaged with the dating platform. But...
#2: There's no way to search the database. For each potential match, you're reliant on the profiles eHarmony's matching algorithm sends you. That's not ideal, because studies have proven dating site algorithms aren't reliable. Match, on the other hand, lets you search the user database and find people you're interested in messaging.
#3: You can't sign up for a single month, and there are no free trial offers. Match has a 3-month membership option, and EliteSingles allows you to purchase a single month.
There is one way to test drive eHarmony for 3 days, though.
This eHarmony free trial hack* lets you experience all the features:
Create an eHarmony profile for free, including taking the personality test.
Sign up for a paid subscription.
Check out your matches, and explore all the features.
If you don't like the experience (or the match quality), cancel your subscription within 3 business days (excluding Sundays & holidays) and receive a full refund.
Making sure to cancel within that 3-day window is crucial. If you wait until past midnight on that 3rd business day, you won't be eligible for a refund per their Terms & Conditions:

*Note this eHarmony hack only applies to purchasing the membership via the website, as the T&C state eHarmony can't directly process refunds for iTunes purchases made via the iOS application.
eHarmony does occasionally offer free communication weekends, but those are sporadic. If you're looking to meet your ideal partner now instead of later, you may not want to wait until the next one to start your search!
Is eHarmony Worth It?
Match.com is the better option for most users, as it has a larger user pool and you have free rein of the database.
If you really want to try eHarmony, use the free trial hack to see if you're intrigued enough by 2 days worth of matches to justify the expense.
Feeling Overwhelmed By Modern Dating?
With over 8,000 options to choose from, finding a dating site works for you isn't easy.
And once you decide, then there's profile creation and choosing which photos will attract the best matches, not to mention figuring out what to write in your dating messages!
If you don't have a strategy in place, it's easy to get overwhelmed, whether you're on eHarmony or Tinder. And when you're looking for a serious relationship, you need to put in even more effort to overcome all the competition for the most high-quality singles in your area.
That means you need to log some serious time perfecting your profile, optimizing your strongest photo lineup and figuring out what messages get the highest response rate from incredible women.
Or… you could let the modern dating experts at VIDA do all that for you! With over a decade's worth of data and experience, VIDA's team knows what works, what doesn't work, and what will work for you!
If you're serious about finally finding your ideal partner, why not see what VIDA can do for you? Click here!
Want us to do your online dating for you?

Hey, I'm Ally, VIDA Select's Director of Matchmaking.
We take all the frustration, hard work and hassle out of modern dating!
Imagine your very own Dream Team of highly skilled dating experts searching for the very best local matches, sparking their interest, and arranging all the dates for you.
Wouldn't it be nice to finally stop swiping and start dating higher quality matches so you can meet someone special?
We've helped thousands of singles just like you since 2009, and we're ready to make you our next success story!
What are you waiting for? Take the next step now…
See If You Qualify