I hope you enjoy reading the blog post.
If you want to chat now about your matchmaking search, click here.
Exclusive Introductions Review [Best LA Matchmaker For You?]
Thinking about hiring matchmaker Gina Hendrix to help find your ideal partner? This Exclusive Introductions review is packed with all the details you're looking for.
Our team of experts has reviewed over 200 matchmakers, from the small independents to the biggest industry players. These insights come from 14+ years of industry experience, comprehensive research, real customer reviews, and a deep understanding of the matchmaking landscape.
Exclusive Introductions Review Table Of Contents:
From her matchmaking process and cost to what real clients are saying, it's everything you need to decide if this is the best elite matchmaking service for you!
Gina Hendrix's Journey Into Matchmaking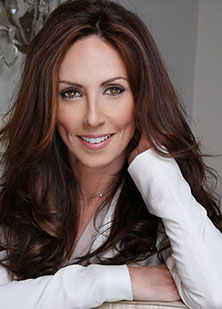 Initially, Gina Hendrix never intended to pursue a career in matchmaking. She was inspired by her experiences as a celebrity stylist and her innate ability to help people find whatever they are looking for.
"I'm a natural connector — I love to connect people to people, houses, events, or jobs. I'm also in love with love."
During her time as a stylist, Hendrix says she delved into the world of online dating and often found herself engaged in conversations about relationships.
The prospect of uniting singles who might never have met otherwise piqued her interest. She even successfully set up friends of her own, bolstering her confidence in her matchmaking abilities.
This passion for romance and human connection fueled her early efforts in organizing private events, hosting speed-dating nights, and even running a dating show on LA Talk Radio – all while still working as a stylist.
It was a suggestion from a friend that set her on the path to becoming a professional matchmaker.
After establishing herself in the Los Angeles dating scene, Gina Hendrix opened Exclusive Introductions in 2008.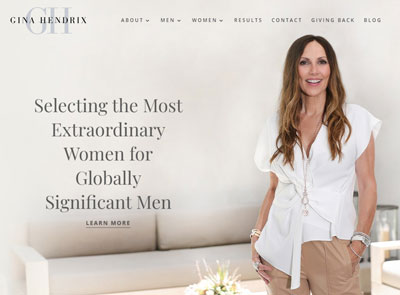 Throughout the years, Hendrix has refined her approach to matchmaking and ventured into other areas.
She has authored a book called 'Stop Being A Bitch & Get A Boyfriend', hosted 'Love Life Makeovers' on LA Talk Radio, and founded the philanthropic venture Models n Mutts.
The Exclusive Introductions Matchmaking Process
Hendrix's approach to matchmaking is rooted in trust and authenticity. As she explained in an interview,
"My business starts with trust; people trust me with their secrets, they trust me with their hearts and I take that very seriously."
She relies on word of mouth instead of advertising, and clients are usually men who come to her through referrals or whom she's met at events.
Hendrix works with men as paying clients, typically only taking on 8 to 10 clients at a time. (Women can join her singles database for free, as long as they pass the screening process.)
As she told Business Insider, the average age of her clientele is 43 but she's been known to work with men as young as 25.
Hendrix is particular about the clientele she takes on board. She described it this way to LA Dreams,
"I will never work with anyone that I don't feel like I can help or who I don't think women will like."
She likens the process of screening her potential clients to "getting married for a year."
Describing herself as a "gatekeeper for billionaires and celebrities," Hendrix says she meets with potential clients multiple times, including a home check, before signing them up.
Regardless of her time and effort, Hendrix acknowledges that outcomes can't be guaranteed.
As she shared in an interview,
"While I might message a woman through Instagram or LinkedIn on behalf of my client, I make it clear to the client that I don't have any control over how soon a woman will respond to my message if she responds at all, and whether she likes them or not."
The first date with a match is set up by Hendrix, usually at an upscale restaurant. While she shares photos with both parties, full names and contact details remain confidential. As the relationship progresses, it falls to the men to arrange subsequent dates.
Over the course of a year, Hendrix typically lines up at least 8 introductions for each client, but these are not all carried out simultaneously. Clients generally set up with 1 or 2 dates at a time.
Communication and feedback play an important role in the Exclusive Introductions process. Hendrix asks for a text update from both parties after each first date to let her know if they're interested in going out again.
Exclusive Introductions operates primarily in Los Angeles and San Francisco but also caters to those who frequent these locations.
Curious about how much Exclusive Introductions costs?
Her services come with a starting price tag of around $100,000, but the final cost varies depending on factors like the length of the matchmaking contract, match criteria, and search parameters.
Exclusive Introductions Reviews
On Yelp, Gina Hendrix and her matchmaking service have a 4.6-star rating, based on 9 reviews.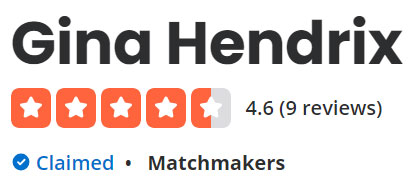 Many of them are from women who received coaching from her or attended one of her events.
This male client said he hadn't met "the one" yet, but he was happy with the dating advice he had received: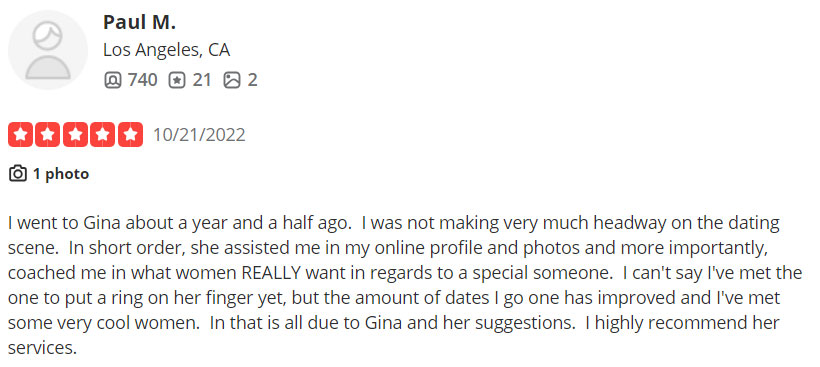 The sole negative review is from 2016, with a response from the matchmaker explaining why the claims made were false.
There are 4 "not currently recommended" reviews on Yelp for Gina Hendrix, all of which are 5-star.
On Pissed Consumer, there are two Exclusive Introductions reviews: one positive and one negative.
The negative one is from back in 2011, in which the reviewer felt Hendrix lost interest in him after he wasn't happy with his first 5-6 matches:
"Gina will set you up on some dates with some attractive women if you sign a contract with her. But, if you don't hit it off with one of them within the first 5-6 women, she will lose interest quickly. To me, that is not worth the exorbitant prices she charges."
Hendrix responded on the platform in 2020, writing that the client was a "very very angry man" who only wanted to date, in his words, "very hot women."
In her response, she also wrote,
"I set him up with incredible women--the real problem? NONE of them liked him. THIS is what made him so angry---and it's just easier to blame the Matchmaker than to admit to himself that he just simply didn't have what it took--looks, personality, etc in order to get these women to like him."
There was also a positive review from 2018, written in response to the older one:
But as far as online reviews go, that's basically all you'll find for Exclusive Introductions. As she stated in a response to a Yelp review, her elite matchmaking service "has typically always been extremely private and very under the radar."
Is Gina Hendrix & Exclusive Introductions Right For You?
Only you can make that particular decision. But given that she only takes on a select few clients at a time, it's wise to have a few other options on the table.
A big factor in your decision might be how you feel about the $100,000 price tag and the contract length. Let's take a quick look at how that investment in your love life lines up with a few other LA matchmakers.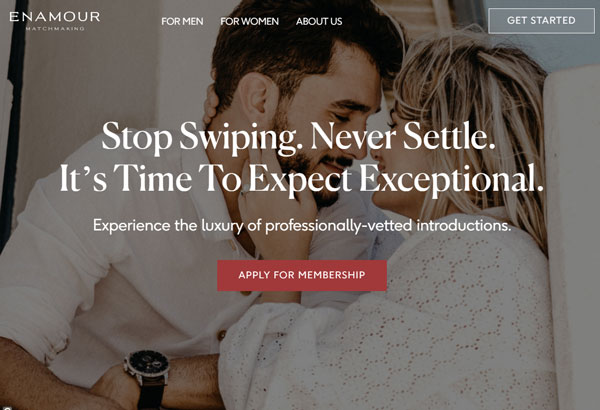 Enamour, a matchmaking service offering a white glove experience, starts around $20,000 for a 6-month package. Like Hendrix, Enamour maintains an exclusive database of exceptional singles.
But that's not where your search stops, because Enamour's team also uses recruiting technology and an extensive network of scouts to source highly compatible matches from all over the world.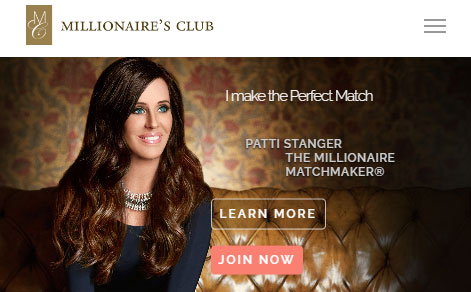 Patti Stanger, perhaps the most recognizable millionaire matchmaker of them all thanks to her reality TV show, offers services that start at $45,000 and can run well over $150,000. There's also a $35,000 additional fee if you want to work directly with Stanger.
A Millionaire's Club matchmaking package typically spans 12 months.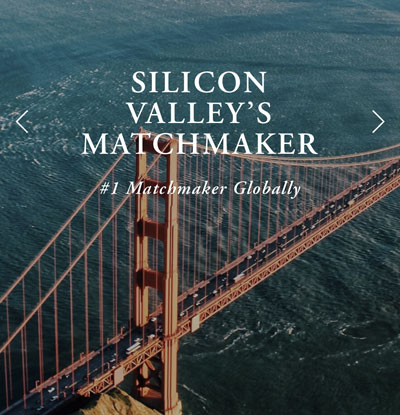 Linx Dating is another option for singles looking for a high-end matchmaker. Founded by Amy Andersen and based in Silicon Valley, Linx Dating carved a niche for itself helping those in the tech industry meet someone special.
But Andersen works with single professionals from all backgrounds, and her services range from $45,000 to $500,000+ depending on the particulars of your search. Packages last for 2 years.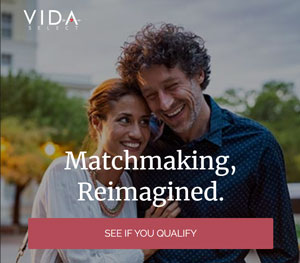 Like these other services, VIDA Select offers a tailored approach to finding your ideal match. But when it comes to contracts, VIDA does things a little differently.
Instead of long-term contracts, VIDA's packages are offered on a monthly basis. Basic matchmaking service starts at just $1095 per month, with Premium packages starting at just $1695/month. Elite packages begin at only $2595 per month.
VIDA's modern approach leverages the largest source of eligible singles there is, which means you can look forward to dates with matches who are just your type. On average, VIDA clients meet someone special within just 3 months of starting service.
Ready to meet your ideal match? Start here!
All product and company names are trademarks™ or registered® trademarks of their respective holders. Use of them does not imply any affiliation with or endorsement by them.
Why Choose VIDA Select?

Since 2009, thousands of clients have discovered true love thanks to VIDA Select's fresh, modern approach to matchmaking – which has finally thrown blind dates and long-term contracts out the window. This isn't your grandmother's matchmaking!
Instead of working with a single matchmaker using a small rolodex of potential partners, VIDA Select's matchmaking team taps into the world's largest database of available singles. We'll quickly identify the matches who check all of your boxes so you can finally experience true chemistry. Are you ready to become our next success story? Schedule your complimentary consultation now by clicking the button below!
Get Started Now