If you're single and over 50, you're probably getting a little frustrated with dating sites and apps. Finding compatible, high-quality matches isn't easy, since Tinder's core user base is in their late teens to early 20s, and the median age of users on Bumble and Hinge is right around 26.
No wonder you're looking for Lumen dating app reviews – being 50+ is a requirement to join!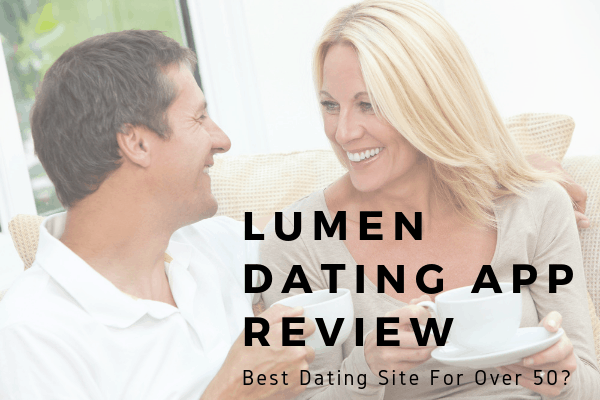 From how much it costs to how it works, you'll find everything you need to decide Lumen is a good dating app for you!
The Lumen Features You're Going To Love Most
Launched in September 2018, Lumen claims to be the first ever dating app exclusively for singles over 50. According to Forbes, the average user is 56, while the oldest at the time of the data analysis was 97. You'll also find a nearly 50/50 gender ratio.
As Lumen's co-founder Charly Lester explained in an interview with Yahoo, their goal was to take the dating app format everyone is already comfortable using, and add their own spin:
What we wanted to do was kind of ring-fence all the over-50s. By putting them all in the same place, but giving them a very similar experience to the experience they're getting on the other apps.
You'll also be able to communicate with other members via the Lumen Social feature, which is a selection of groups you can join to chat with other like-minded people.
There are 7 different Lumen Groups:
You can join as many as you'd like, then participate in the group discussion by adding comments.
If a particular group member catches your eye, simply tap their profile icon, and you can message them directly or view their profile:
Lumen also stands out in one other key area – users are required to verify their identity with a selfie before they can set up a profile.
Considering singles in their late 40s to early 60s are thought to be the most susceptible to romance fraud, that's good news as you can be relatively certain you're at least talking to someone who actually exists. Photo verification also tends to attract people looking for long-term relationships, which is another selling point.
So how does Lumen actually work? Keep reading to find out!
In-Depth Lumen Dating App Review
Getting Started:
You can download Lumen for free from the App Store or the Google Play Store.
Lumen is a dating app that doesn't require Facebook, although you can login via your Facebook profile if you want to.
Otherwise, provide your mobile number and you'll be prompted for an access code which should be sent as a text to that number within 45 seconds or so. Input the code and you're in!
Next, you'll enter your first name, gender, birthday and occupation (or whatever you did before retirement).
Then you'll have the opportunity to describe what you're looking for in a partner. This is a free-form text field, and you can skip it for now and come back to it later if you prefer.
"About Me" is next, which is also a free-form field you can skip for now.
Don't forget to come back and fill out these sections, though, as an incomplete profile could negatively affect your results. Keep in mind the dating app's mission, according to co-founder and CEO Antione Argouges:
From day one, our mission at Lumen has been to create meaningful connections that can genuinely change the lives of the over 50s – be it through love, or simply just through a sense of community.
If you don't share a bit about yourself and what you're looking for, singles in your area may be less likely to reach out or reply to your first message.
Instant Bonus: Get a downloadable version of The 8 Irresistible Profile Examples so you can copy & paste your way to more dates on any dating site or app you choose.
On the next screen, you'll be prompted to upload 3 photos. There's space for a total of 6, but you'll only need to choose 3 at this stage. Once you've uploaded them, you'll be required to take a selfie for verification purposes.
Just tap the yellow button, and follow the instructions on the screen.
The app will compare your face in the selfie to the photos you just uploaded, and approve your account. Your selfie won't be visible to any other Lumen members, as it's only used at this stage in the process.
First time users will get the option to take a "guided tour" of the apps key features, which takes only a minute or two.
How Lumen Works:
You can see profiles of users who match your basic search criteria in the "Discover" section, which you can access by tapping the Lumen icon in the navigation bar at the bottom of your screen:
Profiles are screened by gender, age and distance, which you can adjust in the "filters" section:
Lumen also offers "Advanced" filters, which are only available to Premium members (more on that in a minute).
You'll be shown profiles one at a time, and you have 3 options:
You can tap the green star icon and save them as a favorite
Tap the yellow "Chat" button and send them a message
"Skip" the profile by tapping the arrows if you're not interested
You can view all the profiles you have designated as "Favorites" by tapping the Star icon in the navigation bar:
From there, you can tap on their photo to check out their profile, or tap the yellow "Start a conversation" button to send a message.
Free users are limited to starting 6 conversations a day. That number doesn't include responding to a message someone sent your, or active conversations you already have going. It simply means you can only initiate 6 conversations daily.
Users have 3 days to respond to your first message, and Premium members can extend that window by an additional 24 hours. Your icebreaker must be at least 50 characters, which is to encourage a more meaningful start to the conversation than "hey."
If you're not interested in a profile, you can skip it and go on to the next one:
Lumen's "Rewind" feature allows you to view the last 10 profiles that you skipped, which means you can view them again, or start a conversation.
To access the Rewind screen, simply tap the arrow in the navigation at the top of your screen:
From there, you'll be able to see the last 10 profiles you skipped, and initiate a conversation or read their profile by tapping on their photo.
You can manage your conversations in the "Messages" section, which you can access by tapping the Chat icon in the bottom navigation bar:
From there, you can access active conversations with individual members or participate in the conversation going on in any of the groups you've joined.
In the Direct Message screen, you may notice green or orange dots next to a user's name. A green dot means they're currently accessing the app, and an orange one means they used it recently.
How Much Does Lumen Cost?
Like most dating apps, you can download and use the app for free, or unlock premium features by purchasing a subscription.
Lumen Premium costs vary depending on how many months you commit to at once:
Here are the Premium features you'll get with a Lumen subscription:
See which users have made you a "favorite"
Extend the 3-day deadline on any conversation by an additional 24 hours
Initiate 12 conversations per day instead of 6
See all the profiles you've skipped, instead of just the last 10
Choose two additional filters from the Advanced Filter menu
These are Advanced Filters your Lumen premium membership unlocks:
Height
Ethnicity
Religion
Smoking (Regularly/Socially/Never)
Drinking (Regularly/Socially/Never)
Eating (Everything/Pescatarian/Vegetarian/Vegan)
Children (No Kids/Not Living With Me/Living With Me)
Is Lumen A Good Dating App?
It's relatively new and still picking up steam, so it's too early to tell if it will end up being the best dating site for over 50. But considering it's backed by Andrey Andreev, the Russian billionaire behind Badoo and Bumble, it's likely only going to grow in popularity.
So if you live in an area with a lot of other users, it's definitely worth a shot.
And if you're re-entering the dating scene after a divorce, brand new to the world of mobile apps and senior dating, or just don't have a lot of time to devote to messaging, why not let the experts at VIDA help?
Our pro writing team will craft an intriguing profile that gets elite singles interested in meeting you, and photo experts that will choose your most compelling line up, and even set you up with a professional photographer in your area that specializes in online dating photos!
Your ideal partner is out there – and VIDA will help you find them, on any dating site or app you'd like to try!
Click here to find out more…