I hope you enjoy reading the blog post.
If you want my team to just do your Bumble for you, click here to chat with me.
How To Reset Bumble & Start Over In 2023 [Plus 3 Profile Tips!]
Wondering how to reset Bumble?
If you're not getting the results you want, it may be tempting to just delete Bumble and start over, but there are a few things you should know first.
In this short guide, you'll find out when it's a good idea to reset Bumble and get step-by-step instructions on how to do it! How does our team know so much about Bumble? Simple: 
VIDA Select's dating experts have logged thousands & thousands of hours on Bumble, swiping and messaging on behalf of the clients we represent. 
Our first-hand Bumble experience dates all the way back to when the popular app launched in 2014, and we've been at the forefront of the modern dating industry since 2009. And that's how we know the first step in resetting Bumble is also the most crucial one:
#1: Understand The Risks
There's an element of risk when you delete any dating app, then immediately reinstall it.
Reset Tinder incorrectly and it could lead to a shadowban, and if Bumble catches on it may show your profile to fewer users.
Following these steps should minimize that risk. But if you're going through the trouble to reset Bumble, make sure you're also ready to invest some time improving your profile and photos - otherwise you're likely to get the same (lack of) results the second time around.
Don't worry - at the end of this article, you'll get 3 expert tips you can use to get higher quality matches on Bumble!
#2: Decide If It's Worth The Risk To Start Over On Bumble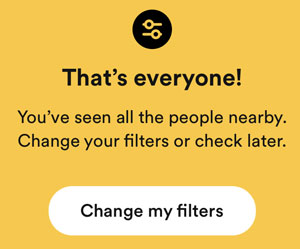 If you're getting the "Bumble out of people" message and you've broadened your search parameters as much as you're willing to, hitting the reset button will give all the singles in your area a second chance to match with you. So that's one scenario where it may be worth the risk to delete Bumble and start fresh.
You may also want to think about deleting your Bumble and starting over when you notice the same matches popping up in your card stack. Bumble can and often does show you the same people twice, especially if there aren't many users in your area.
That's great if you accidentally swiped left. But it gets annoying quickly if you're routinely swiping through people you passed on for a reason.
Otherwise, if you're just not matching with the singles you really want to meet, you may want to trying improving your profile photos and Bumble bio first.
#3: Disconnect Bumble From Facebook
If you log in to Bumble via Facebook, you'll want to disconnect your Facebook account from your Bumble account first.
To disconnect Facebook from Bumble on your phone:
-Log in to Facebook
-Go to the "Settings & Privacy" menu
-Select "Settings"
-Select "Apps & Websites"
-Tap "Edit" for "Logged In With Facebook"
-Under the list of "Active" Apps, select Bumble
-Scroll down and tap "Remove App"
-Confirm your action by tapping "Remove"
To disconnect Facebook from Bumble on your computer:
-Log in to Facebook
-Access the "Settings" screen by tapping on the small triangle at the far right of the navigation bar
-Click on "Apps & Websites" in the menu bar on the left
-Check Bumble in the list of active apps and websites
-Click "Remove"
-Confirm your action by clicking "Remove" again
If this doesn't automatically delete your Bumble account, or you log in to Bumble via your mobile number, you'll still need to manually delete your Bumble account.
#4: Delete Bumble
To reset Bumble properly, you need to delete your account before you remove the app.
-Log in to Bumble
-Tap the "Profile" icon in the upper left of the screen
-Then, tap the "Settings" icon in the upper left of the screen
-Tap "Delete Account" at the very bottom of the screen
-Select the reason for deleting your account
-Confirm the action by tapping "Delete Account"
-Uninstall the app from your phone
To be relatively sure Bumble won't identify your old account with your new one, wait at least 24 hours to download Bumble again and set up your new account.
If you're a Bumble Boost or Premium subscriber, make sure to cancel your upgraded membership first.
Also keep in mind any remaining time on it won't transfer to your new Bumble account.
Starting Over On Bumble: 3 Profile Tips
Now you've reset Bumble for a clean slate, and unless you want history to repeat itself you need the type of profile that will reel in the high-quality matches!
These 3 Bumble profile tips will help you do just that.
#1: Concentrate On Your Primary Photo
While you'll want to polish up every area of your new profile, your primary photo is what drives the most right swipes. Bumble has a feature called "Best Photo" that determines your most "liked" pic, but that's only useful if you give it solid options to begin with.
For maximum attractiveness, follow these three simple rules:
Don't choose a primary photo where you're wearing sunglasses. Eye contact is huge! For starters, staring right into your gaze feels like an instant connection. And if that's not enough motivation, hiding your eyes behind something shady makes you seem shady - sociologists have found she's likely to perceive you as less trustworthy if she can't see your eyes.
Crop your photo to classic "headshot" proportions. Full body shots aren't ideal for a primary photo on a dating app. While you definitely want to include one in your lineup, the dating photos rated the most attractive by a group of study participants featured the upper third of person's body.
Choose a photo taken outdoors. Natural light is almost always more flattering than indoor lighting, so lead with a picture where you're outside. Besides, photos taken outside your house also give the impression you have an active, interesting life, while an all indoor lineup implies the opposite.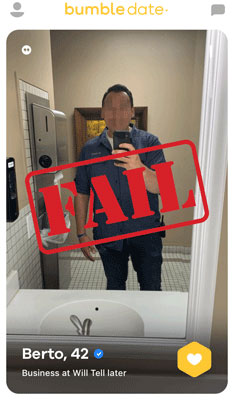 #2: Suggest An Icebreaker In Your Bio
Guys are off the hook when it comes to starting a conversation on Bumble, but why not make it easy for her?
End your Bumble bio with an icebreaker idea: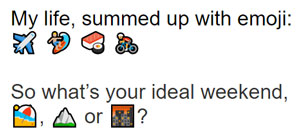 Now instead of trying to think of a good first message to send you, she can just answer your question!
Additional Bumble Help: Bumble Profile Examples For Guys
#3: Use Bumble Prompts To Your Advantage
Bumble profiles are short, and at 150-characters each, prompts give you 3 more opportunities to highlight an attractive trait or share an intriguing tidbit of information.
With over 30 to choose from, you shouldn't have any problem finding the ones that really let you shine.
First, think about the type of person you want to meet on Bumble.
What qualities would they be looking for? What activities would you like to enjoy doing together?
The answers to those questions will help you choose the best Bumble prompts to answer. (Interesting tidbit: Prompts used to be called "Move Makers" on this dating app!)
What you don't want to do is waste those chances to impress her by being negative, or implying you're more on the 'lazy/unmotivated' end of the spectrum than 'outgoing/ambitious':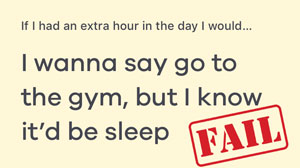 Additional Bumble Help: Use My Move Makers To Get More Dates!
Want The Best Bumble Profile She's Ever Seen?
Bring in the dating experts at VIDA!
Writing an attractive bio, choosing right-swipe-worthy photos, sending engaging messages that get responses - you know it's hard work!
And if you mess up in just one area, you're likely not going to get the results you want.
If that's why you're resetting Bumble, why not give yourself the very best chance of meeting someone incredible this time?
You need an effective Bumble strategy - and that's just what VIDA will develop for you.
And here's the best part - we'll implement it for you!
In fact, we'll do everything short of showing up for all your first dates - that's your job.
See how easy it is to get started, and start meeting incredible singles!
Want us to do your online dating for you?

Hey, I'm Ally, VIDA Select's Director of Matchmaking.
We take all the frustration, hard work and hassle out of modern dating!
Imagine your very own Dream Team of highly skilled dating experts searching for the very best local matches, sparking their interest, and arranging all the dates for you.
Wouldn't it be nice to finally stop swiping and start dating higher quality matches so you can meet someone special?
We've helped thousands of singles just like you since 2009, and we're ready to make you our next success story!
What are you waiting for? Take the next step now…
See If You Qualify