Wondering which dating app will get you the best results in the shortest amount of time?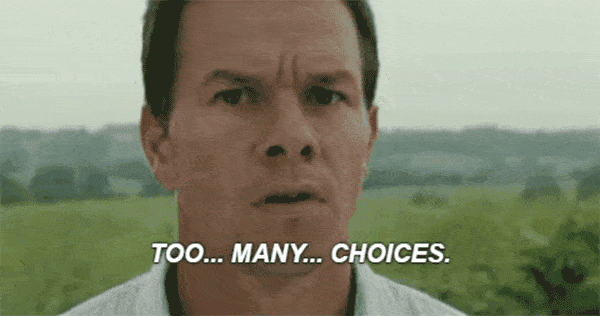 It's not surprising Tinder made your short list – it's been one of the most popular dating apps out there since launching in 2012.
But since you're looking for Tinder reviews, you've probably got some questions. Is it just a hookup app? Am I too old for Tinder? Is upgrading to Tinder Gold worth the cost?
This Tinder review has everything you need to decide if you should hop on Tinder, or if an app like Bumble, Hinge or CoffeeMeetsBagel might be a better fit for you.
Tinder Pros & Cons
The premise is simple – swipe right on a photo if you're interested, left if you're not. When both people swipe right, a match is made and you can start exchanging messages. It's a common format for dating apps, but Tinder has its own unique pros and cons:
PROS:
Tinder is the app that started the swiping craze, so the user pool is huge.
While upgrading will unlock plenty of useful bells and whistles, it's a fully functioning dating app for free.
Upgraded users can use the Passport feature to change location, which means you can swipe on local singles in

any

city.
Unlike some other apps, there are no time limits on messaging.
Tinder attracts people looking for all kinds of relationships, from casual hookups to long term relationships and marriage.
CONS:
If you're not in a large city, you may have a much smaller match queue. 76% of users live in urban areas, leaving 17% in the suburbs, and 7% in rural areas.
Unless you pay to upgrade, you can only swipe right on 100 profiles every 12 hours.
Tinder has an age-based pay scale, so if you're 31+ upgrading will cost you more.
There are more men than women on Tinder, so you'll likely have some stiff competition for the most attractive local women.
You only get a limited amount of information on your potential matches. It's easy and free to set up a profile, so you'll likely come across people who aren't serious about taking things off the app.
VERDICT:
If you live in a larger city (or don't mind driving a bit for dates), the huge user pool alone makes Tinder worth a try. If it's in your budget and you travel frequently, give serious thought to upgrading so you can use the Passport feature. You'll have dates lined up at your destination before you're even done packing for the trip!
If you don't have a lot of time to spend on dating apps and you're looking for a serious relationship, you might have better luck on an app like Hinge or Bumble.
Tinder Cost & Upgrade Options
All the essential functions – swiping, matching, and messaging, are free.
You have two upgrade options: Tinder Plus and Tinder Gold. Here is a breakdown of what features you get at each level, and what it will cost you:
What You Can Do For Free:
Download the app on the App Store or Google Play
Upload up to 6 photos
Write a short bio (<500 characters)
Connect your Spotify and Instagram to your profile
"Like" up to 100 profiles every 12 hours; if both users "like" each other a match is made
Send, read, and reply to messages with your matches
Use one "SuperLike" each day
Check out 1 Tinder Pick each day
What You Get With Tinder Plus:
Hide your age and your distance away
Change your location
Undo your last swipe
Get one free Boost a month, which makes yours the top profile in your area for 30 minutes
The option to only be seen by people you've swiped right on
Swipe through the most recently active people first
Unlimited right swipes
Ad free swiping
5 extra Super Likes each day
Tinder Plus costs around $9.99/month for people 30 and under, $19.99/month for those over 30. Purchasing 6 or 12 months at a time brings the monthly cost down a bit. For all the ins and outs of Tinder Plus check out this article.
What You Get With Tinder Gold:
All the Tinder Plus features
A convenient grid-view of all the people who have already liked you, so a right swipe = instant match
The ability to "auto-match" with everyone in the "likes you" view
Between 4 and 10 Tinder Top Picks daily
Tinder Gold starts around $21.99 a month, with a price break for committing to 6 months or a year up front. The 12-month subscription option brings the monthly price down to $10. For an in-depth Tinder Gold review, click here.
When It Makes Sense To Upgrade
Frequent travelers should definitely think about upgrading. That way you can start exchanging messages with local singles in your destination city, and have dates already on the books by the time you get there.
It also makes sense to upgrade if you live in a mega-city and keep running out of right swipes. Waiting 12 hours for more can get a little frustrating…
If you find yourself with a ton of matches, upgrading to Tinder Gold can save you time by only looking at profiles of people who have expressed interest in your profile already.
Skip the upgrade if you don't live in an area with a lot of other users, especially if you don't want to commute a long distance for dates. It's probably not worth the monthly investment.
Tinder Q&A
If you're not using Tinder yet, you may be asking yourself one (or all) of these common questions:
Am I Too Old For Tinder?
Possibly. 85% of Tinder users are in the 18-34 age bracket, so if you're in your mid 40s or beyond, you may not have as many users in your area. If you find yourself with few (or no) profiles to swipe through, consider broadening your search criteria. You may also want to use Tinder in conjunction with more "serious" dating apps, like Bumble or The League, where you're more apt to find people 30+.
Is Tinder Just For Hook Ups?
When it first launched, Tinder definitely had a reputation as a hookup app. That's changed somewhat, as only 15% of women polled said they were looking for a one night stand.
Now you'll find users looking for an entire spectrum of relationships, from casual encounters to marriage.
Does Tinder Post To Facebook?
Tinder doesn't post on your wall, or send notifications to your friends. There's no way for anyone to know you're on Tinder unless they come across your profile while using Tinder themselves. (If you're worried about that happening, upgrade to Tinder Plus so can limit your profile's visibility to only people whom you've already liked.)
But if you're nervous about your Facebook and Tinder accounts being linked, you can limit how much the two interact.
You can *almost* use Tinder without Facebook by following these steps:
After signing up for Tinder, go to the "Settings" page on Facebook
Tap on "Apps", then tap on "Tinder"
Change "App Visibility" to "Only Me"
Go to "Settings" on Tinder
Turn "Show Me On Tinder Social" off
Limit whichever information you don't want shared by tapping on the blue check marks
How Do I Post On Tinder Feed?
When you enable Tinder Feed, any changes you make to your Tinder profile will automatically be visible to your matches on their Tinder Feeds. And vice versa – any changes they make will be visible on yours.
Examples of what's shared include uploading a new photo or changing your Spotify anthem. Find out exactly how to use Tinder feed here.
How Do You Get Tinder Picks?
Tinder Picks are chosen for you automatically by the app's AI-driven matching algorithm. You can see your Top Picks by clicking on the gold diamond, but free users can only check out one of the profiles. Tinder Gold users can peruse all of them, and generally get between 4 and 10 Top Picks every day.
It's a good idea to check the app daily – Top Picks refresh every 24 hours. To learn more about how Tinder Picks work, click here.
What Is Tinder U?
Tinder U is a college-student-only offshoot of Tinder. To get Tinder U, you need to things:
A ".edu" email address
Being physically located on a college campus the first time you sign in.
Otherwise, Tinder U is the same as regular Tinder. You can toggle between a feed composed solely of students on your campus as well as nearby schools, and your regular feed comprised of local singles who meet your search criteria. To read more about Tinder U, go here.
What Is Tinder's Festival Mode?
Festival Mode is a feature that will display a special badge on your profile that lets other uses know you're planning to attend an upcoming music festival. It works via a partnership with Live Nation and AEG Worldwide, so you'll be able to select upcoming festivals in the US, UK, and Australia.
In theory, this will make it easier to connect (read: hook up) with other singles who plan on attending the same event – and you can get to know them prior to the big day via the app.
The badge for any particular event will become available approximately 3 weeks prior to the date it's happening on.
To display the badge, simply swipe right on the Festival Mode card for the event when it pops up in your card stack. Once you've matched with it, you'll be able to see other users who are planning to attend as well – so you can swipe right on them, as well.
What Is Tinder Places, And How Do You Get It?
Tinder Places is a feature that is still being tested in limited markets, but should be widely available soon.
When it's enabled, the app will note which public places you visit, like bars, restaurants, and the like. It will then show you profiles of other singles who have also visited those places within the previous 28 days.
For more information about how Tinder Places works, click here.
What Is Super Likeable?
Super Likeable is a special card displaying four profiles that Tinder's AI-driven algorithm has chosen for you based on your past swiping patterns. In other words – profiles you're virtually guaranteed to like.
The more you swipe, the more Super Likeable cards you'll likely get. They pop up randomly as you swipe. They come along with a bonus Super Like, which you'll need to use right then.
To find out more about how this Tinder feature works, click here.
Does Tinder Let Users Specify Sexual Orientation And Gender Identity?
Yes – Tinder has an array of options that allows you to specify both your gender identity and your sexual orientation. You can also control whether or not that information is displayed on your profile:
Getting Started On Tinder: A Step By Step Guide
1. Download The App
As with most dating apps, you'll need a Facebook account to use Tinder. Much of the information in your profile is auto-populated from your Facebook profile, so creating a Tinder account is easy.
If you don't want to log in via Facebook each time you feel like swiping, you can skip that step by verifying your Tinder account with your phone number.
2. Choose Your Tinder Photos
You can use up to 6 photos, which will be automatically selected by Facebook at first. You can swap them out with other photos from Facebook or your camera roll simply by tapping on each numbered box.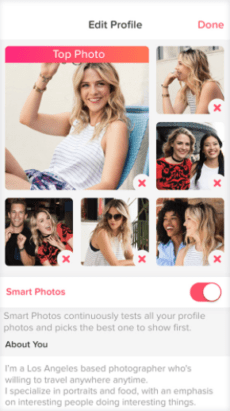 Tinder's Smart Photos feature keeps track of each photo's popularity and adjusts your lineup accordingly. If you'd rather have total control, you can easily turn that feature off by using the toggle located directly underneath your photo display.
Photos will make or break you on Tinder, so be sure to check out these expert Tinder photo tips. But for now, here are the 4 elements the most attractive Tinder photos all have in common, according to science:
There's a high degree of contrast between you and the background
You're the only person visible in the frame
It shows the upper 2/3rds of your body
You're making eye contact with the camera
3. Fill Out The "About Me" Section
Many people don't bother to write anything in this section, but don't make that mistake. Tinder profiles with a bio filled out get more matches than profiles without one, so why not stack the odds in your favor as much as possible?
You can pack a surprising amount of creativity into a 500-character profile, and offering a few enticing tidbits about you and your life builds attraction and trust. That's essential if she's going to respond to your message, or agree to meet in person.
To achieve maximum attraction points, your Tinder bio should do these 3 things:
Catch her attention
Evoke an emotional response, like a smile or a laugh
Make a good impression by highlighting a few attractive traits
Here's an example of a Tinder "About Me" for guys that hits all the right notes: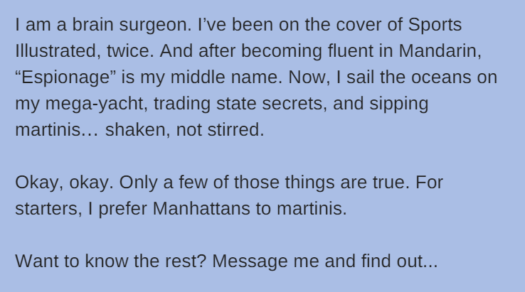 For more inspiration, check out these 4 Tinder profile examples that are proven to get results!
4. Link Instagram And Spotify
Tinder allows you to connect your Instagram and Spotify accounts to your profile if you want to show off more photos or share your taste in music. You can also choose one song off Spotify to be your "Ant
hem," a sample of which can be played right from your profile.
While this can be a good way to connect with someone, you should probably do a little Instagram spring cleaning first. Make sure all your pics show you in an attractive, positive light. She doesn't know you, so just one crazy photo could leave a bad impression and prompt her to move on.

Changes to Spotify, such as changing your anthem, will be shared to Tinder Feed if the feature is enabled. Changes to your Instagram will not display in Feed.
5. Set Your Search Criteria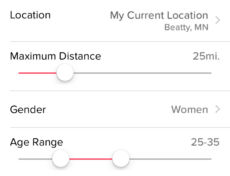 Tinder search criteria is limited to maximum distance, gender, and age range, all of which can be adjusted in the "discovery settings".
You also have the option to hide your profile if you don't want to be visible to other people.
6. Start Swiping!
Now that your profile is set up, you're ready for the fun part: swiping. To find your matches, tap the flame icon at the top of the screen.
Swipe right if you like them, left if you don't, and up if you want to "SuperLike" them. Free users only get one SuperLike per day, so use it wisely. You can also tap the green heart of the red X if you don't want to actually swipe. The yellow arrow will undo your last swipe if you have Tinder Plus or Tinder Gold, and the blue star will "SuperLike" a profile.
If you want to read a potential match's profile or see the rest of their photos, tap without swiping and you can scroll through the pics and read their bio.
If the person you swiped right on "likes" your profile as well, a match is made and they will show up in your messaging queue.
To start a conversation, tap the conversation bubble in the top-right corner. This will bring up all your matches. Just tap on the person's photo and you can type in your message.
Many guys default to just a simple "Hey" or "Hi there," which isn't the way to stand out on a dating app. You can usually bet that the higher quality your match is, the harder it will be to get her attention.
Having a few tried-and-true Tinder icebreaker messages can save you a ton of time, and get you a ton of dates. Just like your bio, a good Tinder conversation starter will both catch her attention and elicit some sort of emotional response.
You'll also want to make it easy for her to respond, so the best thing to do is ask her a question. For example:
For messaging tips and more examples of Tinder icebreakers that actually work, check out this article.
The Easiest Way To Meet The Best Local Singles On Tinder
Swipe, match, message may sound simple in theory… but it's a different story in practice. Tinder can quickly turn into a lot of work. Not only is having an attractive profile essential for success, you also need to do a lot of swiping and writing irresistible messages that lead to dates.
Beginning to sound like a real time investment? The average guy on Tinder logs on 11x a day. That adds up to 90 minutes a day, 10+ hours each week, 42 hours per month! That's basically a part-time job!
But it doesn't have to be. With VIDA, Tinder is a stress-free, hassle-free experience because our dating experts handle it all for you! When you've already got a full-time job, outsourcing Tinder is a smart investment. Click here to learn more!