What is Tinder? It's a free location-based mobile dating app that matches you with singles in your area. Tinder is the
most popular
dating app in the US, and it basically launched the dating app craze.
Tinder's revolutionary (at the time) "swipe right if you like her, swipe left if you don't" format has since been copied by numerous competitors, and apps like Tinder abound. Bumble, Hinge, and CoffeeMeetsBagel are some examples.
If you're curious about the ins and outs of this popular mobile dating app, here's everything you need to know about using Tinder for the first time.
The Main Purpose Of Tinder
Swipe, match, and exchange messages with local singles.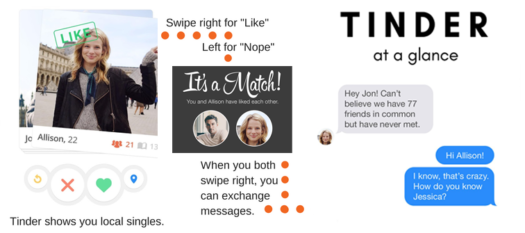 Instant Bonus:

Steal our 14 all-time BEST Tinder openers

so ALL your matches instantly feel an uncontrollable urge to respond to you

.
You may have heard it referred to as a "hook up" app, and when it first hit the market back in 2012, Tinder was mainly used for singles to find more casual relationships.
And while that's definitely still the case (recent studies showed that 49% of men used Tinder to facilitate one night stands, compared to only 15% of women), you can find plenty of users looking for serious relationships, and even marriage, as well.
Wondering how much it costs to be on Tinder? The basic app is free, with the option to upgrade to Tinder Plus or Tinder Gold. (More about that in a minute).
Once you've downloaded the app, you'll need to sign in via your Facebook account. Tinder will not work without Facebook, but that's actually a good thing. It cuts down on the number of fake profiles, plus it makes uploading pictures to your profile a breeze.
Tinder App Download:
If you're curious about the ins and outs of this popular mobile dating app, here's everything you need to know about using Tinder for the first time.
You can also use Tinder Online, which is basically Tinder for your pc – or any other device you want to use.
Create Your Tinder Profile
Creating a profile on Tinder is about as easy as it gets; Facebook does most of the work. Your pictures and interests will automatically load into your profile, and you can choose which photos you'd like to use and what order you'd like them to appear.
Photos are the most important element of your Tinder profile, so you want to choose your strongest ones. You'll want to use at least 3 since studies have shown that men with at least 3 photos in their profile got more matches than men with only 1.
Researchers recently discovered the recipe for the most attractive Tinder photo: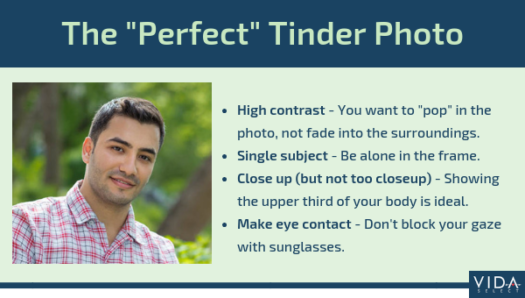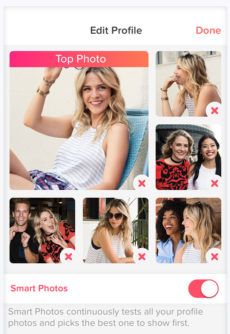 Tinder has a built-in Smart Photos feature that can help identify your best primary photo option. When Smart Photos is enabled, the app will automatically audition every photo in your lineup in the primary spot, then rotate in whichever one receives the most right swipes.
For more info on how (and if!) Smart Photos actually works, check out this article. And if you want even more tips on how to choose the best photos for Tinder, click here.
Once you have your photo lineup addressed, you'll want to turn your attention to your Tinder bio.
There's a section called "About Me" with space for a short, 500-character or less bio.
As a guy on Tinder, you don't want to leave it blank. With men outnumbering women on Tinder 3 to 1, you don't want to miss an opportunity to intrigue her. We've got 4 irresistible Tinder profile examples you can use for inspiration.
You can access and edit your profile information at any time by tapping on the icon at the top of the screen. Once your basic profile is completed, you can set your search criteria. Tinder has minimal filtering options, just maximum distance, gender, and age range.
How Tinder Works
Now it's time for the fun part – swiping.
Tap on the flame icon to swipe through swipe through the singles in your local area. You can use your finger to swipe the image left if you're not interested, right if you are.
Swiping up will "Super Like" someone.
Basic users get 100 swipes every 12 hours. If you don't want to physically swipe with your finger, you can tap the Tinder icons at the bottom of the screen instead.
Here is what the Tinder icons mean:
When you swipe right ("like") someone's profile, and they do the same for your profile, a match is formed.
I've Got A Match, Now What?
Once you've made a match, you are able to exchange messages. To access the message screen, tap on the conversation icon at the top of the screen.
Attractive women on Tinder get tons of messages, so your icebreaker needs to be attention grabbing to stand out from the competition.
Don't just send a basic "Hey." That puts the pressure on her to actually start the conversation, and worse – it will make her think you're boring, uncreative, and nothing special.
Instead, send her a question that's creative, engaging, and above all easy to answer. Try one of our 7 Tinder icebreakers that actually work right now!
Tinder allows women to send "Reactions" in response to a message, so if you send her a less than stellar icebreaker, be prepared to get an animated eye roll or a virtual drink thrown in your face.

Tinder Reactions can be positive as well, including a round of applause and a thumbs up. To send a Reaction, simply click on the smiley emoji next to the message field, and choose which one you'd like to use.
You can also message your matches via Tinder Feed, which is where all their latest activity on the app is posted.
For instance, if someone changes their primary photo or chooses a new Spotify anthem, you can comment on it. simply tap the conversation box on the relevant piece of content, and type your message!
To learn more about how Tinder Feed works – and how to use it to get more matches – go here.
Is Tinder Plus Worth It?
Upgrading to Tinder Plus costs around $9.99/month if you're under 30, $19.99/month if you're 31+. If you commit to 6 months or a year, the monthly cost is slightly less.
Here's what you get for your money:
5 Super Likes a day
Ability to rewind your last swipe
Ad-free swiping
Change your location to anywhere in the world with the Passport feature
Unlimited right swipes

Limit the information tha

t's visible to others

Have your profile shown only to people you've "liked"

One free

Tinder Boost

every month
If you travel frequently, upgrading is worth the price just for the ability to change your location. Start swiping through the local girls in your destination city, and you can have dates lined up before you've even stepped off the plane.
Since 76% of Tinder users live in larger urban areas, if you're not within "dating distance" of a city center, upgrading probably isn't worth the extra cost. But if you do live in a larger city, you'll burn through your 100 swipes with a quickness, so upgrading can save you the frustration of having to wait 12 hours to get some more.
Should I Upgrade To Tinder Gold?
With Tinder Gold, you get all the Tinder Plus perks, and these two additional premium features:
A grid view of all the local singles who have "liked" your profile already – so swiping right = instant match
4-10 Top Picks delivered daily (free users only get 1)
Top Picks are profiles of singles whom Tinder's algorithm has identified as people who match your dating preferences as identified by your swiping patterns, so you're virtually guaranteed to like them.
To read more about how Tinder Picks work, go here.
How much Tinder Gold costs varies by factors like your age and location, but you'll pay somewhere in this general vicinity:
How Do I Get The Most Out Of Tinder?
Regardless of what you are looking for on Tinder, it's important to know how to use the app if you want to get any dates at all.
It's definitely worth taking a look at our fool-proof Tinder hacks as well as these 10 Tinder tips, but here are the basics:
Tinder is literally all about first impressions. Your photos and profile need to stand out.
Make the first move when it comes to sending messages – research shows only 7% of guys send the first message, so impress her by taking charge of the conversation.
Build up your Facebook "Likes." Tinder displays which FB pages you and your match have in common, and having mutual interests could cause more women to swipe right on your profile.
Don't wait too long to ask her out – your goal is to take things off the app as soon as possible. Always suggest meeting for the first time in a public place – that's what 75% of women prefer.
While Tinder is a great way to meet attractive women, you'll find that all that swiping and messaging can start eating up a huge chunk of your free time.
On average, users log on 11 times a day, and spend around 90 minutes a day on the app. That's about 10.5 hours a week, 42 hours a month. Bet you didn't realize a free app could turn into a part-time job!
But setting up and using Tinder doesn't have to be stressful or time-consuming. Lots of busy people hire someone to Tinder for them. There's plenty of reasons why outsourcing Tinder makes sense, but the most important one is simple – it's the quickest way to go on dates with attractive women. Intrigued?
Click here to learn more!