I hope you enjoy reading the blog post.
If you want to chat now about your matchmaking search, click here.
Amy Van Doran Review: Should You Join Modern Love Club?
Amy Van Doran is a bit of a modern day Renaissance woman, with a love for art, fashion, and acting. She's been billed as a "Matchmaker for Extraordinary People."
Her elite matchmaking service Modern Love Club has gotten kudos in the media for having a feminist vibe.
But is Amy Van Doran the right matchmaker for you?
From the big industry players to the small independents, we've reviewed 200+ matchmaking services. Our insight comes from comprehensive research, actual client reviews, and a thorough understanding of the matchmaking landscape.
This matchmaker profile is packed with details on this elite NYC matchmaking service and its founder, so you can decide if she's the best NYC matchmaker for you!
The Face Behind The Modern Love Club
Amy Van Doran founded Modern Love Club in 2008 and has been matching extraordinary NYC singles since then.
As she explains, Modern Love Club helps "self-actualizing and incredible people from all walks of life" take a hyper-curated and individualized approach to their love lives. They take on a small number of clients at a time, and Van Doran says she loves working with people who are open to transforming their approach to relationships through in-depth discussions about love and romance, and conscious dating.
Modern Love Club specializes in NYC dating, but has a network that expands across several major cities, including San Francisco, Los Angeles and Mexico City. Deeply embedded in the matchmaking world, the Modern Love Club matchmakers can also connect you to the best matchmaker in your area, wherever you may be.
How Much Does Hiring Amy Van Doran As Your Personal Matchmaker Cost?
Matchmaking starts at $30,000, but the final price is dependent on the difficulty of the search for a particular client. Modern Love Club employs recruiters, which helps them pinpoint the very best possible matches for their clients.
Modern Love Club also offers curated dating that is optimized by additional services like relationship coaching, image consultations, and online profile maintenance. The number of dates a client gets through the service varies, as it depends on factors like the specificity of the search and how many potential matches the client agrees to meet.
Where Your Matches Come From
Amy Van Doran says she and the Modern Love Club team do targeted recruiting, whether it's approaching intriguing people they meet out at cool events, or people they notice walking around places like Whole Foods, the MoMA, and the NY Public Library.
Recruiting online is also a strategy, as so many interesting and exciting people can be found on platforms like Instagram.
When they spot someone who they think would be a good potential match for a client, they'll approach that person and see if they're single and interested in being matched.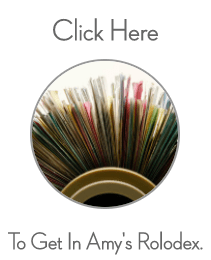 Modern Love Club has thousands of potential matches in their "Rolodex." If you're interested in being one of them, you can fill out an online form.
The Modern Love Club Experience
The first step for prospective paying clients is filling out the Rolodex intake form.
The information you're asked to enter varies from an open-ended "About Me" section to specific questions like "What do you do on the weekends and in your spare time?" and "What are your dealbreakers?"
Entrants are asked to upload 2 photos of themselves that showcase their appearance and style.
Modern Love Club only works with up to 16 people at a time. You can book a "love consultation" directly with a Modern Love Club matchmaker to see if you should be one of them. If you enter the Rolodex as a potential match for an existing client, and they think you could be a good fit, a matchmaker will reach out for a conversation.
As Amy Van Doran, Modern Love Club's founder, explained in an interview,
I get a ton of emails a week. If there is someone that sparks my interest, I will schedule a meeting. I will listen to a person and take notes on his or her needs and wants.
This initial meeting takes around an hour, and you'll discuss your dating history and relationship goals. If your matchmaker thinks she can help you, congratulations! You're the newest member of the Modern Love Club.
When they find a suitable match, you'll go on a date and then receive feedback afterwards. The goal is to help you get great at dating and prepare you to meet your best match. You're also eligible to attend events like exclusive dinner parties.
Amy Van Doran Reviews
Amy Van Doran has been profiled in publications like Elle and Racked, with her matchmaking service receiving praise for its "female-friendly" approach. She takes on both women and men as paying clients, and focuses on matching creative, hip, professional types in their 30s to 60s.
She's definitely a media darling. But if you're looking for real user reviews, you won't find many.
Modern Love Club isn't listed on common review sites like Yelp or Better Business Bureau. That's typically a pretty good sign. Dissatisfied users of matchmaking services are far more likely to post a review than satisfied users.
Modern Love Club has a 5-star rating resulting from a handful of Google reviews. Clients like these two felt Van Doran supported them through their dating journeys:
On Amy Van Doran's Facebook page, Modern Love Club also has a 5-star rating, based on 47 reviews.
Should You Join The Club?
There are quite a few elite NYC matchmakers, so you've got a lot of options when it comes to hiring a matchmaking service.
Based on all the positive media coverage, Amy Van Doran's exclusive 16-clients-only approach works well for her. And if she does decide to take you on as a client, you'll be matched with some of the other thousands of singles in their Rolodex.
But why not consider a matchmaker who has access to the largest database of high-quality New York singles you'll find anywhere?
The Fastest Way To Find Your Soulmate
VIDA Select's team of professional matchmakers get results fast. On average, it just takes 12 first dates to find a relationship. And that usually happens within 3 months of signing up!
With unparalleled access to NYC's most extensive database of potential matches, you won't have to "settle" just for the chance to finally meet someone.
Don't compromise on a limited digital Rolodex when you're looking for the love of your life. If what you're looking for is high quality, consistent dates for a reasonable cost where you maintain control of the process - then VIDA just might be the matchmaking service for you.
All product and company names are trademarks™ or registered® trademarks of their respective holders. Use of them does not imply any affiliation with or endorsement by them.
Why Choose VIDA Select?

Since 2009, thousands of clients have discovered true love thanks to VIDA Select's fresh, modern approach to matchmaking – which has finally thrown blind dates and long-term contracts out the window. This isn't your grandmother's matchmaking!
Instead of working with a single matchmaker using a small rolodex of potential partners, VIDA Select's matchmaking team taps into the world's largest database of available singles. We'll quickly identify the matches who check all of your boxes so you can finally experience true chemistry. Are you ready to become our next success story? Schedule your complimentary consultation now by clicking the button below!
Get Started Now