I hope you enjoy reading the blog post.
If you want my team to just do your Bumble for you, click here to chat with me.
Bumble Premium: When It's Worth The Cost (& When It's Not!)
Wondering if you should invest in a Bumble subscription? You've landed in exactly the right place to answer that question!
VIDA Select's dating experts have been using Bumble Premium since the upgraded membership first launched. In fact, VIDA's team has been representing clients on Bumble since the app hit the market back in 2014!
That all adds up to thousands and thousands of hours of first hand experience, so this Bumble Premium review has all the information you need: what features you unlock, how much it costs, and how it compares to Bumble Boost.
And most importantly, we'll give our expert answer to the million dollar question: Is Bumble Premium worth the money?
Head straight to what interests you most by clicking on the link below, or just start from the top!
Bumble Premium Review Table Of Contents:
Let's get started with…
What Is Bumble Premium?
In late 2020, Bumble split their premium subscription - Bumble Boost - into two tiers for users in most markets, with the rest to follow soon.
The more expensive tier, called Bumble Premium, contains a few of the original paid perks plus two entirely new ones.
These are all the Bumble Premium features:
Beeline
Incognito Mode
Travel
Advanced Filters
All the perks of Bumble Boost
Bumble Beeline
Beeline is a feed where you can see all the profiles of singles who have already "liked" your profile.
That means you'll instantly match with anyone you swipe right on, which can save you a ton of time and frustration - especially if you're in a large city with tons of users.
Bumble Incognito Mode
Incognito Mode allows you to hide your profile from everyone until you swipe right on them - so you'll only be seen by people you're actually interested in meeting.
If limiting your visibility on dating apps is a priority for reasons like having a high profile in your community, Bumble Premium is worth it just for this feature alone.
Bumble Travel Mode
Travel Mode is comparable to Tinder's Passport premium feature - it allows you to change your location and match with singles in cities you're traveling to or wanting to date in.
Your location automatically resets after a week, but you can use it as often as you'd like.
If you're living in a smaller city and don't mind driving a bit to date, or you're willing to relocate if you find the right person, Bumble Travel is worth upgrading for.
Bumble Advanced Filters
Unlocking all the advanced filters means you can screen the match pool for criteria like having a verified profile, what type of dates they are willing to go on, height, exercise habits, politics, education and lifestyle choices and more.
Free and Boost users can only use 1 filter at any given time, so if you're using the dating app to find a serious relationship, this could be a handy premium feature.
For all the ways you can screen your matches on Bumble, check this quick guide to Bumble filters!
Bumble Boost Features
Bumble Premium includes all the features you get with Bumble Boost.
Let's take a look at each one:
Bumble Rematch
Rematch allows you to instantly rematch with someone if you didn't respond to their message in time (or she matched but never messaged), and the match expired.
Expired matches generally reappear in your match feed at some point, but this way you'll both get a second chance sooner rather than later.
Bumble Extend
Extend is exactly like it sounds - it allows you to add an additional 24 hours onto the countdown before a match expires.
Free users get one extend per day, but upgrading to a Bumble subscription allows you to extend as many matches as you need to.
Bumble Backtrack
It happens to everyone - that sinking feeling when you accidentally swipe left on a really hot potential match.
Now you can undo it simply by tapping the backtrack arrow at the top left of your screen.
Bumble Spotlight
Spotlights are a half hour visibility boost you can deploy whenever you want some more eyes on your profile.
Bumble Boost subscribers get 1 Spotlight session per week that you can choose when to use, and anyone can purchase them in lots of 2, 5, 15, or 30.
Whether you paid for it or not, you don't want to waste it - check out these Bumble Spotlight tips!
Bumble SuperSwipes
SuperSwipes are Bumble's way of letting a potential match know you're not a mindless right-swiper - you're genuinely interested.
Boost users get 5 SuperSwipes per week included with their upgraded subscription, and anyone has the option of purchasing them.
Not sure when it makes the most sense to use one? Find out when SuperSwipes are worth it!
Unlimited Swipes
If being forced to take a swiping break is one of your biggest dating app complaints, you'll be happy to know Bumble Boost users can swipe right as many times as they want each day.
How Much Does Bumble Premium Cost? 
Bumble Premium costs around $21.99 per week, but can get as low as around $20 per month when you buy a 3-month subscription.
Bumble Premium Cost* (2023)
1 week: ~$21.99
1 month: ~$44.99
3 months: ~$89.99
Lifetime: ~$249.99
*cost may vary by location
Bumble Premium vs Bumble Boost
Features like Incognito & Travel are definitely handy, but convenience always comes at a price - a Bumble Premium is just over double the cost of Boost.
Is Bumble Premium Worth It?

Yes - *if* you're in one of these three situations:

You're in a city with tons of other users, like NY or LA. Scrolling through your Beeline & instantly matching with the singles you're interested in can save you a ton of swiping time. And if you're looking for a serious relationship, unlocking the unlimited filters to screen out deal breakers like smoking or kids will save you even more.

You don't want every single in town to come across your profile. Online dating has literally never been more popular, and it's now the #1 way couples form. Using Bumble's Incognito Mode means you don't have to worry about coworkers or clients checking out your profile, or even more awkward - matching with you.

You're open to dating singles in other cities. If you're willing to relocate to find love, Bumble's Travel Mode will significantly deepen the pool of potential matches. You can also video chat within the app, so getting to know a match before meeting in person is even easier.
Stick with Bumble Boost if:
There aren't a lot of users in your area and you're not great about checking the app every day.
Bumble's 24-hour countdown is motivation to stay active on the app.
But if you find yourself with promising matches expiring on you, the ability to pad the time clock is helpful. And if you're the type who does all your swiping at once, you'll save yourself the frustration of hitting a daily limit.
Skip the upgrades and use Bumble for free if: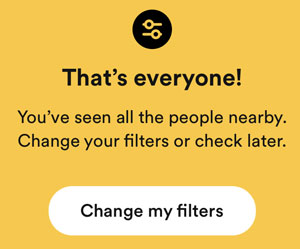 You don't live in a very populated area. If there aren't that many people using the app around you, investing in a Bumble subscription just isn't worth it. Expired matches will come around again in your feed fairly quickly, so you won't have to wait all that long for another chance.
Like most dating apps, Bumble offers a discounted subscription or free trial periodically. Keep your eye out for that if you're on the fence about whether or not you should upgrade, as a sale price could make Bumble Premium worth it.
The sale pricing and trial length often vary depending on factors like your age and where you're using the app.
How To Cancel Bumble Premium
Getting rid of your Bumble Premium subscription is easy.
To cancel Bumble Premium on your iPhone:
Bring up your phone's Settings screen
Tap on your Apple ID
Tap on Subscriptions
Select Bumble from the list
Select "cancel subscription"
On an Android:
Go to settings
Find & Tap on the Bumble Premium subscription
Click cancel
Keep in mind you'll want to cancel your Bumble subscription before the billing cycle ends and it auto renews, as Bumble doesn't offer refunds. You'll be able to use any remaining subscription time before access to the premium features ends.
In either case, make sure you cancel before the end of the billing cycle. You can continue to use Bumble Boost until your subscription runs out. Bumble does not offer refunds.
3 Ways To Upgrade Your Bumble Profile
You should have a good idea of whether or not upgrading makes sense for you after reading this Bumble Premium review.
But no matter what you do next, you want more Bumble matches, right?
These 3 Bumble tips should boost your match rate almost instantly!
#1. Verify Yourself
If you haven't gotten that little blue check yet, do it.
Verifying your profile on Bumble is easy, and it's worth doing because users can filter out profiles that aren't verified. Why risk eliminating yourself as a potential match?
To verify your profile on Bumble:
Tap the "verify" button on the profile editing screen, or tap the badge on someone else's profile.
Follow the prompts to take a selfie. The app will randomly select 1 pose out of a hundred that you need to copy in your photo.
Your selfie will be reviewed - which Bumble claims is by a real person. You should receive your verification confirmation within a few minutes.
#2: Command The Spotlight
Few things will torpedo your match rate faster than choosing your primary photo poorly.
Cardinal primary photo sins include:
A dark, grainy, blurry or otherwise poor-quality image.
A group shot. Even if it's only two people, that's one person too many.
An unflattering selfie.
Without practice (lots of practice), nailing your angles in a selfie is *hard*.
And unless you have a selfie stick, you're likely not going to show enough of your body.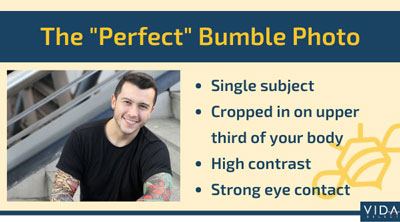 The perfect primary photo, according to science, features the upper third of your body.
That's enough to give your potential matches a general idea of what your body looks like, while still keeping the focus on your face.
Check out this article for more dating profile photo tips that are backed up by science!
#3. Keep Your Bio Positive
Negativity can be a near-instant mood killer, especially if it sounds judgmental or whiny.
Don't waste valuable real estate listing who & what you don't like, explaining what relationship killing behaviors you're looking to avoid, or wondering why this Bumble thing isn't working for you.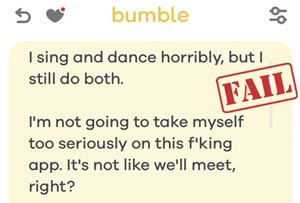 In fact, keep negative phrases like these out of your profile entirely:
I'm not looking for...
I don't want...
I don't like...
Swipe left if...
I'm not into...
Focus on some of the interesting details that make you uniquely you - your hobbies, your favorite recipe, what instruments you play, what you love about your job, what you like to read.
Think of ways to "show" what you're like, rather than just telling her. If you're adventurous, describe that time you went cliff jumping, tried surfing or ordered the pufferfish.
If your Bumble profile sounds like the last 25 bios your potential match just skimmed, you're probably not going to meet the people you're really interested in.
You'll find expert advice and successful profile examples in this Bumble Guide!
The Fastest, Easiest Way To Meet Incredible Matches On Bumble
Upgrading to Bumble Premium can definitely get your profile in front of more eyes - but there's only so much a subscription can do for you.
It's not a magical solution to a bland profile, lackluster photos and boring messages.
Success on Bumble takes time and effort. If you don't know how to look like an amazing prospect on popular dating apps, you're in for a frustrating ride.
The good news is, there's a way to skip that painful learning curve.
You can even skip all that tedious swiping and painstaking message writing. With the experts at VIDA Select at the helm, you get to skip everything - and go straight to all the amazing dates!
If you're ready to stop swiping and start dating, find out if VIDA is right for you!
Want us to do your online dating for you?

Hey, I'm Ally, VIDA Select's Director of Matchmaking.
We take all the frustration, hard work and hassle out of modern dating!
Imagine your very own Dream Team of highly skilled dating experts searching for the very best local matches, sparking their interest, and arranging all the dates for you.
Wouldn't it be nice to finally stop swiping and start dating higher quality matches so you can meet someone special?
We've helped thousands of singles just like you since 2009, and we're ready to make you our next success story!
What are you waiting for? Take the next step now…
See If You Qualify