I hope you enjoy reading the blog post.
If you want my team to just do your online dating for you, click here.
Ann Arbor Singles Review (Is This A Legit Matchmaking Service?)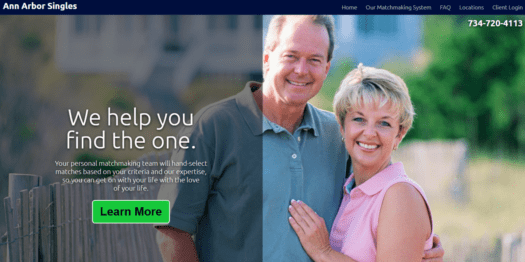 Not having much luck with the Ann Arbor Singles scene?
Hiring a matchmaking service is a great way to meet high-quality people handpicked according to your ideal partner criteria. But is Ann Arbor Singles the right choice for you?
Find out with this Ann Arbor Singles review. It's packed with all the details you need to know about this Michigan matchmaker, including what you can expect to spend and what other people have to say about their experience.
Let's start here…
Are They Affiliated With Detroit Singles?
Yes - Ann Arbor Singles is owned by the same company that owns Detroit Singles, as well as a host of other matchmaking service websites around the country.
All the affiliated websites have a similar format. To learn more about their matchmaking process or speak with a matchmaker, you answer a series of questions and provide basic contact info:
But before you click "Finish", you may want to take a peek at their privacy policy. You're agreeing to it by submitting your information.
Who's got time to read through all that fine print though? Here are a few highlights:
In a nutshell, you're authorizing them to release your private information to third party companies. And they're likely making money by selling it to them.
But on the bright side, maybe one of those Facebook ads or cell phone calls will be for a product or service you're actually interested in...
If you do go ahead and submit your personal information, you'll then have the opportunity provide some background information about you and the type of person you're looking for, like this:
A matchmaker will then reach out via phone for a 30-minute(ish) interview, and to schedule a longer in-person consultation.
How Much Does Ann Arbor Singles Cost?
As you may have noticed, pricing isn't listed anywhere on their website. That's because cost varies depending on your personal financial situation and circumstances, plus any "last minute" promos they may offer.
You can anticipate spending at least $4,000 for 8 or so matches, as according to multiple Yelp reviews that seems to be the going rate for their most basic package.
But keep in mind matchmaking services that don't have set pricing that's consistent across all clients can often be negotiated with in terms of price and number of matches.
You'll discuss all the details during an in-person consultation/sales pitch with a matchmaker, and everything will be spelled out in a contract. If you decide to move forward with Ann Arbor Singles, be prepared to pay the entire package fee up front.
Make sure you get all your questions answered prior to signing on the dotted line, because Ann Arbor Singles doesn't offer refunds.
The Matchmaking Process
Once you become a paying client, you'll be matched with other members in the Ann Arbor Single's database.
When your matchmaker identifies a potential match, she'll reach out to see if there's interest on both sides. If there is, you'll be provided with the other person's contact information. That counts as a match.
They encourage you to make contact within 72 hours, but ultimately the decision is on you. Your matchmaker will do nothing further to facilitate a meeting.
If you do meet your match face-to-face, you can provide feedback to your matchmaker after the date so any adjustments can be made when choosing your next match.
What Do Real Customers Say About This Michigan Matchmaker?
The recommended Yelp reviews for Ann Arbor/Detroit Singles are a mixed bag. The recent not recommended ones are mostly negative. The matchmaking service has a 1-star rating, based on 30+ reviews.
Let's start with the good stuff. This client was satisfied with the handful of dates she's had during her almost 3-year stint with Ann Arbor Singles:
And this new client turned to Ann Arbor Singles after having trouble finding high-quality matches online:
Among the unsatisfied clients, the most common complaints included low-quality (or no) matches and lack of customer service:
Detroit/Ann Arbor Singles has an overall grade of "B-" with the Better Business Bureau.
There was only one review, from a client who said she paid $9,000 for matches who didn't meet her criteria.
There were 9 complaints filed with the BBB, most mentioning the low-quality or lack of matches.
On Google, Ann Arbor Singles has 1.6 stars based on reviews.
The positive review was from a gentleman who gave this Michigan matchmaking service 4 stars, although he wasn't impressed with the quality of his matches:
The rest of the Ann Arbor Singles Google reviews were all 1-star, like this one:
It's always a good idea to keep an open mind while read Internet reviews. But the same complaints popping up over and over could indicate the need for more due diligence. Especially if you want to hire the best matchmaker in Michigan.
It's Best To Consider All Your Options...
You're about to make an investment of your time, money, and trust, so hiring a matchmaking service is not a decision to make lightly.
If you don't choose the best matchmaker for you, you may encounter more bumps than smooth sailing on the road to finding your soulmate.
And when you're locked into a non-refundable contract that you paid up front, as is the case with matchmaking services like Ann Arbor Singles, you've got very little recourse if you're unhappy with the quality of your matches or the customer service.
If the thought of a long-term, prepaid contract makes you uncomfortable, you may want to consider a more modern matchmaking service like VIDA Select.
With VIDA, there are no contracts - you only pay for the time you need. That means you can pause and restart your service at any time, for any reason, as many times as you'd like.
And there's no need to worry about low quality matches. You're in control of who you meet every step of the way.
VIDA's elite matchmakers know how to leverage Ann Arbor's largest pool of eligible singles, so you'll only be presented with high-quality people who check all your boxes.
And since you pre-approve all your matches, you're only investing your time and money meeting people you're excited about!
Want to learn more? Just schedule your totally free, no obligation phone consultation with one of VIDA's elite matchmakers. And let us begin the search for your ideal partner!
Start by seeing if you qualify.
All product and company names are trademarks™ or registered® trademarks of their respective holders. Use of them does not imply any affiliation with or endorsement by them.
Why Choose VIDA Select?

Since 2009, thousands of clients have discovered true love thanks to VIDA Select's fresh, modern approach to matchmaking – which has finally thrown blind dates and long-term contracts out the window. This isn't your grandmother's matchmaking!
Instead of working with a single matchmaker using a small rolodex of potential partners, VIDA Select's matchmaking team taps into the world's largest database of available singles. We'll quickly identify the matches who check all of your boxes so you can finally experience true chemistry. Are you ready to become our next success story? Schedule your complimentary consultation now by clicking the button below!
Get Started Now