I hope you enjoy reading the blog post.
If you want to chat now about your matchmaking search, click here.
Arkansas Singles Review 2023: Legit Little Rock Matchmakers?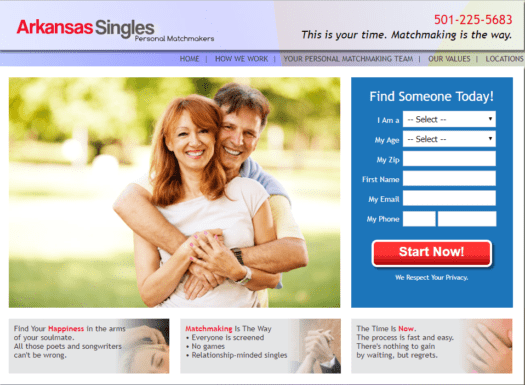 With so many matchmaking services to choose from, you're probably wondering if Arkansas Singles is the right one for you. That's why you're reading an Arkansas Singles review, right?
This one is packed with all the details you need to make your decision, including what you should be prepared to spend and what real customers say about their Arkansas Singles experience.
We've spent countless hours analyzing over 200 matchmaking services. Our expertise comes from our extensive knowledge of the industry, our understanding of what clients value in a matchmaking service, and our dedication to providing comprehensive and insightful reviews.
And at the end of this Little Rock matchmaking service review, you'll find out about an affordable modern matchmaking service that may just be exactly what you're looking for!
The 411 On Arkansas Singles
This dating service is located in Little Rock, and serves the Central Arkansas area, including North Little Rock. Their website is owned by the same company that owns matchmaking company websites all over the United States, such as Ann Arbor Singles and Arizona Singles.
All their websites have different looks, but follow a similar format. If you want to know more about their matchmaking process, including how much their matchmaking services cost, you need to call them directly or fill out a simple contact form and wait for them to call you: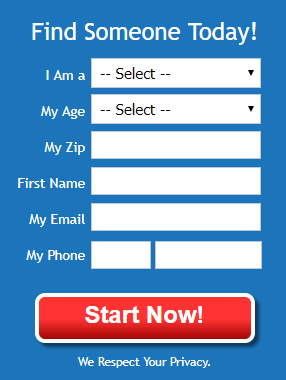 But you may want to glance at their privacy policy before clicking on "Start Now!" and see what they're doing with your contact information.
In case you're too busy to skim all that dense text, here's what you should know:

Basically you're authorizing the release of your personal contact information to any third party companies they're partnered with.
And they're not just providing you with products and services you "may" be interested in out of the goodness of their hearts. They're likely making money on the side by selling your phone number, email address, and other details.
But if you're fine with a potential increase in targeted banner and Facebook ads, or more incoming cell phone calls from solicitors, you can provide even more background info on you and your "ideal partner" by completing the questionnaire that pops up next:
An Arkansas Singles matchmaker will call you to do a short phone interview, and schedule a face to face consultation.
What Does This Arkansas Matchmaking Service Cost?
You won't find any details on how much it costs to use Arkansas Singles on their website.
Pricing varies for each customer, as it depends on factors like your credit score and financial situation, how long you want to commit to the service, and how many matches you want.
In general, though, plan on the price tag being in the neighborhood of $1,500 to $9,000. As with any matchmaking service that doesn't have fixed pricing for the services, you can often negotiate a lower price or take advantage of those "last minute" deals that may arise when you turn down their initial offer.
The final price will be noted in the contract you'll sign, as will all the other particulars like number of matches. Pay close attention to whether they guarantee a set number of matches, or if they're merely promising to search for matches during the contract period.
If you have any questions, get them answered before signing the contract. You'll likely pay the entire fee up front, or at least commit yourself to a fixed number of monthly payments.
That means you have little to no recourse if you aren't happy with the service you're receiving - Arkansas Singles doesn't offer refunds.
What To Expect From Arkansas Singles
Once you've signed on, your matchmaker will search their database of eligible singles to find compatible matches for you. If she does, she'll reach out to both parties to see if there's mutual interest. If so, you'll receive contact info, which counts as one of your matches.
Clients are encouraged to contact each other promptly, ideally within 72 hours. But it's left up to you and your match to actually reach out and plan a meeting. The info exchange is all your matchmaker will do on your behalf.
If the two of you do meet in person, you're encouraged to provide your matchmaker with feedback afterward, so that any adjustments can be made when selecting your next one.
Arkansas Singles Reviews: Real Customer Feedback
To date Arkansas Singles hasn't been reviewed on Yelp, which isn't a bad thing. After all, upset customers are more apt to complain online than happy ones are to take the time to post a glowing review.
BBB Arkansas Singles Reviews
This Little Rock hasn't been graded by the BBB, but they have three 1-star reviews. Their current customer review rating is 1/5 stars.
Some customers like this one experienced low quality matches and were disappointed they didn't get to see a photo first:

This client was frustrated by how long it was taking in between matches. She also said she had difficulty reaching her matchmaker:

Arkansas Singles also has 2 complaints filed with the Better Business Bureau, one which mentioned low-quality matches and the other problems getting in contact with them after signing up.
Of course, the Arkansas Singles experience is different for each customer, and only you can decide if they're the right Little Rock dating agency for you.
But you're about to invest your money, not to mention your time and your trust, in someone who's performing a very personal service for you. It only makes sense to consider every available option before moving forward.
The Risk Free Way To Find High-Quality Singles In Little Rock
If the thought of committing to - and paying for - a pricey contract before you've even had a chance to test out the company's service makes you nervous, you should consider using a company that takes a different approach to matchmaking.
VIDA Select understands that matters of the heart don't adhere to a timeline. If you meet someone right away, we don't want you to be stuck paying for time you don't need!
That's why VIDA offers a range of monthly service packages - so you can pay as you go!
No contracts, no negotiating "freeze" time - you can stop or start your service whenever you want, as often as you want.
But the flexibility doesn't stop there - you can also decide how many dates you want to go on each month, and pre-approve all your matches!
VIDA's matchmakers are confident you'll be meeting high-quality singles who meet your perfect match criteria to a "T", because they've got access to the single largest pool of singles you'll find anywhere in Arkansas!
To learn how VIDA can help you finally meet your soulmate, simply schedule a low-key, totally free phone call with our elite matchmaking team.
It's easy - just go here to get started!
All product and company names are trademarks™ or registered® trademarks of their respective holders. Use of them does not imply any affiliation with or endorsement by them.
Why Choose VIDA Select?

Since 2009, thousands of clients have discovered true love thanks to VIDA Select's fresh, modern approach to matchmaking – which has finally thrown blind dates and long-term contracts out the window. This isn't your grandmother's matchmaking!
Instead of working with a single matchmaker using a small rolodex of potential partners, VIDA Select's matchmaking team taps into the world's largest database of available singles. We'll quickly identify the matches who check all of your boxes so you can finally experience true chemistry. Are you ready to become our next success story? Schedule your complimentary consultation now by clicking the button below!
Get Started Now