When you're looking for a beautiful sugar baby, the last thing you want to do is waste your time – and money – on a dating site that's overflowing with escorts, scammers and intrusive ads.
Start here, with one of the 3 best sugar daddy websites! This handy list includes a brief review of each one, including cost, so you can decide which is the best option for you!
Sugardaddie.com gets top billing for a number of reasons:
It has consistently been one of the most popular sugar sites since it launched back in 2002.
You'll find women seeking everything from a casual date night to a long-term mutually beneficial relationship.
All users, regardless of gender, must pay to both send and receive messages – and that cuts way down on the number of escorts, scammers and fake profiles that tend to plague sugar sites.
For an additional monthly fee, you can take steps to hide your profile and activity on the site (more on that coming up!)
The advanced search functions make it easy to screen for your ideal sugar baby – ethnicity, height, hair color and body type are all filters you can apply. You can then sort your results by age (i.e. youngest to oldest within your specified range), most recently active, or newest profiles.
Sugardaddie.com Cost & Premium Features:
Creating your profile, uploading photos and browsing the user database is free. But to do much more than that, including message women, you'll need a premium membership.
Premium memberships are often discounted, so when a special is running you can get one month for $22.49 instead of the usual $44.99:
In addition to being able to contact other users, you can also check out your suggested matches in the "Meet My Match" section.
There are 2 ways to hide your profile and/or your activity, such as your online status, when you last logged in, and whose profiles you checked out:
Stealth Mode: For $9.99/month, this feature will hide your online status, meaning no one can tell when you last logged in or whether you're actively using the site. Instead, your profile will show as inactive and that you aren't logged in. Your profile will, however, still be visible in search results.
Private Mode: For $9.99/month, you'll be totally invisible unless you express interest in a sugar baby by sending a message or adding her profile to your Favorites. That means you'll only be seen by the women you're interested in.
Sugardaddie.com doesn't automatically renew your membership, which is somewhat rare for a dating site. You can try it for a month without worrying that you'll forget to cancel and be charged for another one.
Sugardaddie.com is an online only sugar daddy website, it does not currently have a mobile app version.
Rebranded from "Seeking Arrangement," Seeking is also a hugely popular sugar daddy dating website. A truly international affair, it's available in several different languages, including English, French, German and Chinese.
Seeking works a little differently than Sugardaddie.com. For starters, men can only send up to 10 messages without a paid subscription. To send more than that, you'll need to upgrade.
But for women, Seeking is a free sugar daddy website.
That's good in the sense that you'll find tons of sugar babies to choose from, bad in that you'll also find prostitutes, fake profiles, and scammers aplenty. But if you're diligent about screening profiles, legit users who are serious about finding a sugar daddy are fairly responsive.
Seeking also goes to great lengths to attract "real" sugar babies by hosting Sugar Baby Summits, which are essentially a primer on how to live the sugar life. There's even a "Sugar Baby University" that encourages college students to use the site as a way to offset student loans.
Men can attract sugar babies by verifying their profiles. It's a way to let sugar babies know you're the real deal, and involves submitting documentation such as a driver's license and tax information.
Seeking Cost & Premium Features:
A premium membership on this sugar daddy dating website costs $19.95 for one month, or $14.95 per month for a 3-month membership.
These are the features included in a premium Seeking membership:
Hide details such as your online status, when you joined, and what country you live in
Keep your profile from displaying in search results, and you aren't required to post a photo
You'll be listed as an upgraded member
You'll be notified when someone reads your message
Access to advanced search filters
There's also an exclusive "Diamond" membership, but you'll need to be a premium member for at least 2 months before you're eligible for that. And at that level, you're required to go through the background verification process.
A Diamond membership costs around $200 monthly, but it's also a sugar baby magnet since you'll get a "Diamond" badge on your profile: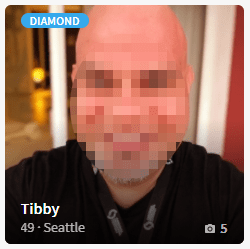 While Seeking is definitely a popular sugar daddy dating website, if you're looking for a long term sugar arrangement, Sugardaddie.com is likely where you want to start.
But if you're after something on the more casual end of the spectrum, Seeking is a great place to find sugar babies on the same page.
Seeking has a mobile version for Android users.
Like Sugardaddie.com, SugarDaddyForMe has been around since the early 2000s, having officially launched in 2004. But unlike the other sugar daddy dating sites on this list, SugarDaddyForMe hasn't updated its look in quite awhile.
Aesthetics aside, it made this list because of the concentrated effort to weed out escorts (although as with any sugar site, you'll still find a few).
It's also more inclusive than the typical sugar site, going beyond the typical Sugar Daddy/Sugar Baby designations. You'll also find Sugar Mommas, male Sugar Babies, and gay Sugar Daddies.
SugarDaddieForMe Cost & Premium Features:
SugarDaddieForMe offers a free 3-day trial where you can give the full membership a test drive, since free members are restricted to sending just 3 messages per day, and can't read or reply to messages sent from anyone other than fully upgraded users.
There are two levels of premium membership, Gold and Silver.
A Gold membership costs $44.95 per month, which includes the following features:
Send, receive and read messages
Your profile is highlighted in search results, and listed before free members
Your messages are highlighted in the recipient's inbox
Weekly suggested matches
No storage limits for messages
Access to the Instant Messaging feature
You can also pay an additional $14.95 per month for the "Total Access" package, which makes it so any users, including those on the site for free, can read and respond to your messages. Without the additional upgrade, free users can't read or respond to you.
A Silver membership costs $39.95, and only includes the ability to send, receive and read messages and use the Instant Messaging feature. However, there is limited storage associated with both, and you won't have access to your IM history.
Silver members also have the option of paying the additional $14.95 to unlock the truly unlimited messaging feature.
SugarDaddyForMe is also an online only sugar daddy website – does not currently have a mobile app version.
Bonus Tip: If You're Dating In A Large City, Give MillionaireMatch A Try
Millionaire Match isn't a true sugar daddy website, but you'll find plenty of attractive women looking to meet successful men.
It's been around since 2001, but the number of active users seems to be on a bit of a decline. On the plus side, the quality of your matches helps make up for the lack of quantity.
Most of the singles you'll find on MillionaireMatch tend to live in places like New York or LA, so if you don't, stick with SugarDaddie.com.
Creating a profile is free, so it's quick and easy to take a look and see if it's worth joining.
Messaging isn't free, however. As a "Standard" (read: non-paying) member, you can only reply to messages sent from a Gold member. You can't initiate any message exchanges of your own.
A Gold membership on MillionaireMatch costs around $70 per month, $45 per month with a 3-month commitment, or $40 per month with a 6-month commitment.
There are over 40 premium perks that come with a Gold membership in addition to full message and live chat privileges, including:
See who viewed your profile and read your messages
Get verified as a "certified millionaire" if you're eligible
Use advanced search filters like certified millionaire, recently joined, income, and keywords
Control who is able to view your profile, and create private photo albums
See how frequently other users respond to messages
MillionaireMatch has an app that's available for both iOS and Android. For more information, plus profile and message tips, check out this MillionaireMatch review!
Honorable Mention: Luxy
Like MillionaireMatch, Luxy isn't a sugar dating website. Marketed as an exclusive dating app for the top 1%, if you can make it past the verification process you'll find there's no shortage of incredible women looking to meet affluent men.
When you first create your profile, you'll need to survive the 24-hour "Vouching" period. That's where Luxy members will check out your photos and bio, then determine if you're worthy of the app by voting yes or no. If at least 50% of those votes are a "yes," you're in.
Don't want to jump through the hoops? If your income is over $200,000 yearly and you submit documentation to prove it, you can skip the vouching process entirely.
Or you can purchase a premium subscription, called Luxy BLACK, which ranges from $58 to $99 per month, depending on the length of it. Here are a few of the premium features included in your membership:
Send a message to any member, even if you haven't matched with them yet.
Access premium filters like income, location, and verification status.
Control who sees your profile by remaining invisible until you "like" someone
The Luxy dating app is available for iOS and Android. Want a full run-down on this exclusive dating app? Check out this Luxy review!
Want To Meet Incredible Sugar Babies, Without Spending A Ton Of Time Online?
No matter which of these 3 sugar daddy dating websites you decide to try, you'll have to invest time screening through hundreds of profiles to find intriguing sugar babies.
Once you've done some heavy curating, you'll still need to send a message that cuts through the competition clutter, and build up enough trust and attraction via an online conversation that she'll agree to meet you – or at least share her number.
And of course you'll only get that far if you've got a profile that catches her eye to begin with! To attract the hottest sugar babies, the ability to describe your best traits in a natural, casual way (read: not bragging) is an essential skill you need to master.
Sound like a ton of work? It most definitely is. Is there a shortcut that leads straight to meeting incredible sugar babies? There sure is – VIDA!
VIDA's elite team of modern dating experts handle all that time-consuming, skill-requiring prep work – including writing messages on your behalf that lead to numbers and dates!
In a nutshell, we do it all, so you have nothing to worry about except making a great first impression on all your first dates. And we've got you covered there, too, with everything from coaching to personal stylist services.
Why not see what VIDA can do for you?
Click here!