I hope you enjoy reading the blog post.
If you want my team to just do your online dating for you, click here.
Colombian Cupid Review - Cost, Pros, Cons, Tips & More!
Curious about whether Colombian Cupid is legit or a waste of your time and money?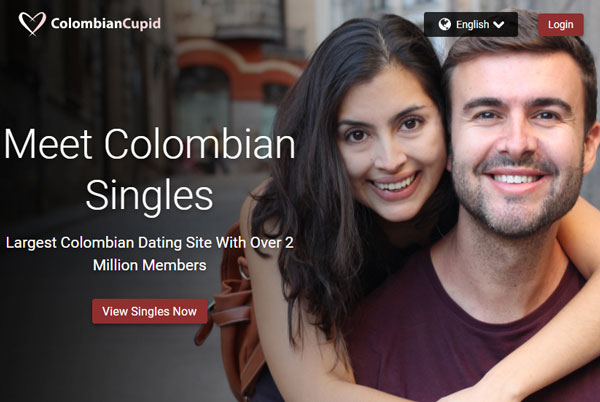 From the quality of the database to what you can do for free to how much the premium features cost, this Colombian Cupid review has all the info you're looking for to decide if this international dating site is worth using.
Our team of dating experts has hundreds of thousands of hours of real-world experience using all the most popular dating sites and apps. We've been helping singles like you meet your perfect match since 2009!
Keeping reading to the very end, because we've shared 7 Colombian Cupid tips that will help make your profile and messages irresistible to your hottest matches!
Colombian Cupid Pros & Cons
This niche dating site is one of 30+ in the Cupid Media portfolio. The company has a long-standing rep for running legit dating sites all over the world. Others include Dominican Cupid and Korean Cupid.
It's hands down the best way to meet Colombian singles in large cities like Medellin. Especially if you're not actually there (yet). The only other strong contender at this time is Tinder.
As with most of the "Cupid" niche sites, Colombian Cupid is designed to make it easy for local women to meet men from other countries.
Colombian Cupid's search features are another mark in the "pros" column. The extraordinarily detailed criteria make screening your potential matches a breeze.
That being said - be prepared to screen your matches extensively.
One of Colombian Cupid's biggest cons is a problem plaguing most international dating sites. You'll find a higher number of outright fake profiles and a relatively high percentage of women who tend to flake out (or ask you for money). But don't worry, you'll find helpful tips for spotting red flags later in the article.
Another potential con is having to pay for a membership to use all of the site's features.
Let's take a look at what you can do for free, and what features you get with a paid subscription.
Colombian Cupid Cost & Premium Features
Joining Colombian Cupid, searching and browsing matches is free. You can also reply to messages that are sent by paying members.
However, you'll likely find many of your most intriguing matches are free ("Standard") users. So if you want to communicate with them you'll need a premium membership.
There are two levels of paid memberships: Gold and Platinum.
Here are the benefits you can access at each level: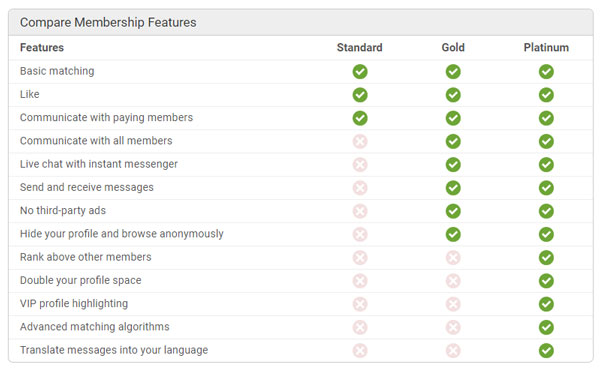 A Gold Colombian Cupid membership costs $29.98 for one month, $63.99 for 3 months and $127.98 for a full year.
A Platinum Colombian Cupid membership costs $36.99 for one month, $73.98 for 3 months and $149.99 for a full year.
If you're in Colombia or willing to travel there to meet someone special, this site is likely worth paying for. Colombian Cupid reviews from around the web are generally positive, citing a user-friendly format, responsive members and reasonable pricing.
Download the Colombian Cupid app here:
Colombian Cupid Profile Creation & Tips
Getting started on Colombian Cupid only requires providing the basics: first name and gender, age, email address, and password.
You could start browsing matches right away. But you'll want to put some actual effort into your profile if you want high-quality women to respond to your messages.
You'll be immediately prompted to upload a primary photo, and this is your first chance to outshine your competition.
#1: Make Smart Photo Choices
Way too many guys roll with whatever photo is handy, and make one of these 3 common mistakes when choosing their primary photo for Colombian Cupid:
Terrible Lighting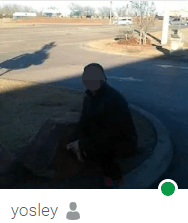 While it's typically better to choose dating photos taken outside, you want to make sure the natural light is flattering. If you're cloaked in shadow and it's hard to even make out your features, she's likely going to pass you by.
Extreme Closeups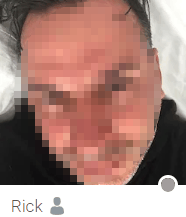 Selfies aren't ideal as a primary photo. It takes a lot of trial and error to find a flattering angle to hold the phone.
Having the phone too close to your face warps your image slightly, and studies have found that subtle distortion actually makes the viewer perceive you as less trustworthy.
Pretty much the last impression you want to make on a dating site, right?
Lack Of Eye Contact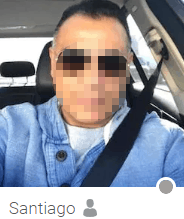 Whether you're wearing a pair of sunglasses or looking away from the camera, not making eye contact with the viewer is a mistake because most people equate strong eye contact with trustworthiness. You're also missing out on one of the easiest ways to establish an instant connection.
And if that's not enough to make you skip the sunglasses shots, consider this - wearing a pair in a dating photo makes you less likeable.
Next up is your profile - which is just as important as your photos. Especially if you're living in a place like the US and hoping to find a Colombian woman who's interested in relocating.
It's vital she thinks you're taking the dating site seriously, otherwise why would she spend time messaging someone who's not currently anywhere near her?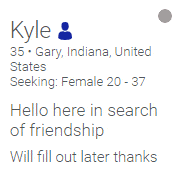 #2: Paint The Picture In Your Profile
The key to success is presenting a well-rounded, intriguing and attractive snapshot of your lifestyle. In other words, you need to portray yourself as someone she could imagine herself with long term.
In addition to choosing an appealing range of pictures that give her a glimpse of your daily life, you'll also want to paint a compelling picture in your bio.
Out of the 5 profile sections, "In Your Own Words" is the only part that's not mostly pull down menu options - and you need to make it shine.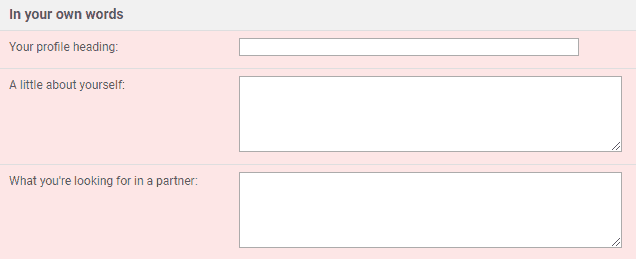 While you may recognize the format from mainstream dating sites like Match.com, don't approach your profile the same way.
Keep Your Profile Simple
It's better to keep your Colombian Cupid profile relatively short and simple. Women on the site tend to respond better to a more straightforward approach than a drawn-out, witty or funny one.
Stick with mentioning a few interesting hobbies as well as what you do for a living. You want to portray yourself as serious relationship material, and having a stable income is part of that.
End with a line about how you're either living there or will be visiting her area in the near future. She's far more likely to invest time communicating with someone there's a solid chance of meeting in person.
PRO TIP: After just a couple minutes of inactivity, Colombian Cupid will log you out of the site - and it doesn't register typing in the "In Your Own Words" fields as activity. To prevent losing all your work, write your bio in a separate document, then copy/paste it in when you're finished.
Setting up the rest of your profile is a breeze. There's a screen where you can select interests and hobbies you have, and also a short fill-in-the-blank section consisting of 12 questions to answer.
Spend some time completing these, as it shows you're invested in the process and gives her a more well-rounded idea of who you are.
#3: Don't Get Lost In Translation
Keep in mind that she's likely relying on Colombian Cupid's built-in translation function, even if she speaks a little English. That means short, simple sentences are the way to go.
In fact, if you want to ensure your profile doesn't get scrambled in translation, use this simple hack: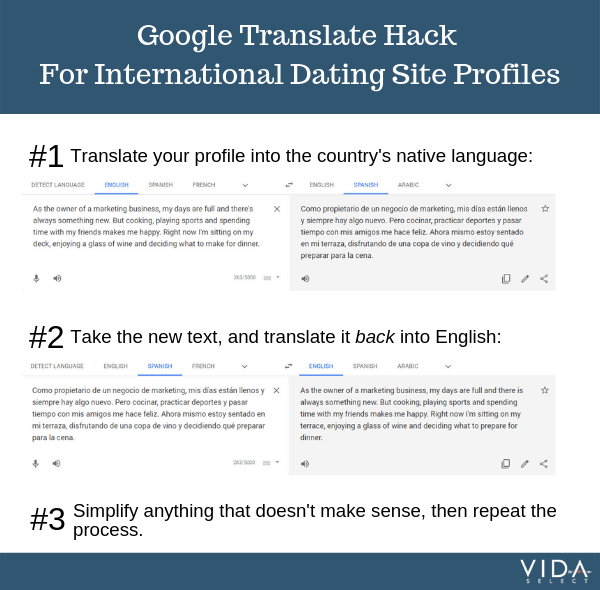 #4: Use Keywords To Optimize Your Profile
All Cupid Media sites use "tags," which are keywords she can search by. With hundreds available, you're sure to find a few that fit your lifestyle and personality.
The site recommends adding at least 5, and this will help get your profile featured in more search results.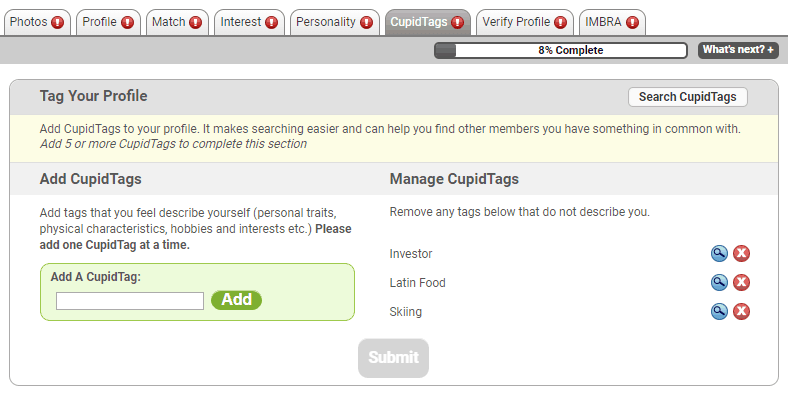 #5: Verify Your Profile
As a last step in your profile setup, consider verifying your profile. If you upload a copy of your national ID, passport or driver's license, you'll get a "Verified" badge displayed on your profile.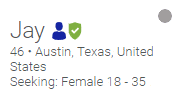 That extra step can really give your response rate a boost, as it lets her know you're legit.
Speaking of legit profiles, you'll definitely want to keep your eyes out for fake ones.
As with most international dating sites, what you see may not be what you get - especially if the photos are low quality (or very high quality and stolen from another website).
Video calls are a great way to screen your matches, and it's also a good idea to quickly move the conversation off the dating site and onto Whatsapp.
#6: Steer Clear of Scammers
Scammers abound on international dating sites, as do opportunistic women who are more interested in you wiring money than buying a plane ticket to visit.
It's not a bad idea to approach every date like she's working an angle, as this is often the case.
According to the FBI, people lost over $400 million to romance scams in 2019 - and that's just the victims who came forward.
If any of these red flags pop up, move on:
Profile only features one picture, typically of a beautiful woman portrayed in an overtly sexy way.
Your match seems laser focused on figuring out how much money you make, i.e. asking about what kind of car you drive, house you own, etc.
She immediately suggests moving the conversation to a different platform, such as email. Often this will be because she's "going to stop using the site".
She seems really into you, after only a few messages have been exchanged.
She asks for money. No matter what seemingly realistic and compelling reason she has for needing it, it's a scam.

Don't wire money to someone you've never met

. While it may seem obvious now, when you've invested time in a conversation and feel like you're really clicking with someone, it can be a lot harder to be objective.
#7: Safety First!
It seems that foreigners getting drugged and robbed by women they meet online in cities like Medellín has become more common over the years.
Scopolamine, commonly referred to as "Devil's Breath," is one of the scary drugs being used to do this. It's mainly produced in Colombia, and is typically used as a fine white powder added to someone's food or drink. The effects are felt within a few minutes, and last for a few hours.
Here are some basic precautions you should always take when meeting a Colombian Cupid match:
Always meet somewhere safe, in public, with lots of people around.
Tell a friend the location and who you are going to meet, then send them a screenshot of or link to her profile.
Never leave your drink or food unattended, and if you're ordering your drinks from a bar, make sure you're the one bringing them to the table.
Never get into a taxi with her without knowing exactly where you're headed.
Ordering an Uber rather than grabbing a random taxi in the street is generally safer.
Use common sense across the board!
Want The Best Odds Of Meeting The Colombian Woman Of Your Dreams?
Let VIDA help! Whether you're looking for Colombian singles or interested in meeting attractive women from other countries as well, navigating the world of international dating takes time and effort.
Our team of dating experts has a ton of experience helping guys like you find incredible Colombian women, and we can help you avoid all the common pitfalls that often go hand-in-hand with an international search.
Want us to do your online dating for you?

Hey, I'm Ally, VIDA Select's Director of Matchmaking.
We take all the frustration, hard work and hassle out of modern dating!
Imagine your very own Dream Team of highly skilled dating experts searching for the very best local matches, sparking their interest, and arranging all the dates for you.
Wouldn't it be nice to finally stop swiping and start dating higher quality matches so you can meet someone special?
We've helped thousands of singles just like you since 2009, and we're ready to make you our next success story!
What are you waiting for? Take the next step now…
See If You Qualify