I hope you enjoy reading the blog post.
If you want to chat now about your matchmaking search, click here.
Insider's Guide To The Best Edmonton Matchmakers (2023 List)
You definitely don't lack for choice when it comes to finding an Edmonton matchmaker. But deciding which matchmaking service best fits your style can be hard!
These 3 options are a great place to start, and if you read to the end of this short guide, you'll also get 5 crucial questions to ask any Edmonton dating agency you're considering - so you don't end up making a pricey mistake!
Prior to becoming an Edmonton matchmaker, Susan Semeniw worked in sales and marketing - a skill set that comes in handy for building up her database of potential matches. Divine Intervention works with singles in Edmonton, Calgary and Toronto, and is headquartered in Vancouver.
Clientele
Semeniw works with men and women of all ages, often divorcees who are re-entering the dating scene.
Cost
$1,500 - $15,000+
Contract Required
Yes
What To Expect
Like many matchmaking services, the process starts with a quick, pre-qualifying phone call followed by a more in-depth interview with a matchmaker.
If you come on board as a client, you'll be matched with Edmonton singles from the Divine Intervention database, or Semeniw and her matchmaking team will scout locally on your behalf.
Each client's service package can be customized to include dating coaching, which affects the final price tag.
Additional Services
Semeniw has a network of affiliated counselors that can assist you with everything from relationship coaching to Feng Shui and personal fitness training.
Founded In
2006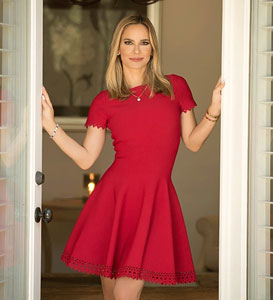 Perfect 12 is a high-end matchmaking service that is based in the US - Beverly Hills, California, to be precise. But Simona Fusco and her matchmaking team work with singles from all around the US and Canada.
Clientele
While their reach is broad, Perfect 12 only takes on a very limited number of paying clients each year. Generally those clients are quite successful, well off, and able to meet singles from around the country.
Cost
Fees are generally kept confidential, but since it's a "luxury" matchmaking service, plan on investing anywhere from $25,000 to $250,000+.
Contract Required
Yes
What To Expect
Women have the option of joining Perfect 12 as "Affiliates" - meaning you'll have a profile in their database. However, you'll only be contacted by a matchmaker if you may be a good fit for one of their paying clients - so no match guarantees.
For men and women who want matchmaking services, there are 3 general membership levels to choose from, but your individual package will be customized. That means prices vary among members, because each person's search criteria are different. But one thing every member pays is the initial interview fee: $2,500.
After that, your matchmaker will spend a month or so familiarizing herself with your relationship history and goals, and then she'll start pulling suitable matches from their database of 200,000+ or scouting around Edmonton.
Founded In
2005
Further Reading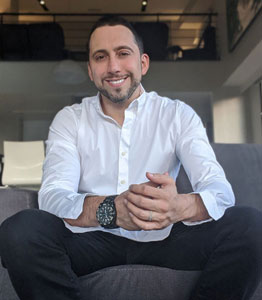 VIDA Select's elite matchmaking team has access to Edmonton's largest source of eligible singles, which is why the typical VIDA client meets someone with true partner potential in the first few months of service.
The secret? Combining the latest tech with proprietary data analysis - and a talent for good, old-fashioned matchmaking.
Clientele
VIDA's clientele are typically extremely busy, successful execs from industries like tech, finance, advertising, etc.
The monthly service is also perfect for anyone who's recently gotten back into the dating game, and is looking for the best way to meet pre-screened, amazing singles.
Cost
VIDA's wide range of matchmaking packages are largely designed around the number of hours that should be devoted each month to finding your perfect match. No matter how many locations you'd like to search in and how complex your "ideal partner" criteria are, VIDA has a package that fits your relationship goals.
There are three levels of matchmaking service to choose from. Basic packages begin at $995/month, with Premium options starting at only $1595/month. Elite packages start at just $2395/month.
Contract Required
No - it's a "pay as you go" matchmaking service.
What To Expect
VIDA has a menu of monthly packages to choose from, all of which include unlimited matches who meet the 'ideal partner' criteria you share with your matchmaker.
You only invest your time and money meeting Edmonton singles you pre-screen, based on photos and a profile.
Because you're not under contract, you are able to suspend, stop and restart your matchmaking service whenever you need to. That means you have the freedom to travel for an extended period, take all the time you need to see where a relationship with one of your matches is headed, or simply take a step back from dating for a bit.
VIDA's brand of modern matchmaking is the perfect fit for your busy schedule - because you set the pace!
Find out more and see if you qualify by clicking here.
Additional Services
Dating coaching, personal style and image consulting, professional photography & retouching
Founded In
2009
How To Hire The Right Edmonton Matchmaker For You
Investing in the right service starts with asking the right questions. Start with these 5: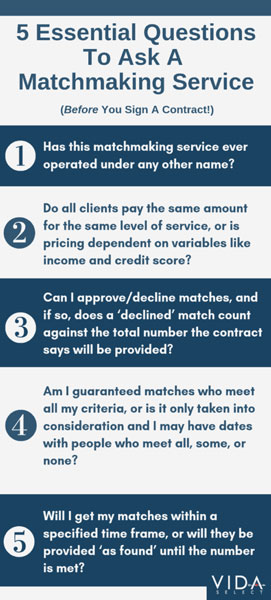 Before your initial consultation, think about what answers you're comfortable with - especially if you're considering selecting a matchmaking service that locks you into a long term contract.
Remember, too, that anything verbally promised during that consultation likely isn't binding - it's all about what's spelled out in the document you sign.
Read it, understand it and if necessary question it - before you put pen to paper. Many matchmaking services don't offer refunds at all, and some, like Edmonton Matchmakers, won't issue a refund after you've been on the first date.
And like some matchmaking services, Edmonton Matchmakers doesn't put a time frame on when you may expect to get those dates. Instead, matches are made on an "as-available" basis. That means it could conceivably take years for the service to provide the number of introductions promised in your contract.
"Endeavor to find" is another contract term to take note of. It's basically what it sounds like - the matchmaking service is promising to try and find you suitable matches, not guaranteeing they will. So you could be introduced to people you find completely incompatible, but are still technically considered a match.
That's not to say matchmaking services with that language in their contract are doing something wrong - it's just essential that you understand what you're getting in return for your investment.
Your other option is to consider a matchmaking service like VIDA that doesn't use long term contracts at all. Instead, you just pay each month. So if the service isn't a good fit, you can simply stop at any time!
All product and company names are trademarks™ or registered® trademarks of their respective holders. Use of them does not imply any affiliation with or endorsement by them.
Why Choose VIDA Select?

Since 2009, thousands of clients have discovered true love thanks to VIDA Select's fresh, modern approach to matchmaking – which has finally thrown blind dates and long-term contracts out the window. This isn't your grandmother's matchmaking!
Instead of working with a single matchmaker using a small rolodex of potential partners, VIDA Select's matchmaking team taps into the world's largest database of available singles. We'll quickly identify the matches who check all of your boxes so you can finally experience true chemistry. Are you ready to become our next success story? Schedule your complimentary consultation now by clicking the button below!
Get Started Now