I hope you enjoy reading the blog post.
If you want my team to just do your online dating for you, click here.
eHarmony Login - Plus 3 Ways To Boost Your Response Rate
eHarmony Login Page URL:
Trouble logging in? Click here for more help accessing your account. eHarmony customer service is available via both chat and email.
While the chat function is available 24/7 Monday-Friday, the customer service department has limited hours on weekends.
Searching for the app? Download eHarmony for iOS or Android.
While you're here, check out these 3 ways to boost your response rate on eHarmony! You'll be matching and getting more dates with the gorgeous women you want to meet in no time.
Tip #1: Put Some Thought Into Answering The Profile Questions
eHarmony profiles are unique in that there's no main "About Me" section. Instead, profiles are broken up into a series of graphic boxes, each containing information like "What I'm most passionate about" and "I typically spend my leisure time…"
Because there's no minimum character limit, and so many questions to fill out, it can be tempting to skip some sections.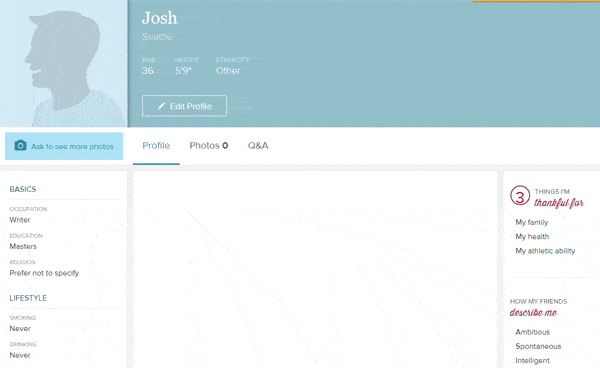 That approach won't fly, because whatever you don't answer shows up as an empty box. eHarmony is one of the best dating sites for serious relationships, so she's not going to be impressed by a lazily written, half completed profile. She'll quickly move on to more interesting guys.
Also, keep in mind eHarmony members were likely drawn in by the promise of using a personality profile to vet for compatible matches. Lack of detail in you profile is likely to be a huge turnoff.
If you want to attract high-quality women, fill out all the sections in a way that highlights all your desirable, intriguing qualities. Research has shown women are more attracted to personality traits like bravery, courage, and a willingness to take risks, so tell her stories that showcase those qualities.
For example, one of the sections asks for a quality that you wish people would notice about you. This answer manages to illustrate all three of the attractive traits we mentioned above in a "show, don't tell" kind of way:

Kayaking is a sexy sport - it's fun, there's an element of danger, and you need to be reasonably fit to do it. All attractive qualities, right? Now compare that answer to one like this:

While humor is a good quality to showcase (studies have shown women are naturally attracted to funny men), you've also told her that you're shy, and implied that it's on her to coax you out of your shell before she'll get a taste of all that sexy hilarity. That sounds like work, and she'll more than likely give you a pass.
Make sure you're not accidentally revealing red-flags or undesirable traits in these sections. She's looking for compatible partners, so don't provide a reason to rule you out before you've even gotten a chance to start a conversation.
Also, keep in mind eHarmony profiles are designed to share snippets of information in each section. If she's looking at your profile on the eHarmony app, short, snappy sentences will be easier to read on a phone screen than long blocks of text.
Tip #2: Skip The Canned Questions
eHarmony gives you the option to send up to 5 questions from a long list of pre-set questions. And considering that statistics show you'd have to send out 114 messages just to be 99% certain of getting a response on a dating site, making a random selection and hitting send starts to look pretty damn good.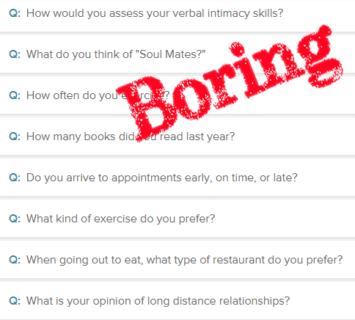 Do you really want to ask a dull, uncreative question in your very first message though? And answering a multiple choice Cosmo-style quiz definitely isn't going to set you apart from your competition.
You have the option to write your own response, but if you're going to write something original anyway, skip the boring canned questions and send her a creative, attention grabbing icebreaker message instead.
For an icebreaker to be effective, it needs to do three things:
Get her attention
Pique her curiosity
Ask her a question (gives her a reason to respond)
This is where copy & paste messages come in, and using them will save you a ton of time. Why spend 15 minutes painstakingly writing the perfect message to a single match, when you could send the same message to any of your eHarmony matches who intrigue you?
"One size fits all" icebreakers work for any woman because they're general enough to fit anyone, but specific enough that it still looks like you read her profile.
"One Size Fits All" Copy & Paste Message:

You can also quickly skim her profile and send an icebreaker based on a hobby you both share, like travel, skiing, or wine tasting. The simple, graphic layout of eHarmony's profiles makes skimming for certain words a breeze.
Once you've developed an arsenal of "situational" icebreakers for any hobby that you'd like to have in common, you can quickly send them out as you browse through your matches.
Situational Copy & Paste Message:

This article shows you how to write your own highly-effective copy & paste messages, plus it has even more examples that you can use right now.
Tip #3: Try A Less Restrictive Site Like Match.com Instead
While there's no doubt you'll find some attractive, intelligent, future-wife-material on eHarmony, the way the site is set up doesn't allow you to optimize your results.
For instance, you can't actively search for women who interest you - you're limited to checking out the profiles eHarmony's matching algorithm presents to you. And within those matches, your only search options are "name" and "city."
You can use eHarmony for free, but you'll only have access to limited features. Perhaps the biggest issue is that in order to even see what your matches look like, you have to bust out your credit card and purchase a subscription.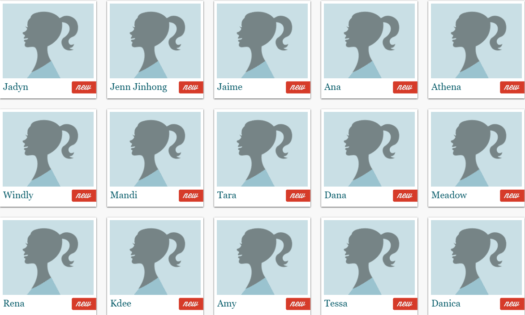 Obviously you're going to want to see her photo before investing time and effort in a message exchange, so if you use eHarmony upgrading is a must.
eHarmony cost varies widely depending on the length of your subscription and any promotions that are available at the time, but it generally ranges from $18 to $35 a month if you can catch a membership on sale.
Here at VIDA, we've gotten much better results for our clients on dating sites like Match.com. Online dating is a number's game, and to get the best results you need to spend your time as efficiently as possible.
Why spend your precious time filling out seemingly endless questionnaires and relying on a site's matching algorithm to present you with the perfect woman, when you could be setting up your own search criteria and screening your own matches?
Match.com makes it much easier to find women. You can browse through as many profiles as you'd like regardless of whether or not some far-from-proven algorithm considers them a "match" or not.
After all, with Match.com's advanced search feature, you can refine your matches quite a bit yourself, so compatibility isn't an issue. Plus, it's the most popular paid dating site out there so there's no shortage of attractive women.
Finally, because of the monthly fee, you already know they're serious about meeting someone, just like eHarmony users. Want to see exactly how the two popular dating sites stack up against each other? Check out this eHarmony vs Match comparison!
Whether you're on eHarmony, Match.com or any other dating site to find your perfect match, VIDA can help.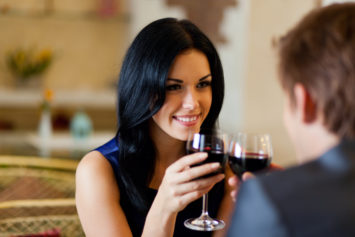 We've been getting guys just like you into serious relationships since 2009. We'll set you up with your ideal types of women so you can meet "the one" as soon as next weekend. Click here to learn more!
Want us to do your online dating for you?

Hey, I'm Ally, VIDA Select's Director of Matchmaking.
We take all the frustration, hard work and hassle out of modern dating!
Imagine your very own Dream Team of highly skilled dating experts searching for the very best local matches, sparking their interest, and arranging all the dates for you.
Wouldn't it be nice to finally stop swiping and start dating higher quality matches so you can meet someone special?
We've helped thousands of singles just like you since 2009, and we're ready to make you our next success story!
What are you waiting for? Take the next step now…
See If You Qualify