I hope you enjoy reading the blog post.
If you want my team to just do your online dating for you, click here.
Hily Dating App Review For 2022 (Does It Actually Work?)
You landed here, so you're probably wondering if the Hily dating app is legit. Should you give it or stick with Tinder, Bumble or Hinge? This Hily dating app review has all the info you need to decide if it's worth a shot!
Click the link and jump to what you're most curious about, or start at the top!
How The Hily Dating App Works
Co-founded in 2017 by Yan Pronin and Alex Pasykov, Hily's name is an acronym for "Hey, I like you."
What sets it apart in the crowded dating app space? Machine learning.
According to Pronin, the matching AI focuses more on compatibility than it does on attractiveness level.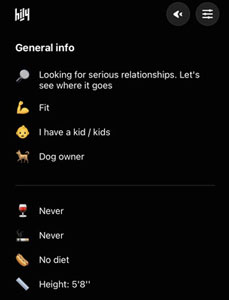 The AI looks for mutual interests and identifies people with a higher probability of matching.
The algorithm also learns from all the ways in which you interact with the app, including your dialogue, who you like (and if they like you back), the photos you send, etc.
Theoretically, the more you use Hily, the better your matches should get.
Even though Hily doesn't assign you an attractiveness rating, you do still get an internal score. In Hily's case, it reflects your "risk" level.
Factors that affect your Hily risk score include:
How many levels of profile verification you passed
How (and how often) you interact with the app
What kind of messages you send
Getting blocked, or any complaints other users have lodged about you
If your risk score creeps up into the danger zone, Hily essentially ghosts your profile - other users will be blocked from being able to interact with yours.
Matching On Hily
Like Tinder, Hily has a mutual opt-in format. When two people like each other, they can exchange messages. Both halves of the match must send one message within 48 hours, or the match expires. You can choose to extend the match, or match with them again in the Finder section.
While scrolling through your matches in the "Finder" feed, you double tap the photo to "like" a profile, or pull your finger down to skip it.
You can also use the Heart and X icons to like or pass on a potential match.
Hily has a compatibility test you can take that determines your matching score with someone.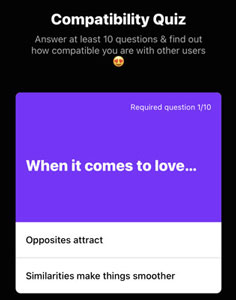 You must answer at least 10 questions to reveal a match score, and there are 40 total.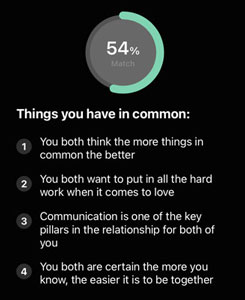 Doing a compatibility check is a premium feature. You'll get your match percentage, and also see a detailed breakdown of how it was calculated.
Filtering Your Hily Matches
Unless you're a Premium subscriber (more on that coming up in a bit), Hily's match filters are rather limited.
Free users can filter by distance, but the range starts at 31 miles away.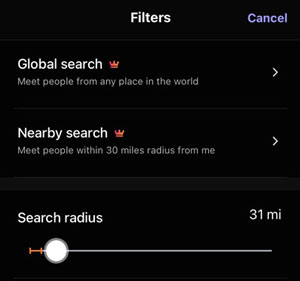 The other free filters are just age and gender.
Advanced filters are bundled into the premium upgrade, and include:
Global search (change your location)
Nearby search (within 30 miles)
Body type
More than 1 photo
Verified only
Looking for
Chatting With Matches
You can exchange messages once you've matched with someone for free.
Either tap the conversation icon on their profile to send one, or go to the Message section by tapping the conversation icon in the menu bar.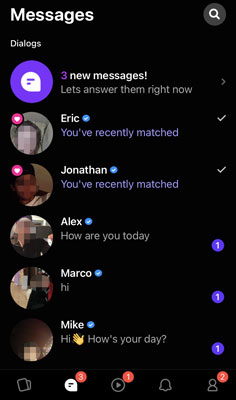 To start a conversation on Hily, you can send the suggested icebreaker, or use one of these proven conversation starters that work great on apps like Tinder.
Hily also has a Random Talk feature, where you can send someone you haven't matched with yet a chat request or a message.
The chat requests are also displayed in your Message section:
But to send a message before matching, you'll need Hily Premium.
To respond to a chat request, just tap it and send a message.
If you want to video chat, simply tap the video icon. You can also tap on their profile to see more information about the person who sent the chat request.
Hily also has a "Video" section where you can post stories, join live streams (called "Live Talks") with other users, and start your own live feed.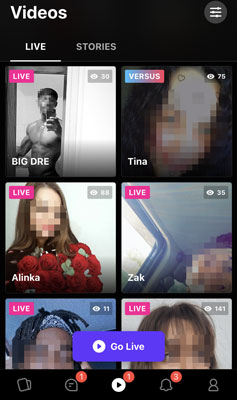 The video section has its own set of filters that let you see videos based on gender and location.
You can use coins, the in-app currency, to promote your stream or "show appreciation" for someone else's live stream. Coins can also be spent to boost your visibility in a Live Talk.
Want to look your best when using Hily's video-based features? Check out these video dating tips!
Hily Events
This section shows you who you've matched with, who has "liked" your profile, and who you've already liked. You can interact with profiles from any of the screens.
You can go to the "Events" screen by tapping the notification icon in the menu bar.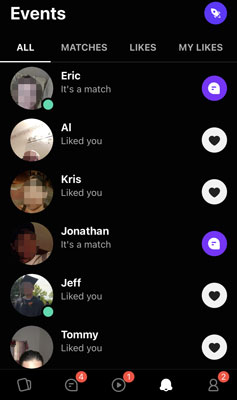 How Much It Costs To Use Hily
Hily's core features are free. You can check out profiles, and message or video chat with your matches for free.
But like most dating apps, Hily also has an upgrade available.
It's called Hily Premium, and it costs $7.99 a week. A single month costs $29.99, and a lifetime membership is $199.99. (Pricing may vary by location.)
Some of the Premium benefits on Hily work a little differently than on apps like Tinder.
Hily designates some of them as "consumables" - so even when you upgrade, you're still limited on how many times you can use it.
These are Hily Premium's "consumable" features, as well as their limits:
Ability to send a message before matching with someone. Limit: 2/day
See who liked and visited your profile. Limit: 2/day
Compatibility results, which is a breakdown of your match score. Limit: 2/day
Rollbacks, which lets you undo a swipe. Limit: 2/day
And here are the unlimited use Premium Hily features:
Unlimited "likes"
Access to the advanced match filters
Incognito Mode, which means your profile isn't visible in the Finder feed
Access to the most popular video stories
On Top Visibility, which puts your profile at the top of other people's "likes you" list
Search for users within 30 miles of you, or from a selected location
Search for users globally, which is akin to Tinder's Passport feature
Hily also has a "Premium Store", where you can buy the consumable features on a per-use basis, whether or not you're an upgraded member:
Unblurs
This feature shows you what people who are interested in your profile look like. Unblurring a profile on Hily costs anywhere from 30 cents to $1.60 per use.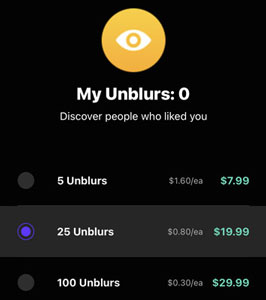 Chat Requests
This premium feature lets you send a message or a chat request before you've actually matched with someone.
It also costs between 30 cents and $1.60 per request or message, depending on the quantity you purchase.
Compatibility Checks
This feature reveals your match percentage, as well as how it got calculated. It also costs between 30 cents and $1.60 per check.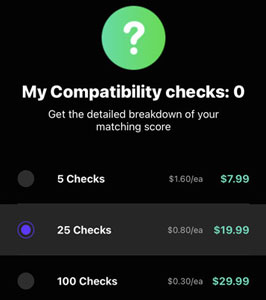 Rollbacks
This feature allows you to undo your last swipe on Hily.
Like some of the other consumable premium features, it starts at $1.60 per use when you buy 5 Rollbacks, and comes down to $0.30 each when you buy 100.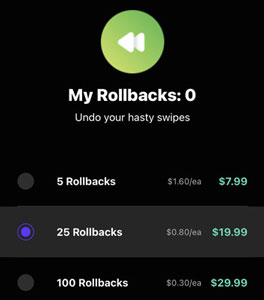 Stream Coins
Stream coins can be spent to boost your livestream, let someone know you enjoyed theirs, or to get priority placement during a Live Talk.
Profile Boosts
On Hily, a profile boost is an ongoing subscription, unlike on Tinder where boosting your profile lasts 30 mins. Boosting your profile on Hily costs $9.99 per week.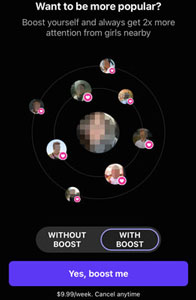 The profile boost subscription automatically renews, but you can cancel it at any time.
You can also bundle some of the ala carte features for a significant savings by tapping Hily's "Big Bundle" special offer.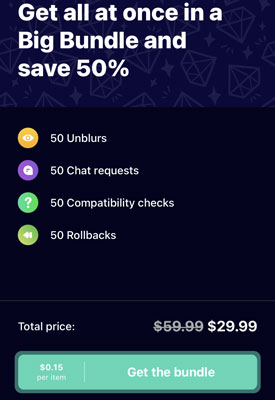 (*Editor's Note: All pricing listed may vary depending on your location.)
If you purchase a Premium Hily subscription then decide to unsubscribe later, or if you participate in the free trial offer, it's essential to cancel it via the store you bought it from (App Store, Play Store or Huawei Store).
Simply deleting the app or deleting your Hily profile will *not* cancel the subscription.
If you take the new user offer of a free 7-day trial subscription, you must cancel it at least 24 hours prior to the end of its term to avoid being charged when it automatically renews at the weekly rate.
Is Hily Worth Trying?
To decide, let's take a look at Hily's pros & cons.
Hily Pros:
Hily requires all users to verify their account in at least 1 of 4 ways, so most of the users are likely legit.
The many video-based features make it easy to get a true sense of a potential match's personality and appearance.
Hily lets you know when someone has "liked" your profile, and that's a free feature.
Like Bumble, Hily's AI actively screens for offensive content. It has an explicit filter you can toggle on and off to block it located in the "Settings" menu.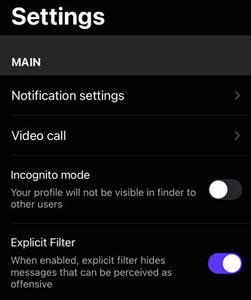 Hily Cons:
Unless you pay for Hily, your distance filter *starts* at 31 miles away. That means if you're in an area with a ton of users, you'll be seeing profiles for people it may be very inconvenient to actually date.
With its "consumables" approach to limiting use of some premium features even when you upgrade, and turning others into a subscription model, the app seems to take every opportunity to upsell you.
Upgraded users can send chat requests before matching. Fielding chat requests from people you're not interested in may get annoying, especially for the more popular people on the app.
It launched in 2017, but still has nowhere near the user base of apps like Tinder, Bumble or Hinge.
Hily Dating App Review Verdict
Hily has two potentially big strikes against it: The 31-mile distance filter unless you upgrade and the fact that it isn't as popular as Tinder, Bumble and Hinge.
That means you'll get the best results if you live in a highly populated area like NYC or LA where more users might live. But driving 30+ miles for a date isn't that practical in those locations, so you'll need to pay for Hily to make it worthwhile.
If that's not a dealbreaker, here are a few other considerations.
With features like Live Streams and user videos similar to Snapchat's Stories, Hily is more of a social media experience than other dating apps.
That could be a good thing or a distraction, depending on how straightforward you want your swiping to be. Some sources have said it's most popular with millenials, and the built-in video features will likely appeal to users under 35.
It's also not the easiest app to navigate. The "consumable" features require spending money or upgrading to Premium. And others, like Boosts, are a subscription model that automatically renews unless you remember to deactivate it.
The app offers a free 7-day trial, so you can sign up and see if anyone intrigues you. Just remember to cancel it following the steps outlined in the user agreement. If you don't, it automatically renews at the most pricey membership level.
Hily Dating App Sign Up Process
Hily is available via the App Store or Google Play.
Once you've downloaded the app, you can create an account via your Apple, Facebook or Snapchat account or with your mobile number.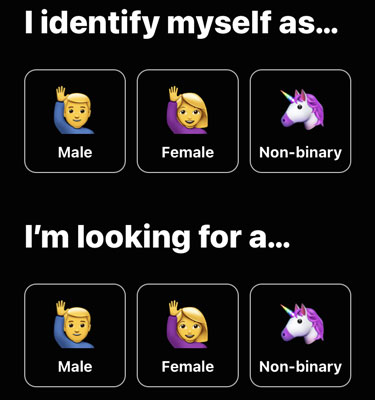 First you'll be prompted to select how you identify: male, female or non-binary, as well as who you're looking to meet.
Follow the prompts to add your first name and date of birth, and to enable location features so you can see other users nearby.
Next you'll upload your photos, or take a new one via the app.
Hily requires you to upload at least 3 photos or videos to see all the available pics of your matches.
That's a good rule of thumb to follow for any dating app, because a lineup of less than 3 makes it hard for someone to get a taste of your lifestyle and personality. There is space for 6.
Your primary photo has the biggest impact, so consider these science-backed photo tips when choosing yours!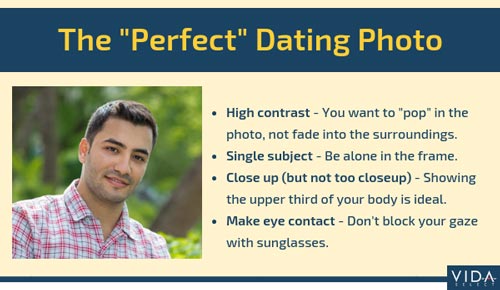 Then, select your education level, occupational field, and what type of relationship you're on Hily to find:
The app then asks how you feel about zodiac compatibility and video chatting.
Now the focus shifts to your match criteria, which you can change at any time in the filters.
While the app identifies your initial matches, you'll be offered a chance to sign up for Hily Premium.
You can start checking out your matches right away, but first you'll want to look like a hot prospect yourself.
Writing Your Hily Profile
Like Tinder, Hily bios have a max of 500 characters. You're answering the question "What do others need to know about you."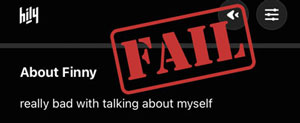 It's the perfect opportunity to highlight what makes you good relationship material, but you want to do it in a way that's natural and engaging.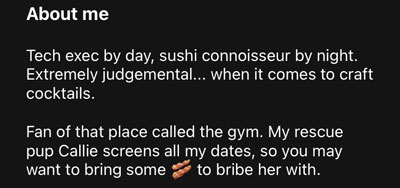 For more inspiration and profile tips, check out these short dating profile examples that really work.
When it comes to other biographical data, Hily lets you get pretty specific.
Your profile can display:
Your education level and alma mater
What you do for a living
Your future plans regarding kids & whether or not you currently have some
Pet ownership details
Religious affiliation
Body type
The ethnicity you identify with
Drinking habits
Smoking habits
Dietary habits (i.e. halal or vegan)
If you're using Hily to find a serious relationship, taking the time to complete your entire profile signals that you're committed to the process.
Hily Profile Verification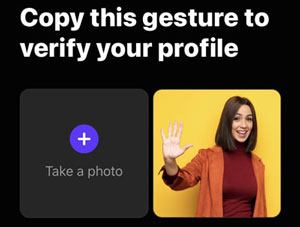 Hily offers users 4 ways to verify their profile:
Selfie verification. You take a selfie while copying the gesture shown in the prompt (the photo is not included in your profile).
Linking Instagram. You can also include IG pics in your Hily profile.
Linking Facebook. If you verify your profile with Facebook, you can also log in via Facebook. However Facebook is not required to use Hily.
Your profile displays how many of the verification processes you went through.
Considering Hily Because Other Dating Apps Aren't Working For You?
Online dating has never been more popular than it is right now - and that means you have to work even harder to get your profile noticed.
Matching with the singles you want to meet most takes work.
Your profile, your photos, the messages you send and when you send them - if you don't have the skills and the strategy to market yourself effectively, you'll likely get lost in the shuffle.
If you're looking for a serious relationship, why leave anything to chance?
Instead of spending all that time and energy figuring out what you're doing wrong and how to make online dating work for you, hire a team of experts who have been helping singles like you meet someone incredible since 2009!
VIDA Select does the hard part for you, from writing your profile to choosing your photos and handling all the messaging.
Plus, it's all based on years of research - which is why the average VIDA client meets someone highly compatible within a few short months.
Learn more about how online dating can finally work for you by going here!
Want us to do your online dating for you?

Hey, I'm Ally, VIDA Select's Director of Matchmaking.
We take all the frustration, hard work and hassle out of modern dating!
Imagine your very own Dream Team of highly skilled dating experts searching for the very best local matches, sparking their interest, and arranging all the dates for you.
Wouldn't it be nice to finally stop swiping and start dating higher quality matches so you can meet someone special?
We've helped thousands of singles just like you since 2009, and we're ready to make you our next success story!
What are you waiting for? Take the next step now…
See If You Qualify