I hope you enjoy reading the blog post.
If you want my team to just do your Hinge for you, click here to chat with me.
Best Way To Start A Conversation On Hinge (Two Strategies That Work!)
Looking for the best way to start a Hinge conversation? This popular dating app gives you a built-in advantage!
You can send a message at the same time you "like" a profile, rather than just swiping right and hoping for a match like you do on Tinder.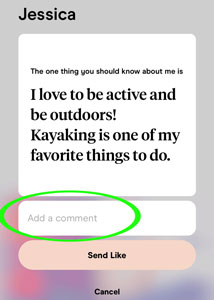 According to the app's internal data, your comment makes it 3x more likely you'll get a response.
Just use one of her photos or prompt answers as inspiration for your first message! And it works both ways. If she likes what she sees in your profile, it's easy for her to reach out to you.
Hinge even added a special feed called Standouts designed to get people messaging each other.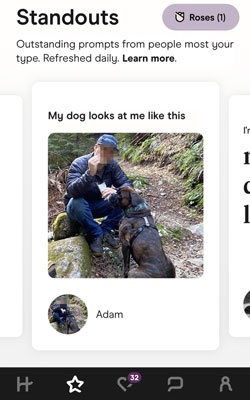 Just tap on the star icon, and browse through a curated selection of prompts and photos.
Each one belongs to someone the Hinge Standouts algorithm identified as potentially compatible. (Not to be confused with the Enhanced Recommendations you get as a HingeX user, those are in your Discover feed.)
Each day, users get a new selection of 10 or so to scroll through.
When you like what you see, tap the "rose" icon to let her know.
Hinge users get one rose each week that replenishes on Sundays, and you can buy more at any time. The roses never expire, and cost around $1.49 each when you purchase 50 at once.
Hinge Conversation Strategy
When it comes to the best way to start a conversation on Hinge, there are two approaches you need to take:
First, understand what makes for a successful first message on a dating app so your conversation starters get responses from any woman whose profile intrigues you.
Second, have the kind of profile that makes interesting women send comments, "likes" and roses your way.
By the end of this article, you'll have everything you need to accomplish both goals - and you'll be getting real life dates in no time!
Hinge Strategy #1: Nailing Your First Message
The message you include with your "like" not only needs to start the conversation, it also needs to elevate you above the competition.
So while "hi there" technically gets the message exchange going, it does nothing to make her want to reply.
A lot of guys take the compliment route, thinking that's the best way to impress her. Spoiler alert: It's not.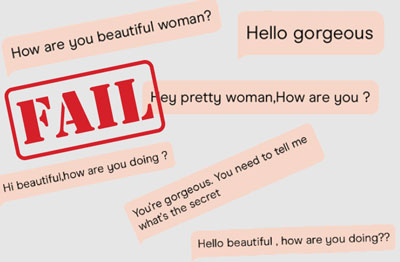 A Better Way To Start A Hinge Conversation
Women on dating apps get flooded with looks-based compliments from guys hoping to get their attention.
You're much more likely to get an eye roll and a hard pass than a response to a message like the ones above.
Commenting on a piece of content in her profile that interests you, whether it's a photo or a prompt answer, makes a much better messaging strategy on Hinge.
A Hinge conversation starter should accomplish these three things:
Show you're interested in learning more about her
Share a bit of attractive information about you
Ask a question
Here's what that looks like in action: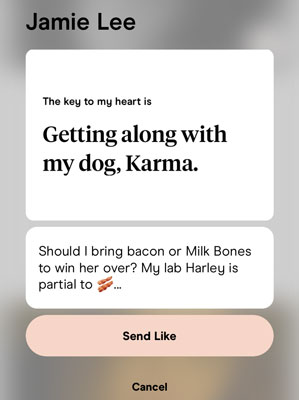 Let's unpack this a little.
First of all, any time someone mentions their dog in a dating profile, odds are excellent she's going to receptive to talking about it.
That's true of just about any hobby as well - if she took the time to mention it, she'll generally consider it a great conversation topic.
She's also learning that you two have something in common - you're both dog owners.
That's another subtle way to build up attraction quickly, you're putting the implicit egotism effect to work. People are naturally more drawn to others who remind them of themselves, so any time you can connect on that level it's a win.
The "Should I bring" line shows confidence - you're basically assuming you'll be meeting her pup at some point, but you're doing it in a natural, genuine and non-arrogant way.
You can adapt that Hinge conversation strategy to fit a wide range of messages.
Simply write it assuming that the two of you will at some point be sharing the experience.
The Key To Starting A Conversation On Hinge
Most importantly, you're asking her a question. That's a key conversational tactic when you want to engage the other person.
Invite them to share something about themselves, and they generally will.
You're also making it much easier for her to craft her response, since she's providing information she already knows. The conversation has a clear direction, so not a lot of effort is required on her part.
Want more help on starting an online dating conversation? Check out these expert messaging tips!
Hinge Strategy #2: Make Your Profile Message Worthy
If you've used dating apps for more than a minute, you already know you need to include profile photos, video clips and video prompts where you look your best.
But on Hinge, it's just as important to choose content that also inspires comments & likes.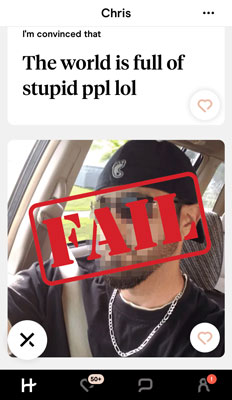 Even if you look decent, a lineup stuffed with boring selfies taken in places like your car doesn't make it easy for her to start a conversation.
And if your prompt answers don't make you look like a good catch, why would she even bother sending the first message, much less tapping "like"?
Let's talk about your Hinge photos first.
If you're not confident in your ability to choose photos where you look your best, make sure to read these dating profile picture tips.
Once you've got a good selection, now you can determine which ones have the most potential to inspire messages. That's the key to getting more conversations started on Hinge!
Use Data To Boost Your Match Rate
Hinge had a team of data scientists analyze 1000 user photos to determine what traits and attributes helped a photo perform well - and not so well.
Here are 3 insights from their research you can use to optimize your Hinge photo lineup:
#1: Use photos featuring sports and physical activities.
This type of dating photo consistently out-performed other types of images.
It's also easy to comment on a sports pic - whether she's pointing out it's an interest the two of you have in common, an activity she's always wanted to try, or even just asking if you won that day.
There are a million easy questions to choose from if she's intrigued enough to start a convo with you, and that's what makes it a great Hinge photo.
#2: Snaps of people enjoying a night out also performed well.
That makes sense, as the first few dates with a new person are typically in a social setting, and it's good to reassure her you're fun to hang out with.
But it's generally better if the photo is just you, or you with friends of the same sex. Having an opposite sex friend be mistaken as a possible significant other got Hinge's "epic fail" title.
That being said… just make sure the evening you're portraying is one she'd like to join. Save the proof of the legendary bar crawl with your bros for Facebook.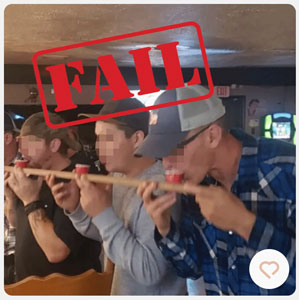 #3: Selfies are 40% less likely to receive a like.
That percentage rockets up to 90% if your backdrop is a bathroom. Save the selfies for social media… online daters are tired of them.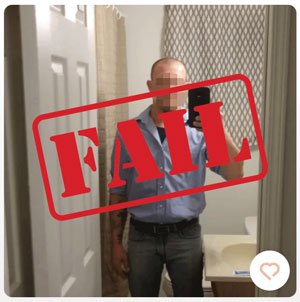 The Numbers Don't Lie
Studies from other sources support Hinge's findings. In one, researchers showed participants photos of the same subject, one a selfie and the other taken by someone else.
Those participants thought the subject seemed more likeable and also more attractive in the photo taken by someone else.
If your current Hinge lineup has a selfie/Snapchat filter combo, you definitely need to change it for a more attractive dating photo.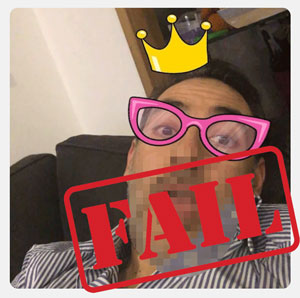 Not only did they score the lowest in Hinge's study, but some dating apps like POF banned them because they hide your appearance to varying degrees.
POF conducted a study of their own, in which participants revealed they thought face filters make you seem:
Insecure
Superficial
Like you're pretending to be someone you're not
Those are 3 compelling reasons to skip the face filters on any dating app or site!
Bonus Hinge Photo Tip
Adorable dogs are Hinge gold when it comes to inspiring messages and "Likes." It doesn't even have to be your dog.
Research has shown the mere perception of dog ownership makes you a more attractive catch.
Your Hinge profile photos have the most immediate visual impact, but that doesn't mean you can just phone it in with your Hinge prompt answers.
Choose Your Prompt Answers Wisely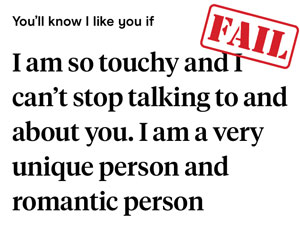 Everything she sees and reads contributes to her first impression, and when you have a lot of competition it doesn't take much to knock you out of the running.
Here are 3 common mistakes guys make when answering the Hinge questions, and what you should do instead!
Mistake #1: Waving An Unintentional Red Flag
Each Hinge prompt allows for up to 225 characters, which means content that's negative or questionable in her mind can have a huge impact on the impression she's compiling of you.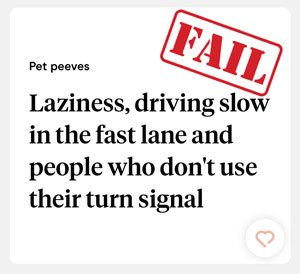 Take the "pet peeve" prompt, for example.
Unless you can find a way to make your answer funny and light-hearted, you're more likely to come off as a complainer who lets life's little annoyances affect his mood.
Don't answer any prompt in a way that inadvertently highlights a less-than-attractive personality trait, like insecurity, clinginess or arrogance: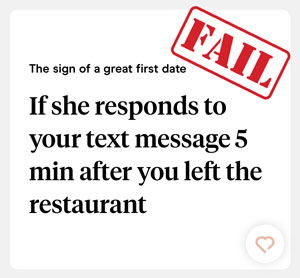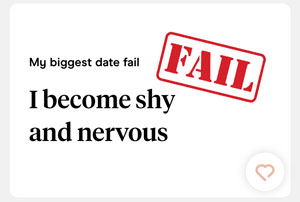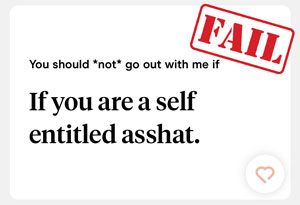 How To Fix It: Use Each Hinge Prompt To Highlight A Specific, Attractive Trait
When you're deciding which Hinge prompts to answer, make a quick list of the traits you possess that you think your "ideal" woman would be looking for in a guy.
Next, choose the prompts that let you "prove" you're that type of person. Sounds a bit complicated, but it's not.
For example, let's say you're an outdoorsy, adventurous guy, and you're looking for a "nature girl" who will hit the trails with you.
To appeal to her, choose a prompt like "Best Travel Story" or "On My Bucket List" where you can describe a recent experience you had or want to have.
Here are two good real-world examples: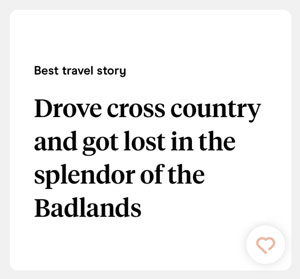 Other attractive traits include:
Stable career
Ability & means to travel
Physical fitness
Strong family bonds
Interesting hobbies
"DIY" skills
With over 80 options, you should have no problem finding prompts that allow you to shine.
Want more examples? Check out these great Hinge answers for guys!
Mistake #2: Implying You're Been Burned By Past Relationships
Most people you'll find on dating apps have at least one break up or bad dating experience under their belts.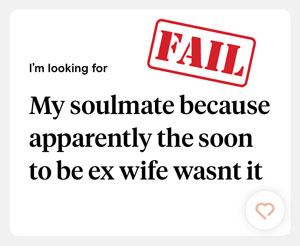 The last thing you want to do is imply you're not over your last one.
Leave dating and relationship drama of any kind out of your dating profile.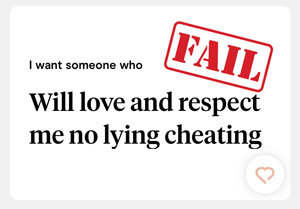 Positivity projects confidence and happiness, while starting out on a negative note gives her much less motivation to want to learn more about you.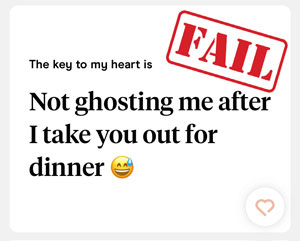 How To Fix It: Focus On What You Are Looking For, Not What You Aren't
Including a line or two about your definition of Girlfriend Material is a great idea. It includes her in your profile, which can help forge a connection.
Just do it in a positive, constructive way, like this: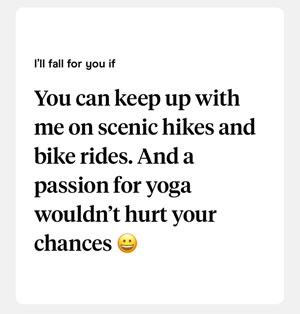 Mistake #3: Underestimating The Impact Of Poor Grammar & Typos
225 characters isn't a lot of real estate, and there's not much text in a Hinge profile.
Over 60% of single women say they scrutinize profiles on dating apps, rather than just quickly swiping through them.
Misspelled words, terrible grammar and sloppy typos can quickly derail the attraction train.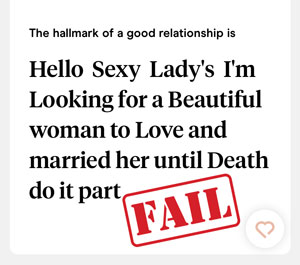 This is especially true if she's looking for a long-term relationship - details matter. If she thinks you're not invested in making a good impression, why would she invest her time in a message exchange with you?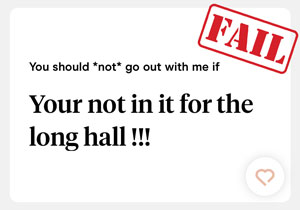 How To Fix It: Pay Attention To Your Spellcheck
In the era of smartphones, there's really no excuse for mistakes like that.
Not only are incorrectly spelled words underlined in red, your phone will suggest the proper spelling.
That's one of the reasons it makes such a bad impression - it's literally a split second fix that you apparently can't be bothered to make.
When you're on a platform where impressions are everything, that's a terrible message to send.
It's also a good idea to get a second opinion on your profile, as it's hard to be an unbiased critic of something you wrote yourself.
Run it by a few friends, preferably ones who are the same gender as you're interested in dating.
Their opinion of the first impression your profile makes can be tremendously helpful, and it's worth the extra time and effort.
Want An Incredible Profile, Without Putting In The Time & Effort?
VIDA's team of professional writers has the expertise you need! Writing a successful dating profile is both an art and a science, and it's not something most guys can do right out of the gate.
But why spend hours of your free time figuring out what works and what doesn't when VIDA has put in over a decade of research and data analysis?
From your dating app profile to your photos and even your messages, why not let someone who truly understands the language of attraction handle everything for you - so you can concentrate on all your first dates!
If you're serious about finding a long-term relationship, and finally meeting your ideal partner, you owe it to yourself to see how VIDA Select can make that happen for you.
To learn more about the process, just click here!
Want us to do your online dating for you?

Hey, I'm Ally, VIDA Select's Director of Matchmaking.
We take all the frustration, hard work and hassle out of modern dating!
Imagine your very own Dream Team of highly skilled dating experts searching for the very best local matches, sparking their interest, and arranging all the dates for you.
Wouldn't it be nice to finally stop swiping and start dating higher quality matches so you can meet someone special?
We've helped thousands of singles just like you since 2009, and we're ready to make you our next success story!
What are you waiting for? Take the next step now…
See If You Qualify