Thinking about giving this popular dating app a try but not sure how Bumble works?
This handy guide will show you how to use Bumble, and you'll get plenty of expert profile, photo, and conversation tips that will help you meet incredible singles in no time!
How Does Bumble Work?
In a nutshell, Bumble is a location-based dating app that follows the "swipe right or left" format that Tinder made so famous.
When two people "like" each other's profile by swiping right, a "connection" (match) is formed and messages can then be exchanged.
But there's a catch – women have to start the Bumble conversation, and they have to do it within a 24-hour window. Men must then respond to that message within 24 hours.
In the case of same sex couples, either half of the match can initiate the conversation, but the time restraints still apply.
If the clock runs out at either stage, the match expires.
Users can extend one match per day by adding another 24 hours to the countdown unless you pay for a subscription. Upgraded users can extend as many matches as they want every day.
Once both people have sent a message before time runs out, there are no more time limits to worry about and you can exchange messages as long as you like.
Video Chatting On Bumble
Bumble has a Video and Voice Chat feature which lets users move straight from messaging to making a call – all within the app.
That feature is perfect for singles who don't want to share their phone number before getting to know someone IRL.
You can use this Bumble feature once you've matched – you'll see a video and phone at the top of the conversation screen:
Tap whichever type of call you'd like to initiate, and your match can then answer the incoming call.
For women, a Video or Voice call counts as making the first move. For guys, you'll see those icons once she's reached out to you.
You can also put a "virtual dating" badge on your Bumble profile to indicate you're interested in video chatting with your Bumble matches.
To change your Bumble status to "virtual dating," go to the Advanced Filters menu and tap "Add this filter" under "My Status Update:"
You can add or remove the virtual dating badge from your profile at any time, and using it does not count as one of your two free filters.
So why do women have to message first on Bumble?
App creator Whitney Wolfe envisioned a "female friendly Tinder" – i.e. a dating app where women weren't constantly bombarded by unwanted messages from men.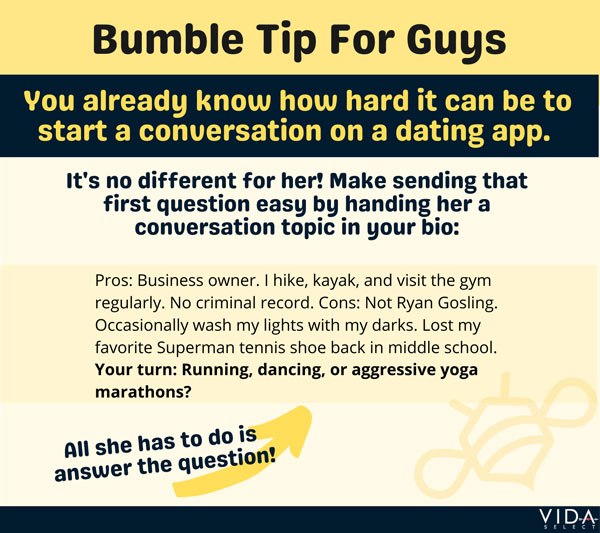 How Does Bumble's Algorithm Work?
Like most dating apps, the inner workings of Bumble's matching algorithm are a closely guarded secret. Of course, that doesn't stop people from speculating about it.
Here are some theories about how Bumble's algorithm works:
People who have already "liked" your profile tend to show up first in your match queue. That could explain why some users report getting a lot of matches up front, but then the number tapers off.
The algorithm doesn't appear to keep track of your "type." You'll likely notice you get a wide variety of matches – height, weight, hair color, etc. It doesn't seem to curate profiles based on the characteristics of people you've swiped right on previously. You'll also likely notice that Bumble will show you the same person twice if it runs out of new users in your area, even if you swiped left on them before.
The app rewards "good" behavior. Bumble wants you to be discerning when it comes to swiping. If you swipe right indiscriminately each and every time, the prevailing thought is your profile will be sent to the back of the line, so you may not get as many views.
The most right-swiped (read: popular) profiles are shown first. This is good motivation to make sure you use high-quality images and put some effort into your bio. If you're not getting as many right swipes as your competition, your profile might not get as much exposure.
It doesn't seem to matter how active you (or aren't) on the app. Even if someone hasn't logged in for months, their profile will likely still pop up in your Bumble match queue. Matching with infrequent users is a common complaint.
Do You Have To Pay For Bumble?
No! You can get great results on Bumble with paying a cent, which is one of the reasons it's one of the most popular free dating apps out there.
What Is Bumble Boost?
Bumble has a set of premium features that can make it easier and faster to find high-quality matches, called Bumble Boost.
Here are the features you'll get when you upgrade Bumble to Boost:
No limit on the number of matches you can extend. If you don't have time to check Bumble daily, this "BusyBee" feature is a must-have.
Instantly re-connect with expired matches. If you accidentally let a match expire, or your match didn't initiate a conversation and you want to give them another chance, you'll love the Rematch feature. Now you don't have to wait for an expired match to pop up in your match queue again!
Undo a swipe. The Backtrack feature is handy if you accidentally went left when you meant to go right.
1 Spotlight & 5 SuperSwipes each week.
Swipe right as much as you want.
How much Bumble Boost costs depends on the length of time you purchase up front:
What Is Bumble Premium?
Bumble Premium is another subscription option that includes all the features of Boost.
In addition to those benefits, you'll get:
Ability to use more than 2 Bumble Filters at a time. This is great news if you live in a mega-city and have a packed match queue. Filters allow you to pre-screen for potential deal breakers like pets, kids, religion, exercise habits, etc, so you'll only be seeing profiles of people who meet your criteria.
Limit your match queue to people who have already swiped right on you. It's called the Beeline, and any profile you "like" is a guaranteed match!
Hide your profile until after you've swiped right on someone. The Incognito feature helps ensure your privacy.
Change your location. Bumble's Travel feature lets you swipe anywhere you want.
Because this subscription tier is the most feature-heavy, Bumble Premium is also the more expensive option:
Ala Carte Bumble Features
Bumble also offers two other paid features, which you buy on a per-use basis: SuperSwipes and Spotlight.
SuperSwipes are Bumble's version of a Super Like on Tinder – it's a way to indicate you're particularly interested in someone.
To SuperSwipe someone on Bumble, simply tap the yellow heart icon.
Now when your profile pops up in their match queue, they'll see a yellow notification bar that you SuperSwiped them: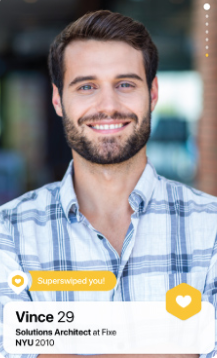 It's a good way to stand out, since paying to "like" you is a pretty strong compliment.
SuperSwipes start at $3.99 for 2 of them. The cost can drop as low as 89 cents each, but you have to buy 30.
To read more about SuperSwipes – and find out when paying for a SuperSwipe is worth it, go here.
Bumble Spotlight is a paid feature that will make your profile one of the most popular in your area for a period of 30 minutes. Basically, it's maximum exposure, which will theoretically result in more matches.
You can purchase 2 Spotlights for $7.99, 5 for $12.99, 15 for $29.99 or 30 for $49.99.
PRO TIP:
Spotlight your profile around 6 pm on a Sunday evening. That's when Bumble activity peaks, so you'll get the most attention!
How Do I Get Started On Bumble?
If you want to use Bumble on your computer, you can create your account here.
Or you can download the Bumble app here:

You can create a Bumble account using Facebook, or log in via your mobile number.
Sign in to Bumble via Facebook, and the profile creation process has already begun!
All the basics, like your age, name and occupation will be pulled from your Facebook profile.
If you use Bumble without Facebook, it's still easy to set up an account – you'll just have to manually provide the details.
Bumble Photos
Next, you'll select which Facebook photo you want to use as your primary Bumble photo. That's the one the singles in your area will see first, so choose it wisely!
To make the best impression, choose a photo that has these traits: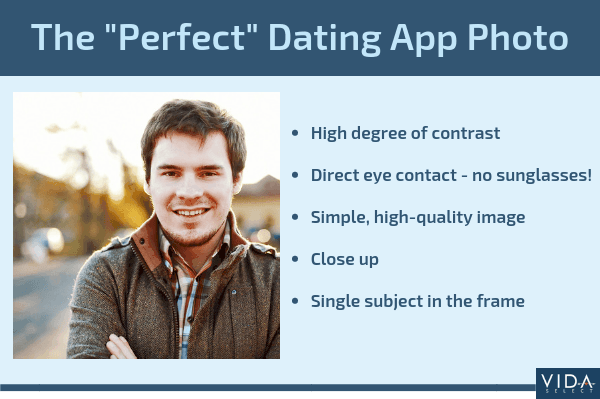 You can upload up to 5 more photos, for a total of 6 in your Bumble profile.
When selecting the rest of your lineup, make sure to include a good mix of locations – you want to look like you're a lot of fun to hang out with, right?
You'll also want variety when it comes to proportions – sprinkle in a full body shot or two, and try to avoid the "all selfie" lineup (and any mirror selfies).
Save the whimsical filters for SnapChat – Bumble attracts mainly people seeking long-term relationships, and they generally want to know what you actually look like.
Bumble Bio
Bumble gives you a 300-character or less space to write a bio.
That's not a lot of real estate, so everything you mention should be carefully selected for maximum attractiveness.
These are a few things that are good to mention in a dating profile:
Something you enjoy about your job
Hobbies that are physically active
A recent trip you took
What you like to do for fun
What type of person you're looking to meet
Want to see what that looks like in practice?
This is an effective Bumble profile example for women: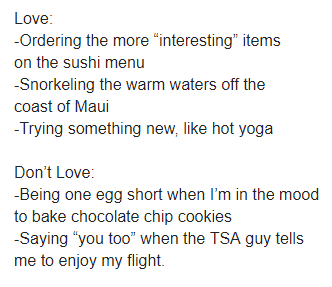 And this is an effective Bumble profile example for guys:

For more expert Bumble profile tips that really work, go here.
The last written part of your profile are the My Move Makers. You can choose up to 3 prompts to answer, each with a 120-character limit.
Just like in your Bumble bio, you want to share information that makes you look like a great catch:
Almost Done…
If you want, you can link your Instagram profile to Bumble, although your handle will remain hidden.
Taking a peek at your IG pics can be a great way for your matches to get to know you better, but keep in mind you can't pick and choose which photos are displayed.
The app will automatically grab your 24 most recent pics from your IG feed, so make sure you're not inadvertently torpedoing your first impression.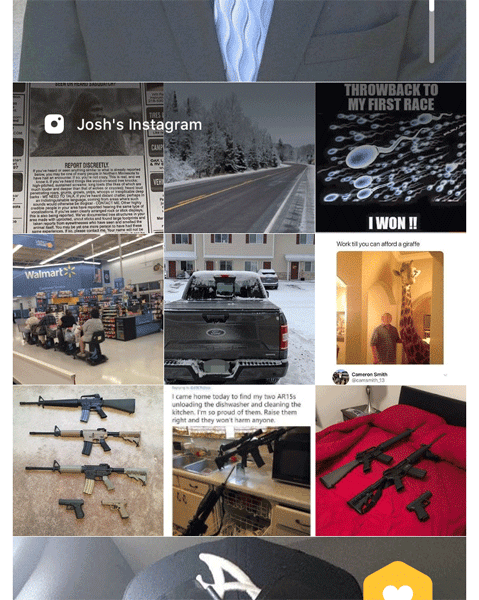 In fact, when you're actively looking for a relationship, it's not a bad idea to give all your social media profiles the once over, just to make sure you won't inadvertently make a bad impression if she decides to do a little Google stalking.
Bumble will ask you to verify your profile by taking taking a selfie and submitting it.
It's easy to do – simply copy the gesture in the example, snap a pic, and send it.
Now it's time to let Bumble know what type of person you're looking to date!
Setting your match preferences is easy. You can set your age, gender, and distance preferences, then select two advanced Bumble filters to use to curate your match queue even more. (Bumble Boost users can apply as many as they want).
And that's it! You're up and running and ready to get your swipe on!
Is Bumble For More Than Just Dating?
Yes – Bumble actually has three modes:
Date
BFF (for making new friends)
Bizz (for business networking)
Each of the modes has its own profile, photos, and filters.
To move between the modes, simply tap the logo and select which one you want to use.
Need More Bumble Help?
Check out our Ultimate Guide To Bumble!
It's packed with all the information, expert tips, and advice you need to be successful on Bumble.
Or, you can skip the learning curve and head straight to the awesome part – dates with incredible singles!
Find out how by clicking here!