I hope you enjoy reading the blog post.
If you want my team to just do your online dating for you, click here.
5 Instagram Dating Tips & Hacks For Guys [That Really Work!]
With over a billion active users worldwide, Instagram is one of the most popular social networks - and it's also a goldmine when it comes to meeting women.
But using Instagram for dating requires some finesse - there's no swiping, so you have to work a little harder to make her interested.
Don't worry - from getting your profile "date worthy" to how to start a conversation with a girl you like, these 5 Instagram dating tips have the actionable advice you need to jumpstart your dating life!
Starting with…
#1: Optimize Your Instagram Profile For Dating
Your Instagram dating strategy starts with a profile that makes her want to meet you IRL. Unlike Tinder, there's no mutual opt-in to match scenario, and you're also targeting women who aren't necessarily thinking of you as boyfriend material - yet.
Your profile needs to catch (and keep) her attention long enough to shift her thoughts in a more romantic direction. And if you're interested in a girl who has many followers, the best approach to starting a conversation with her is making sure your profile is worthy of her notice.
We've helped thousands of clients optimize their Instagram profiles for dating, and we're going to help you do the same right now.
Let's break it down into three components:
Profile photo
Username
Bio
Instagram Profile Photo Tips
Creativity and Instagram normally go hand in hand, but don't get too wild with your primary photo when you're using Instagram for dating.
The human brain tends to find simple images more attractive than complex ones - and that's advice you can apply to your primary photo on any social media platform where you want to appear more likeable, from Instagram to LinkedIn to Tinder.
For maximum attractiveness, make sure your primary profile photo has a low cognitive workload. In other words, it instantly "pops":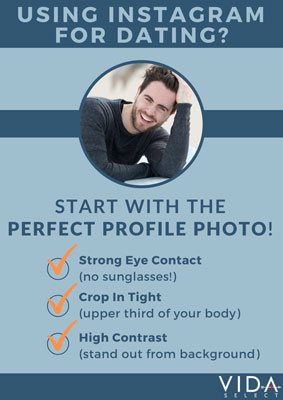 Since you want her to start thinking of you as dating material, rather than just someone cool to follow, pay attention to what your profile pic is signaling.
Everything from the clothing you're wearing to your facial expression, body language, and what's in the background contributes to her overall impression of you.
For instance, let's say you choose a primary photo taken indoors with poor, unflattering lighting.
A photo like that could unintentionally signal that:
You don't get out much
You don't care about the impression you're making
Hanging out with you probably wouldn't be that much fun
On the other hand, choosing a photo where you're outdoors, smiling and looking straight at the camera signals that you're confident and happy - two very attractive qualities in a potential date.
Not sure which photo should be your primary profile pic? Check out these dating photo tips!
Instagram Username Tips
Instagram usernames must be under 30 characters, and to be effective you want it to actually mean something. A meaningful username resonates more, and that instant connection is essential whenever you're using any social media platform for dating, whether it's Facebook, Instagram or Twitter.
People tend to find simple language more appealing, so if you want more likes, simplicity is key. Choose a username that's instantly understandable, with no random characters.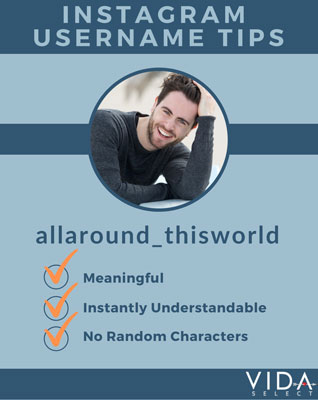 Want more username ideas? Check out these great username examples for guys!
Instagram Bio Tips
When you're trying to attract women on Instagram, it's helpful to think of your bio like your brand - you want to sell yourself, but in a low-key, subtle and attractive way.
The perfect "I'm here for dating" bio on Instagram includes 3 key pieces of information:
Your location
Your occupation
A few hobbies and/or accomplishments
#1: Location
Location is a key factor in deciding whether someone is dateable, and if she's getting DMs from all kinds of random guys, yours will stand out more when you're literally in her neighborhood.
#2: Occupation
Providing your occupation gives your bio more heft, and if you describe your job in a way that's impactful, it will be even more attractive.
For instance, let's say you work for the EPA. Instead of just writing something rather boring, like "I test water," make it impactful. She's much more likely to connect with a description like this:
"I help make the environment safe for the animals you love."
#3: Hobbies/Interests
Listing a few hobbies has multiple benefits. You could spark a connection over a shared interest, and you're giving her a glimpse of your daily life. It's also a subtle way to highlight qualities she may find attractive in a partner.
When she reads that you're into hiking, kite boarding and surfing, she'll also likely form the impression that you're adventurous and physically fit.
Yoga is another interest that pulls a lot of weight - not only does it imply fitness, the word itself implies mindfulness, dedication and an interest in overall health. All attractive qualities in someone you're dating, right?
You can also frame hobbies as goals, like "training for my next marathon," "getting my SCUBA certification," or "perfecting my shrimp ceviche recipe."
When you're writing your bio, think about the kind of woman you'd like to attract, and tailor your choices accordingly. You only have 150 characters, so make every word count.
#2: Set Your Profile To Public
If she can't see who you are, why would she respond to your DM?
And to look even more legit, you can also try to get a verified badge . A verified profile will work better, so if you can get the badge, it will help you secure more quality dates.
Of course, that's a big IF. Much like Tinder verification, Instagram verification badges are generally given to public figures, celebrities, and brands. But it can't hurt to try.
To verify your profile on Instagram:
Log in to the account you want to verify
From your profile page, tap the 3 lines in the upper right corner.
Tap "Settings"
Then "Account"
Then "Request Verification"
Provide the requested information and upload a photo of your ID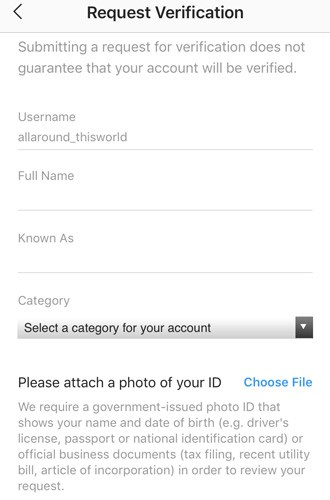 Requesting verification is no guarantee that you'll get it, you'll just have to wait and see.
#3: Be Strategic With What You Post
The first 6 to 9 "above the fold" photos will generally form the basis of her first impression, and typically have the most impact on her decision to follow you back or respond to your message.
When your IG is good, it gives you a lot more perceived value. The more value she thinks you have, the more likely she is to show up for the first date.
So how do you build up your perceived value? Strike a balance between posts and good stories.
You can be more "dateable" on Instagram by posting pictures that:
Show off some of your hobbies, interests & passions
Represent your goals and ambitions
Depict your adventurous side
Bring a smile to her face (think adorable animals)
Amp up your social value (i.e. group shots)
When you're choosing what content to share on Instagram, consider cycling through these 5 themes:
#1. Smart
Share something you're passionate about, or have a lot of expertise in. The opportunities here are endless - content could include something you're reading or learning about, fixing your car, tackling a DIY project, trying a new recipe, etc.
#2. Determined
Give her a taste of your goals and ambitions. Examples could be a future vacation or relocation destination, going through a positive body transformation like losing weight or training for a marathon, or even an arena or other venue if you're an aspiring musician.
These posts can be taken off the Internet, just add captions like "My goal for the next 2 years" or "I'll be playing here in a few years, watch me"
#3. Adventurous
As the name implies, these are your "action" shots. Physical hobbies and interests like hiking, biking, paddleboarding, scuba diving, sky diving are Insta gold when you're using it for dating. This is also the spot in your posting sequence where you'd incorporate travel shots.
#4. Animals
Researchers have found that when you take a photo with a dog - any dog - people viewing that photo will perceive you to be not only more attractive, but more relaxed, happy and approachable as well. That's a pretty big incentive to post some puppy pics.
And pet ownership in general demonstrates that you're both responsible and loving/caring, two qualities that are fairly high up on most women's "must have qualities in a boyfriend" list.
Besides, there's a reason animal pics abound on the internet. People just can't resist a cute one, and taking advantage of that will give her a reason to keep coming back to yours.
#5. Social Value
This is where you demonstrate that you have a lot of social currency - interesting friends who want to spend time with you, and plenty of exciting things going on in your life. You don't need to post a ton of group shots, just sporadically enough to make the right impression.
In addition to group shots, you can also use pictures of you with a member of the opposite sex. Just take care not to always make it the same girl, for instance if one of your best friends happens to be one. If your Instagram gives the impression you're already in a relationship, your latest crush will probably wonder why you're DMing other women.
No matter what picture you're using, adding a small caption to each post makes it more relevant to you. That in turn makes you seem more genuine and authentic, and building up both attraction and trust is key to getting her face to face with you.
Use the filters and photo editing tools to do things like add saturation to make the colors pop a little, or adding brightness. Don't go too crazy, though, if you're in the photo.
These are dating photos now, and heavy edits can be a turn off.
And it should really go without saying, but whenever you're posting a picture you're in - you need to look good. She doesn't know you (yet), so her emotional investment is low. One mediocre pic could make her move on.
#4: Master The Art Of The "Follow"
Getting a woman you're interested in dating to follow you back is the equivalent of matching on a dating app like Tinder.
Having a lot of followers makes you seem like a stronger prospect, because it's an indicator of your "social proof." You're interesting enough for all those people to follow, so maybe she's missing out by not.
Regularly rotating through the 5 themes you just learned about will help make your Instagram follow-worthy.
Now that you've overhauled your Instagram profile to reflect your goals, you're ready for the fun part - finding women you'd like to date on Instagram!
How Meet Women On Instagram
Step #1: Make a list of places in your city that you enjoy going to. Then navigate to their IG page, go to their followers list and locate any women you might be interested in meeting.
Alternately, tap on "Places," then enter the name. You will see every post of other people who tagged that venue as their location.
Being a fan of the same place not only establishes something you have in common with her, it can also make the perfect first date suggestion down the road. Proposing a place she's already familiar with can make it a lot more likely she'll agree to meet you there.
Step #2: Engage with the profiles of women who intrigue you. As you're checking out the list of followers, go into the profile of each woman who catches your eye. "Like" 2-3 of their most recent pictures (preferably the ones with the least amount of likes), and one picture that does not actually include her.
Then follow her. All this activity will show up in her News feed and hopefully notice you.
Repeat for anyone you'd like to meet, and assuming you followed the rest of the advice in this article, some of them should follow you back.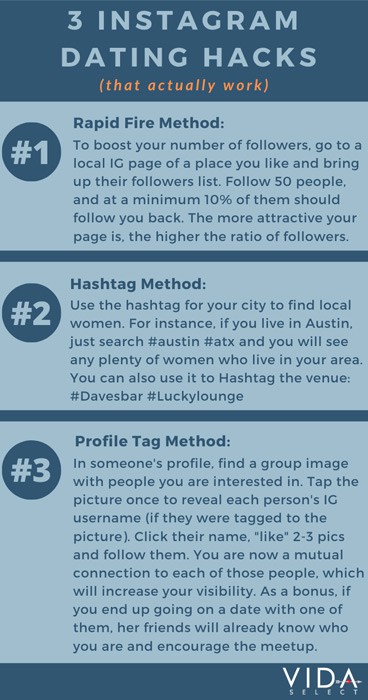 have the option to unfollow any women who don't follow you back or respond to your message to keep your ratio balanced.
If she does follow you back on Instagram, making a funny comment on one of her stories is a great way to start a conversation. It is relevant and already on her mind since she recently posted it.
#5: Slide Into Her DMs Like A Pro
Don't try to start a conversation on Instagram by commenting on her physical appearance. That rarely works, even on Tinder.
Instead, there's no better way to elicit a response than DM'ing a reaction to a girl's Insta story. Researchers have found people post photos and videos on social media because they want both attention and a response.
Here is where that works in your favor: giving her the validation she's seeking in the form of a "like" or a comment releases dopamine in her brain. You just literally made her feel good, and you're handing her the feedback she's craving from posting the story in the first place.
Exactly what you say in your first DM will depend on what you're commenting on, so each situation is unique.
You can also use matching on a dating app as a reason for DM'ing her on Instagram. But stay away from using it as a second chance with someone who swiped left on you.
Commonly known as Tindstagramming, breaking this Instagram dating rule is annoying to many single women because they didn't swipe right for a reason, and generally aren't thrilled when you pop up on another platform.
Instagram Dating Opener Examples
But assuming you matched on Tinder or Bumble, start the conversation on Instagram with an opener like these:
Instagram Opener #1:
Hey [NAME], I know I'm breaking the rules of Bumble by messaging first, but we matched & thought I'd say hi since I rarely check it.
Instagram Opener #2:
Hey [Name] 👋 We originally matched on Tinder but I took a break from the app so thought I'd say hi here 🙂
Immediately send a follow up message asking her a question, as that's the easiest way to give your response rate on any dating app a huge boost. Not only does it make coming up with an answer a lot easier for her, you've also given the conversation a direction to go in.
Ask about something in one of her recent posts, or say something like, "So how is that little red app treating you so far?" (Substitute 'yellow' if you matched on Bumble).
Let her content inspire your questions, or if you're still coming up blank check out these examples of good questions to ask a girl you like on a dating app.
Know That You Know How To Use Instagram For Dating…
The question is, should you?
There's no question that using Instagram to meet women is rapidly growing in popularity. But there's one big downside - if you don't already have a strong IG presence, it may not be the right choice for you.
Instagram is build-as-you-go, not like a Tinder profile that you can create all at once. Building an attractive Instagram presence requires posting photos for months, and even years, and building up your social capital.
Anyone checking out your Instagram can immediately see your follower count, whether or not anyone comments on your posts, etc. It's basically a glimpse into both your social media and your social life, and that's hard to fake if you aren't already an avid user.
If you're hoping Instagram is going to magically work where apps like Tinder and Bumble failed, why not save yourself the frustration and let VIDA Select's team of modern dating experts help you out?
Thanks to VIDA's years of online dating experience and expertise, you'll be meeting incredible local single in no time. And the best part is you don't have to worry about anything - your profile, photos and even all your messaging is handled by pros!
If you're ready to go on dates with quality singles who were hand-selected because they meet all your "must have" criteria, it's time to bring in VIDA. It's easy to see if you qualify for our modern dating service - just go here!
Want us to do your online dating for you?

Hey, I'm Ally, VIDA Select's Director of Matchmaking.
We take all the frustration, hard work and hassle out of modern dating!
Imagine your very own Dream Team of highly skilled dating experts searching for the very best local matches, sparking their interest, and arranging all the dates for you.
Wouldn't it be nice to finally stop swiping and start dating higher quality matches so you can meet someone special?
We've helped thousands of singles just like you since 2009, and we're ready to make you our next success story!
What are you waiting for? Take the next step now…
See If You Qualify