I hope you enjoy reading the blog post.
If you want to chat now about your matchmaking search, click here.
Top List: 5 Best Matchmakers In San Jose [Including Cost!]
There are plenty of reasons why looking for matchmakers in San Jose is a smart idea. Maybe online dating has been a frustrating experience. Women are inundated with messages from men, and men have to work even harder to get a potential match's attention.
Or maybe you're logging long hours at your day job, and meeting people outside your professional network isn't easy.
A San Jose matchmaking service is the perfect solution, but which of your many options are worth considering?
Your research just got a lot easier, thanks to this round-up of the 5 best matchmakers in San Jose.
Our team has reviewed over 200 matchmakers and their services, delving deep into their process and operations, success rates, and client experiences. Our reviews are built on a keen understanding of the matchmaking landscape and extensive research!
This elite matchmaker is most known for helping those in the tech industry find their perfect match - it's how Amy Andersen earned the moniker of Silicon Valley's Cupid.
As she told LA Magazine, Andersen founded Linx Dating because she "witnessed that there was a huge surplus of eligible men and a dearth of women."
Clientele
Linx Dating is a boutique matchmaking service, meaning her active client roster at any given time is limited.
She takes on both men and women as paying clients, and often matches men working in San Jose with women living in Los Angeles. In addition to the Bay Area, Andersen also offers her matchmaking services to clients in the UAE.
Cost
$45,000 - $500,000+
Contract Required
Yes - matchmaking service contracts last for 24 months, with an additional 4 months of "freeze" time - for a total of 28 months.
What To Expect
Linx Dating offers both "standard" memberships and customized ones, however all packages require signing a 2-year contract. If you opt for the standard membership, you'll be meeting singles from within Linx's database.
If you'd like Andersen's team to recruit matches outside the database - and outside of your local area, you'll need to opt for one of the more expensive customized "VIP" membership packages.
Women can also opt to be a "Match Applicant."
You'll submit an application, and if accepted, you'll be part of the Linx Dating match pool for 24 months. However, it's considered a "passive affiliation" - meaning you may never be considered as a compatible match for a VIP client.
There is no fee initially to become a Match Applicant, however there will be an agreed upon fee due if you enter into an exclusive relationship with a VIP client, if you get engaged to him, and if you get married to him.
No matter which level of membership you choose, it starts with filling out the form on the Linx Dating website. If you seem like a good fit for the service, you'll meet with Andersen for a 90-minute consultation to discuss membership options, costs and contract details. There's a fee for this interview, typically several hundred dollars.
As a Linx Dating client, you can expect to meet anywhere from 6 to 10 matches over the course of your 2-year membership, with the number depending on the type of service you purchased.
Founded In
2003
Further Reading
Erica Arrechea is also the VP of millionaire matchmaker Patti Stanger's dating agency, and launched her own elite matchmaking service with Melissa Lapchuk. It was initially called "Love Love International" and has since rebranded to Cinqe Matchmaking.
Clientele
This upscale San Jose matchmaking service typically works with elite singles in their 30s to 60s.
Cost
$5,000 to $20,000+ depending on the details in your contract. There's no fee to have your profile included in the Cinqe database, but also no guarantee you'll ever receive a match.
Contract Required
Yes.
What To Expect
To join Cinqe's database as a potential match, you can fill out their online questionnaire. If you're deemed a potentially compatible date for a paying client, a matchmaker will contact you.
Potential paying clients start with a phone interview, and if you pass the initial screening process you'll meet with the matchmaking team. If you decide to purchase a membership and sign the contract, you'll start working with a matchmaker.
Potential matches come from the Cinqe network, and they have already reviewed your profile and expressed interest in meeting you. If the interest is mutual, your matchmaker will arrange the date details and help you set up the first call with your match.
After you've met the match, you'll learn how it went from their perspective and receive any necessary feedback and dating advice. You'll also get the opportunity to comment on the quality of the match from your perspective, so that your matchmaker can select more compatible matches if needed.
Founded In
2013
Further Reading
Three Day Rule isn't strictly a San Jose matchmaking service - it's actually a national one, with locations in several major cities across the US. You'll find their headquarters in Santa Monica, and they've had a presence in San Jose since 2017.
Clientele
Talia Goldstein and her team of matchmakers conduct active searches for both men and women, typically single professionals in their late 20s and up.
Cost
$5,900 - $18,500+, or you can join their eligible match database for free
Contract Required
Yes, for either 3 or 6 months of matchmaking service.
What To Expect
As a free client with a profile in the database, you'll only be contacted if you happen to fit the description of a paying client's ideal partner.
For the 3-month membership, you'll meet a minimum of 3 people. With a 6-month membership, you'll meet a minimum of 6 people and also have a pro photo session. Paying clients can also opt for the VIP memberships, which start at $18,500 and run for 6 months.
Depending on which package you've opted for, you'll be meeting San Jose singles from the Three Day Rule database, or people your matchmaker has scouted online or at local events, classes, etc.
When your matchmaker identifies a compatible match, you can review a bio and photos, and it's up to you if you'd like to meet them or not.
Founded In
2013
Further Reading
Greta Tufvesson & Nikki Lewis, The Bevy
The Bevy's west coast headquarters are actually in Los Angeles, but these elite matchmakers help San Jose singles find love as well. Founders Greta Tufvesson and Nikki Lewis also have offices in New York, San Francisco and San Diego.
Clientele
Paying clients are typically affluent men in their 20s to 60s. Women can submit a profile for screening and be placed in The Bevy's match pool for free.
Cost
$25,000+
Contract Required
Yes.
What To Expect
The Bevy is a boutique-style personal matchmaking service, meaning Tufvesson and Lewis limit the number of incoming clients - and they're selective about who they're willing to match. According to their website, they generally work through referrals.
Once you've passed through the initial screening process, your membership package will be customized and the fees disclosed. Paying clients are matched with women from The Bevy's database or network of contacts, and the matchmakings may do scouting as well.
As Lewis explained in an interview, the matching process is "really one at a time. It's not a revolving door of dates for anyone. It's slow dating, really getting to know one person at a time and seeing whether there might be something there."
Founded In
2014
Further Reading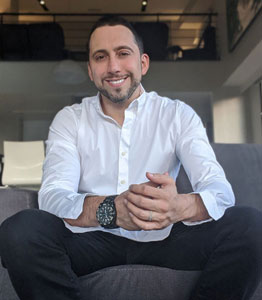 Dating in San Jose isn't easy - the pervasive gender inequality in Silicon Valley creates a lot of competition, and that's assuming you can find time outside of work for online dating and meeting new people.
VIDA Select's elite matchmaking service makes it a lot easier to meet high-quality singles in San Jose!
Clientele
Successful, career-minded and discerning men and women looking to meet their ideal partner.
Cost
Clients can choose from a range of package options and 3 levels of matchmaking service: Basic, Premium and Elite. Basic packages begin at $1095/month, Premium options at $1695/month and Elite packages at $2595/month.
Package prices are highly aligned with the total number of hours that should be dedicated to your ideal partner search every month, and with which matchmaking team you work with. On average, it only takes 3 months for clients to meet someone special!
Contract Required
No, matchmaking packages are monthly.
What To Expect
The first step is a quick screening process to see if VIDA Select's modern approach to matchmaking is right for you. If you're brought on board as a client, your matchmaker will hand-select highly compatible singles from San Jose's most extensive dating pool.
VIDA Select offers a variety of matchmaking packages to choose from - none of which require a long-term contract. You'll have pay-as-you-go convenience, so you can stop your search to date a match exclusively.
And if you meet someone special right away, you don't end up paying for months of matchmaking service that you don't need!
VIDA Select also offers a selection of dating coaching, image consulting and professional photography services - everything you need to help meet the match of your dreams.
If you're ready to meet incredible people in San Jose who check all your compatibility boxes, why not take a minute to see if you qualify?
Just click here to get started!
Founded In
2009
All product and company names are trademarks™ or registered® trademarks of their respective holders. Use of them does not imply any affiliation with or endorsement by them.
Why Choose VIDA Select?

Since 2009, thousands of clients have discovered true love thanks to VIDA Select's fresh, modern approach to matchmaking – which has finally thrown blind dates and long-term contracts out the window. This isn't your grandmother's matchmaking!
Instead of working with a single matchmaker using a small rolodex of potential partners, VIDA Select's matchmaking team taps into the world's largest database of available singles. We'll quickly identify the matches who check all of your boxes so you can finally experience true chemistry. Are you ready to become our next success story? Schedule your complimentary consultation now by clicking the button below!
Get Started Now