I hope you enjoy reading the blog post.
If you want my team to just do your OkCupid for you, click here.
OkCupid Review [Updated 2023] – Is It Worth Signing Up?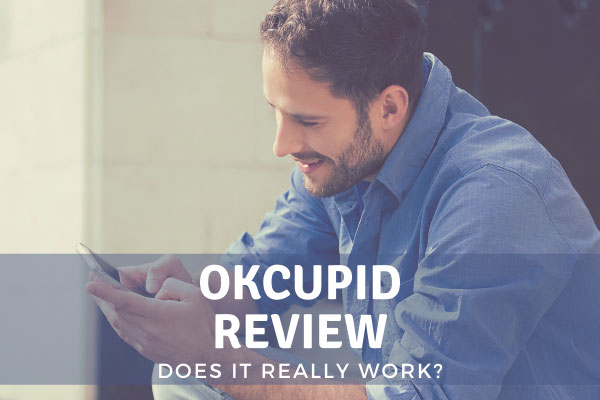 Is OkCupid a good dating site? This OkCupid review is packed with all the info you need to decide if this free dating site is worth signing up for!
You'll also learn when it makes sense to pay for a premium subscription, or if you're better off using it for free.
Got a specific question? Just click on the topic below to head straight there:
Pros And Cons Of OkCupid
Like any dating app, OkCupid has its advantages and disadvantages. This list will make it easy for you to decide if it's worthy of signing up, and even more importantly, paying for.
OkCupid Pros:
Searching for matches and sending/receiving messages doesn't require a subscription, making OkCupid one of the best free dating sites out there.
Has two levels of paid membership that are packed with useful premium features.
With 20+ sexual orientations and 12 gender identities to choose from, OkCupid is literally the dating site for everyone.
Founded by Christian Rudder, Chris Coyne, Sam Yagan, and Max Krohn way back in 2004, plenty of R&D has gone into making OkCupid one of 2020's most popular dating sites.
The dating app attracts a huge variety of interesting singles - it's kind of like hanging out at a funky bar in a college town. You'll see everything from artsy, edgy & creative to attractive, ambitious young professionals.
OkCupid Cons:
Since anyone can create a profile and send messages for free, some people on the site aren't serious about actually meeting someone.
OkCupid Review Verdict
Is OkCupid good?
Yes - OkCupid is a good dating site.
Since you can create a profile, search for matches, and message people for free, you have nothing to lose by giving OkCupid a try.
OkCupid is especially popular with singles in their 30s to 40s, so if you're serious about finding high-quality matches in that age bracket, upgrading to a premium membership could be a good investment.
OkCupid Review Round Up
On SiteJabber, OkCupid has a 3.49-star rating. The posted reviews ranged from the usual complaints that plague any free dating site like "Tired of the scammers and fake people" to glowing praise like "Found the love of my life!"
The bloggers over at The Dating Gurus gave OkCupid a solid A rating, sharing our opinion that it's one of the best free sites out there. AskMen agreed, calling it an "industry leader in online dating."
TrustPilot's OkCupid review, on the other hand, gives the dating site a dismal 1.3 star rating. The majority of user reviews were 1 star.
There are over 1000 OkCupid complaints filed with the Better Business Bureau, with many of them describing poor customer service.
Some users were upset that their accounts were suspended for various - or unknown - reasons, leaving them no way to opt-out of the auto-renewal for the paid subscription, and emails to customer service went unanswered.
Others were upset that their accounts were terminated after being "reported" by another user. But OkCupid refused to explain which message or behavior violated the site's guidelines, at least without a "valid subpoena, search warrant, or court order directed to OkCupid."
But in the grand scheme of things, a thousand or so complaints isn't a bad track record considering OkCupid has over 10 million registered users. And dating site users are far more likely to take the time to review a negative experience than a positive one.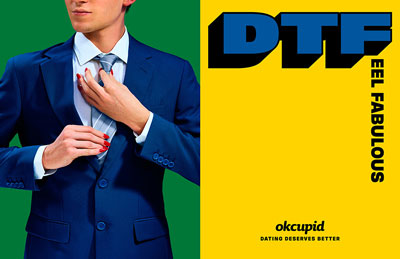 OkCupid Is DTF
OkCupid's progressive "DTF" ad campaign also received media attention and has been reviewed around the web.
Instead of the acronym's traditional meaning, OkCupid created slogans like "DTFall Head Over Heels."
As OkCupid's CMO Melissa Hobley told AdWeek:
The insight driving this campaign was that this phrase, DTF, is one that is typically used as a label on young women, one that they have no say or no voice in. Certainly this campaign was birthed in the era of 'Me Too' and in a year that's really important for women.
But some intended outlets found the ads more offensive than empowering, with organizations like the Chicago Transit Authority and New York Subway refusing to display some (or all) of the ads.
OkCupid Review: Price Tag & Premium Features
One of the reasons for OkCupid's popularity is the fact that it's a fully functioning free dating site.
You can create a profile, read/send messages, and search for matches without paying a dime..
But if you want useful perks like being able to see which local singles "liked" your profile, you'll have to pay for a subscription. There are two upgrade levels available - "Basic" and "Premium." (The paid memberships used to be called "A-List").
OkCupid Basic includes these benefits:
Sending unlimited likes
Specifying a particular search criterion as a "dealbreaker"
Undo your "passes"
Checking out all your intros at once
No ads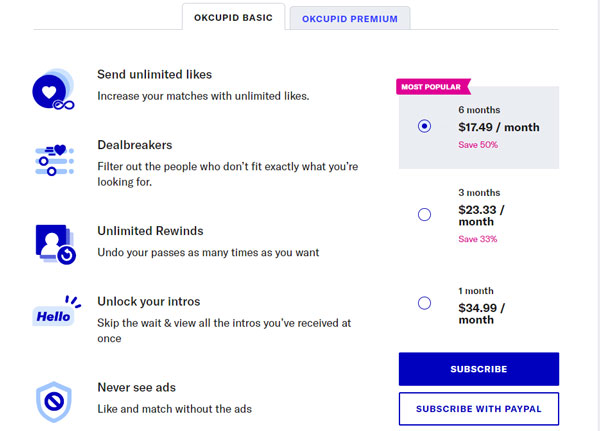 Pricing can vary depending on your location.
But you can expect to spend somewhere in the neighborhood of $34.99 to use OkCupid Basic for a single month, or $23.33 a month when you sign up for 3 months at once. The price drops to $17.49 per month if you commit to 6 months.
Note the OkCupid app does not seem to offer Basic anymore, you'll need to login via the online version to purchase it.
OkCupid Premium includes all of the Basic features plus:
Seeing everyone who has already "liked" your OkCupid profile.
3 weekly SuperLikes
Unlimited Activity Reports
Revealing all a potential match's question answers, not just the ones you've both answered.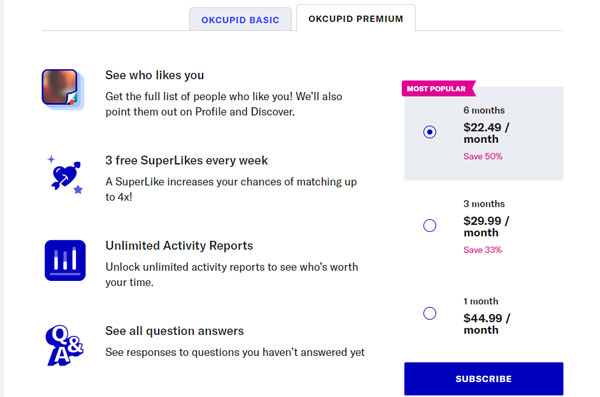 OkCupid Premium costs around $49.99 for a single month. Subscribe for 3 months and it's $29.99 per month or $22.49 per month when you have a 6-month subscription.
But again, pricing is market dependent. For instance, some users have reported a $39.99 price tag for a single month subscription to Premium, with a 3-month subscription costing $26.66 monthly or $19.99 monthly for a 6-month one.
Not sure if paying for OkCupid is a good idea?
See if upgrading is worth the investment for a guy in your particular situation, but for now here's a quick overview:
Consider Premium if:
You're in your early 30s to mid 40s. Around

half of OkCupid's users

are in the 30-49 age bracket. Around 25% of users are under 30, and the rest over 50.

You're in a more populated area.
You're serious about starting a relationship.
Consider Basic if:
You're budget conscious, but want to concentrate only on potential matches who truly meet your criteria.
You're in a more populated area.
Don't bother upgrading if:
You're in a remote location with a smaller dating pool.
Want to meet more attractive women on OkCupid? Check out these tips and tricks to make sure all those extra features pay off!
OkCupid Review: Setting Up Your Profile
You can create an account by going to OkCupid's website and clicking "Join", or by downloading the dating app for iOS or Android.
Navigating the OkCupid sign up process is incredibly easy. First, you choose your sexual orientation from 12 options, including straight, gay, demisexual, pansexual, and questioning.
Choosing your gender is equally inclusive, with over 20 options ranging from woman or man to androgynous, genderqueer, intersex, transgender, etc. You can also display which pronouns you use on your profile.
Next up is your birthdate, country, zip code, email, and password - and then boom, you're a member.
Then you'll be prompted to choose what type of relationship you're looking for, whether or not you're open to non-monogamy, and what your ideal partner's age range is.
OkCupid Photos
Gone are the days of photo-less profiles on OkCupid. Now you have to upload at least one to make it past the profile setup process.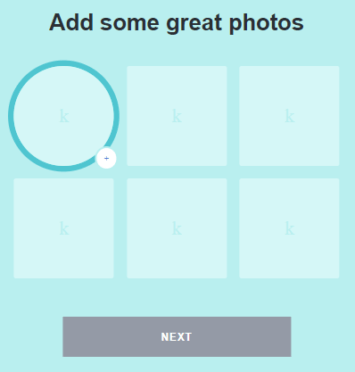 Photos are arguably the most important piece of your OkCupid profile, so choose a range of 3-7 where you look equally attractive. It's almost impossible to look equally good in 8+ photos.
It only takes one bad photo to turn someone off. At the same time, using at least 3 is important because it's hard to look like a well-rounded, interesting person in just 1 or 2 pictures.
For essential advice on choosing an attention-getting photo lineup for OkCupid, check these research-based dating photo tips!
OkCupid Questions
OkCupid's profiles are a bit different than what you'll find on sites like Match.com and Plenty of Fish.
You'll first be asked to introduce yourself: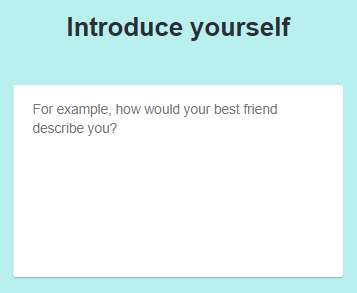 You'll need to put something here to get through the set-up process, but you can always change it later.
Next, you'll get the opportunity to answer multiple-choice questions to help determine who your compatible matches will be.
You answer the question for yourself, and then for your ideal match. You can also specify how important it is for you to share the same answer, and add additional details in a text box.
For instance: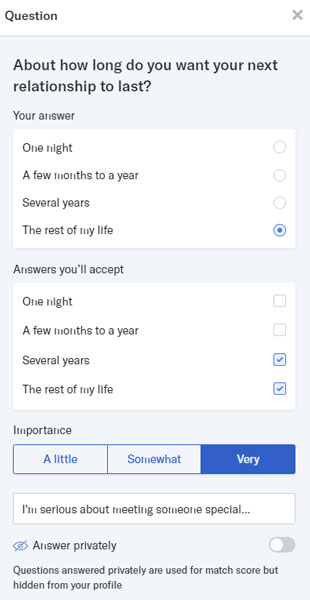 OkCupid Premium members can see all of a potential match's question answers.
That's handy because it gives you even more intel into their personality, likes and dislikes. Any details you gather can inspire your icebreaker (or as OkCupid calls them, your "Intro".)
Want to give singles a peek into your daily life?
If you're using the mobile app, you can also link your Instagram account to your OkCupid profile:
Tap the "Profile" icon on the menu bar.
Select "my profile."
Scroll all the way to the bottom of the screen, past the Topics & Questions sections.
Under Instagram, tap "connect" and provide your IG credentials.
OkCupid Prompts
From that point, you can start checking out your matches, but to get the best results on OkCupid you'll want to finish your profile first.
Potential matches have to "like" your profile in order to exchange messages with you, so consider it mandatory to put some effort in.
Overall, your OkCupid profile consists of 9 different sections, with the capability to add more topics if you'd like.
For each topic, you can choose which prompt you'd like to answer from a simple pull-down menu of 5 or 6 choices: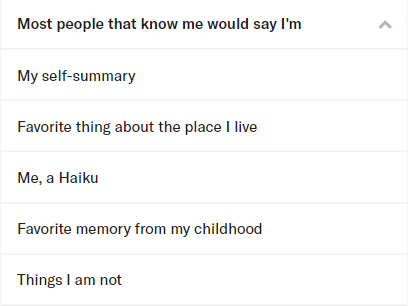 You don't have to fill out any more of the prompts, but you never know what might spark an attraction so it's a good idea to complete at least a few more sections.
The first two prompts you answer will be visible on your profile, and she'll have the option of clicking "+more" to see the rest of it.
Your answers should instantly capture her curiosity and make her want to know more about you. Highlighting a few irresistible traits is sure-fire way to boost your attractiveness. If she likes what she sees, she'll keep reading.
Use one of these OkCupid profile examples for guys as inspiration!
Remember, when she's reading these sections she's going to imagine what it's like to spend time with you so describe yourself and your hobbies in an interesting way.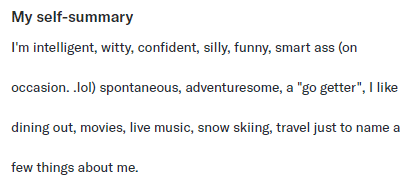 Instead of a boring list of adjectives or nouns like "I'm adventurous, funny, and ambitious, and I like skiing and travel" tell her a story that illustrates those qualities. Showing rather than telling is way more attractive.
Here's another example of a good OkCupid self-summary answer: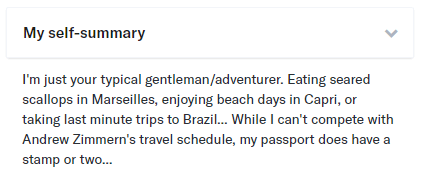 Once you've completed your profile, you can answer more of the Match Questions if you want.
Answering the additional questions is worth your time, because the more you answer, the higher your match percentage with other compatible users can be.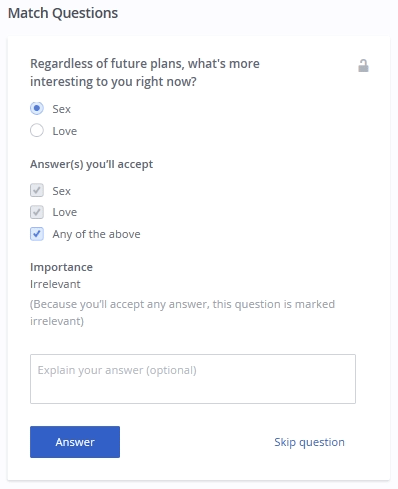 Resist the urge to check the "any of the above" box - that basically takes your answer out of the equation.
Finding Matches On OkCupid
You can find singles in Discover and Questions who match the criteria you specified in the "Looking For" section of your profile.
OkCupid no longer has a traditional search like Match does, so the matches you see will be determined by the preferences you specify there. And it pays to fill out your own profile completely because that will unlock more of the preference categories.
OkCupid Activity Reports
Similar to CoffeeMeetsBagel, OkCupid offers an Activity Report that shows you how active someone is (or isn't) on the platform. You can see your own Activity Report on the profile editing screen.
Statistics include Last Active, Reply Time, a Reply Likelihood percentage and a Sends First Message percentage. Premium subscribes have unlimited access to Activity Reports.
OkCupid Discover
In the Discover section, you'll see potential matches chosen for you by the site's algorithm. They are sorted into 10 different categories, or as OkCupid calls them: Stacks.

As OkCupid CEO Ariel Charytan explained to CNET:
We know that daters are looking for different things at different times, and we want to empower people on OkCupid to choose their own preferences as they match on what matters to them.
As you're browsing through your Stack feeds, you can "Pass", "Like" or "SuperLike" anyone you find there.
Like Hinge, OkCupid lets you comment on a specific part of someone's profile. Just tap the "Intro" button to send your message. This sends your comment with your "Like". Or you can just "Like" the profile if you don't want to include a message.
These OkCupid Stacks are free to look at:
Recommended

Cupid's Picks

Match %

Pro-Choice
Passport
Online

Nearby

SuperLikes
But the Popular and New People Stacks both cost $1.99 to access for 7 days.
Cupid Picks On OkCupid
Cupid's Picks are the same premise as Tinder's Top Picks.
These are users the algorithm has identified as mutually compatible based on your preferences, their preferences and questions that you've answered the same way. Just like on Tinder, Cupid's Picks change daily.
OkCupid Passport
The Passport Stack lets you connect with people all over the world.
OkCupid SuperLikes
The SuperLikes feed shows you anyone who has sent you one. And when you SuperLike someone on OkCupid, you'll appear there for them.
All users get a free weekly SuperLike that replenishes on Sunday. (And no, you can't stockpile free SuperLikes. If you don't use it during the week, you'll still just have one come Sunday.) Premium subscribers get 3 SuperLikes per week.
SuperLikes on OkCupid cost $3.49 each when you buy 2, $1.53 each when you buy 15, or $1.33 each when you buy 30. Pricing may change slightly depending on where you live.
When you SuperLike someone, you can choose to include a message along with it.
OkCupid Boosts
Users can purchase OkCupid Boosts to increase the visibility of their profiles for 30 minutes. There's also a longer option, called a SuperBoost, that runs from 3 to 12 hours.
A regular boost costs between $4 and $6, depending on how many you buy at once. The 3-hour SuperBoost starts at $29.99 and the price goes up from there.
OkCupid Questions
In the Questions section, you'll find profiles of singles who may be of interest to you based on what you've both chosen to include in your profiles.
You can also do things like a keyword search for common interests, or filter for matches who answered a question in a certain way:
OkCupid Basic & Premium members have the option to filter all the profiles they see by specifying match preferences as a dealbreaker:
Once you've "liked" a profile, you have the option to send an "Intro" to them.
If your match responds to your intro, or likes your profile back, then you and your match can exchange messages. Your Intro is essentially an icebreaker, so you'll want to ask an engaging question that's fun to think about and easy to answer.
Check out these icebreaker ideas for inspiration!
The Fastest Way To Meet Great Matches On OkCupid
OkCupid is a great place to meet high-quality singles, but as with anything worth doing it takes time to do it right.
Crafting a compelling profile, choosing attractive photos, writing messages your ideal type of person will want to respond to - these things take practice.
If you want to skip the whole "trial and error" stage and jump straight to the dates with amazing people, consider hiring a virtual dating assistant.
We've been finding high-quality dates for singles just like you since 2009, and you don't have to do any of the work!
All you do is show up for the dates. Intrigued?
Click here to find out how to meet the partner of your dreams!
Want us to do your online dating for you?

Hey, I'm Ally, VIDA Select's Director of Matchmaking.
We take all the frustration, hard work and hassle out of modern dating!
Imagine your very own Dream Team of highly skilled dating experts searching for the very best local matches, sparking their interest, and arranging all the dates for you.
Wouldn't it be nice to finally stop swiping and start dating higher quality matches so you can meet someone special?
We've helped thousands of singles just like you since 2009, and we're ready to make you our next success story!
What are you waiting for? Take the next step now…
See If You Qualify