I hope you enjoy reading the blog post.
If you want to chat now about your matchmaking search, click here.
Matchmaker Reviews: Are Patti Novak's Introductions Worth It?
Editor's Note:
Patti Novak's matchmaking service Vegas Valley Introductions no longer has an active website. Check out this guide to the best Las Vegas matchmakers!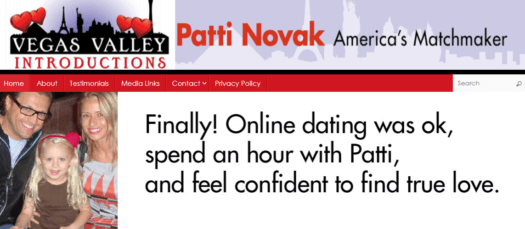 If you're thinking about hiring Vegas Valley Introductions, it makes sense that you'd want to do a little research on founder Patti Novak before signing a contract and investing your time and money.
And we've done all that research for you! From the small boutiques to the international services, we've reviewed over 200 matchmakers. Our insight comes from comprehensive research, real customer reviews, and a deep understanding of the matchmaking landscape.
This article is packed with Patti Novak reviews, background info, and insights into her matchmaking process, so you can decide if she's the best Vegas matchmaker for you!
Getting To Know Patti Novak
She's a TV personality you may recognize from A&E's "Confessions of a Matchmaker," as well as a published author. Oprah even called her "America's toughest matchmaker" since she's known for her honest approach to date coaching.
Novak said she's been casually matchmaking friends and family since the tender age of 10, and always felt it was her calling. As she said in an interview with Nothing Sacred,
Some people can play the piano, some people can sing, some people can matchmake.
In the interview, she goes on to say that she wants to help people understand where they've been in order to understand why they're in her office currently. And then help them move into the future by giving them an honest assessment of how they can improve their outlook on dating.
Novak founded Buffalo Niagara Introductions in her home state of New York in 2001 after her 17-year marriage ended with a divorce.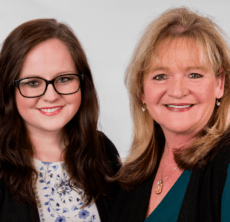 Then in 2013, she branched out to the west coast and opened High Desert Introductions, leaving her daughter Jessica to handle the Buffalo matchmaking service. Buffalo Niagara Introductions ended up closing, and her daughter joined Novak in Vegas.
Novak also changed the name of the matchmaking service from High Desert Introductions to Vegas Valley Introductions.
Patti Novak's Matchmaking Philosophy
This Vegas matchmaker firmly believes that if you "find yourself, love will follow." As she told Las Vegas Weekly, you need to be emotionally ready for a relationship before she'll take you on as a client.
Be ready, mind body and soul, to move forward. If you look your best you're gonna feel your best. Face those demons. Cleanse your soul. Get ready to move forward so that your energy is positive so that you can get what you offer.
She said one of the biggest challenges her female clients face is, oddly enough, success. They've become so successful that some of their energy is now masculine. But to attract a romantic partner, they need to be putting out more feminine energy.
Or, as she calls it, the "Pickle Jar Effect."
We are so successful today, women. We're fabulous. We work hard. We make good money. We parent. Sometimes what happens when we spend a lot of time alone, we forget to let them open the damn pickle jar. The one thing I don't think is ever going to change on this planet is men still need to feel like men, so let them open it.
Part of her approach to matchmaking is helping identify ways that clients can break destructive patterns that may have led to relationship issues in the past, and learn how to make better choices moving forward.
She also helps clients make realistic decisions when it comes to their "must have" lists. As she told Vegas 7, "You can't say you'll only date a man with a Ph.D., when you don't offer any post-high school [education] yourself. You can prefer it, but you can't require it."
This Vegas matchmaker won't take just anyone as a client. That's why she uses a pre-screening phone call before meeting people in person.
In an interview with Las Vegas Weekly, she explained that "Before I take your money and start matching you, you have to offer the quality that you're looking for."
What You Can Expect If You Hire This Vegas Matchmaker
Whether you're joining as a paying client or just want your profile listed in the database as available for matching, the process starts with the phone screening. That's so Novak can make sure you're "employed and emotionally ready to move forward."
If you want, you can fill out the "confidential questionnaire" on the website to answer some of the questions like these you'll be asked ahead of time: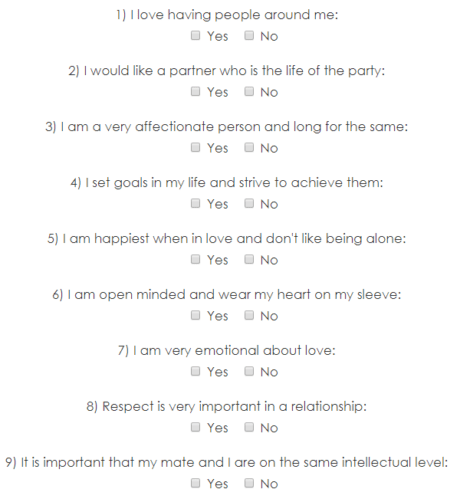 Next up is a face-to-face interview that could last up to 2 hours. During that time, you'll describe your dating history, what went wrong in past relationships, what types of people you're attracted to, your relationship goals, and other topics along those lines.
If both you and Novak feel you're a good fit for the matchmaking service, you'll sign a contract and the search for compatible matches is off and running.
After The Contract Is Signed...
Novak says she doesn't use computers to help her match clients. In the interview with Nothing Sacred, she explained that she's a boutique matchmaker, so she does things the old fashioned way. She's got folders of profiles and photos, and she'll match people based on preferences, and - of course - her gut instincts.
When she finds a compatible match, she'll exchange contact information so you can call and set up the date. According to her "dating rules," you shouldn't spend more than 5 minutes on the phone with your match. As she explained in her response to a BBB complaint:

After the date, you're expected to check in with the matchmaking office. It's not only to discuss what you thought of the match quality, but also to hear any feedback your match may have passed along about you.
That's more of her 'tough love' style of matchmaking, but she says it helps her clients become better daters.
How Much Does Vegas Valley Introductions Cost?
Stand alone date coaching starts at $300, and matchmaking services start around $1,500.
Membership options vary in terms of length and number of matches. But typically contracts are 6 or 12 months. Make sure to read your contract carefully. It will spell out all the procedures and expectations you're agreeing to.
For instance, as explained in this response to a BBB complaint, you're obligated to meet all your matches even if you don't think they're the type of person you're looking for:

Vegas Valley Introductions doesn't give refunds. So make sure you understand everything within the contract before picking up that pen and paying for the service.
Curious what clients have to say about their experience with Patti Novak's personal style of matchmaking? Let's check out some real Vegas Valley Introductions reviews to find out!
Vegas Valley Introductions Reviews
Patti Novak Yelp Reviews
This Vegas matchmaker has a 2 1/2-star rating on Yelp, based on 20+ recommended reviews.
This client said she had met someone special through the Vegas matchmaking service:
This client was happy with his matchmaking experience:
On the other end of the spectrum, clients like this one felt they didn't meet compatible people:
There is a Yelp listing for High Desert Introductions, which was the matchmaking service's name before Patti changed it to Vegas Valley Introductions. All of the reviews are 1 star, however they're not currently recommended.
All 4 of the reviewers, like this one, thought they had received low-quality matches, and weren't happy with the service:

Patti Novak BBB Reviews
This Vegas matchmaking service doesn't have a rating with the Better Business Bureau, and it's not an accredited business. But it has a 1/5 star rating based on two 1-star customer reviews, and 3 complaints.
One was from a client who felt she was having a hard time getting in touch with the matchmakers. She wanted her $1495 refunded:
This client wasn't happy with the quality of his matches:

The third complaint was about a billing mistake that was resolved to the customer's satisfaction.
Patti Novak Google Reviews
When it comes to Google reviews, Patti Novak has a 3.4 overall rating. 30+ reviews are mainly 5-star and 1-star.
Several of the clients reported that they'd gotten into relationships via the service: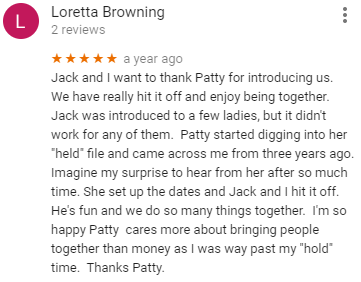 There were a couple 1-star reviews, but not all of them provided any reason for the ratings. This client thought the match quality was lacking, and wasn't happy with the service overall:
Matchmaking service reviews on local sites are helpful, as they might bring up some questions you can ask during your initial consultation.
Reviews aside, one big issue to consider when choosing a matchmaking service is contracts. Some matchmaking services, like Vegas Valley Introductions, require you to pay up front and commit to a specific period of services. That's often 6 months, a year, or even longer.
Other companies like VIDA Select don't use them. You pay each month instead. That means you've got the flexibility to date according to your schedule, or to simply stop if you're not getting the results you want.
There's No Easier Way To Meet High Quality Singles In Las Vegas
VIDA has a few other advantages as well. With access to the biggest pool of Las Vegas singles there is, you'll only be meeting people who fit exactly what you're looking for in an ideal partner.
You may be wondering how that's possible, and the answer is simple - you pre-approve all your matches! You're not obligated to meet anyone, so there's no reason to worry about wasting time, energy, and money on dates with people you're not attracted to.
Instead, you'll be meeting high-quality, intriguing, compatible matches that can't wait to meet you! On average, VIDA clients start a serious relationship within the first, second, or third month of service. Why not give VIDA a chance to change your life too?
All you need to do is click here to set up a 20-minute, no-obligation, 100% free chat with one of our matchmakers. Schedule yours today!
All product and company names are trademarks™ or registered® trademarks of their respective holders. Use of them does not imply any affiliation with or endorsement by them.
Why Choose VIDA Select?

Since 2009, thousands of clients have discovered true love thanks to VIDA Select's fresh, modern approach to matchmaking – which has finally thrown blind dates and long-term contracts out the window. This isn't your grandmother's matchmaking!
Instead of working with a single matchmaker using a small rolodex of potential partners, VIDA Select's matchmaking team taps into the world's largest database of available singles. We'll quickly identify the matches who check all of your boxes so you can finally experience true chemistry. Are you ready to become our next success story? Schedule your complimentary consultation now by clicking the button below!
Get Started Now