I hope you enjoy reading the blog post.
If you want to chat now about your matchmaking search, click here.
How Much Does Tawkify Cost? (2023 Prices!)
Finding out how much Tawkify costs can be difficult, since most matchmaking services don't list their pricing online. Everything you need to know about Tawkify, from price to what you can expect, is right here.
Tawkify Locations
Tawkify is a national matchmaking service, working with clients in every state.
Tawkify Price
Tawkify packages range from $3,000 to $70,000, with the package cost largely determined by how many matches you want and what level of service you'd like. For instance, the $3,750 package includes 3 matches.
What Else You Should Know About Tawkify
While the only way you're getting any guaranteed matches is to become a "Matchmaker Client," you could join Tawkify as a "Matchable Member" for just $99 a year.
Matchmaker Members are listed in the database of potential matches for Matchmaker Clients.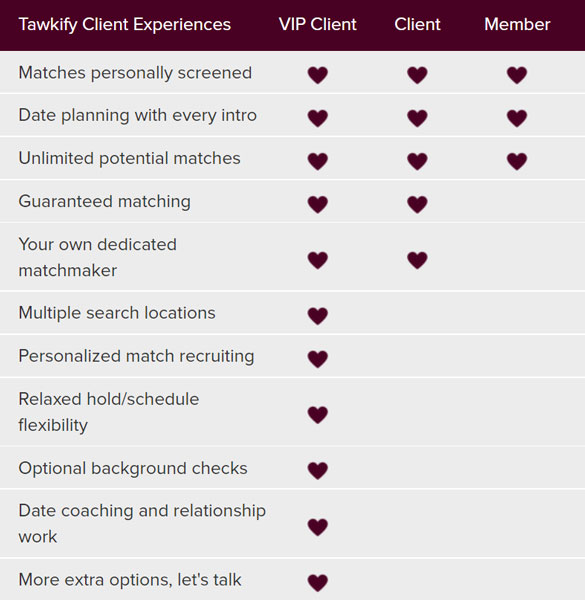 It's possible to get multiple dates as a Matchable Member, but it almost goes without saying that the Client's best interests could be given a lot more weight than yours.
After all, the Matchmaker Client is paying a lot more than you.
That's why if you're looking to hire a matchmaking service, your experience will likely be better working directly with one of the Tawkify matchmakers rather than signing up as a Matchable Member. But at least now you know more about the database your dates will be coming from as a Client...
According to Tawkify, there are approximately 1.5 million singles in the company's nationwide database. If this figure is accurate, that's actually a pretty sizable dating pool for a traditional matchmaking company.
As a Matchmaker Client, you're not just limited to dates with Matchable Members.
There's a chance you could also meet another Client. The search can also be expanded to include non-members when no suitable candidates are available in the database. According to some Tawkify reviews, non-member matches are sometimes recruited from more casual dating apps like Tinder.
What You Can Expect From This Dating Service
Each client is paired with one of Tawkify's professional matchmakers. The matchmaker will work closely with you to understand your dating life, and get an idea of what you're looking for in a long-term relationship.
Once your matchmaker has developed an idea of who you are and what you're looking for, she'll start the initial search in Tawkify's "Romance Rolodex" of member profiles.
This first search looks for what Tawkify calls "paper compatibility." Matches are made based on common values, interests, and other traits and characteristics that can be quantified in a dating profile.
She will, of course, also be looking at photos she has of your potential matches. She'll have a pretty decent idea of what you're attracted to because by this time, you will have already sent her photos of any exes and celebrities you think are hot.
Next, potential matches are screened via video chat by your personal matchmaker. If she decides a match is a good potential candidate based on the video screening, then a date is set up.
Expect to be going in pretty blind because Tawkify doesn't share any photos of your matches with you before you meet them.
The dates themselves are planned according to mutual interests. So if you're both into history, for example, a trip to a museum might be in store for you.
After your date, the matchmaker will check in with both you and your match to get feedback. Whether it was a lack of physical attraction, compatibility or chemistry, any feedback you can offer helps her to adjust her search.
The Sign Up Process
The first step to becoming a Client is a 10-15 minute evaluation where you're asked specific questions about what you're looking for in a partner, i.e. age range, ethnicity, education level, etc. You'll also answer some basic background questions about yourself and your relationship goals.
All the notes from that evaluation are attached to your initial profile. Then it gets forwarded to the selection committee for final approval.
While the selection committee is deliberating, clients are required to pay for a package.
This "holds" your spot while your profile is being evaluated. The final approval process takes 1-2 days. If for some reason the committee decides Tawkify doesn't have the resources in your area to find you quality matches, your payment is refunded.
Tawkify Pros & Cons
Tawkify is nationwide, and has a substantial database which is great news for you.
A potential downside is you're truly going on blind dates. You probably get a verbal description of your match beforehand, but "blonde hair, green eyes, athletic figure" still leaves a lot to the imagination.
Do you love the thrill of meeting up with someone you know next to nothing about? You'll probably like Tawkify.
However, if you want to be a bit more selective about the people you choose to spend your time with, then consider looking into other matchmaking services that give you a little more control over who you meet.
Sometimes matchmaking companies have a "no photo" policy because they don't have a lot of suitable matches for you.
Having you rule them out before a date would make it difficult to fulfill the quota. But who wants to arrive to the restaurant and discover your match wouldn't even warrant a second look if you passed them on the street?
Many people prefer to see photos and meet the people they feel physically attracted to. That's why there are plenty of alternatives to Tawkify out there who share photos and more detailed information about potential matches up front.
Don't Like Blind Dates? Consider A Service Like VIDA Select
VIDA Select never sends clients on blind dates. Every single match is pre-approved by you. So you're only going out with people you're excited to meet.
Signing up to see if we're a good fit to set you up on high-quality dates is easy.
Just click here to see if you qualify!
Next, we'll meet over the phone for a low-key, 20 minute confidential call and see if VIDA might be the right solution for you.
If we're the right fit to work together to find your ideal partner, we can be sending you on a date with your ideal match as soon as this weekend. It all starts with your consultation with one of our matchmaking experts.
To learn more and schedule your consultation today, simply click here.
All product and company names are trademarks™ or registered® trademarks of their respective holders. Use of them does not imply any affiliation with or endorsement by them.
Why Choose VIDA Select?

Since 2009, thousands of clients have discovered true love thanks to VIDA Select's fresh, modern approach to matchmaking – which has finally thrown blind dates and long-term contracts out the window. This isn't your grandmother's matchmaking!
Instead of working with a single matchmaker using a small rolodex of potential partners, VIDA Select's matchmaking team taps into the world's largest database of available singles. We'll quickly identify the matches who check all of your boxes so you can finally experience true chemistry. Are you ready to become our next success story? Schedule your complimentary consultation now by clicking the button below!
Get Started Now