I hope you enjoy reading the blog post.
If you want my team to just do your online dating for you, click here.
The 5 Best Exclusive Dating Sites & Apps For 2023
Dating sites and apps like Match, Bumble and Hinge are great for the general population. But if you want to fish in more exclusive waters, these are the 5 best exclusive dating sites & apps to drop a line:
Exclusive Dating Sites & Apps Table of Contents
Busy professionals have been outsourcing their online dating to VIDA Select's team of experts since 2009. We've logged hundreds of thousands of hours on all the most popular dating sites and apps, so we know which apps work best when you have exceptionally high standards.
Start with the one that intrigues you most, or check them all out and decide which is the best dating app to try first!
The League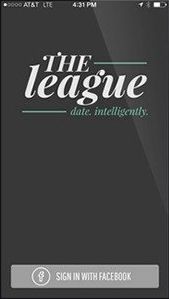 When it comes to exclusive dating apps, The League sets the gold standard. Not only is there a huge wait list to get in, but your LinkedIn and Facebook profiles also have to pass muster with the app's highly selective algorithm.
The singles you'll find are more than worth the wait. You'll receive 5 matches a day, and you have three weeks to say "yes" or "no" to a match before a match expires. If it's a mutual "yes", you can start messaging.
You will only be shown matches that fit your criteria, such as gender, age, height, distance, education, and ethnicity. The app values your privacy, so your profile will only be visible to mutual matches who meet your criteria.
Users can also interact with each other within the group chat function, where you can join or create special interest groups.
The app is free to download, and you have the option to pay for extras like additional matches and profile boosts.
If you happen to live in a large city like NY, LA, San Francisco, or London, the app is a must if you're looking for intelligent, attractive matches. Want to learn more about The League? Check out a detailed review of this exclusive dating app!
Download The League mobile app for Android or iOS.
Raya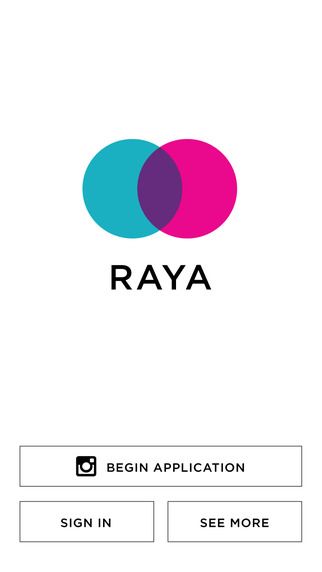 If you're in the entertainment industry, give this ultra-exclusive app a try. Billed as a dating app for creative people, Raya has gained a reputation as Tinder for the super famous.
But don't worry if you're not a celebrity (yet), you can still use the app provided you pass the rigorous screening process. If you have the right kind of job (i.e. in the "creative" industry), know the right people, and have a large Instagram following - you might have a chance.
Potential members are granted admission via an "anonymous global selection committee", which is where knowing the right people comes in handy - acceptance criteria includes a referral from an existing Raya member, as well as a large Instagram following. But once you're in, it's glorious - as in date a Sports Illustrated swimsuit model glorious.
Raya intentionally flies under the radar, which explains the "Tinder Illuminati" nickname. The app fiercely guards the privacy of its users, including having security measures to prevent screenshots of celebrities from going viral.
If you think you've got the chops to date the best of the best, download Raya for iOS.
Luxy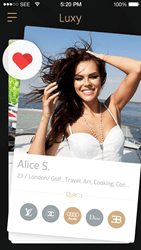 This dating app bills itself as "Tinder minus the ugly and poor people", and Luxy doesn't disappoint in that regard. Users are specifically screened for both attractiveness and net worth.
To get in, you have to survive the 24-hour "vouching" process, where Luxy users vote on your worthiness to join their ranks based on your photos and profile.
If you don't make the grade, you can still get in by verifying your income - but only if you make over $200,000 a year. As in real life, money talks - you can buy your way past all those judgmental gatekeepers by immediately upgrading to Luxy Black.
The costs for a premium membership range from $99 a month to $58.99/6 months. Luxy Black comes with additional perks like extra opportunities for swiping (basic users can only swipe up to 30 profiles a day), the ability to message other users whether you're matched with them or not, and premium search features like location and income level.
Luxy's users tend to congregate in major metro areas, so if you're in a city like NY or LA and your standards are incredibly high, Luxy is definitely worth a look. For everything you need to know about Luxy, check out our Luxy app review.
Download the Luxy app from Google Play or App Store.
MillionaireMatch
There are millions of users on MillionaireMatch and features like income verification attract gorgeous women who are serious about finding a relationship. There's no shortage of eligible gentlemen either.
And if you're looking for something more casual, you'll find that too. Women tend to be highly responsive on MillionaireMatch, another reason we prefer it over other exclusive sites.
To get the most out of MillionaireMatch, you'll need to upgrade to Gold membership. For men, only paid users can send messages or access all the search functions. The cost of upgrading ranges from $35 to $70/month, depending on how many months you commit to up front.
You can read our complete MillionaireMatch review here, then learn how to write a profile for MillionaireMatch that will multiply your results.
Sugardaddie.com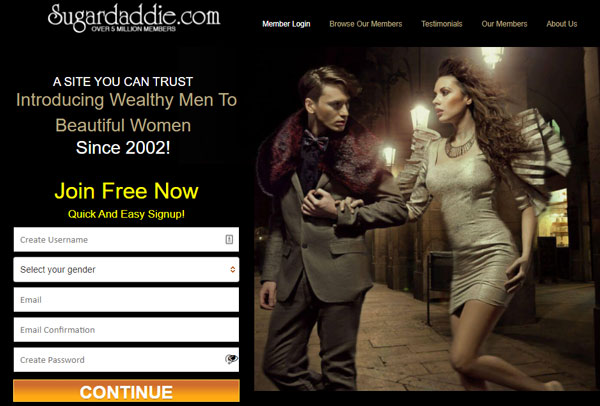 As the name implies, Sugardaddie.com is a "seeking arrangement" type website, although it's possible to find women seeking long term relationships as well. If you're in the market for a mutually beneficial relationship with a gorgeous woman, this is a good place to start.
Both men and women have to pay to send and receive messages on the site, which goes a long way towards weeding out scammers and prostitutes. But you'll still have to do some heavy curating on your matches - or hire a virtual dating assistant to do all the hard work for you.
An upgraded membership costs $155 for a year, or you can buy monthly packages: $90/6 months, $50/3 months, or $25/1 month.
The site can be glitchy and slow to load at times, but overall it's got a classier vibe than any of the other sugar daddy sites. If you don't go with MillionaireMatch for some reason, SugarDaddie.com is a good Plan B.
There you have it - the 5 best exclusive dating sites and apps.
But if you're looking for the cream of the crop and won't settle for anything less than perfection, why not hire the best of the best to find her for you?
Here at VIDA, we've been finding men their ideal woman since 2009. Why spend hours of your precious time writing a profile, choosing photos, screening matches and exchanging countless messages when we can handle all that for you?
Literally all you have to do is show up on the dates with all the gorgeous women we've lined up. Click here for your free 20-minute consultation today!
Want us to do your online dating for you?

Hey, I'm Ally, VIDA Select's Director of Matchmaking.
We take all the frustration, hard work and hassle out of modern dating!
Imagine your very own Dream Team of highly skilled dating experts searching for the very best local matches, sparking their interest, and arranging all the dates for you.
Wouldn't it be nice to finally stop swiping and start dating higher quality matches so you can meet someone special?
We've helped thousands of singles just like you since 2009, and we're ready to make you our next success story!
What are you waiting for? Take the next step now…
See If You Qualify