I hope you enjoy reading the blog post.
If you want my team to just do your Tinder for you, click here to chat with me.
Tinder Boost Explained: Price, What It Is & When To Do It
Wondering if Tinder Boost and Super Boost are worth the cost? Spoiler alert: they are, provided you live in a more densely populated area and you know how to use them wisely.
This quick guide has everything you need to know about this Tinder feature, including what a boost is, what it does, and the best time to use it!
What makes us qualified to guide you on when to boost your profile on Tinder? The answer is straightforward! VIDA Select's team of seasoned dating professionals has been handling Tinder profiles for clients from the time the app made its debut in 2012.
We've fine-tuned countless bios and dispatched hundreds of thousands of messages on this highly popular dating platform. Throughout the years, we've leveraged the enhanced visibility offered by each Boost to secure more matches for our clients, leading to some fantastic dates!
In this blog post, we'll share our insights, backed by data from our team, to help you make the most of your Tinder experience.
Tinder Boost Explained
Tinder Boosts make your profile one of the top ones in your area for 30 minutes. That means when local singles fire up Tinder, your profile will be one of the first they see.

According to the app, you can get up to 10x more profile views while a boost is activated, which can lead to more matches. You'll get periodic reminders of how much juice is left in your Boost.

When you match with someone during a Boost, you'll see a little purple lightning bolt by their name in the "Message" section. But it's not visible to other Tinder users, so no one will know you boosted your profile on the dating app.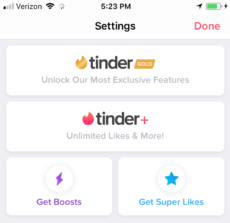 How To Boost Your Profile On Tinder
You can tap the purple lighting icon on the bottom right of the menu bar to purchase a Boost.
Or:
Tap the profile icon
Go to "Settings"
Tap the purple lightning icon
Choose the quantity you'd like to purchase
Tinder Boost Price
Upgraded Tinder users get one free 30 minute Boost each month as a premium feature in Tinder Gold. If you're a free Tinder user, or you want to Boost your profile more than once, you can pay for them ala carte.
There is no set price for the Tinder Boost feature, as Tinder changes the prices dynamically. Factors like your age and location affect the cost. But here is an idea of what to expect:
Tinder Boost Price
1 Boost - $7.99
5 Boosts - $7.00/each
10 Boosts - $6.00/each
You don't need to activate your Boost as soon as you purchase it. They can be stored in your Tinder account and deployed at any time.
Tinder Super Boost
A Super Boost, or Primetime Boost as it's called in some areas, works basically the same way a Boost does. But with a few key differences:
According to the app it will get your profile in front of up to 100 times more potential matches.
This in-app purchase is only available to Tinder Plus, Tinder Gold and Tinder Platinum members.
You can only use it during "peak night hours."
You can choose how long the Super Boost lasts.
The cost of a Tinder Super Boost varies depending on how long it runs and your location. But to get an idea of how much it costs, you can expect to spend between $40 and $130: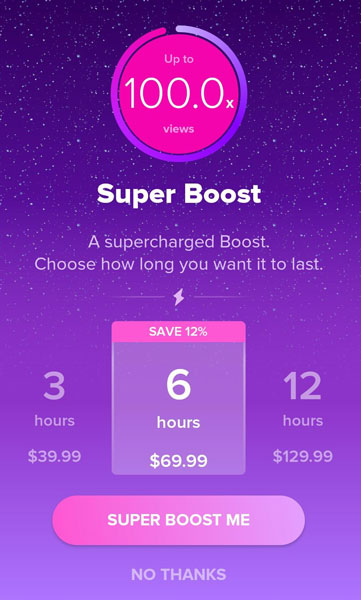 When Is The Best Time To Boost Your Profile On Tinder?
To get the maximum potential out of a Tinder Boost, use it around 9 pm.
That's when Tinder activity peaks so you have the most chances of matching. User activity starts to pick up around 6 pm and drops off after 10 pm:
As far as days of the week go, many dating apps like Hinge and Bumble report the heaviest usage on Sundays.
So there you have it - Sunday at 9 pm would be the best time to use a Tinder Boost.
Pairing a Boost with a Swipe Surge would be a savvy move. If you're not signed up for Swipe Surge notifications so you know when a Tinder increase in activity is going on, this related article explains why you should be.
Thursday evening is another good time to boost on Tinder. Many people are starting to think about weekend plans - and finding someone to share them with.
And if you happen to be stuck indoors due to inclement weather, like a rain or snowstorm, that's also a prime time to use a Tinder Boost and get swiping.
3 Ways To Make Boosting Your Tinder Profile Worth It
You can use as many boosts as you want to buy, but if your profile doesn't make a potential match swipe right you're just spinning your wheels. In other words, a Boost isn't a magical fix for a bad Tinder profile.
#1: Don't Blow It With Your Primary Photo
This is Tinder after all, so let's start there. Ideally, one glance will be all it takes to make a Tinder user swipe right, because that's often all the time they'll take to make a decision.
Take note of these dos and don'ts to consider when selecting your primary Tinder photo...
DO:
Crop your photo to show only your upper body. Not only did study participants find closeups more attractive, but it will look better if you get chosen as someone's Top Pick.
Wear a bright color, preferably red. Both men and women found members of the opposite sex who were wearing red more attractive. Besides, the majority of people opt for neutral tones in their Tinder photos, so a bright color pop really stands out.
Smile. According to PhotoFeeler, when you're making eye contact with the camera, a small smile where you flash some teeth is considered the most attractive.
DON'T:
#2: Gather Some Opinions
If you want the best Tinder photo lineup possible, invest some time gathering feedback on your photos. Use a site like Photofeeler, enable Tinder's Smart Photos feature, or at a minimum ask a few friends of the opposite sex which photos they prefer.
This is a crucial step because you simply can't evaluate your own photos in the same way a total stranger would. You're too familiar with your own appearance!
For instance, you may not notice that your brow is just a tad furrowed, but someone scrolling through Tinder pics might interpret that as a scowl and swipe left.
Or you may think you look great in that photo where you're rocking an Affliction hoody and leaning up against a graffiti wall - but women take one look and mentally file you under "Best Avoided While In Dark Alley." You know you're not a dangerous guy, so it would never even cross your mind that others may get that impression.
There are many factors that influence whether or not someone will be interested in you, but three of the most compelling ones are overall attractiveness, trustworthiness, and competence. The ideal Tinder photo showcases that particular hat trick, and total strangers are better at choosing which photos you exhibit those qualities in.
#3: It's Not Just About Your Photos
Sure, Tinder is focused primarily on photos. But here's the thing - studies have shown that users who have a Tinder bio get more matches than users who don't. And that's particularly true for guys - it increases the match rate by a factor of 4.
The key to a good Tinder bio is picking a few attractive qualities and highlighting them in a way that's naturally irresistible. For instance, if you're looking for a long-term relationship, you'd want to mention your career, as that hints at responsibility and financial stability.
Activities like yoga, surfing, hiking, running imply you're active and physically fit, and they also make great fodder for a Tinder conversation.
This example of a good Tinder profile for guys illustrates how to showcase your best traits in an attractive way:

Now compare that to a profile like this, which unfortunately is a real one: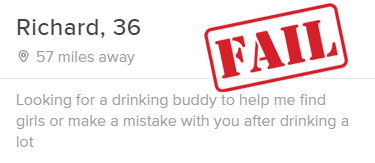 Which guy do you think a woman looking for a serious relationship would rather exchange messages with?
For more examples of short profiles that are perfect for dating apps like Tinder, go here.
Don't have time to make sure your Tinder profile is on point? Why not let VIDA help! Not only will our professional writers give you a Boost-worthy profile, our dating experts will handle everything else for you as well.
We'll choose your most attractive photos using data-driven methodology and write compelling Tinder messages on your behalf. Get more dates than ever before - with higher quality singles!
To learn more, click here.
Want us to do your online dating for you?

Hey, I'm Ally, VIDA Select's Director of Matchmaking.
We take all the frustration, hard work and hassle out of modern dating!
Imagine your very own Dream Team of highly skilled dating experts searching for the very best local matches, sparking their interest, and arranging all the dates for you.
Wouldn't it be nice to finally stop swiping and start dating higher quality matches so you can meet someone special?
We've helped thousands of singles just like you since 2009, and we're ready to make you our next success story!
What are you waiting for? Take the next step now…
See If You Qualify