Tired of blowing it with your hottest matches?
Instead of striking out with lame messages like "hey there", try sending one of these 14 Tinder conversation starters that women love!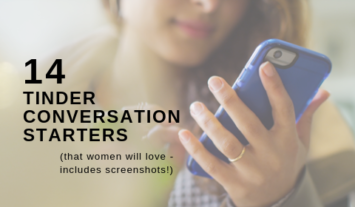 Then stick around for 3 simple tips that will boost your response rate and learn how to keep the conversation moving toward a date!
Animate Your First Tinder Message
Making her feel something with your opener is the key to getting a conversation started on Tinder – and GIFs are a great way to accomplish that.
A positive emotional response creates an instant bond, so she's more likely to invest time in replying to you. Then, once you've evoked this emotion, make it easy for her to write back by posing a fun, interesting question at the end of your message.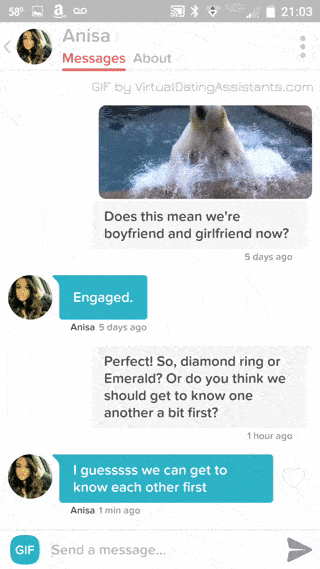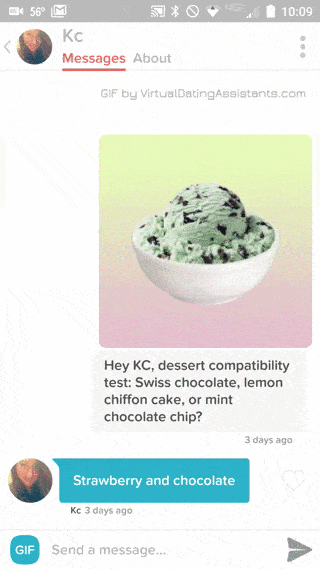 Not only do GIFs stand out in her message queue, they boost your response rate as well. Data analysis by Tinder revealed that GIFs are 30% more likely to get a response, and the conversations last twice as long.
The right GIFs can also give your conversations a burst of humor. Numerous studies have shown women are naturally attracted to funny men. Finding a sense of humor sexy is literally hardwired into her brain. Why not use mother nature to your advantage when it comes to scoring hot Tinder dates?
Here are two more conversation starters and corresponding GIFs sure to make her crack a smile:
Of course, you can be also funny without using GIFs, but make sure your humor is on point. Think classy, not locker room.
Kick Start A Craving
When it comes to boosting your response rate, mentioning food is a pro move. According to Hinge, women are 40% more likely to respond to messages that get them craving something delicious, and that makes food a great Tinder conversation topic.
Engage Her Imagination
Travel is also an excellent go-to topic for getting a conversation started on Tinder. Virtually all women love visiting new places and seeing the sights, or at least thinking about going somewhere amazing. Who doesn't have a travel bucket list?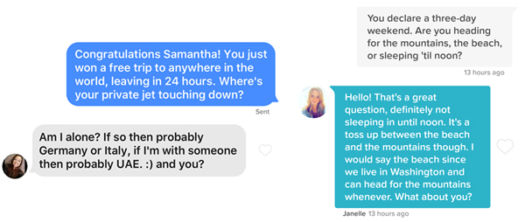 Get Personal(ized) In Your Tinder Opener
Travel isn't the only way to stimulate her mind's "happy place." When you're wondering what to say on Tinder, give her profile a quick skim and see if anything jumps out at you from her photos or her bio. You could ask her about a hobby you share, her passion, or her pets, or even her name if it's unusual sounding: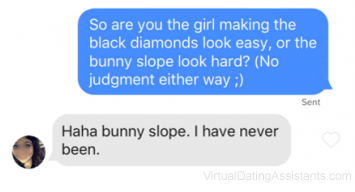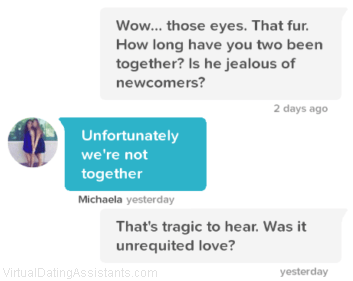 When you give her the opportunity to talk about herself, it stimulates pleasure centers in her brain.
Responding to your conversation starters literally makes her feel good – and the better she feels, the more comfortable she'll be giving you her phone number.
Here are a couple more examples that will have her responding in no time:
Age Isn't Just A Number
There isn't a magical message that every woman is guaranteed to respond to on Tinder. For one thing, age is a factor when it comes to predicting what type of message will work best for a specific match.
A message that makes casual-minded cuties in their early 20s laugh and respond probably isn't going to work that well with relationship-minded women in their mid 30s. These are very different audiences.
The data crunchers over at Hinge found that women of different ages respond better to messages in certain categories:
Keeping these categories in mind could pay off in higher response rates overall. In fact, if you truly want to maximize your results, keep track of every opening line you send and every response it gets. That way you can see what works for you and what doesn't.
Yes, it's a bit tedious, but the data you'll get in return is totally worth it. This handy response rate calculator makes it as easy as it can possibly be…
Believe In Second Chances
Your data will let you know which messages perform best in general, and those are the keepers. Keep in mind, even the best conversation starters don't work 100% of the time.
Don't throw in the towel if she doesn't respond. There could be thousands of reasons, and not all of them have to do with you. Maybe her meeting started, or she's catching up on Walking Dead.
Whatever the reason, give her a second chance by sending a follow up message. According to a recent study conducted by the folks over at Hinge, an app like Tinder, that second message boosts your odds of getting a response – especially if you send it around four hours later.
But keep things lighthearted, the last thing you want is to sound desperate for a response. That's not hot.
Here's an example of a follow up message that relates back to the conversation opener in a funny way: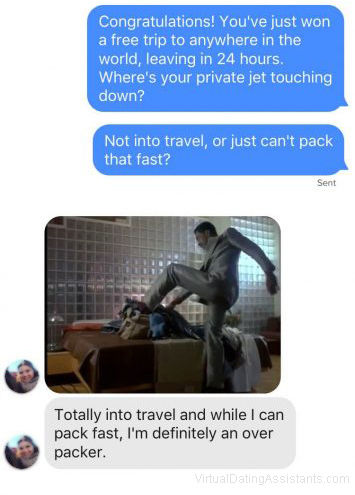 You can also use a "stock" message like this one to respark a Tinder conversation: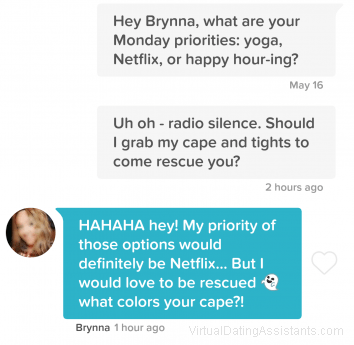 The second example works no matter what your initial message said, which means you can quickly send it to any woman in your queue who hasn't responded yet.
GIFs pair well with follow up messages too. These two work as funny standalone "reminders":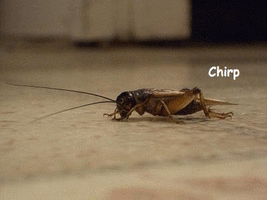 Or you can find one that relates to the message, like this GIF for the "radio silence" example above:
If she doesn't respond to your second message, cut bait and move on. The more unanswered messages you send the stronger that whiff of desperation starts to smell.
There's no shortage of hotties on Tinder, so shift your efforts elsewhere.
3 Simple Things That Will Boost Your Response Rate
If you want to boost your response rate for each message, do these 3 simple things:
Use her first name. As Dale Carnegie noted in his famous book, "A person's name is the sweetest sound in any language for that person." It works on Tinder too. Including her name in your message creates an instant emotional bond – and when you get her feeling all warm and fuzzy she's more likely to respond.
Pay attention to spell check. Messages with spelling, punctuation, and grammar errors are a dealbreaker for many women, so proofread your conversation starter before sending it.
Message her in the evening. According to the data crunchers over at Nielson, Tinder's peak activity occurs during "prime time," so message her between 5pm and midnight. As you can see from the graph below, the best time to send a Tinder message is around 9 pm.
Keep The Convo Rollin'
On Tinder, keeping the momentum going is crucial. Tinder conversations have a short shelf life, so you want to move things off the app as quickly as possible by getting her number or scheduling a date.
When she responds to your opener, you need to move the conversation forward before she loses interest and moves on, or her Tinder profile disappears.
The easiest way to keep the momentum going is by asking her a question each time you send a message.
Generally, answering a question is easier than thinking of something new to say. Think of it as saving her from that awkward silence at a cocktail party when the conversation stalls. When you take the reigns, it's easy for her to follow your conversational lead.
Don't be afraid to get creative – it is Tinder, after all. As you get more messaging practice, you'll develop a good feel for what works and what doesn't. Keep track of the lines that work best for you, and use them again and again.
You'll find 10 great questions to ask a girl you like in this article.
If you send a message that falls flat, you can still save the convo. For instance, if she replies:
"I have no idea how to respond to that"
Simply write something like:
"That's okay, you don't need to say anything. Just tell me more about your tastes… Night out on the town or Netflix? Chocolate cheesecake or warm apple pie? Hiking in the mountains or body surfing at the beach?"
On an app like Tinder, you may have to exchange 10+ messages before the time feels right to ask her out.
Here are some signs she's into you:
When you feel the time is right, you have 2 options for taking things off the app:
Asking for her phone number (or her Facebook)
Suggesting a meet up
No matter which goal you have in mind, start by making a statement you know she'll agree with. That puts her in the "yes" frame of mind.
For instance, say "You seem cool, but I've found it's hard to predict chemistry until you're face to face with someone. Let's meet up for coffee or drinks?"
Once she agrees, you can write "Great, what's your number? I'll text you to figure out the details…"
For more tips on how to ask a girl out online, click here.
The Fastest Way To Meet Tons Of Women On Tinder
If you're like most guys, you probably check Tinder about 11x a day. It can get pretty addictive. Plus, you know you have to strike while the iron's hot or you risk her moving on. In fact, Tinder's so hard to put down that active users spend an average of 90 minutes a day swiping and messaging.
Wouldn't you prefer to meet higher quality women without letting dating become a part-time job? That's what VIDA can do for you.
Not only will our Tinder experts optimize your profile and photos, we'll also handle all the back-and-forth messaging and set up dates with the caliber of women you really want to meet.
Intrigued? Find out more about what VIDA can do for your dating life here.