Thanks to Tinder Online, you can now swipe, match, and message from any device. All you need is an internet connection.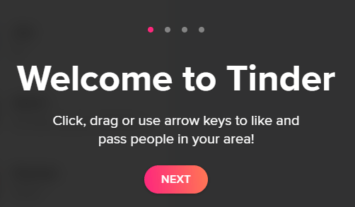 That's great news for anyone who's stuck at school, work, or beyond the reach of 4G. Now you can simply navigate to Tinder.com from any browser, and you're back in business.
From Tinder.com, you'll login via Facebook or your phone number.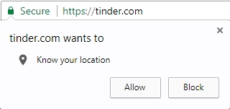 Just like on your smartphone, you'll have to share your location. Simply click "Allow" when you get the browser prompt.
You'll then be prompted to either block or allow browser notifications, such as when someone matches with you or sends you a message.
Tinder's Online Facelift
The Tinder web format is recognizable, but with a few laptop-friendly twists.
For starters, you'll see all your matches on the same screen while you check out the local singles: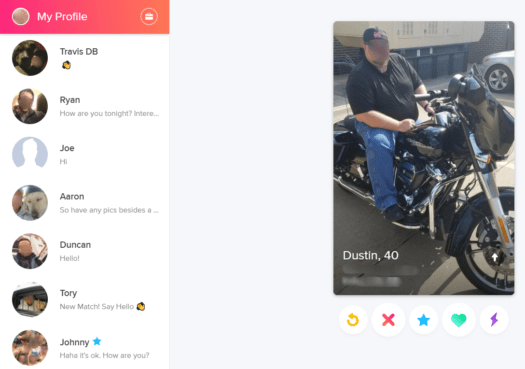 Instead of swiping, you can click with your mouse to like or pass, or use the keyboard shortcuts for maximum stealth and efficiency:
Messaging using the Tinder online interface looks a bit different as well. Your match's profile will be displayed to the right, with the conversation taking place in the middle of the screen: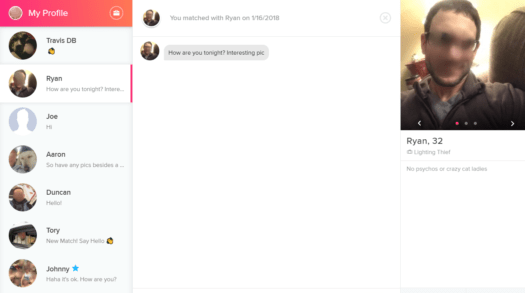 That means your primary photo and Tinder bio are getting a lot more screen time, which is good news because research shows increasing someone's exposure to your primary photo increases your likeability.
You'll want to check out these tips for choosing your most attractive profile picture, but for now here's the secret formula for the best Tinder primary photo:
Lots of contrast between you and the backdrop
Only you're in the photo
It's a headshot (think mid-chest and up)
Your eyes are visible (i.e. don't block them with sunglasses or a hat)
She's almost certainly going to read your bio at some point during your chat because it's right there in front of her, so make sure it stands up to the scrutiny.
Check out these 6 examples of the best Tinder bios for guys, and give your tinder profile an overhaul.
Tinder's Online Escape Hatch: Work Mode
With the average guy spending ~90 minutes a day on Tinder, checking in 10 times or so, chances are you've snuck a peek at work. But forget holding your phone in your lap, or heading off to the bathroom – those days are over.
Thanks to Tinder Online's "work mode," you can go from arranging an after work meet-up to stealth mode in 1 click. Simply click the little briefcase icon at the top left, and up pops something more business(ish):
It won't stand up to close scrutiny, but it will buy you some time if you forgot to leave a tab for something work related open.
The Easiest Way To Manage Tinder
If you're looking for more ways to sneak Tinder into your busy schedule, why not give yourself a break and outsource it entirely? VIDA's dating experts can handle every aspect of Tinder for you, from photo selection to swiping and messaging.
It's the no-hassle, uber efficient way to meet your ideal partner on Tinder, or any other dating site or app! Click here to find out more…