I hope you enjoy reading the blog post.
If you want to chat now about your matchmaking search, click here.
Dating Agencies 411: America's Top 10 Matchmaking Services
Hiring a dating agency is well worth the money. It's by far the easiest way to meet compatible, high-quality singles when a successful career limits the time you have for meeting new "relationship-worthy" people.
Of course, it's only worth it when you hire a good one.
And as you've likely discovered - there are hundreds to choose from. Figuring out which professional matchmaking services are legit and which ones are more interested in the contents of your wallet than your heart can be a daunting task.
Luckily you're landed here! Our team of matchmaking experts has spent countless hours analyzing and researching over 200 matchmaking services, diving deep into their processes, success rates, and client experiences. We've been in the industry since 2009, so we're intimately familiar with what customers value most.
Start your research here, with this list of America's top 10 matchmaking services!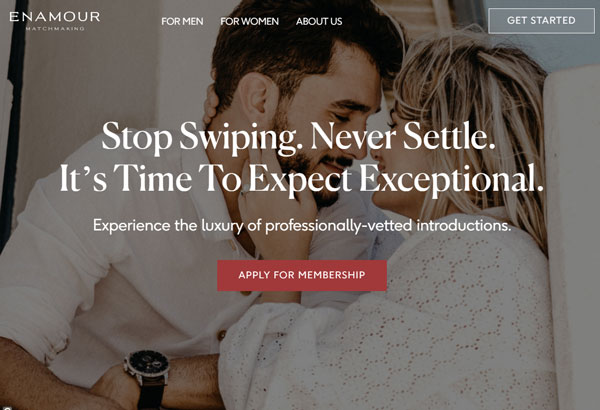 Clientele
Enamour works exclusively with high-achieving, successful professionals who are looking for a more bespoke matchmaking experience.
Location
Enamour's matchmaking team has been helping singles all over the world find love since 2009.
Cost
Memberships start at $15,000.
Contract
Contracts typically start at 6 months, but can be tailored to fit a client's requirements.
Matchmaking Process
The first step is building a personality profile to guide your matchmaker as she learns all about you, your lifestyle, and your preferences for an ideal partner. Potential matches are identified using a blend of relationship psychology, AI and recruiting technology.
Matches are selected from a meticulously curated, invite-only database and carefully vetted via interview to help ensure they're highly compatible. Dates are arranged by your matchmaker, and after each one you'll have the opportunity to provide feedback. Your matchmaker also checks in with your match, relaying valuable insights into how you're perceived on dates.
Enamour's team also offers dating and relationship coaching and personal styling.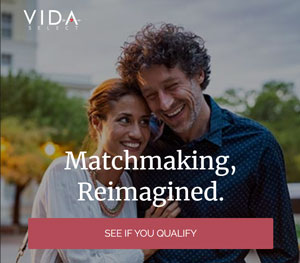 Clientele
Valdez takes on both men and women as paying clients, typically professionals in their 30s to early 60s seek marriage or a serious relationship.
Location
An international matchmaking service founded in 2009, VIDA Select matchmakers can work with singles in or near any major city in the world.
Cost
VIDA Select clients choose from a spectrum of matchmaking packages offered across 3 different levels of service: Basic, Premium and Elite. Package cost is highly correlated with the total of hours that should be committed to your search for highly compatible matches.
Factors like the complexity of your "ideal partner" criteria and how many cities you'd like to include in your search are considered when selecting the best option for you.
Basic packages begin at just $995 per month. Premium packages start at $1595/month and Elite options start at only $2395/month.
Contract
No long-term contract! Unlike the other elite matchmaking services on this list, VIDA allows clients to pay by the month.
Matchmaking Process
VIDA's matchmakers know exactly how to leverage the world's largest pool of eligible, intriguing singles.
That means you'll only be meeting high-quality, "soulmate potential" people who match all of the criteria you provide. Your matchmaker will show you full profiles and photographs of each carefully selected match, and you get to pre-approve each one!
It all starts with a free, 20-minute phone consultation with a matchmaker.
The next step is an in-depth interview where your matchmaker will get to know you, and talk about your idea of a perfect partner. Then the VIDA team will work their magic, and schedule dates with incredible local singles - in any city you want to date in!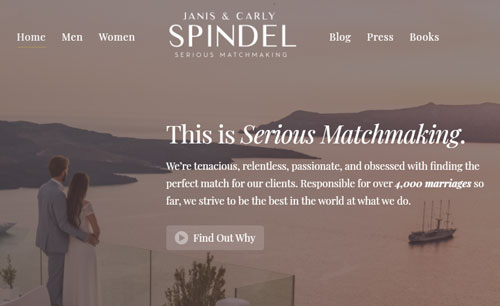 Clientele
Janis and her daughter Carly Spindel work primarily with affluent men seeking marriage/serious relationships.
Location
Headquartered in New York City, with affiliated locations in over 25 cities across the US and Canada. The service was founded in 1993.
Cost
$50,000 to $1,000,000 to work directly with Janis Spindel, or $25,000 to $350,000+ with Carly. You also have the option to work with both of the Spindels, starting at $80,000.
Serious Matchmaking contracts include both a signing fee and finder's fee. The amount varies by client, but once it's determined you'll be the same amount for both. Signing fees start at $65,000, and the finder's fee is owed in the instance you enter a successful relationship with one of your matches. That includes dating for 12 months, getting engaged, or moving in together.
For a one-time "screening fee" of $250-$1250, women can meet with a matchmaker to see if they meet the Spindel's requirements for joining the database of eligible singles.
New York singles can also purchase a "Flash Match" package for $6,000. It's a single event where you'll meet 6 women selected by Carly Spindel at a posh NYC location.
Contract
12 months, which includes 12 introductions
Matchmaking Process
First, you'll meet with one of the Spindels in person, generally over a meal, so she can get to know you and vice versa. Membership options will be presented, and if you decide to hire Serious Matchmaking you'll sign the contract and pay the fee up front. You'll then be matched with compatible local singles from their database.
Further Reading
Janis and Carly Spindel reviews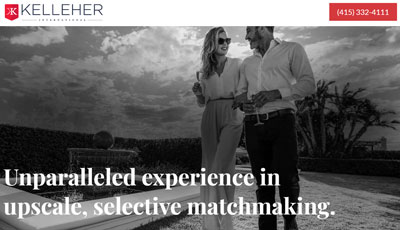 Clientele
Jill Kelleher and her daughter Amber Kelleher-Andrews work with affluent, often high profile clients who value discretion.
Location
Founded in 1986, Kelleher International is headquartered in San Francisco. There are affiliated locations in 17 cities across the US, plus offices in London, Vancouver, and Toronto.
Cost
A local matchmaking service package starts at $30,000. You can also opt for a national search, starting at $45,000, or a global search starting at $150,000 and ranging over $300,000.
Contract
1 to 3 years, which includes a 12 months of "hold" time. The number of matches provided varies per client, but generally falls between 8 and 13.
Matchmaking Process
Signing up starts with an in-person or Skype consultation. If you're accepted as a client, you'll sign the contract.
You'll be meeting singles from the Kelleher's database, which has around 50,000 profiles in it. Your matchmaker may also scout for compatible singles "out in the wild" if you opt for a higher level of service.
Matches will be presented to you, and whenever both halves of the match are interested in meeting, phone numbers are exchanged. After each date you'll have the opportunity to check in with your matchmaker about how it went, and whether or not your match fit your "perfect partner" criteria.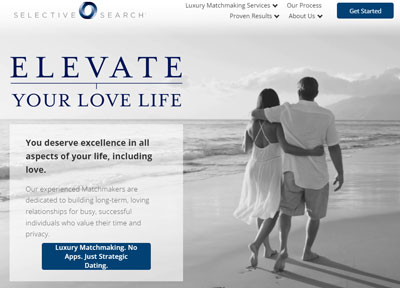 Clientele
Adler works primarily with successful men who are looking for marriage or a committed relationship.
Location
Headquartered in Chicago, and has a network of affiliated matchmakers in major cities like New York City, Boston, Los Angeles, Washington DC, Miami and Houston. Selective Search has been in business since 2000.
Cost
Women can join Selective Search as an "Affiliate" for free, but may not be matched with paying clients.
Matchmaking services start at $25,000 for matches in one city. Meeting singles in up to 5 locations starts at $50,000. Men 35 and younger can purchase the "Young Executive" package for $15,000.
Contract
12 months, which includes up to 10 matches. However the Young Executives contract can be either 6 or 12 months, and it includes up to 6 matches. You can negotiate a "defined hold period" into your contract, and it must be used in increments of 30 days.
Matchmaking Process
Selective Search limits their active client list to approximately 500 across the US at any given time, so Adler is fairly selective about who she'll take on as a new client.
Potential clients start with a 2-hour interview, the first step in what she calls the "The Meet Your Future®" process. Assuming you move forward with a membership, you'll then work with your matchmaker to create a "Benchmarks" document, which describes all the criteria you desire your ideal partner to embody.
You'll then be shown profiles of singles in the Selective Search database - called Affiliates - and have the opportunity to meet the ones who intrigue you. Both you and your match meet separately with your matchmaker after the date, and you'll both give and receive constructive feedback as necessary.
Further Reading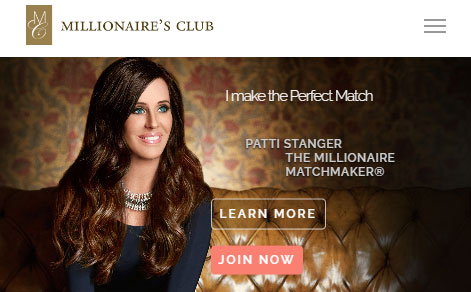 Clientele
Stanger is a celebrity matchmaker (you may have caught her show Millionaire Matchmaker on Bravo), and attracts similarly high profile clients such as CEOs, pro athletes, and celebs.
Location
In business since 2000, Millionaire's Club is headquartered in Los Angeles. But Stanger offers her services to singles in San Francisco, Silicon Valley, and other major cities across the US.
Cost
$45,000 to over $150,000. To work one-on-one with Stanger, you'll have to pay an additional $35,000. Women can join Stanger's database for free, provided they meet her strict requirements.
Millionaire's Club also offers stand alone "Mixer" events, starting at $20,000 if you're already a member, or $35,000 if you haven't purchased her matchmaking services. Depending on which Mixer package you choose, you'll meet 10-25 singles over the course of the event.
Contract
12 months, with unlimited matches. You'll also have 2 months of "hold" time.
Matchmaking Process
Potential clients have an initial consultation, either in person or by phone. If you move forward, you'll sign a contract and pay the membership fee in full.
Your matchmaker will then select compatible matches from the Millionaire's Club database of around 30,000 singles. When one intrigues you, the date will be scheduled and you can let your matchmaker know your thoughts afterward.
Further Reading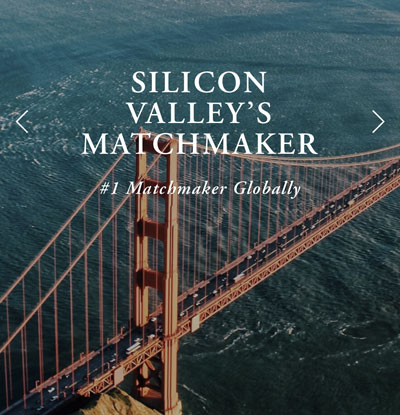 Clientele
She specializes in helping executive-type men and women in the Silicon Valley area find their perfect partner.
Location
Founded in 2003 and headquartered in Menlo Park, Andersen also works with clients in the Middle East, Europe, and Asia who want to meet Silicon Valley singles.
Cost
$45,000 - $500,000 Men under 31 and women under 30 can join as "referral clients," meaning they are added to the database of Silicon Valley singles but aren't guaranteed matches.
Women can also join the database for free as a "Match Applicant," however a success fee will be due if you enter into an exclusive relationship with a Linx match.
Contract
24 months, with 8 to 10+ introductions depending on your package level. Memberships include up to 4 months of hold time.
Matchmaking Process
Potential clients start by filling out an online profile form, followed by an additional, lengthier questionnaire. If Andersen feels her exclusive matchmaking service can help you, you'll come in for a 90-minute in-person interview, which costs several hundred dollars.
If you decide to move forward, you'll sign the contract and have another meeting with your matchmaker to discuss all your ideal partner hopes and dreams. After that, you'll be introduced to singles from Linx's database, or with highly compatible people Andersen or her team recruits on your behalf.
Further Reading
The Bevy (by Greta Tufvesson & Nikki Lewis)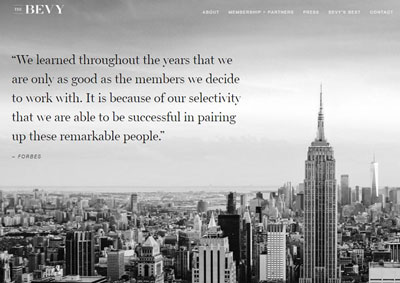 Clientele
Mostly via referral, successful men and women ages 23-60 who want to find a long term relationship or marriage. It's a boutique matchmaker service, so Greta Tufvesson & Nikki Lewis generally only take on 25 or so clients at a time.
Location
In business since 2014, The Bevy has offices in Los Angeles, New York City, San Diego and San Francisco.
Cost
Matchmaking services start around $25,000. Women can have a profile included in The Bevy database for free, although a screening process must be passed.
Contract
12 months for an agreed upon number of matches.
Matchmaking Process
Memberships start by filling out a short application, then coming in for an "informal" meeting where you'll get to know the matchmakers, and vice versa. If the service seems like a mutual good fit, you'll sign a contract and pay the membership fee.
Matches are pulled from The Bevy's database, and while you'll get a short description, you won't see any photos. You can also meet local singles via exclusive "members only" events.
Further Reading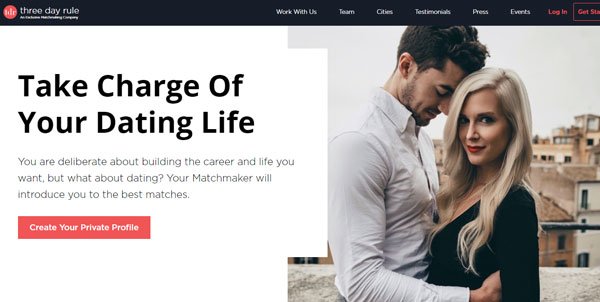 Clientele
Talia Goldstein and her team help men and women ranging from their mid-20s to mid-60s, typically looking for committed relationships and marriage.
Location
Founded in 2013 and headquartered in Los Angeles, Three Day Rule has affiliated locations in 8 other large cities: New York, Chicago, Boston, Orange County, Philadelphia, Silicon Valley, DC, and San Francisco.
Cost
Matchmaking services start at $5,900 and range north of $18,500 for VIP memberships. Joining the database as a "local" single available for matching with paying clients is free.
Contract
At least 3 guaranteed matches over the course of 3 months, or a minimum of 6 matches over 6 months.
Matchmaking Process
After meeting with a Three Day Rule matchmaker for the initial interview, if you sign the contract you'll be paired with "free" members in the database, or with other paying clients.
You also may meet local singles from OkCupid, JDate, ChristianMingle, or Match.com, as Three Day Rule has a partnership with those online dating sites. If needed, the local matchmaking team may also recruit "out of network" at local events or even stores like Whole Foods.
When a good match is identified, you get to review photos and a profile. If you accept the match, you'll get contact info so you can arrange a meeting.
Further Reading
Clientele
Susan Trombetti markets herself as a "millionaire matchmaker," and tends to attract successful, wealthy men in their 30s and up. She also offers a matchmaking package exclusively for men between 21 and 32 years old in Maryland, DC, and Virginia.
Location
Founded in 2011 and headquartered in Annapolis, Exclusive Matchmaking also has 20 other locations across the US, mainly on the east and west coasts.
Cost
The initial consultation is either $350 via Skype, or $550 in person. Provided they pass this initial screening, women can then have a profile included in the Exclusive Matchmaking database with no further charges.
Matchmaking services for men typically cost between $7,500 and $125,000. The package for younger men is $3,500.
Contract
You'll sign a contract that's customized for each client's membership package.
Matchmaking Process
Assuming you purchase a membership package after the initial interview, you'll be matched with other clients and members in the "free" database. With the exception of the "Young Executives" clients, all paying members also receive date coaching.
Further Reading
All product and company names are trademarks™ or registered® trademarks of their respective holders. Use of them does not imply any affiliation with or endorsement by them.
Why Choose VIDA Select?

Since 2009, thousands of clients have discovered true love thanks to VIDA Select's fresh, modern approach to matchmaking – which has finally thrown blind dates and long-term contracts out the window. This isn't your grandmother's matchmaking!
Instead of working with a single matchmaker using a small rolodex of potential partners, VIDA Select's matchmaking team taps into the world's largest database of available singles. We'll quickly identify the matches who check all of your boxes so you can finally experience true chemistry. Are you ready to become our next success story? Schedule your complimentary consultation now by clicking the button below!
Get Started Now