I hope you enjoy reading the blog post.
If you want my team to just do your Bumble for you, click here to chat with me.
What Is Bumble & How's It Work? Bumble Explained! (2023)
So you're wondering just what is Bumble? You've come to the perfect place to get answers.
Bumble is more than just a dating app - it's a social networking platform that allows you to make professional connections and friends too. But it's perhaps most well-known for its unique approach to dating, where women are required to make the first move.
VIDA Select's team of dating experts has logged hundreds of thousands of hours on Bumble since it launched in 2014. We've been setting up profiles, crafting intriguing bios, and sending messages on behalf of our clients, so we know exactly how the app works and how to get the most out of it.
Whether you're considering downloading the app or just curious about how it differs from other dating platforms, this guide will give you all the answers. Let's dive in!
What Is Bumble?
Bumble is a location-based dating and networking app that launched in 2014.
Similar to Tinder, you browse through profiles and swipe right if you're interested in matching, left if you're not. When two users swipe right on each other, a match is formed and messages can be exchanged.
Bumble has three modes - one for dating, one for friendship and one for business networking.
For a small per-use fee, you can get your profile in front of more local singles by activating the "Spotlight" feature. This means for 30 minutes, your profile will be one of the first shown to anyone who logs on. It's the same basic premise as a boost on Tinder.
When two users form a "Connection" by each liking the other person's profiles, messages can be exchanged.
Bumble's Messaging Twist
Only women can send the very first message, putting them in control of starting the conversation. That's why you'll sometimes see it referred to as a feminist dating app.
Fascinating Tidbit:
Bumble was created by Whitney Wolfe, one of Tinder's founders. She parted ways with Tinder after filing a sexual harassment lawsuit against both Tinder and IAC, its parent company at the time. After pocketing just over

$1,000,000 in the settlement

, she turned around and launched Bumble, which has become one of the most successful dating apps in the world. In August of 2017, Match Group (formerly IAC) tried to acquire Bumble for $450 million, but Whitney turned down the offer.
That being said, there is one exception to that messaging rule. Any user can send a potential match a Bumble Compliment. That's an up to 150-character comment you can send before you match, and men can do it too.
Users can send one compliment each day, with the option to purchase additional ones. This counts as a right swipe, and the recipient will see your comment when your profile pops up in their feed.
Emoji Reactions
(Editor's Note: In many markets the Reactions feature has been discontinued, with the Bumble Compliment feature replacing it.)
You can use Bumble's Reactions feature to send an emoji in response to a particular piece of content in a profile, like a photo, Move Maker prompt or bio. If that person swipes right on your profile, the emoji will display when the match is made.
Women can send a message instead of an emoji, which will effectively start the conversation if a match forms.
Bumble vs Tinder
Because women initiate the conversation, Bumble effectively cuts down on the amount of "sleazy" messages they often receive from men on other dating apps like Tinder.
That's actually good news for guys. Because if a Bumble match messages you, you already know she's interested.
If you're looking for a more refined experience than what you've found on Tinder so far, Bumble is the way to go. The average Bumble user is better educated, better looking, and more serious about meeting people in person.
Generally the singles you'll find are interested in long-term relationships, although that's not always the case. But if you're looking for a hookup app, stick with Tinder.
After using Tinder, you'll feel like your matches have been curated because the quality's that much higher.
Want an in-depth look at how Bumble stacks up against two popular dating apps? Check out Tinder vs Bumble and Bumble vs Hinge!
How Much Is Bumble?
Bumble is a free online dating app, with the option to purchase an upgraded membership. You can choose between Bumble Premium or Bumble Boost. 
Depending on which level you upgrade to, Bumble can cost anywhere from around $11.99 a week to $44.99 a month, depending on which subscription length you pay for. There's also a "lifetime" subscription for $249.99. (Pricing may vary.)
Some functions, like SuperSwipes and Spotlight, are available as in-app purchases.
Bumble Premium unlocks the ability to hide your profile, swipe in different cities, and use all the available advanced filters. You'll also automatically get all the features that come with Bumble Boost, like extending the 24-hour time limit on starting conversations and rematching with expired matches instantly.
How Bumble Works
You can download the Bumble app from the App Store or Google Play:
You can also sign up via Bumble Web, which is the online version of the Bumble app.
Next, you can create a Bumble profile via your Facebook account or use your mobile number. Using Facebook makes it a little quicker, as Bumble will pull information like your name, age, school and job from Facebook to create your profile.
Bumble requires three things, according to their terms & conditions:
Setting up your Bumble profile is straightforward. First, select up to 6 pictures from your Facebook profile or phone. There's even a Best Photo feature that helps determine which one should be your primary pic.
Then fill in the other details if they weren't populated automatically.
Beyond picking your photos, all you have to do it write a short, 300-character-or-less bio and choose 3 prompts (previously called My Move Makers) to answer.
You can also link your Instagram account to your Bumble profile. You can't control which photos display at the bottom of your profile. It pulls the 24 most recent ones from your Instagram feed. Other users won't be able to see your Instagram handle.
Next, it's time to set your match preferences in the "Settings" section so you can start seeing potential matches. Filters include distance, gender, and age range.
If you want to refine your match queue even further, use the advanced Bumble filters. Without a premium subscription, you're limited to selecting 1 filter in each Bumble Mode.
When it comes to browsing through profiles, it couldn't be easier. Simply swipe right if you're interested, left if you're not. When the interest is mutual, a "Connection" is formed.
If you're a woman, you only have 24 hours to send the first message. Otherwise, the connection is lost.
If you're a man, and you see the clock ticking down on a match you really like, you can extend the connection for an additional 24 hours. You can only do this for one match per day unless you upgrade to Bumble Boost, and it's a good way to signal to her that you're extra interested.
What Is Bumble BFF?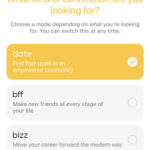 BFF is Bumble's mode for finding platonic friendships.
To toggle between the modes, go to the "Settings" screen and tap "choose mode".
Each mode has its own separate profile, so your Bumble BFF profile will only be visible within the BFF mode, etc. To create a Bumble Bizz profile, you must go through the profile verification process.
Profile Verification
Verifying your Bumble profile is simple, no matter which mode you're using. All you do is take a selfie when prompted, while you're copying whatever gesture it specifies. This selfie won't show up in any of your profiles, it's strictly for verification purposes.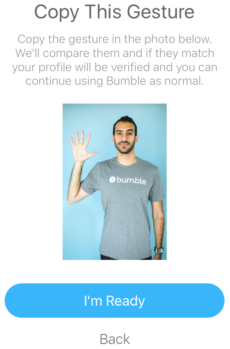 There you have it, the bare bones of Bumble explained. If you want even more details, you can check out this full Bumble review.
But before you start swiping, you want to nail your Bumble profile and photos. To learn how to do just that, check out this article on the best Bumble bios…
Want us to do your online dating for you?

Hey, I'm Ally, VIDA Select's Director of Matchmaking.
We take all the frustration, hard work and hassle out of modern dating!
Imagine your very own Dream Team of highly skilled dating experts searching for the very best local matches, sparking their interest, and arranging all the dates for you.
Wouldn't it be nice to finally stop swiping and start dating higher quality matches so you can meet someone special?
We've helped thousands of singles just like you since 2009, and we're ready to make you our next success story!
What are you waiting for? Take the next step now…
See If You Qualify