Debating if Tinder Plus is worth it?
In this quick article, you'll discover the premium features you'll get, when upgrading the dating app makes sense, and the pro & cons of Tinder Plus! And at the very end, you'll get 3 tricks and tips that will triple your match and response rate, so you'll get more dates with the best singles near you!
Tinder Plus Cost Per Month:
If you're under 30, Tinder Plus pricing runs around $9.99 a month. Anyone 31+ is looking at a $19.99/month investment. The exception is if you live in California, where the tiered pricing model was considered age discriminatory, and everyone pays the lower price.
But no matter how old you are or where you live, you can get a slight price break if you pay for a 6 or 12 month subscription up front.
Here Is What You Get With Tinder Plus:
#1: Change Your Location

You're no longer limited to seeing profiles in your general area – Tinder's "Passport" feature allows you to change your location to anywhere in the world, and swipe through those local singles. So when you travel, you can have dates lined up at your destination before you even start packing for your trip.
#2: Unlimited Swiping
No more limits on your swiping sessions! Now you can swipe right with wild abandon.
#3: Additional Super Likes
Super Likes are just what they sound like – you can use them to let a potential match know you're *very* interested.
Upgrading comes with 5 free Super Likes a day, and you can also purchase additional Super Likes:
(Want in on a secret Super Like hack? Check out this article that's packed with Tinder tips and tricks.)
#4: Tinder Boosts
Upgrading gives you one free Tinder Boost a month, which means for 30 minutes your profile gets prominent placement in the queues for all the users in your area.
You can also purchase additional Boosts individually, or in small quantities for a price break:
PRO TIP: Use your Tinder Boost at the right time for maximum impact. Tinder usage peaks between 8 and 10 pm, so unleashing your Boost during "prime time" will help ensure as many people as possible see your profile.
#5: Limit Your Visibility
This feature lets you only show your profile to the people you've already liked, so you can control who's checking you out.
#6: Control Your Age & Distance
This feature allows you to limit the information other Tinder users can see about you.
#7: Unlimited Rewinds
If you find yourself swiping the wrong way a lot, you'll appreciate this one. You can fix any swiping mistakes as you go.
#8: Ad Free Browsing
Not only can you swipe as much as you like, in the upgraded version of Tinder you won't be interrupted by pesky ads for stuff you don't want any way.
Pros & Cons Of Upgrading To Tinder Plus
PROS:
More local singles will see your profile, which could mean more matches in less time.
Tinder's Passport feature allows you to spoof your location, which makes it possible to start conversations with local singles in whatever cities you plan on visiting.
If you want to be more discreet on Tinder, upgrading allows you to limit who sees your profile.
CONS:
If you don't travel often, you're paying for premium features you don't really need.
Upgrading to Tinder Plus doesn't guarantee you'll get more matches, so if your Tinder bio and photos aren't top notch, you could be wasting your money.
The average guy already spends 90 minutes a day on this popular dating app, and unlimited swiping could

translate to spending even more time without getting better results.

To meet the best local singles fast, consider outsourcing Tinder to the experts.
Tinder Plus makes sense if:
You travel frequently and want the ability to change your location to get a head start swiping in your destination city.
You live in a mega-city and find yourself frequently running out of swipes. Why wait 12 hours to get more?
Skip the Tinder Plus upgrade if:
You live in a less populated area. The majority of Tinder users live in larger cities, so if you're not willing to commute into a city center for dates, it's probably not worth the monthly investment to upgrade.
The Difference Between Tinder Plus And Gold:
Tinder Gold includes all the Tinder Plus perks, as well as the ability to view the cards of everyone who already "liked" your profile on a single screen. From there, it's simply a matter of checking out the singles you're interested in – or you can auto-match with everyone at once.
The other difference is Tinder Gold also includes a selection of 4 to 10 "Top Picks" every day. These are people the app's algorithm has determined you're particularly compatible with.
For an in-depth Tinder Gold review, go here.
3 Tinder Tips For Guys Who Want More Dates
When you're paying for a Tinder account, you want a profile that gets results. That means you need an intriguing bio, attractive photos, and a "go-to" icebreaker that actually gets responses.
Let's start with your bio…
#1: Women ❤️ Humor
Over 70% of women say a sense of humor is on her "must have" list, so show you've got a great one with a funny Tinder bio. And here's an even more compelling reason to add a dash of humor to your Tinder profile: women's brains are wired to respond positively to it. That means funny guy = more right swipes.
Here is an example of a funny Tinder bio for guys:
Insert your favorite adult beverage and signature recipe, and you can use it right now!
For more Tinder profile writing tips and examples, go here.
#2: Take Advice From Strangers
At least when it comes to choosing your strongest Tinder profile pics.
As it turns out, a person who has never seen you before is way better at choosing photos where you look the most attractive, competent, and trustworthy. You know – all those traits that will make her actually want to meet you IRL.
Research shows total strangers notice all those tiny little details you gloss over, like microexpressions and familiar surroundings. You're so familiar with your own appearance that you miss things someone who's never seen you before would notice right away – and that's why using Tinder's Smart Photos feature is a good idea. You can also gather feedback on your Tinder photo lineup from a site like PhotoFeeler.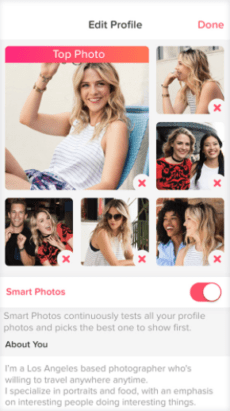 A group of neuroscientists in the Netherlands recently studied the eye movements and brain activity of people looking at Tinder pictures, then used the data to determine what elements made for the most alluring Tinder photos.
According to their findings, you should make sure your primary Tinder pic follows this recipe:
High contrast – you don't want to fade into the background.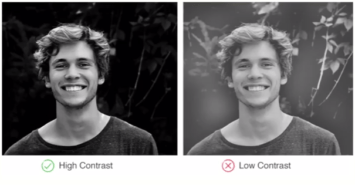 Simple composition – you should be the only one in the frame.
Close up – showing the upper third of your body works best for the first photo in your lineup.
No obstructions – especially sunglasses. Hiding your eyes can make you seem untrustworthy, and that's the last impression you want to make on Tinder, right?
#3: Get More Responses Faster With An Effective Cut & Paste Icebreaker
The very first Tinder message you send sets the tone for the entire conversation – and could mean the difference between getting a date and striking out.
You may not always have time to come up with a great opening line on the fly, which is why having a proven Tinder icebreaker in your back pocket comes in handy.
Here are 3 Tinder Icebreakers that actually work and can be sent to any woman!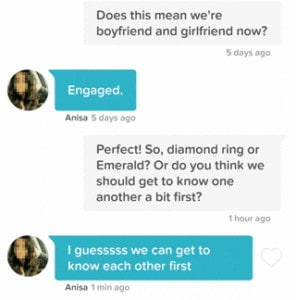 This first Tinder opening line example starts off with a gif. Not only are gifs eye catching, but according to Tinder, using one in your message means you're 30% more likely to receive a response, and the convo will last 2x longer.
This icebreaker works because it's a fun question to think about, and it's easy for her to answer. That's why starting with something lame like "Hey" rarely works – you've put the conversational reigns in her hands.
Asking a question is vital – the less work she has to put into her reply, the more likely she is to actually respond.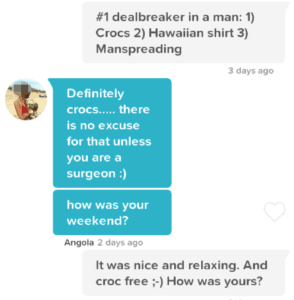 Funny Tinder messages get results, so asking her a humorous question like this will set you apart from all those guys who fall back on "hey, there" and "ur hot."
For even more Tinder conversation starters, plus tips on how to keep the conversation going, check out this article.
The Fastest Way To Meet Someone Special On Tinder
If you want a serious relationship, why not take Tinder seriously? Putting your best foot forward on Tinder takes time – you need to select your best photos and send messages she actually wants to respond to.
For most guys, that stuff doesn't come naturally – even with all the awesome Tinder advice you just got. And that's why most guys strike out on Tinder. But the good news is you can outsource Tinder entirely, and let VIDA do the hard work for you!
Our Tinder experts will handle everything for you! All you need to do is click here to get started…