I hope you enjoy reading the blog post.
If you want my team to just do your Bumble for you, click here to chat with me.
Bumble Travel Mode Explained [2023 Price & How It Works!]
Curious about Bumble Travel Mode? This quick guide has all the answers you're looking for!
What is Travel Mode on Bumble?
In a nutshell, Bumble's Travel Mode is a Premium feature that lets you change your location so you can start scouting for matches in a city other than your actual location.
You can use it across Bumble Date, BFF and Bizz.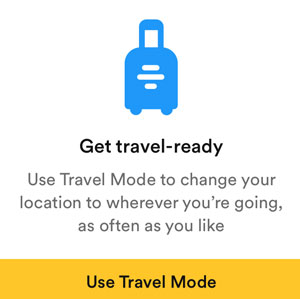 When you enable Travel Mode, your profile shows up for users in your chosen destination, and your match feed will be users in that area.
The Bumble app automatically resets your location after 7 days, but you can extend it as needed by re-activating the feature.
Can people on Bumble see if you're in Travel Mode?
Yes, potential Bumble matches see the Travel Mode icon displayed on your profile to let them know you're either visiting there or about to be.
How does Travel Mode work on Bumble?
If you've ever used the Tinder Passport feature, it's the same idea. Type in the name of the city you're traveling to or want to meet people from, and select it from the options that appear.
A pop-up window will confirm your Bumble location, and the app's algorithm will start showing your profile to users in the new city.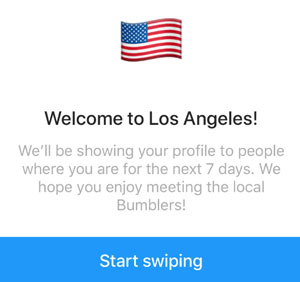 3 important things to note about using this feature:
Bumble Web does not support Travel Mode, so you can't use this feature if you're swiping via Bumble's online version.
Your location is automatically placed in the center of the city you've chosen. There is currently no way to select exactly where in any given city you'd like to be located. That means if you're headed to an expansive city like New York or Los Angeles, you can't drop your profile into a specific neighborhood. If that's a deal breaker for you, try Hinge. Unlike Bumble, Hinge lets you choose a specific area within a city, plus you can change your location for free.
The app doesn't separate out your 'local' matches from your Bumble Travel Mode matches in the messaging section, which makes it a little tricky to remember where each one is from. While Bumble travel mode lets you change your location as often as you like, you'll only be able to swipe in one location at a time.
Do you have to pay for Bumble Travel Mode?
Yes. Travel Mode in Bumble is included in the Premium membership, so you can't use it for free. The Premium subscription also includes all the Bumble Boost features.
If you're in an area where Bumble Coins are still available, you can spend 5 Bumble coins to activate Travel Mode on a per-use basis. 
Otherwise, you'll need to upgrade to Bumble Premium to change your location within the app.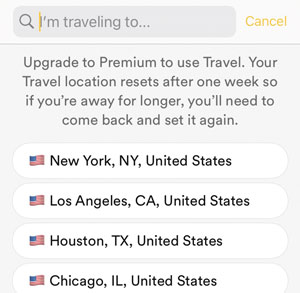 Depending on where you live, a Premium subscription to Bumble costs anywhere from around $21.99 for one week to $44.99 for 1 month. The price goes down a bit when you purchase a multi-month subscription.
Included in your subscription are other handy perks, like Incognito Mode and access to all the Bumble Filters.
For a full rundown, check out this Bumble Premium review!
How do you activate Bumble Travel Mode?
Once you're logged in to the dating app, follow these steps to change location in Bumble:
1. Tap the profile icon in the menu bar
2. Tap the gear icon to bring up the "Settings" menu
3. Scroll down to the Location section and tap on the blue Travel bar 
4. Begin typing the city you're traveling to in the text field, or choose a location from the pre-populated list
5. Confirm your destination and start swiping!
What if your location isn't listed in Travel Mode?
This shouldn't be a problem if you're traveling in the United States or Canada.
If you're traveling through Europe, you may need to type out the entire city or use Google maps to identify where you're headed.
Your chosen city may not show up if you're going to an area where Bumble isn't available.
How do you turn off Travel Mode? 
To deactivate the Travel Mode feature:
1. Bring up the "Settings" menu by tapping the gear icon
2. Tap on the blue travel bar in the Location section 
3. Select 'current location,' which should be the top choice 
Is Travel Mode worth the price?
You might find it works well for you if you're a frequent traveler who's looking to connect with a potential match before you arrive.
And remember, Travel Mode is only one of the features you get with your Premium subscription. If you're in an area with a ton of other Bumble users, some of those perks may save you quite a bit of time.
Unlocking all the match filters can help screen for people who meet your relationship criteria, and hiding your profile until you swipe right can be handy if you want more control over who sees it in your area.
Want to meet more Bumble matches when you travel, without all the prep work?
Swiping, matching, sending messages… It's all time consuming. And if you don't have a compelling profile specifically designed to attract the type of person you want to meet, it's probably pretty frustrating, too.
Why not let VIDA Select's team of modern dating experts do it all for you?
You meet interesting, intriguing singles in whatever city you want to date in, without spending hours and hours on the apps. Learn more about VIDA Select!
Want us to do your online dating for you?

Hey, I'm Ally, VIDA Select's Director of Matchmaking.
We take all the frustration, hard work and hassle out of modern dating!
Imagine your very own Dream Team of highly skilled dating experts searching for the very best local matches, sparking their interest, and arranging all the dates for you.
Wouldn't it be nice to finally stop swiping and start dating higher quality matches so you can meet someone special?
We've helped thousands of singles just like you since 2009, and we're ready to make you our next success story!
What are you waiting for? Take the next step now…
See If You Qualify