I hope you enjoy reading the blog post.
If you want my team to just do your online dating for you, click here.
Catchy Dating Headlines That Attract Women Online
Coming up with a catchy dating headline stressing you out? For sites like PlentyOfFish and MillionaireMatch that use dating headlines, you've likely noticed they get prominent placement in search results.
So a bad headline in your profile could mean she never reads the rest of it.
Now, not every website has a space for this. If you're just hanging out on OKCupid or ChristianMingle, then you're one of the lucky dudes who don't need to worry about crafting an attractive headline for you profile.
But if you're one of the millions of guys trying their luck on a dating site or app that requires one, then read on. This applies to you.
The Purpose Of Your Dating Headline And Where It Shows Up
VIDA's dating experts have been in the online dating trenches for over a decade - since 2009, to be exact. We've logged hundreds of thousands of hours on all the most popular dating apps, scrolling through profiles, sending messages, and arranging dates for the guys who use our service.
With all that firsthand experience under our belts, we can say this definitively: Your dating headline is one of the first things on your profile that sets you apart from all the local guys you're in competition with.
In fact, on some websites, it's one of the first things a woman sees in her search results.
So if you're interested in optimizing your profile and getting her attention right off the bat, a catchy dating headline is absolutely essential to piquing a woman's interest and getting her to click on your profile instead of the other guy's.
On POF and MillionaireMatch, headlines are almost impossible to miss, so yours needs to make a good first impression.
Here's what search results look like on MillionaireMatch: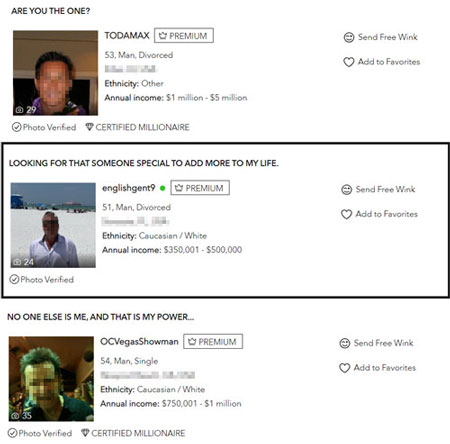 See how that headline jumps out? It's the same on POF: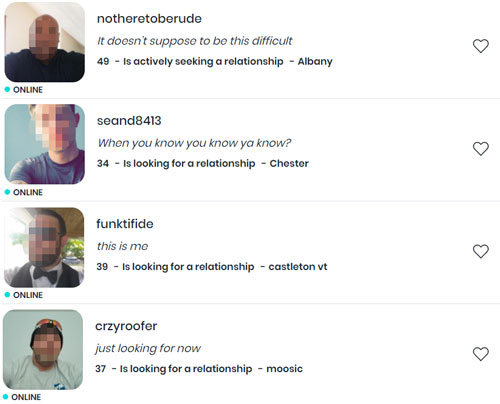 Now we're not going to make any snarky comment about these headlines. (But seriously, they're awful, don't use them). We just want you to see where they are and what they look like.
If you're not totally boring (and we're guessing you aren't), you want something more interesting than just some variant of "hello." But you probably aren't sure how to distill your entire personality into one phrase or sentence.
First, let's start with what to avoid saying...
Stay Away From These Dating Headlines
Because the purpose of a headline is to get a woman interested, the worst thing you can do is be boring or one-dimensional.
Below are some mistakes to avoid (and, sadly, actual headlines we've seen).
The Hey/Hi/Hello Headline
Don't use some form of greeting. It is boring. It is lame. And believe us, everyone else thought of it first.

The Captain Obvious Headline
You might in fact be a "Southern gentleman looking for my cowgirl," but – DUH. That's why you're on a dating site: because you're looking to meet a woman. You might as well have said "I'm on here because I want to meet women" or "Single and Ready to Mingle."

Use this rule of thumb: if it's been printed on a mass-produced t-shirt, you might want to avoid it.
The Most Special Snowflake Headline
It's great that you're a vegan, a Jehovah's Witness, a CrossFit enthusiast, and a CEO who only dates models. But if your headline is going to advertise how "unique" you are – and how strict your parameters for the perfect woman can be – then don't expect to get many responses.

"Vegan biker and techie looking for blonde, in shape, environmentally conscious gluten-free artist" isn't exactly going to reel 'em all in. This is just a more annoying, particular variant of The Captain Obvious.
 The "It Ain't Easy Bein' Sleazy" Headline
Please don't include the phrase "DTF" (or any of its variants) anywhere in your online dating profile.
Your headline isn't the place to advertise that you're only in the market for a friend with benefits.

Keep it classy. If you're not looking for something serious, that's fine. But you'll get better results if you keep the vibe on the up-and-up.
The Creepy McCreeperson Headline
You may think it absolutely hilarious to say that you're "Looking For My Next Victim" or to advertise yourself as "The Original Ladykiller." But trust us – you never want to use words like "victim" or "kill" in your dating headline.
Not even if you think it's the funniest of all funny jokes.

You'll see much better ways to differentiate yourself with your headline in a bit.
The Sadsack Headline
Please don't represent yourself as a desperate loser burdened by years of baggage. You may well be "Ready to Try One Last Time" (ouch) "Looking for someone to love me" (yikes) or "Back on here… third time's the charm" (oy) … but think about the message you're sending.

The message you're sending with headlines like these is that you're unhappy, weighed down with tons of issues, and resigned to a sad fate of online dating.
You may hate being single, but your online dating profile is not the place to advertise how depressed you are over this state of affairs. A better place to do that is on Facebook 😉
The Die-Hard Romantic Headline
You may think that women will be swayed by your romanticism. But just because she liked The Notebook doesn't mean she wants to live in it.

"Are you The One," "Looking For Ms. Right," "Searching for my Soulmate" and "Love like there's no tomorrow" are lame dating headlines.
Do you really want the first impression you give to be that of a weeping, overly romantic saddo?
Catchy Dating Headlines That Work
Now that we've told you what not to do, check out these helpful tips on how to market yourself successfully with your dating headline.
First, think about what women want. Someone interesting, successful, cool and masculine and maybe a little dangerous. In other words, someone she'll want to know more about.
You're not going to get a woman to fall desperately in love with you using only a headline, but you can definitely intrigue her. And the best way to do that is to create curiosity.
Here are some ways to get her attention using a catchy profile headline.
The "Hmmm" Headline
Use your headline space to start an interesting or outlandish-sounding story.
But don't finish it.
Make her click over to your profile in hopes of knowing more. If you want to seem intriguing or mysterious, try to create a sense of adventure and international hijinks around yourself. What about …
"I'll never do THAT again…"
"It all started when the Russian police invaded our hotel…"
"It only took 12 hours to end up in that Bahamian prison…"
Now, this outlandish strategy works best on a woman who is seeking a little bit of a bad-boy, so if that's not your style, try doing this…
The Well-Punctuated Headline
Though the ideas above were all a little "out-there," they all had one thing in common: the ellipses.
This is an effective way to "trail off" and make a woman come to your profile so she can hear the rest. It's also effective to phrase your headline as a question. After all, the woman will then want to either know or provide the answer.
Either way, ellipses and question marks make it seem like you're having a conversation – without you even having to say anything directly. So if you're not into the bad-boy thing, what about something like …
"Adventure wanted… inquire within"
"Fun? Single? Normal?"
The former invites a woman to send you a message while the latter jokingly invites a woman to drop you a line if she is all of the above.
The Corporate Tagline Headline
There's a reason Don Draper makes a million dollars and breaks a million hearts. He is good at what he does, which is selling things.
If you can't think of an effective way to sell yourself, steal someone else's great idea.
"Built like a rock" worked for Chevy, and suggests power and strength.
"Once you pop, you just can't stop" sounds just a tad naughty, but it was a highly effective way to sell more Pringles and makes your personality sound interesting and addictive.
"Think Different" helped build the Apple empire – there's no reason it can't work for you.
The "Get the Reference?" Headline
If you're not comfortable using a corporate tagline, try referring to interests that might be mutual.
"You talking to me?" is a classic movie reference, which attracts fellow cinephiles. Then again, Taxi Driver might not be the world's "safest" movie to reference 🙂
"First we take Manhattan, then we take Berlin" offers an intriguing glimpse into a life of international adventure, and references one of the best songwriters of our time.
Referring to your favorite thinkers, films, books, and songs can help build commonality with a woman. Plus it makes you sound pretty clever and well spoken.
 The Inverted Cliché Headline
We all know the phrase "when life gives you lemons, make lemonade." But lemonade (and lemonade vodka, for the wild ones among you) is played out.
If you're into entertaining, why not go with something like:
"When life hands you lemons, squeeze them over some scallops and have everyone over for brunch."
When life hands you lemons, squeeze them into the eye of your enemy and make a quick getaway."
This can work with even the most fulsome of clichés.
The "Make Her Think" Headline
If you're trying to paint yourself as someone cool, innovative, badass, then write a headline that invites her into your world. What about …
"Breaking free from the status quo"
"9-5 refugee on the run from boring"
"Let's throw a dart at a map"
Try a headline that suggests action, innovation, freedom, originality, and/or movement. Action words like "run," "throw," and "break free," can go a long way in making you seem like a guy on the move.
 The "Make Her Laugh" Headline
Humor is subjective, of course. But if you can make her chuckle, you've got it made. What about something like …
"Magic 8-Ball Says: Definitely"
"Willing to lie about how we met"
"My mom says I'm awesome"
"Free 30 Day Trial"?
These don't necessarily work for everybody, but they're cute, funny ideas to get you started on your journey to a perfect dating headline.
Don't Be Afraid To Experiment!
Choosing the perfect catchy dating headline can be tough. But it's okay to experiment!
Try out a couple. Play with them a little. What works for one guy won't necessarily work for his neighbor. And that's fine. After all, you're trying to attract the women YOU find attractive.
There's a catchy dating headline out there for everyone and VIDA wants to help you maximize your potential. Remember our don'ts: don't be boring, creepy, desperate, or sleazy … and our do's: do be funny, active, intriguing, or slightly mysterious. And above all, spell everything right. There's nothing less sexy than a misspelled headline or profile.

If you're still having problems thinking up a great headline that encapsulates you, try our profile writing services, which takes all the work out of it for you. Regardless of the headlines or tactics you choose, just have fun with it.
Want us to do your online dating for you?

Hey, I'm Ally, VIDA Select's Director of Matchmaking.
We take all the frustration, hard work and hassle out of modern dating!
Imagine your very own Dream Team of highly skilled dating experts searching for the very best local matches, sparking their interest, and arranging all the dates for you.
Wouldn't it be nice to finally stop swiping and start dating higher quality matches so you can meet someone special?
We've helped thousands of singles just like you since 2009, and we're ready to make you our next success story!
What are you waiting for? Take the next step now…
See If You Qualify