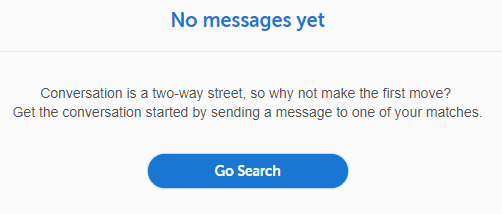 If you eagerly log on to Match.com, only to heave a heavy sigh when you check out your inbox, chances are your profile could use a little sprucing up.
Don't let your profile keep you from meeting the high-quality women you deserve! In this article, you'll learn how to write a match profile that makes them respond to your message instantly…
Instant Bonus:

Get a downloadable version

of The 8 Irresistible Profile Examples so you can copy & paste your way to more dates on any dating site or app you choose.
Nailing The "In My Own Words" Section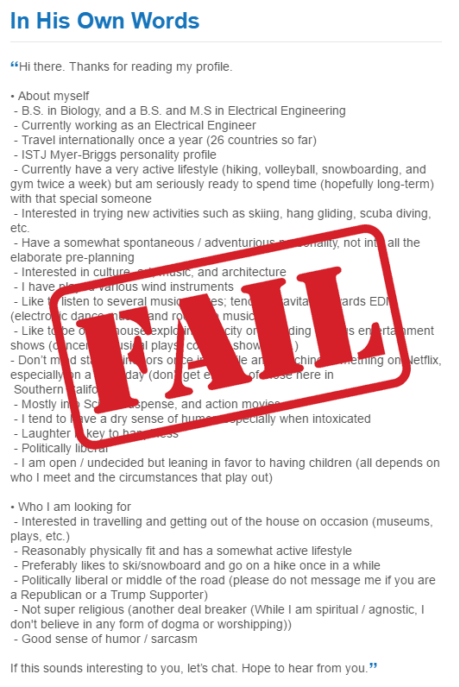 Your profile has two main jobs – grab her attention, and keep it. It's a bit like a commercial on TV. You want to inform, intrigue, and leave her wanting to know more. Highlight all your best features in an interesting way, and the odds are good that she'll reply to your message and want to meet you in person.
The best Match.com profiles have punchy, short sentences. Using simple, easy-to-digest wording increases your likeability.
It also makes your profile easy to skim, which is important because people tend to multitask when it comes to browsing profiles, just like you probably do. If your profile can drag her attention away from Netflix, you've won the first battle.
The Match.com profile example to the right illustrates what happens when you get it wrong. That's one visually daunting block of text right there, and chances are not many people are going to attempt it – especially not on a phone screen.
The ideal length for this section is between 225-275 words. Of that, 70% should be about you, 30% should describe your ideal partner. Research has shown that ratio hits the maximum attraction sweet spot.
Bonus "Hack" for Match.com: Make small changes to your profile text every now again. Match.com likes to reward active users, so it will jump your profile to the first page of search results!
Stick To Showing, Not Telling
Anyone can list a bunch of adjectives and call it a day. But not only is that boring to read, there's absolutely no context to back up the claims.

It's far more attractive to show how you embody a particular trait, rather than just state that you have it. For guys, aim to highlight alpha male traits like bravery, courage, and a willingness to take risks. Studies have shown women are naturally drawn to those qualities.
Here is an example of two-paragraph intro that catches her interest, and showcases an attractive sense of adventure:
Just take care not to sound like you're bragging. That mistake will make you seem both less attractive and less trustworthy. It's called "selective self-presentation," and you want to avoid it.
For instance, instead of writing something like "I'm an incredible photographer," consider including your Instagram, and let her draw that conclusion on her own. In a nutshell, let other sources "toot the horn" for you.
Write Your Match Profile In 4 Easy Steps
You've got the profile writing basics, now it's time to start typing. Here's a foolproof 4-step process that you can use right now…
Step #1: Capture her attention with an intriguing story or anecdote.
The first paragraph is arguably the most important, because if you don't grab her attention immediately, she's going to quit reading. Lure her in with a funny story, or a describe a trip using vivid language like this:
Step #2 – Describe your job in an interesting way.
The second paragraph can be tricky, especially if you don't like your job. But it's important, particularly if you're in the market for a serious relationship. You want to show you're ambitious, stable, and financially sound – in other words, boyfriend material.
No matter what you do, you can make it sound sexy. For instance, if you work in the financial field, try writing something along these lines:
Step #3 – Describe a few of your hobbies and passions in life.
For the third paragraph, keep in mind she's going to be imagining what it's like to spend time with you as she's reading your profile. Talk about what you like to do for fun, but stay away from the boring lists.
Instead of writing something like "I like to play tennis, watch football, and hit the gym," go into a little more detail about each thing you mention. For instance, "When a 3-day weekend rolls around, I'll grab some friends and hit the slopes at Whistler" is way more interesting than just writing "I like skiing."
Step #4 – Describe the type of woman you're looking for.
Close this section with a description of your ideal partner. Pick a few traits from your "must have" list, and let her know what you're looking for in a creative way:
Notice how this example ends with a command. Not only does it exude confidence, but it's literally a call to action, a marketing technique that really works.
This one-size-fits-all template will help you combine all 4 steps into one attractive Match.com profile: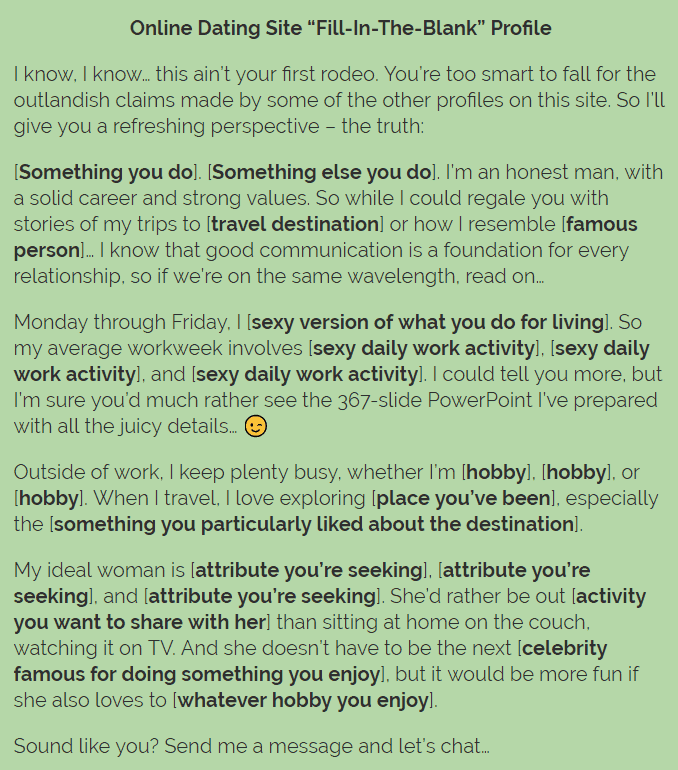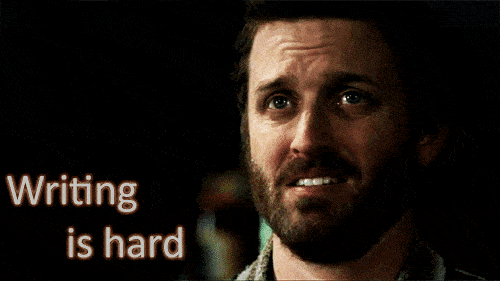 But taking the easy way out comes with one caveat – it's not 100% you. So although this example will more than likely boost your results, you can do even better with a profile that's totally customized.
But if you don't have the time, inclination, or patience, consider hiring VIDA to craft the perfect Match.com profile for you, send your messages and even set up your dates!
The Devil Is In The Details
Match profiles have four subsections, each with a 250-word character limit:
Favorite Local Hot Spots
Favorite Things
For Fun
Last Read
All four are great opportunities to give her insight into your daily life and personality, so make sure to fill them out. Specific details also make you seem more genuine and authentic, and you don't want to miss the chance to make a connection over a shared interest.
Keep reading for some ideas on how to get maximum impact with each one.
Favorite Local Hot Spots
This section is a great way for you to showcase what a fun guy you are to spend time with. Use descriptive phrases that make her want to go to those places with you. Say something like:
With just a few simple sentences, she knows you're physically fit enough to hike, you travel abroad, and like to go out and socialize. See how this section can pack a lot of punch, compared to writing a lame list like this:
Make sure to show a wide variety of places you like to go, because sounding one-note could leave her wondering if your personality is one dimensional as well.
For Fun
This section isn't just about showcasing your personality. You also want to make her eager to be part of your life, and highlighting a recent trip or two is a great way to do that. You also want to describe your favorite hobbies and activities in an engaging way:
Don't just repeat what you mentioned in Paragraph #3 of the "In My Own Words" section, though. That's lame.
Another word of caution – keep this, and all the sections, classy. If you come on too strong, chances are she'll roll her eyes and move on to the next one.
Favorite Things
This is prime opportunity to show you're a stable, well-balanced, exciting guy. For instance, writing "my perfectly broken-in pair of hiking boots" lets her know you're physically fit and into nature. Attractive, right?
Each thing you pick will add (or subtract) to her mental image of you, so choose wisely.
Focus on positive things that add value to your profile. Negativity can be a huge turn off, like in this example:
Last Read
Maybe you've got a cool book you just finished that you want to mention, but if the last thing you read was a trade magazine for dentists, skip it…
It's not easy to find something interesting or intriguing to put in this section, but if you want to give it a go, here's an example of how to keep it as fun as possible: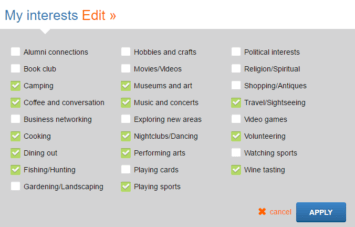 Bonus "Hack" for Match.com #2: Take the time to complete the "My interests" section. These specific keywords will ensure your profile shows up in her keyword specific search results.

Match also uses your interests to help give you better matches. So if a mutual interest in something like travel or yoga is important to you, check the boxes!
Now you've got the tools to write an attractive, attention getting profile. But that's only one small piece of the "how to be successful on Match" puzzle. You also need strong photos and compelling messages, which you can read all about here.
So grab a cup of coffee, get comfortable, and prepare to take some notes. But why try to turn yourself into a Match.com profile pro, when it's so much easier to just hire one?
VIDA's professional profile writers will craft a magnetically attractive, ultra-compelling profile that's 100% customized for you. And it's so much more than just a Match.com profile writing service!
VIDA's experts will also send messages that make the women you like best eager to meet in person! It's online dating done for you, and it's the easiest way to finally find the partner of your dreams. Click here to get started.