I hope you enjoy reading the blog post.
If you want my team to just do your Bumble for you, click here.
2022 Ultimate Bumble Guide [Everything You Need To Know!]
Serious about meeting that someone special? You need to get serious about Bumble!
This Bumble Guide is packed with useful knowledge and insider's tips, whether you just downloaded the app for the first time or you've been using it for years.
If you've got burning Bumble questions to ask, you'll find the expert answers you need here.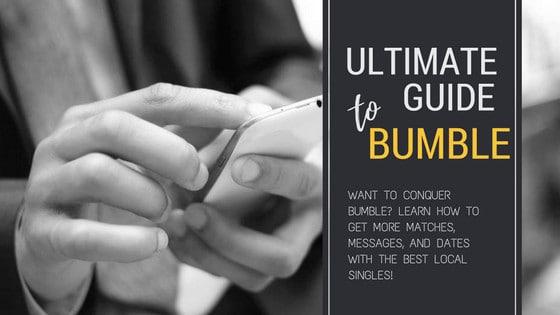 This one-stop-shop for everything Bumble has it all, including profile tips, conversation advice, and effective (and easy!) tricks to boost your match rate.
Ready to start meeting the best local singles? Click on a topic below to get started.
And if you've just got a quick question, check out the FAQ at the very end of the Bumble Guide!
Bumble Guide: Upgrades & Premium Features
Bumble Super Swipe
Are Super Swipes worth the extra cost? Find out here!
Bumble Boost
Thinking about upgrading to Bumble's premium level? Find out when it makes sense to pay for the Bumble app.
Bumble Premium
Bumble's top-tier subscription has *all* the bells & whistles. Find out what's included, and when you should invest in it!
Bumble Spotlight
Find out how much it costs, and the best time to activate this Bumble feature if you want maximum impact!
Bumble Incognito Mode
Get all the details on how to hide your profile on Bumble!
Bumble Travel Mode
Find out how to change your location on Bumble, and what it will cost you!
How To Cancel Bumble Boost & Premium
Step-by-step instructions for how to cancel your premium subscription to Bumble!
Bumble Guide: Tips For Guys
Bumble Profile Tips
5 essential tips that will make your profile irresistible, which means more Bumble matches!
Bumble Profile Examples
12 expertly written Bumble profiles that you can use for inspiration! If she's on the fence about which way to swipe, an awesome bio could make up her mind.
Funny Bumble Profiles
7 Bumble profile examples that will make her smile - and swipe right.
Bumble Conversation Tips
This article has everything you need to know about how to keep a conversation going until you lock in the date!
Bumble GIFs
Gifs are a great way to catch her attention and boost your response rate. Find out how to use them right!
Bumble Hacks For Guys
These 10 Bumble dating tips for guys will increase your match rate and get you more dates with high quality matches.
Bumble Match Rate
Got no Bumble matches? These 5 tips will explode your match rate and queue!
Bumble Prompts (AKA "My Move Makers")
See which are the best prompts to answer, and how to use them to get more dates!
Bumble Guide: Tips For Women
Bumble Profile Ideas For Women
Want an eye catching, attractive Bumble profile? These 6 profile ideas will make him eager to respond to your message!
Bumble Mistakes That Women Make
From using boring Bumble conversation starters to choosing the wrong pictures, these 7 Bumble mistakes could be keeping you from getting dates!
Bumble Openers & Pick Up Lines
Wondering what to message men on Bumble? These 6 conversation starters get responses from the high quality men you can't wait to date!
Bumble FAQ
On Bumble, women have to send the first message within 24 hours of matching, or the connection will expire.
Guys can't initiate the conversation, but you can extend one match a day for an additional 24 hours to give her more time to message you.
If it's a same sex match, either person can make the first move but the 24-hour timeline still applies.
Keep reading for answers to the most common questions online daters have about this popular app!
Is Bumble a good dating app?
Bumble is a great option for anyone looking for a more serious relationship. The gender ratio is about equal, and according to the app's internal data 60% of matches result in a conversation.
But while it's growing in popularity, it doesn't pull in the same number of users that Tinder does. If you're not in a large city you may not have a lot of options in your Bumble match queue.
How does Bumble work?
Bumble is a swipe-based dating app, meaning you can swipe right if you're interested in a potential match, swipe left if you're not. If both Bumble users swipe right, a connection is made and messages can be exchanged.
Only women can send Bumble opening lines, unless it's a same sex connection. In that case either user can send the first message.
But the first message must be sent within 24 hours, or the connection will expire. If the recipient doesn't respond within 24 hours, the connection will also expire. Once both users have sent a message, there are no more time limits.
Bumble also allows users to communicate via video or voice call within the app.
Once you have matched with someone and the first move has been made, you'll see a phone and a video chat icon on the conversation screen.
Simply tap whichever mode you prefer, and your match can then answer it as an incoming call. Women can initiate a video or voice call in lieu of sending the first message, however guys still have to wait for her to make the first move.
How does Bumble's algorithm work?
Like most dating apps, the inner workings of the algorithm are considered a trade secret and treated accordingly.
But generally, you can safely expect that:
1. The most popular singles (i.e. people who garner the most right swipes) and users who have already "liked" your profile to pop up in your match queue first.
2. Swiping right on everyone then deciding who you're actually interested in isn't good idea. Bumble wants users to be thoughtful and intentional with their swiping, so it can affect how often your profile is shown to local singles. It might even get you flagged as a bot and rendered invisible.
3. While you'll be shown a wide range of people based on your match preferences, Bumble's algorithm doesn't appear to learn from and adapt to your swiping patterns.
4. Bumble often keeps inactive users in the match queue, so taking a break from the app won't hurt your chances when you come back.
Why can only women send the first message?
Whitney Wolfe envisioned a "female friendly" version of Tinder, where women weren't bombarded with lame messages from guys - and the concept for Bumble was born.
Is Bumble free?
Bumble is completely free to download and use, which is one of the reasons it's such a popular dating app.
You can choose to purchase a subscription to Bumble Boost or Bumble Premium, which unlocks perks like the ability to swipe through profiles of people who have already "liked" you. You can also purchase additional SuperSwipes & Spotlights. 
Is Bumble available for android and iOS?
Does Bumble login only through Facebook?
No. New users can create a Bumble account using a mobile phone number, making it a dating app you can use without Facebook.
Can I turn off Bumble notifications?
Yes - just go to the app's settings screen and switch both the "Push Notifications" and "App Sounds/Vibration" off.
How does Bumble work for guys?
On Bumble, women have to send the first message within 24 hours of matching, or the connection will expire.
Guys can't initiate the conversation, but you can extend one match a day for an additional 24 hours to give her more time to message you.
If it's a same sex match, either person can make the first move but the 24-hour timeline still applies.
Is Bumble a hookup app?
Because of its "female friendly" vibe and marketing, Bumble tends to attract women who are seeking a deeper connection.
While scoring a Bumble hookup isn't impossible, if you're looking for something super casual you'll probably have better luck on Tinder.
Can I change my Bumble location?
Yes! Depending on what country you live in, you can spend 5 Bumble Coins to change your location for up to a week.
If coins are no longer a feature where you live, you'll need to upgrade to Bumble Premium to use the Travel feature.
What is Bumble verification?
Bumble allows users to verify that their profiles are real. When you tap the "Verify Your Account" button on the profile editing screen, you'll be prompted to take a selfie while copying a simple gesture.
The selfie is not posted to your profile, it's just used for verification purposes. Once your profile is verified, a small camera icon will let other users know you're the real deal.
Bumble also allows you to send a photo verification request to matches who haven't gone through the process yet.
What Is Bumble Best Photo?
Bumble's "Best Photo" feature will keep checking the first 3 photos in your lineup and automatically use the most popular photo in the primary spot. You can toggle Best Photo off and on from the profile editing screen.
Why did my Bumble photo get moderated?
Bumble has a fairly strict set of rules when it comes to acceptable photos.
Obvious things like erotic content and your face not being visible will get your photo moderated.
But other photo no nos include a picture of a minor (under 18) in a photo by themselves, a photo with a watermark, caption, or other text on it, someone who obviously isn't you (i.e. Brad Pitt or Kermit The Frog), and swimwear (or underwear) in a setting that isn't the beach or a pool. That's right, they've made it an official Bathroom Selfie Free zone.
How can I change my main profile photo?
Simply drag the photo you want to become your "primary" photo to the first spot in the profile view. You can upload a max of 6 pictures.
How do I link my Instagram to my Bumble profile?
Go to the "edit profile" screen and select "connect your Instagram."
You will need to grant Bumble access to your Instagram profile. Bumble will then display the latest 24 photos from your Instagram feed at the bottom of your Bumble profile.
You can't control which photos are displayed - it will pull the 24 most recent ones. Your Instagram handle will not be visible to other users.
How do I link my Spotify to my Bumble profile?
Go to the "edit profile" screen and scroll down to the "Connected Accounts" section.
From there tap on "Connect Your Spotify" and follow the prompts. Your Bumble profile will automatically display your top artists based on your streams.
What are Bumble Interests?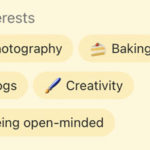 These are Interest badges that appear on your Bumble profile. You can choose up to 5 interests to display from over 150 options.
The badges are sorted into 10 categories ranging from pets, books and films/TV to values & traits, sports, and creative hobbies,  To choose which Bumble badges you want displayed on your profile, go to the profile editing screen and tap on "My Interests."
I accidentally swiped the wrong way on Bumble, can I undo it?
If you're a Bumble Boost subscriber, you can tap the arrow icon at the top left of your screen to undo your last swipe. This is called a "Backtrack."
I swiped right, why can't I start the conversation on Bumble?
Bumble requires both users to swipe right before any messages can be exchanged.
And if it's a match between a man and a woman, only the woman can send the first message. If she doesn't do it within 24 hours, the match expires.
Why does Bumble keep backtracking?
Make sure you're holding your phone straight up and down. If you tilt it so that it's close to being parallel to the floor, the app may think you're trying to backtrack.
If that doesn't solve the problem, restart the app.
Why is Bumble out of people?
Once you've swiped on all the people in or close to your city, the app automatically pulls in profiles from nearby locations.
But if you're not in an area with a lot of Bumble users, you may quickly run out of people in your Bumble queue.
You can try increasing the distance in your search preferences (max is 100 miles), or widening your age range to be more inclusive.
Why do I have zero matches?
It could be you're simply not swiping through enough profiles in your Bumble queue.
The more you use the app, the higher your chances of getting a match.
But if you're swiping frequently and still have no matches, your photos and bio could probably use an overhaul. Check out the articles above for some guidance, our let us handle it all for you!
Can I filter my Bumble matches?
Yes! Bumble filters can be accessed via the "Settings" screen.
Each Bumble Mode has its own set of unique advanced filters, and can be selected while you're in that Mode.
Free users can apply 2 filters in each Mode, and Bumble Premium subscribers can apply as many as they want.
Can I change my Bumble profile information?
If you create a Bumble profile using Facebook, information like your name, age, school and occupation is pulled from your Facebook profile. The only way to change it is by changing it or deleting it on Facebook.
If you don't want to show your school or occupation, you can choose an older one from the info you've listed on your Facebook profile, or make it less detailed on Facebook.
If you're adamant about not having any work or education information showing on Bumble at all, then follow these steps:
1. Delete your Bumble account
2. Revoke Bumble's access from Facebook
3. Create a new Bumble account
4. Deny access to your work and school information from the initial permissions screen.
You can change your gender from the profile editing screen, but you can only do it once - and you can't change it back.
Can I hide my profile on Bumble?
Yes - Bumble Premium subscribers can use the Incognito feature to show their profiles only to those they swipe right on.
So unless you "like" someone's profile, you'll remain hidden.
You can also "Snooze" your profile, but that hides your profile from all users.
What is Bumble Premium?
Bumble Premium is one of Bumble's paid subscriptions levels.
With a Bumble Premium subscription, you can see which users have liked your profile, reveal your profile only to people you swipe right on, match with users in different cities, and utilize every available match filter.
You'll also be able to access all Bumble Boost features as well.
What is Bumble Boost?
Bumble Boost is Bumble's other paid subscription level.
It's less expensive than Bumble Premium, but doesn't come with as many bells & whistles.
You can instantly rematch with expired matches, extend an unlimited number of matches for an additional 24 hours, and undo your last swipe. You also get unlimited swiping, and each week can use 5 SuperSwipes and a profile Spotlight.
How much does Bumble cost?
Downloading and using the app is completely free.
You have the option to upgrade to Bumble Boost or Bumble Premium. Bumble Boost ranges from $14.99 for one month down to $7.99 per month if you invest in a 6-month subscription.
Bumble Premium's features will cost a bit more, starting at $32.99 for one month and ranging down to $22.33 if you purchase 3 months at once. There is also a $199.99 "Lifetime" subscription option.
What is Bumble rematch?
Normally you would have to wait for expired matches to pop up in your queue again, but Rematch allows you to instantly match with them. This premium feature requires upgrading to Bumble Boost.
What is Bumble extend?
Bumble allows you to add an additional 24 hours onto the countdown clock, giving you extra time for a conversation to begin.
Free users can only do this to one match per day, but if you upgrade to Bumble Boost you can extend as many matches as you want, but you can only extend the same match once.
How do you extend a Bumble match?
Expiring connections appear in blue, with the number of hours you have left in the countdown.
Bumble allows all users to add an additional 24 hours onto the clock of one match per day by simply clicking the "extend" icon. If you want to extend more than one match per day, you'll need to upgrade to Bumble Boost to access the "unlimited extends" premium feature.
What are Bumble Coins?
Bumble coins are being phased out - so if they're not available in your area, you won't see the option to purchase any and will make ala carte purchases directly in the app.
If they are still offered in your market, you can use them to send Super Swipes and activate the Spotlight feature. Coins can be purchased individually, or in lots of 5, 15, or 30. Prices range from $1.25 to $1.99, depending on the quantity.
What is Bumble Spotlight?
This is a pay-per-use feature that will make your Bumble profile the most popular one in your area for 30 minutes.
What is the Reactions feature on Bumble?
Bumble Reactions allows you to choose an emoji from a list of 9 to "react" to content in a potential match's profile.
Since they can make the "first move", women can also include a message. The reaction will be displayed if a match is formed.
To use the feature, simply tap on the smiley face icon on the bottom left of your potential match's profile.
What is Bumble BeeKey? 
BeeKey is a personalized QR code that gets you into exclusive Bumble events. 
You can access your code by clicking on the Silhouette icon, then the BeeKey icon that's right next to the Settings icon in the upper menu bar.
What is Bumble Incognito?
Bumble allows Premium users to hide their profiles, revealing them only to people they "like". When Incognito mode is activated, you have control over who sees your profile.
Does Bumble unmatch?
Yes. Just tap on the information icon at the top of the right corner of the conversation screen, then select "unmatch."
How do I get an expired match back?
If you're a premium Bumble user, you can use the "rematch" feature to instantly swipe right again.
Otherwise, you'll have to wait for the profile to come back around in your Bumble queue.
Which is better, Bumble or Tinder?
That depends on what you're looking for! Each app has distinct advantages and disadvantages.
For instance, Tinder has more users overall, but Bumble could be a better option if you're looking for high quality, relationship-minded matches. To see an in-depth Bumble vs Tinder comparison, go here.
Why is my Bumble not working?
Like any dating app, Bumble has its fair share of glitches.
If Bumble keeps crashing and you've tried restarting or reinstalling the app, it could be down on their end. You can check the app's status on a site like DownDetector.com.
What does "deleted user" mean?
When someone deletes their profile, you can still see the conversation you had with them. But when you click on the conversation, the name will change to "deleted user" and you'll be unable to access their profile.
This is different than when someone "unmatches" you. When that happens, the conversation disappears entirely.
Why did my conversation disappear on Bumble?
Unfortunately, this means you've been unmatched.
That's different than a Bumble user deleting their profile completely. When that happens, their name will change to "deleted user" and the conversation will move to the bottom of your match queue.
What is Bumble Snooze?
This feature lets you take a break from Bumble, without losing your active connections (but matches without an active conversation will still expire).
Activating Snooze will hide your profile from any new potential matches for 24 hours, 72 hours, a week, or indefinitely.
You can also choose to let your current matches see your "away" status. Snooze can be turned on/off within the settings menu.
Where can I download Bumble?
Right now Bumble is available for iOS and Android users, so you can get it from your App Store and Google Play.
How do you change your Bumble search distance?
Go to the "settings" section of your profile, and use the slider to set the number of miles you want included in your search radius, up to 100.
What is Bumble BFF?
This area of the app is for finding friendship, rather than a date.
It uses the same swiping and matching algorithms to show you members of the same sex that the app feels you may want to be friends with. The same 24-hour to message timeline still applies, but either party can make the first move.
Your BFF conversations will be in green, instead of the yellow used for romantic matches.
What is Bumble Bizz?
Bumble isn't just for dating and making new friends, it's a great networking app as well.
The Bumble Bizz mode is specifically for professional networking, whether you're looking for mentoring/advice, career advancement or employment opportunities. 
What are the main Bumble icon meanings?
The yellow heart is a Superswipe in Bumble Date.
The orange star is a Superswipe in Bumble Bizz.
The green star is a Superswipe in Bumble BFF.
The yellow diamond is a profile Spotlight.
The blue check means a user's profile has been verified by Bumble.
Who are the founders of Bumble?
Bumble was created by Whitney Wolfe Herd, who launched the app at the end of 2014.
The app's headquarters are in Austin, Texas. Wolfe created headlines for suing Tinder, an app she co-founded, for sexual harassment in June of 2014.
She settled for just over a million dollars, and launched Bumble less than 6 months later. Because of her female-friendly approach to dating apps, Bumble is often called a feminist dating app.
Is Bumble owned by Match Group?
Want us to do your online dating for you?

Hey, I'm Ally, VIDA Select's Director of Matchmaking.
We take all the frustration, hard work and hassle out of modern dating!
Imagine your very own Dream Team of highly skilled dating experts searching for the very best local matches, sparking their interest, and arranging all the dates for you.
Wouldn't it be nice to finally stop swiping and start dating higher quality matches so you can meet someone special?
We've helped thousands of singles just like you since 2009, and we're ready to make you our next success story!
What are you waiting for? Take the next step now…
See If You Qualify