I hope you enjoy reading the blog post.
If you want my team to just do your Hinge for you, click here to chat with me.
2023's Ultimate Hinge Guide (All The Details You Need!)
Hinge is king of the long-term relationship apps. If you want to meet the best singles around, taking your profile seriously is crucial.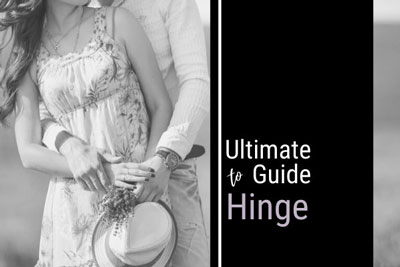 The dating experts here at VIDA Select have extensive first-hand knowledge of how to use Hinge effectively. After all, we've been representing clients on this dating platform since it launched in 2012!
From the best prompts to answer to plenty of photo tips and expert messaging advice, this handy Hinge guide has everything you need to meet someone incredible on this popular dating app - all in one convenient place!
Hinge Guide: The Basics
What Is Hinge & How Does It Work?
Get a full rundown on everything you've ever wanted to know about Hinge!
Hinge Review
All the details you need to find out if this popular dating app is the best choice for you.
Hinge vs Tinder
They're both popular, but which is the best dating app for you?
Hinge vs Coffee Meets Bagel
You'll find high-quality matches on either, but if you've just got time for one, which should you choose?
Hinge vs Bumble
Which dating app should you try first? Check out this head-to-head comparison!
How To Delete Hinge
In this quick guide, you'll get step-by-step instructions on how to delete your Hinge account the right way.
Hinge Guide: Free Features
Hinge Standouts
How does Hinge Standouts work, and how to become one?
Hinge Most Compatible
Everything you need to know about how this free Hinge feature works!
Hinge Guide FAQ
Here are the answers to the most common Hinge questions!
How is Hinge different from apps like Tinder?
1. You can change your location at any time, and without a paid subscription.
2. It is marketed as a "relationship app," so most of the people using it are looking for something more serious rather than casual hookups.
3. Free members can see who already "liked" their profile.
4. Hinge has more advanced filters than most dating apps, so you can screen for height, ethnicity, family plans and religion in addition to the basics like age and distance. Premium subscribers have access to even more filters.
5. You're required to upload 6 photos or videos to "like" other profiles.
6. You can send a message at the same time you "like" a profile - meaning you don't have to match before starting the conversation.
7. It's not a fast-paced swiping app. Hinge focuses on match quality instead of a near-endless match queue. You can only "like" 8 profiles a day without a paid subscription.
8. The app will show you a "Most Compatible" profile each day.
9. After including a phone number in a message exchange, Hinge will ask you via a pop-up message a few days later whether or not you've met yet, and if you did, how you thought the quality of the match was. Your input on the match quality will help the algorithm select higher quality matches as it learns your preferences.
For more information on what makes Hinge different from other dating apps, go here!
What age are most Hinge users?
Many Hinge users are in their 20 and 30s - in other words, millennials. That being said, Hinge's popularity is booming. It's worth the download to see who is using it in your area, even if you're dating over 40.
How does Hinge work?
You can see your potential matches in three feeds - Discover, Standouts, and Likes You.
In your Discover feed, you'll scroll through profiles one at a time, and either "like" a prompt answer or a photo, or "skip" that profile by tapping the X.
When you "like" a piece of content, you can also include a message. This feature makes starting a Hinge conversation a snap. If that person "likes" you back a match is formed and the message exchange begins.
Standouts is a limited selection of profiles that changes daily. In this feed, you can see a prompt or photo prompt from a user's profile that's chosen based on similar content you've previously liked. Tapping on the profile tidbit brings up the full profile.
In the "likes you" section, free users will also scroll through each profile one at a time.
One of the Hinge+ benefits is being able to see all the people who have already "liked" you all at once. Simply "like" them back by tapping the "conversation" icon and a match is formed.
When it comes to exchanging messages, Hinge makes it easy to keep track of whose turn it is to send one. For instance, if someone has sent you a conversation starter, you'll see a blue "Your Turn" tag in the list of active conversations.
Hinge profiles consist of 6 photos or videos and 3 prompt answers.
Each answer has a 225-character limit, and there are over 80 prompts to choose from - and the selection changes often.
How much does Hinge cost?
Accessing Hinge's basic features is free. You can "like" up to 8 profiles daily, and see which users have already "liked" yours. You can also screen your matches via the basic preference filters.
Hinge's premium subscription starts around $34.99 for 1 month.
What is Hinge+?
Hinge+ is the premium subscription option. It used to be called Hinge Preferred. With a Plus membership, you get unlimited daily likes, plus the ability to see all the people who already "liked" you in a simple grid view. (Free members have to "like/skip" one to see the next).
A Hinge+ membership will also unlock the advanced filters, like children, pets, drinking, drugs, etc. You'll also have access to Hinge experts who can answer questions or help with your profile.
It costs $29.99 for one month, although pricing may vary by location. You'll get a price break for committing to multiple months at once. It's $19.99/month for 3 months, or $14.99/month for 6 months.
What is the Intentions feature?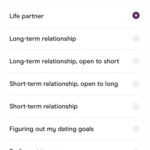 Hinge Intentions allows you to display a "dating goal" on your profile. That goal is to let potential matches know what type of relationship you're seeking on the app.
The "Intentions" options are:
-Life partner
-Long-term
-Long-term open to short term
-Short -term, open to long-term
-Short-term
-Figuring out my dating goals
How do I cancel my subscription to Hinge on an iPhone?
To cancel Hinge+ on your iPhone:
1. From the "Settings" menu, tap "iTunes & App Store"
2. Tap your Apple ID
3. Then "View Apple ID" (sign in if prompted)
4. Tap "Subscriptions"
5. Select your Hinge subscription
6. Tap "Cancel Subscription"
How do I cancel my subscription to Hinge on Android?
To cancel Hinge+ on your Android:
1. Open Google Play Store
2. Tap "Menu"
3. Then "Account"
4. Then "Subscriptions"
5. Select your Hinge+ subscription
6. Tap "Cancel"
Hinge doesn't give refunds, but you can request one via the Apple store or Google.
How do I request a Hinge refund on an iPhone?
1. Go to https://getsupport.apple.com/
2. Select "Billing & Subscriptions"
3. Then "Subscriptions & Purchases"
4. Then "Request a Refund"
5. Provide the reason why you want one.
How do I request a Hinge refund on Android?
1. Go here.
2. Select which type of refund you're seeking and follow the instructions.
Can I pause my account or hide my Hinge profile?
Right now Hinge does not have a way to temporarily pause your account.
However, if you don't want your Hinge profile to be shown to anyone as a suggested match, you can set your preferences to very unlikely combinations (i.e. 7 feet tall and 1 mile away) and specify them as "Dealbreakers".
For someone to see your profile, they have to meet your preferences and vice versa.
How do I delete photos on Hinge?
1. To delete photos on Hinge:
2. Go to the Settings menu & tap on your profile picture to edit your profile.
3. Tap the "x" in the upper right corner of the image you want to remove
4. Select where you want the replacement image to be pulled from (Facebook, Instagram or your Camera Roll)
5. Choose the image you'd like to replace it with and the app will make the change in your lineup.
Hinge doesn't allow you to delete a photo unless you replace it with another image.
Where is Hinge available?
Hinge is currently available in the US, Canada, Australia, India, and the UK.
Can you use Hinge without Facebook?
When Hinge first started its mission was to find connections by way of your Facebook friends. However, since then it has evolved so that you can use Hinge without Facebook by signing up with a mobile number.
You can also disconnect Facebook from your Hinge profile.
From the "Settings" screen, select the "Account" menu. Scroll down to "Connected Accounts" and toggle Facebook off.
However, if you originally created your account via Facebook, you must have a mobile number associated with your Hinge account before you can disconnect your profile from Facebook.
If you're choosing to download Hinge and create a profile via Facebook now, you'll need a minimum of 60 Facebook friends, which is one of the ways Hinge is cracking down on fake profiles.
Can I change my location on Hinge?
Yes, you can change your location at any time, even as a free user. Simply change the neighborhood by tapping the "Settings" icon and going to "Preferences."
Does Hinge offer profile verification?
While Hinge will verify your account during the setup process, they don't offer a verification via a selfie like Bumble and Tinder do.
What is a Dealbreaker on Hinge?
You can make any of your match criteria a "Dealbreaker" - meaning if a profile fits that criteria, you won't see it. If you don't specify something as a dealbreaker, you may see that profile if they are a close match.
How do I see my matches on Hinge?
You can view your suggested matches in the Discover section by tapping the "H" icon at the bottom left of your screen.
To see who has already "liked" your profile, tap the "heart" icon. Free users can scroll through the profiles one by one, and either "like" or "skip" them.
With a Hinge+ subscription, you can see all the profiles of people who "liked" you in one grid view.
Do Hinge matches disappear?
A Hinge match will disappear from your feed if that person unmatched you. There is no way to undo this action.
If someone "liked" your profile, but then they disappear, that means they deleted their profile. There is no time limit imposed for matching or messaging.
Can you search for someone on Hinge?
No. Hinge doesn't have a user search function, so there is no way to find someone on Hinge.
Does Hinge have a daily likes limit?
Yes. Unless you have a premium subscription, you can only "like" 8 profiles each day. The tally resets at 4 am.
Can I undo a "Skip" on Hinge?
No, once you hit the X, there's no way to undo it. But if you happen to run out of people in your area, you'll be shown profiles that you previously skipped.
What are Hinge "Most Compatible" matches?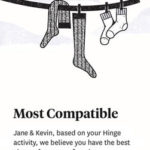 Once a day (or so), you'll receive a "Most Compatible" match - someone recommended by Hinge because the app's algorithm has identified them as being particularly well suited for you.
Want to learn more about this Hinge feature? Find out how Most Compatible works!
What is Hinge's "We Met" feature?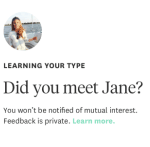 Once you have exchanged phone numbers with someone via Hinge's messaging platform, the app will follow up in a few days to see if you actually met in person yet, and if you did, whether or not you thought the match was a good one.
Your answers won't be shared with the other person, and it will also help improve the matching algorithm.
What is Hinge Standouts feature?
This feed contains around 10 specially selected profile and photo prompts of potentially compatible matches.
The prompts are selected by Hinge's matching algorithm, based on part by your previous interactions within the app. Tapping on a specific prompt brings up the entire profile for that user, at which point you can send them a rose if you're interested.
What's a rose on Hinge?
A rose is equivalent to a "super like."
Every Hinge user gets a free rose every week, and you can purchase more within the app. Your free rose expires (you'll never accumulate more than one free rose), but purchased roses last until you send them.
Can I upload a video to my Hinge profile?
Yes, you can upload both photos and videos to your Hinge profile.
Who owns the Hinge app?
Hinge was founded by CEO Justin McLeod and launched in 2012.
The app was acquired by Match Group in 2018, the parent company of popular dating sites and apps like Tinder, OkCupid and Plenty of Fish.
Does Hinge have read receipts?
No, Hinge does not currently send read receipts.
Is a Hinge ban permanent?
Yes, once you've been banned from Hinge it's permanent. But there is an appeal process you can initiate via the Hinge ban notification. Banned users are not told the specific reason for the ban, only that they violated the terms of service. Reasons for a ban could include being reported or flagged by other users, sending offensive or abusive messages, or having inappropriate content in your profile.
What is Selfie Verification on Hinge?
To verify your profile on Hinge, use the Selfie Verification feature to record a video of yourself via the app. That video will be automatically compared to one of the photos in your lineup using face recognition AI.
If your selfie video matches, you'll receive a verification badge on your profile. Verification is optional, but it's a great way to show potential matches you're the real deal. Your verification video is not visible to any other Hinge users.
What is HingeX?
HingeX is the top tier premium subscription. It unlocks all the Hinge+ benefits, plus three additional features: Enhanced recommendations, Skip The Line and Priority Likes. HingeX costs $49.99 for one month.
What are Enhanced Recommendations on Hinge?
This is a premium perk for HingeX users that runs in the background while you use the app. The algorithm analyzes your swiping patterns, looking at which profiles you have recently "liked" or passed on. Then it prioritizes the profiles in your Discover feed based on common preferences and what it's learned about the type of people you want to see.
What is Skip The Line on Hinge?
Skip The Line is a HingeX feature that gives your profile a continuous boost. You don't have to worry about turning it on, it runs as long as your HingeX membership is active.
What are Priority Likes on Hinge?
If you're a HingeX member, the "likes" you send will stay near the top of the recipient's feed.
Want us to do your online dating for you?

Hey, I'm Ally, VIDA Select's Director of Matchmaking.
We take all the frustration, hard work and hassle out of modern dating!
Imagine your very own Dream Team of highly skilled dating experts searching for the very best local matches, sparking their interest, and arranging all the dates for you.
Wouldn't it be nice to finally stop swiping and start dating higher quality matches so you can meet someone special?
We've helped thousands of singles just like you since 2009, and we're ready to make you our next success story!
What are you waiting for? Take the next step now…
See If You Qualify