I hope you enjoy reading the blog post.
If you want my team to just do your online dating for you, click here.
Hinge vs Tinder Showdown: Which Dating App Is Better?
If you don't have time to manage multiple dating apps, deciding which one to use can be challenging - especially when you're debating between two popular platforms like Hinge and Tinder. Tinder has a massive user base, but Hinge has a reputation for attracting serious daters.
To help you make an informed decision, the dating experts at VIDA Select have put together a comprehensive comparison of Hinge vs Tinder, based on our extensive experience using both platforms.
How extensive? We're talking hundreds of thousands of hours logged on both apps! We've been using both daily since they launched in 2012. That's a powerful firsthand perspective to have, as we've experienced exactly how each one has changed and grown over the years.
In this post, we'll explore 10 key areas that matter most when choosing the best dating app for you:
Dive straight into what's most important to you, or compare them all to make your final decision!
Hinge VS Tinder: Target Audience
With a tagline of "Designed To Be Deleted," Hinge makes its mission clear - it wants to get you into a serious relationship. Tinder, on the other hand, has long been thought of as more of a casual dating or hook up app.
Hinge's core user base is millennials, making it the perfect dating app for anyone in their 20s and 30s who is looking for commitment. Because of its more "serious" nature, the singles you'll find on Hinge tend to be successful and intelligent. It's not as popular as Tinder overall, but its user base is expanding quickly.
Tinder, on the other hand, has sheer numbers in its favor. It's still the most popular dating app in the US, which means overall you'll likely get more matches. Over half of Tinder users are Gen Z (18 to 25), but you'll also find users of ages on it. In order to combat its reputation as an app for hooking up, Tinder added a relationship goals feature that includes a badge for everything from one night stands to marriage.
Which Is Better:
Hinge, if you're under 40 and seeking something long term.
Tinder, if you want to casually date.
Hinge VS Tinder: Your Matches
Both apps follow the same general format of liking or passing on profiles. But there are a few key differences.
Daily "Likes" Limit
This is one of the areas where Hinge and Tinder are pretty different. Free Hinge users can only "like" 8 profiles a day, while free Tinder users can swipe right up to around 100 times every 12 hours.
Upgrading on both apps will grant you unlimited "likes."
Screening
If you want the ability to pre-screen your matches for whatever preferences you have in mind, Hinge is the app for you.
Free Hinge members can filter for basic preferences:
Gender
Location
Age
Max Distance Range
Ethnicity
Religion
Hinge+ & HingeX members can add these additional filters:
Height
Children
Family Plans
Education
Politics
Drinking
Smoking
Marijuana
Drugs
You also have the ability to specify any number of those preferences as a "dealbreaker." You won't see profiles that don't fit those criteria, so it's a great way to save time.
On Tinder, both free and premium users only have 4 basic filters:
Gender
Location
Max Distance
Age
Curated Matches
Both apps will show you who they deem highly compatible matches.
Tinder has "Top Picks," which is a selection of profiles the matching algorithm feels you'll "like" based on your swiping history.
But free users can only "like" one Tinder Pick each day. If you want the chance to match with all your Top Picks, you'll need a Tinder Gold subscription.
Tinder also has the "Explore" hub, which is filled with special match feeds that are based on interests. You'll find social features like Festival Mode and Hot Takes there, which is an area where users who enjoy live music can match with each other. Using the Explore hub is free.
Hinge has "Most Compatible," which is exactly what it sounds like. According to Hinge, these are matches you're 8x more likely to go on a date with.
The app even has a built in way to fine tune its matching algorithm - the "We Met" feature.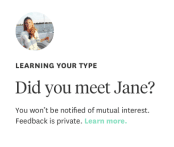 After a phone number has been exchanged with a match, Hinge will follow up in a few days by asking if you actually met your match in person, and if so whether you want to see your match again.
Hinge also has a special "Standouts" feed that presents content from the profiles of up to 10 popular users in your area. To "like" someone in this section, you'll need to send a rose.
HingeX users receive "enhanced recommendations", which are profiles displayed in Discover that are curated by the algorithm based on your recent activity.
Which Is Better:
If you have a fairly set idea in your head of what you're looking for in an ideal partner, Hinge's screening capabilities will save you from matching and messaging with people you'd never actually date.
If you want a broad overview of who's available in your area and don't mind putting in the screening time, Tinder will likely net you more matches overall.
Hinge VS Tinder: What You Can Do For Free
These two popular dating apps are fairly evenly matched in this particular arena, with the exception of how many more profiles you're able to "like" on Tinder each day.
But all the basics, including downloading the app, creating a profile, matching and messaging are free.
Which Is Better:
It's a draw. You can successfully use both without spending a penny.
Hinge VS Tinder: Cost & Premium Features
Hinge users can choose from 2 premium membership options: Hinge+ and HingeX. Hinge+ was formerly called Hinge Preferred, but the name changed in early 2023 when HingeX debuted.
Hinge+ costs $29.99 for a single month, and HingeX is $49.99 for 1 month.
Here are all the included features when you upgrade to Hinge+:
Unlimited daily likes
See all the potential matches who liked you
Access all the advanced preference filters
Enhanced browsing options that let you sort your potential matches
A HingeX membership includes:
Skip The Line
Enhanced Recommendations
Priority Likes
Hinge+ features
To learn more about all the premium features Hinge offers, check out our HingeX vs Hinge+ guide!
Tinder has 3 levels of premium membership: Tinder Plus, Tinder Gold & Tinder Platinum.
Tinder Plus costs between $2.60 & $7.99 per month, depending on your subscription length.
These features come with Tinder Plus:
Passport, which changes your swiping location
No daily like restrictions
Undo your last swipe
Limit which users can see your Tinder profile
Control some of the information displayed on your profile
No ads as you're swiping
The cost of Tinder Gold depends on your location, but you can expect to spend between $10 and $24.99/month, with membership lengths varying from 1 month to 1 year.
These additional features are included in a Tinder Gold membership:
Match feed of singles who liked your profile already
Full access to Top Picks
5 Super Likes each week
Tinder Platinum unlocks two additional perks:
Include an icebreaker when you Super Like someone
Whenever you "like" someone, the Priority Likes feature gives you an edge over your competition in their card stack
Tinder Platinum is the most expensive of the premium subscriptions. It costs $29.99 for a single month, or less with a longer subscription.
Which Is Better:
In terms of sheer cost, Tinder wins with the $3/month price tag for its cheapest upgrade level (when you commit to 12 months up front).
Tinder offers premium features that Hinge doesn't have, such as the ability to limit who can see your profile, and control what information is displayed. If you want a dating app where you can hide your profile, Tinder is the way to go.
Tinder also allows you to undo a "nope", but there's currently no option to undo a "skip" on Hinge. So if you're prone to that particular error, you may want to stick with Tinder.
If you want the most features for your money, Tinder wins.
Hinge VS Tinder: Profiles
Hinge profiles consist of 6 photos or videos, and your choice of 3 written, voice or video prompts to answer. There are more than 80 to choose from, and the selection changes often. You must upload all 6 photos/videos if you want to "like" other profiles.
Prompts include everything from "Believe or not I…" and "Teach me something about…" to "I'm actually legitimately bad at…" and "A random fact I love is…"
Each prompt has a maximum character count of 225.
Your Hinge profile will display everything that you're screening for in your matches, i.e. height, age, and location. If you're a Hinge+ or HingeX member and screening for kids, drugs, and education level, your setting for those preferences will be displayed on your own profile as well.
Tinder profiles consist of up to 9 photos, and you also have the option of including 2-second video snippets that will play on repeat, called "Tinder Loops." You're only required to upload one photo.
Tinder bios have a 500-character limit, and aren't required.
Unless you're a premium member and choose to hide some info, your profile will display your name, age, distance away, occupation and education.
You can also include "Interest" badges (called Tinder Passions in some areas), which are a simple way to share hobbies and lifestyle details with potential matches.
Which Is Better:
If knowing as much as possible about your matches is important, Hinge is the clear winner here.
Hinge VS Tinder: Messaging
Messaging on Hinge and Tinder is similar in that once you've matched with someone, you can exchange messages for as long as you want.
But starting a conversation on Hinge is easier overall. Here's why:
#1: You can include a message with your "Like." That means you can send your conversation starter before you've matched: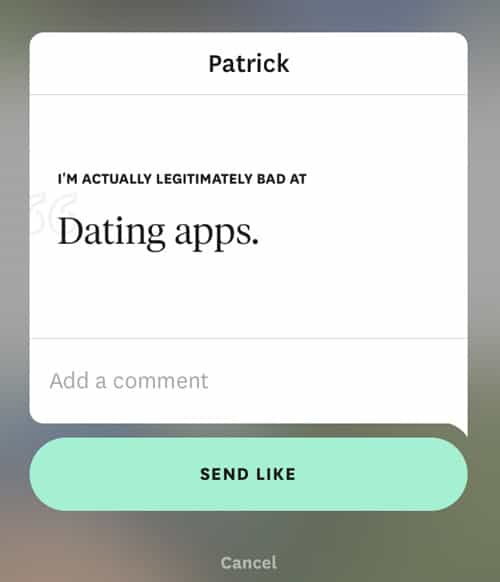 #2: You comment on specific photos or portions of someone's profile, which makes starting a conversation easier. And when someone "likes" your profile, the app will let you know which specific part of your profile intrigued them:
You can then respond to their comment if they made one, or start the conversation by making a comment on whatever tidbit of your profile they "liked."
#3: Hinge's "Your Turn" feature lets you see at a glance which messages you haven't responded to yet. If you have a lot of conversations going at once, that makes it much easier to manage them: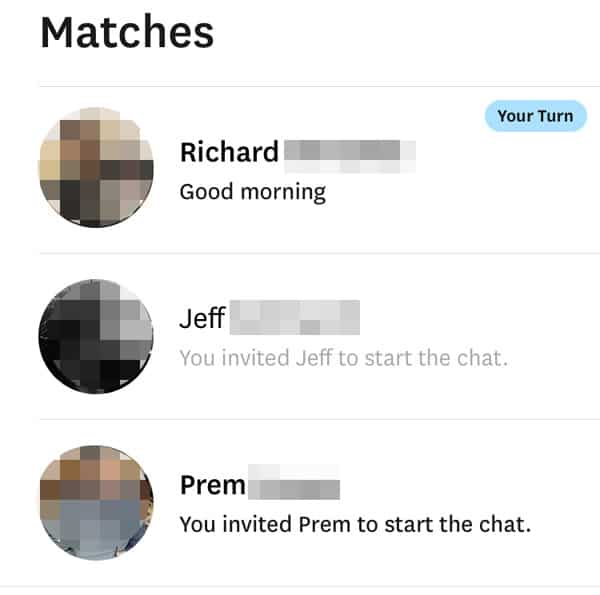 Tinder has a similar feature called Tinder Feed where you can comment on someone's recent activity, like changing their bio or updating a photo. But you have to match with someone before they'll show up in this view. (Editor's Note: The Tinder Feed feature has been discontinued in most markets.)
Hinge. If someone is on the fence between "like" and "skip," being able to sneak an awesome icebreaker in with your "like" could convince someone to match with you who may not have otherwise.
Tinder does have a Message Before Matching feature, but it's only available to Platinum subscribers and you have to use a Super Like to do it. Hinge lets you do it for free!
Hinge VS Tinder: Can You Use It Without Facebook?
This one's a tie - you can create both a Hinge account and a Tinder account using your mobile number, no Facebook required.
Hinge VS Tinder: Linking Other Social Media
Hinge allows you to connect Instagram to your account.
Tinder allows you to connect Instagram, Spotify and Snapchat, so you can use Bitmoji and choose an anthem and your favorite artists.
Which Is Better:
Tinder, especially if you want to spark a connection via shared taste in music.
Hinge VS Tinder: Safety Features
Both dating apps allow you to easily block and/or report other users.
Tinder has an entire "Safety Center" which you can access by tapping the shield icon at the top of the profile editing page. It contains a whole host of educational materials and resources aimed at using dating apps safely.
Tinder has a partnership with Garbo, which allows you to run limited background checks on your matches. It's also integrated with Noonlight, which enables you to let chosen people know who, where and when you're meeting Tinder dates.
Hinge has a "Safe Dating Advice" guide in its Help Center, as well as published community standards around safety and acceptable user behaviors.
Which Is Better:
Tinder currently has the more developed safety section, and partnerships with Garbo and Noonlight. Both dating apps are in the Match Group portfolio, so these advanced safety features will likely expand to Hinge at some point in the future.
Hinge VS Tinder: The Final Verdict
So, which is better - Hinge or Tinder? Start with Hinge if you're seeking a serious relationship - not only is the overall quality of matches likely higher, but you can more carefully curate which profiles you see as well.
Hinge is also the better bet if your messaging game needs a bit of work; the app's interactive approach to profiles makes it easier to start a conversation.
If you're looking to date more casually and want quantity before you worry about quality when it comes to matches, Tinder will probably make you happier.
But no matter which dating app you decide to try first, you'll need a profile that attracts "likes" in spades. For plenty of expert profile, photo, and messaging advice, check out our Ultimate Guide To Tinder and our Ultimate Guide To Hinge.
Or meet the most desirable singles in your area the easy way - by bringing in the dating experts at VIDA!
Our professional writers and photo editors will do everything for you, from determining your very best lineup of photos to writing a compelling profile - and handling all the messaging too.
Your dedicated matchmaker handles all the screening for you, so all you have to do is show up for all the dates with amazing people who meet all of your specified criteria!
Incredible results - none of the work. Sound good? Click here to learn more!
Want us to do your online dating for you?

Hey, I'm Ally, VIDA Select's Director of Matchmaking.
We take all the frustration, hard work and hassle out of modern dating!
Imagine your very own Dream Team of highly skilled dating experts searching for the very best local matches, sparking their interest, and arranging all the dates for you.
Wouldn't it be nice to finally stop swiping and start dating higher quality matches so you can meet someone special?
We've helped thousands of singles just like you since 2009, and we're ready to make you our next success story!
What are you waiting for? Take the next step now…
See If You Qualify