I hope you enjoy reading the blog post.
If you want my team to just do your Hinge for you, click here.
Hinge Review - Is It The Ultimate Dating App For 2022?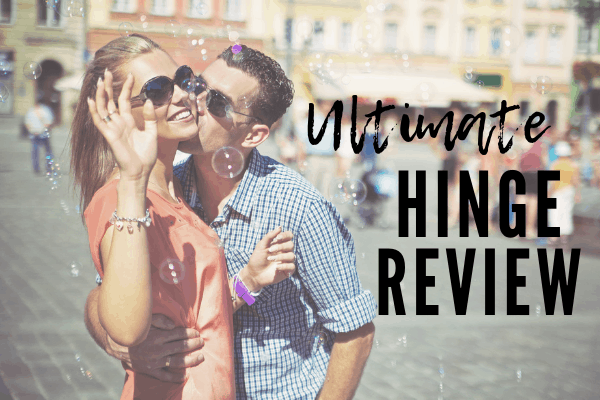 You're reading a Hinge review, so chances are you find the idea of a non-swiping dating app intriguing. Instead of taking Tinder's quantity over quality approach, Hinge's format allows users to focus on a small number of profiles at a time.
If you're serious about finding a relationship, Hinge might just be the app for you. This app was redesigned specifically for millennials who want a long-term relationship, rather than casual dating or hookups.
Hinge Review Table of Contents:
This Hinge review has everything you need to know about using the Hinge app!
How Hinge Works: Features & Matching
Starting a dating app conversation just got easier! You can see your suggested matches by going to the "Discover" section. If you're intrigued by what you see, tap the heart icon.
Hinge lets you comment on or "like" a photo, video or profile section. You can also send a rose to indicate interest (more on roses later on in this Hinge review). If the other person replies to your comment or likes you back, a connection is made and you can start a conversation.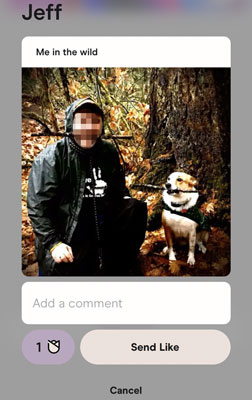 Free users can "like" up to 10 profiles a day.
If you're not interested, simply tap the "X" icon and your next match will pop up.
Your Standouts Feed
Tapping the star icon at the bottom of the screen brings up your Standouts feed. This special section showcases a prompt or photo from a handful of users, typically around 10.
The Standouts algorithm pulls from data it collects while you interact with the Discover feed. You'll get new Standouts daily, and sending a rose indicates your interest.
Likes You On Hinge
When another user expresses interest in you by commenting on your photos or stories, you'll have the opportunity to match with them in the "Likes You" section.
If you're interested, tap the conversation icon to respond to their comment.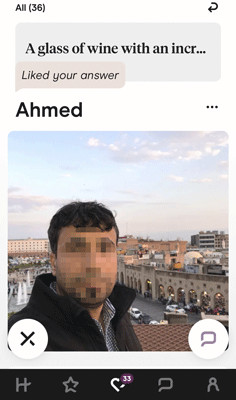 Date From Home
At any point after you've matched with someone, you can use Hinge's "Date From Home" feature to indicate you're interested in having a phone or video chat.
All you need to do is set your status to "Ready" by tapping the "Date From Home" button on the bottom of the messaging screen. As soon as your match changes their status to "Ready" as well, you'll both get a notification and you can schedule the call.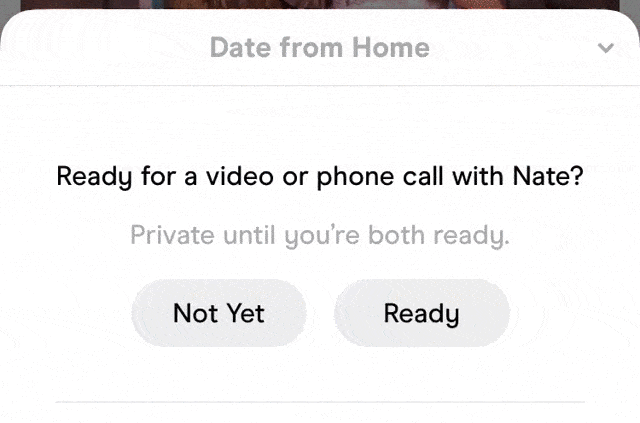 Hinge allows users to video chat within the app, but both you *and* your match need to have sent at least one message first. Note that a "like" or any initial comment you included with your like doesn't count.
Hinge Video Chat Prompts
If you're stuck for something to say during your video chat, Hinge's Video Chat Prompts feature can help the conversation keep flowing smoothly. The Video Chat Prompt feature allows users to choose a conversation theme from a menu of 8. Each conversation theme includes 5 prompts that will pop up on the screen during the video chat.
Marketed as a "virtual vibe check," the Video Chat Prompts range from icebreaker-style questions to an "interactive" option that takes you and your match on a mini scavenger hunt throughout your homes.
During your in-app video call, the Video Prompts icon is visible to both participants.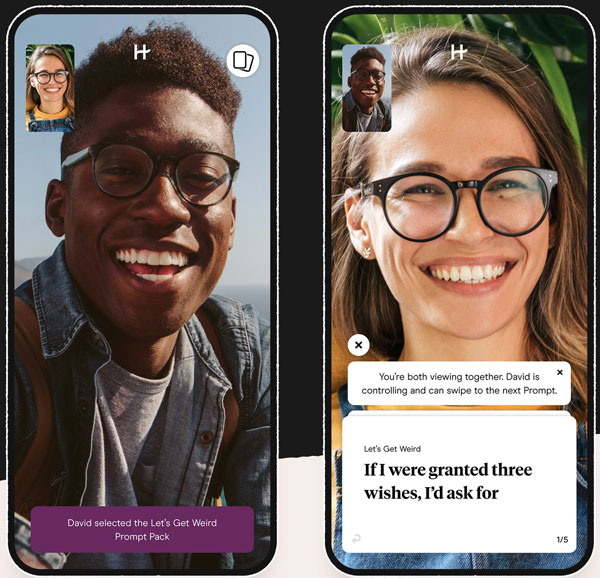 To activate the feature, either you or your match taps that icon and selects which of the themes to use. The same prompt card will be visible to both of you at the same time. When you're ready for the next prompt to answer, simply swipe on the screen to the next card and both of you see the next one.
(Nervous about tapping that camera icon? Check out these effective video chatting tips!)
Hinge Filters
The filters you can use to screen your matches depend on what type of member you are, and how much of your profile is completed.
Free members can filter their matches using these criteria: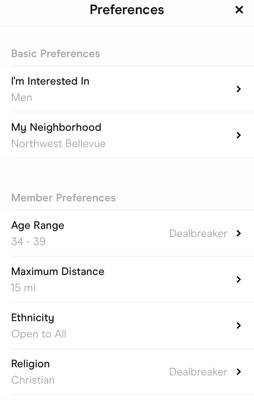 You can classify any of your preferences as a dealbreaker, meaning Hinge won't show you matches outside that range no matter how otherwise compatible they are.
Preferred members can access these additional filters:
If you're looking for marriage material, pre-screening your matches with filters like Family Plans and Children could save you a lot of time.
Hinge's Most Compatible Feature
Hinge also highlights what it calls your "Most Compatible" matches: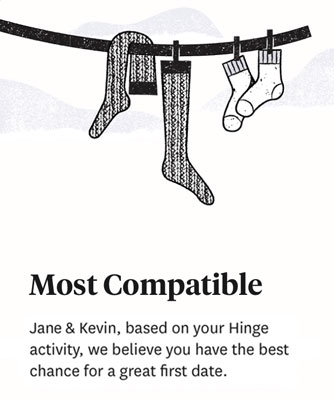 According to the app, you're 8 times more likely to actually go on a date with a Most Compatible match than you are any other Hinge member.
Unlike most dating sites, Hinge tracks success out in the real world as well, thanks to a feature called "We Met."
A few days after users exchange phone numbers, Hinge inquires if you went on a date, and if you did, whether or not you'd like to see the person again. Don't worry - your input isn't shared with your match.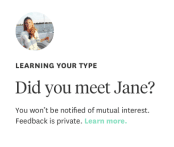 And while it may seem as though Hinge is starting to sound a lot like your mom, answering the questions is beneficial. Your input as to the match quality will help hone the algorithm, and identify other Hinge users you may be most compatible with.
As Hinge CEO Justin McLeod told TechCrunch:
Ultimately, if you went on a date with someone and you thought they were great, that's the strongest signal that we've gotten very close to your type of person. So if there are more people like that person, we can show them to you.
Hinge Review: Pros & Cons
PROS:
Users indicate interest by "liking" or commenting on stories or photos in a profile. That's a low time investment compared to having to send an icebreaker message like on other apps, so it's easier for a girl to initiate a conversation with you.

Hinge surveyed its users and found 70% wanted a "relationship-oriented app." 45% are seeking a serious dating relationship. That means women are generally serious about meeting someone and less likely to flake on you.

You can change your location in the "preferences" section.

Conversations and matches never expire.

Hinge's "Date From Home" feature makes it easy to move from messaging to a video or phone call.

Match Group, one of online dating's biggest (and most reputable) names, owns a 51% stake of this dating app.
CONS:
You can only interact with your daily suggested matches unless you upgrade to a full membership. Free users only get 10 "likes" a day

- and that's only if you upload all 6 photos. If you have what the app calls an incomplete profile, you can't send "likes" at all.

Free users only get 10 matches each day, so if you don't find one you're actually interested in it can be frustrating. Unlimited browsing requires a full membership.

Your "free" filter options are limited to basics like gender, age, location, ethnicity, and religion. And to access them, you must complete your profile.

Users you previously skipped can show up in your feed again, just in case you want to "reconsider."
Hinge Review Verdict:
Hinge was designed specifically with millennials in mind. But it's a popular dating app with singles of all ages.
According to a recent survey, almost half of Hinge users are under 30. Most of the rest in the 30-49 demographic. According to app founder Justin McLeod, millennials and Gen Z are Hinge's main age demographics.
Check out this age comparison for these 3 popular dating apps:

Hinge is one of the fastest growing dating apps in Match Group's portfolio. It's now the third most downloaded dating app in the US, so it's worth a try if you live in or near a decent-sized city.
It doesn't require a large time investment, since matches are sent to you. That means no sifting through endless profiles hoping to find a diamond in the coal.
Hinge App Cost
Hinge has two membership levels - Free and Preferred.
As a Hinge Preferred member, you can access some helpful premium features that make using the dating app even easier.
With a free Hinge membership, you can:
Create your profile & upload up to 6 photos and Hinge videos
Send up to 10 likes each day
Filter your matches for gender, location, age, distance, ethnicity and religion
With an upgraded Hinge membership, you can:
Send unlimited likes
Unlock all the filters
See everyone who has already "liked" your profile
The Preferred membership cost depends on how many months you commit to upfront. Prices may also vary slightly depending on your location:
Wondering if Hinge Preferred is worth the price? Find out when it makes sense to upgrade!
Hinge also allows you to purchase "Roses" and "Boosts" within the app.
Hinge Roses
Equivalent to a Super Like, all users get one free rose each Sunday to send whenever they want during the week. Free roses expire - if you don't use it, you won't have two roses the next Sunday.
You can purchase additional roses, starting at $9.99 for a pack of 3. Purchasing in larger quantity drives the individual price down: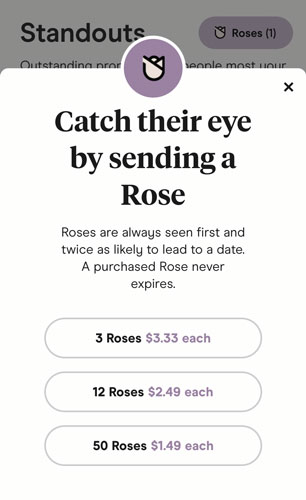 Hinge claims sending a rose grants your profile placement in your potential's match's feed, and that sending one is twice as likely to lead to a date. Roses you purchase never expire.
Hinge Boosts
Like many dating apps, Hinge lets you pay to give your profile more exposure for an hour. Hinge claims a profile Boost will result in being seen by 40x more people.
A single Hinge Boost costs $9.99. The price per Boost drops to $8.99 when you purchase 3, and $7.99 when you purchase 5.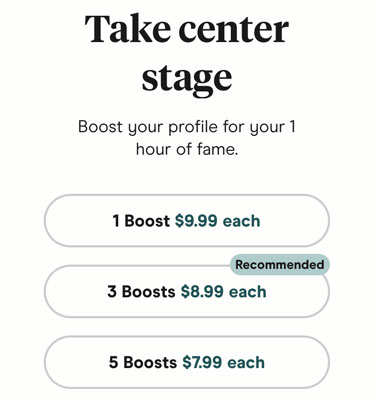 Hinge also offers a "Superboost", which will give your profile higher visibility for a full 24 hours. A Hinge Superboost costs $19.99 each time you use it.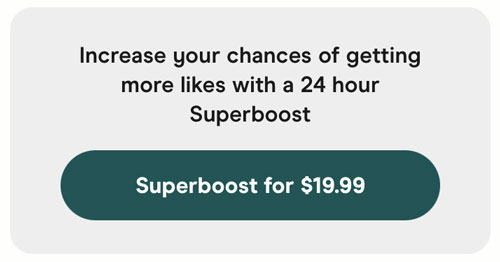 Get the most out of this feature by implementing these Hinge profile tips first!
You can download the Hinge app for iOS or Android.
Setting Up An Account
There isn't a Hinge dating site option, so you'll need to download the Hinge app.
Then you can create an account using your mobile phone number, or log in via your Facebook account. If you permit access, Hinge will attempt to match you with friends of mutual friends, as well as local singles matching your criteria.
If you're going to sign up through Facebook, though, Hinge requires that you have at least 60 Facebook friends as a way to verify that you're legit. (Existing users are exempt from the 60 friends rule.)
You select your neighborhood, then provide basic info like your height, ethnicity, and religious beliefs. "Prefer not to say" is an option.
The information Hinge displays about you is divided into 3 sections: Virtues, Vitals, and Vices. Select your answers for each, and choose whether or not that answer is visible or always hidden.
Hinge Intentions
In the "Virtues" section, the Hinge's Dating Intentions feature allows users to display what they're hoping to find on the app.
Options range from "life partner" to "short-term relationship". If you're not sure, you can opt for "figuring out my dating goals" or "prefer not to say."
You can also provide a little more context for your answer in a free form text box. It has a 100-character limit, and will be displayed directly below your Intention choice on your profile.
Hinge Prompts
You're also required to answer 3 "prompts" in 150 characters or less, which will be displayed throughout your profile.
The 80+ prompts include things like "My ideal fake sick day", "Most embarrassing song on my Spotify", "Two truths and a lie", "Most spontaneous thing I've done", and "I'm actually legitimately bad at". The selection of prompts changes slightly every few months or so.
Hinge Pro Tip
According to the app's founder, the prompt "I know the best spot in town for" leads to the most dates for London users - and it's likely worth giving it a try wherever you live as well!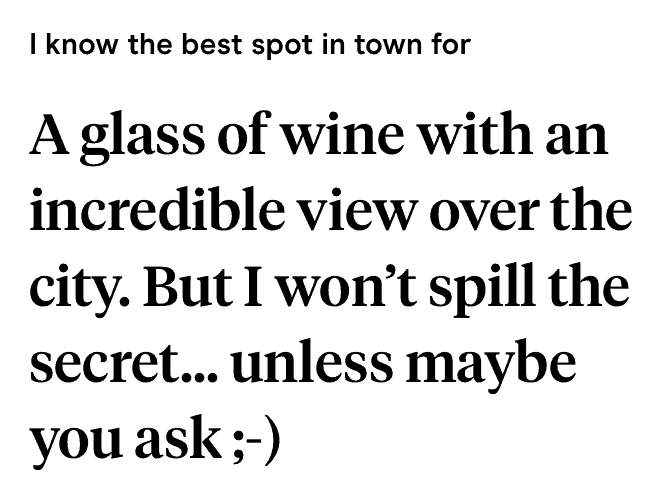 Hinge Voice Prompts
You can also add a 30-second voice prompt to your profile, which is a great way to give potential matches a glimpse of your personality. In fact, Hinge reported that 65% of users thought hearing someone's voice helped them determine how interested they were in a match.
To include a voice prompt in your Hinge profile, go to the profile editing screen and tap "Select a prompt" in the Voice Prompt section.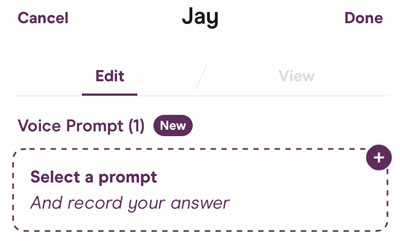 Select the prompt you want to answer, and record it by tapping the microphone icon.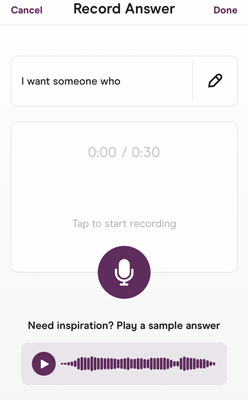 If you need inspiration, you can listen to a sample answer for each available prompt.
Once you've answered the prompt of your choosing, your Hinge profile is created using the biographical data and 6 photos or videos.
You must add 6 photos or videos in order to "like" other people on Hinge, so lead with your strongest picture. But make sure you look equally attractive in all of them - you're only as attractive as your worst photo.
Hinge also allows you to pair a video with a Video Prompt, which doesn't count as one of your 6 spots.
Adding Hinge Photo Captions
Captioning a few of your photos can spark a great conversation, so get creative! You can also choose from a list of over 40 photo prompts, with lines like "My mug shot" and "Don't show this to my mom."
To add a caption or a prompt to a Hinge photo, simply tap the picture then choose "Select a prompt" to access the menu of pre-written captions, or write your own by tapping the black circle in the upper left: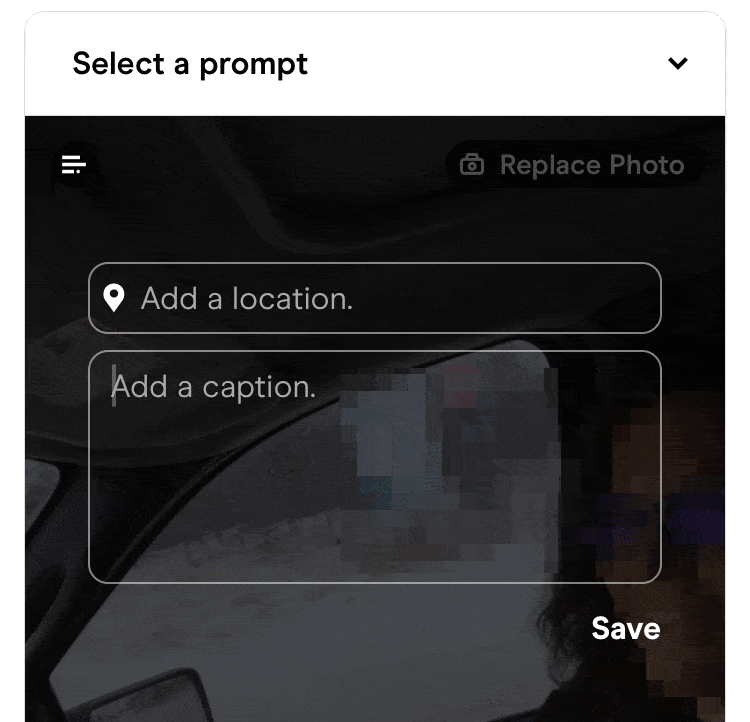 Since users only get a small number of matches per day, chances are your photos are going to get scrutinized. Draw people into your lifestyle and make them curious to know you better.
Check out this article for some essential tips for guys on choosing strong online dating photographs, but for now, here are the highlights:
Showcase your alpha side: you're the guy making the toast, making the big play on the court, or the life of the party.
Throw in an interesting travel photo. She's going to imagine what her life would be like with you, so let her know she's in for some exotic vacations.
Give her a glimpse into your rich, full life. Photos of you engaged in your favorite hobbies let her know you're not a couch potato.
Use a range of photos, including a close-up, a full-length shot, an "action" shot, that one where you're all dressed up, etc...
The Easiest Way To Meet The Best Local Singles On Hinge
Most Hinge reviews will tell you the app is full of high-quality, intelligent people. However, just because they exist doesn't mean you are guaranteed to convince them to go on a date.
One surefire way to triple your chances of meeting someone on Hinge is to hire a personal dating assistant. Think of it as online dating help on steroids.
No matter what online dating site or app you're using, we'll do ALL the work for you - from writing your prompts, selecting your photos and adding witty captions to handling all of the messaging and even setting up your dates. All you have to do is show up!
Click here to learn more.
Want us to do your online dating for you?

Hey, I'm Ally, VIDA Select's Director of Matchmaking.
We take all the frustration, hard work and hassle out of modern dating!
Imagine your very own Dream Team of highly skilled dating experts searching for the very best local matches, sparking their interest, and arranging all the dates for you.
Wouldn't it be nice to finally stop swiping and start dating higher quality matches so you can meet someone special?
We've helped thousands of singles just like you since 2009, and we're ready to make you our next success story!
What are you waiting for? Take the next step now…
See If You Qualify