I hope you enjoy reading the blog post.
If you want my team to just do your Hinge for you, click here to chat with me.
Hinge Voice Prompts [Which Work Best & How To Add Them!]
Curious about Hinge voice prompts? Using one can be an effective way to add a new dimension to your profile and give potential matches a taste of your personality.
But before you tap that "record" icon, read this!
Some voice prompts are better choices than others, and the last thing you want to do is turn people off by taking the wrong approach.
Hinge Voice Prompts Table of Contents
VIDA's team of dating experts have been using Hinge since it launched back in 2012. That's hundreds of thousands of hours of hands-on experience, scouting profiles, sending messages, and arranging dates on behalf of all the clients we help. It's safe to say we know what's effective on Hinge, and what doesn't work.
This quick guide to Hinge voice prompts covers everything you need to know to attract higher quality matches with this feature!
What Are Hinge Voice Prompts?
A Hinge voice prompt is a recorded answer you can include in your profile. It can last for up to 30 seconds, and is accessible to all users. Anyone checking out your profile will be able to hear what your voice sounds like.
Hinge isn't the first dating app to let you record audio messages. But it is the first one to build them right into your profile. Don't get them confused with Hinge voice notes - those are recorded messages you can send once you've matched with someone.
The idea for voice prompts came from a desire to help users find new ways of meaningfully connecting with other people on the dating app.
A survey of users revealed 65% of them felt hearing someone's voice was helpful in gauging their interest in a match.
According to Hinge's Director of Relationship Science, Logan Ury, that's because "hearing someone's voice connects us in ways that seeing a photo or reading a text can't."
In a press release announcing the feature launch back in October of 2021, Ury explained that listening to someone's voice prompt answer "gives you a chance to check in with yourself early on about what the other person makes you feel, whether that's chemistry, confusion, or disinterest."
That's an important quote to remember: Hinge voice prompts are designed to help someone gauge their level of interest in meeting you.
Which brings us to the million dollar question…
Do Voice Prompts Work On Hinge?
In theory, yes - voice prompts work on Hinge because researchers believe the human voice plays a role in attraction. Sparking a connection by hearing your voice could be the factor that compels someone to "like" your profile or send a message.
Hearing your voice is a different sensory experience than reading text or looking at images on a screen. As Logan Ury points out, just over half of Hinge users - 52% - say they learn more about their matches by listening to a voice message.
So it's not just about what you say when you're adding a Hinge voice prompt to your profile.
It's also about how you say it.
For instance, have you ever had a conversation with someone whose vocal inflection goes up at the end of every sentence? So it sounds like they're always asking you a question? If you do that while recording your Hinge prompt answer, you may inadvertently sound like you're lacking confidence or feeling insecure.
And if you talk too slowly, or sound too deliberate and overly rehearsed, potential matches may come to the conclusion you're low energy or a little uptight.
You want your voice prompt to sound natural and engaging, like you'd be a fun person to have a face to face conversation with.
3 Expert Hinge Voice Prompt Tips
It's crucial to make your voice prompt hit all the right proverbial notes because you can only incorporate one in your profile.
To that end, here are 3 Hinge voice prompt tips that cover both what to say and how to say it!
#1: How To Choose The Best Hinge Voice Prompts
Hinge gives you a lot of options, but only lets you include one in your profile. That abundance of choice can make for a difficult decision.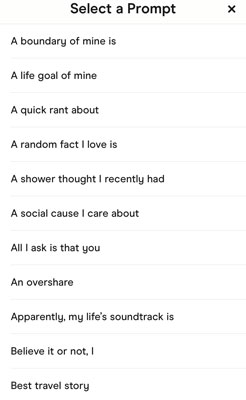 But don't just pick one randomly and roll with it.
Some prompt answers will be more powerful for you than others. Others might work against you instead of elevating your profile.
For starters, avoiding voice prompts that lend themselves to negative answers is generally the best practice.
Negativity tends to be an instant attraction killer, especially on a dating app where you're competing with other users for someone's attention. If she's got a lot of choices, what are the odds she'll gravitate toward someone who seems unhappy, judgemental or a downer to spend time with?
"You should *not* go out with me if'' is not a great pick if your intent is to run through all your relationship deal breakers, or you want to make it clear you're not looking to date someone who's going to cheat, lie, be dishonest, etc.
And don't use "A quick rant about" as an invitation to describe something trivial that bothers you, like bad traffic or people who don't return shopping carts.
It's far more compelling to keep your voice prompt answers positive, light-hearted and fun.
The Best Hinge Voice Prompts For Guys
The best voice prompts for your Hinge profile showcase an aspect of your personality that will appeal to the type of person you want to meet. Decide what you're trying to communicate about yourself, and choose your voice prompt accordingly.
Talking about a hobby is one of the best ways to show how you embody whatever personality traits you want to convey, and connecting over a mutual interest is one of the best ways to spark a conversation on a dating app.
You know how people tend to light up when they talk about a subject that's near and dear to them? The same enthusiasm will likely be conveyed in your voice, and that's the vibe you want to capture.
Voice prompts like these give you a natural way to talk about a hobby or life passion:
Believe it or not, I
Best travel story
Fact about me that surprises people
I geek out on
I go crazy for
I won't shut up about
I'm convinced that
My happy place is
Something I want to try with you is
This is my year for
This year I really want to
What if I told you that
You can also choose voice prompts that let you highlight something about yourself you think your perfect partner would be looking for in a guy.
For instance, ambition is a trait that a lot of women are looking for in a partner.
These voice prompts provide an opportunity to mention a goal you have, share something you love about your job or talk about what motivates you:
My mantra is
My greatest strength
My friends ask me for advice about
I take pride in
A life goal of mine
And if you're a natural comedian, choosing a funny Hinge prompt (or one you can put a humorous spin on) is a solid choice:
Dating me is like
I'll brag about you to my friends if
My best dad joke
My best celebrity impression
One thing I'll never do again
Unusual skills
We're the same type of weird if
Worst idea I've ever had
But keep in mind what people find funny is very subjective, so sarcasm or dark humor may not land the way you think it will. And if your joke sounds forced or overly rehearsed, you risk seeming like you're trying way too hard.
Avoid cliches, because like every other aspect of your dating profile, what you choose to include communicates a lot between the lines.
If she plays back your voice prompt and out comes something she's heard over and over again, that doesn't bode well for your chances of getting a date. Much less a response to a message you send her.
Once you've decided which voice prompt to answer, it's time to…
#2: Nail The Delivery
If you do decide to add a voice prompt, it gets prominent placement.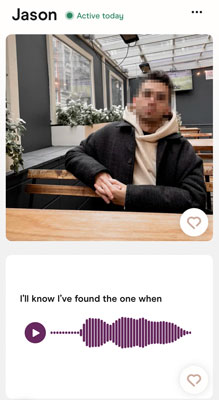 If she makes it past your primary photo, it's the very next thing she'll see. Don't hand her a reason to tap that X by turning her off with your delivery.
Authenticity is key here, so don't try to alter your voice and speak in a way or at a volume that you normally don't. It likely won't translate well.
Resist the urge to keep re-recording. Your first take or two will probably sound the most natural, and you risk sounding less and less like yourself with every attempt.
And lastly, let's talk about duration.
#3: Keep It Short
Hinge gives you 30 seconds to play with. But unless you happen to be voice talent by trade, keep it much shorter. You don't want to sound like you're delivering a monologue, giving a lecture or are a pro at monopolizing conversations.
Five to 10 seconds is plenty of time to get your point across.
Make sure to record your prompt answer in a quiet place. Intrusive background noises like sirens, traffic, barking dogs, yelling kids or wind can be a huge distraction.
Now you know how to choose the best voice prompt on Hinge and record it effectively. All that's left is adding it to your profile!
How To Add Voice Prompts To Hinge
Before you can record your answer, you'll need to grant the app permission to access your phone's microphone if you haven't already. Users are also required to allow Hinge to access speech recognition in order to use the voice features.
Follow the instructions on the pop-up notifications to grant the proper permissions.
To add a voice prompt to your Hinge profile, navigate to the profile editing screen by tapping your avatar in the menu bar.
Then tap the profile editing icon. You'll see the Voice Prompt section directly below your photo lineup.
Tap on "Select a prompt" to bring up all the possible options. You can choose from over 100 voice prompts to answer. Just like Hinge's written profile prompts, the selection periodically changes.
Choose which voice prompt you want to answer by tapping on it.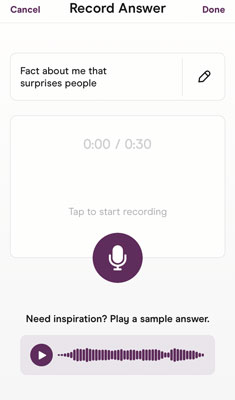 That brings up the recording screen, and you can tap the microphone icon whenever you're ready to start talking. The app also provides a sample answer if you're short on ideas of what to talk about.
Tap the button to stop the recording when you're done. Play it back to make sure you're happy with it, or you can re-record it.
When you're ready to post it, just hit "Done" and your new voice prompt automatically displays below your primary photo in your Hinge profile.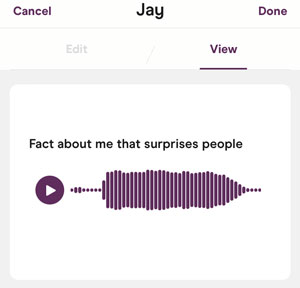 You can change voice prompts at any time by clicking the little "X" in the upper right corner of the box on the profile editing screen:
Thanks to this quick guide to Hinge voice prompts, you're armed with everything you need to add one to your profile.
Want more Hinge help? Check out our Ultimate Hinge Guide.
You'll find all the info you need to choose the best Hinge questions to answer, add comment-attracting photos to your profile and attract the type of matches you want to meet!
Want us to do your online dating for you?

Hey, I'm Ally, VIDA Select's Director of Matchmaking.
We take all the frustration, hard work and hassle out of modern dating!
Imagine your very own Dream Team of highly skilled dating experts searching for the very best local matches, sparking their interest, and arranging all the dates for you.
Wouldn't it be nice to finally stop swiping and start dating higher quality matches so you can meet someone special?
We've helped thousands of singles just like you since 2009, and we're ready to make you our next success story!
What are you waiting for? Take the next step now…
See If You Qualify