With over 80 Hinge questions to choose from, figuring out which ones you should answer can be tricky.
Hinge profiles only consist of 6 photos and answers to 3 questions, so everything she sees needs to be firing on all cylinders.
Unlike other dating apps, there's no swiping on Hinge. So if your profile doesn't entice her to "like" or comment on something in it, she'll hit the "X" button and you can kiss that match goodbye.
Keep reading for 9 examples of good Hinge profile answers, plus learn how to pick the questions that highlight your most attractive traits!
Think Of Hinge Questions As "Message Bait"
The best Hinge answers make her mentally file you under "great catch" and inspire opening lines so it's easy to send you a message.
Since commenting or "liking" one of your answers is the equivalent of a right swipe, you need to inspire her to start a conversation.
The 150-character limit doesn't give you much space to play with, so bait the hook with an enticing snippet of information that subtly conveys an attractive trait about you.
Here is a good example:
Doctor is an attractive occupation, so even though the app will pull your occupation from your Facebook and display it in your profile, it doesn't hurt to ensure she doesn't miss it.
Mentioning the guitar shows you've got a creative side, and have the dedication to learn how to play an instrument. Now she's got two easy and interesting things to ask you about – what sort of doctor you are, and what type of music you play.
Now compare that good Hinge profile example with these two real answers to the same question:
Not nearly as compelling, right?

Here's another good example of a Hinge answer that calls attention to an attractive career in a humorous – and subtle – way:

This example lets her know that you're handy to have around the house – without having to spell it out:
Humor is a great angle to take in dating profiles because girls are naturally drawn to witty guys. And if you can make her smile, you've already formed an emotional bond of sorts.
But because of its subjectivity, make sure what you think is funny she'll think is funny.
On "serious" apps like Hinge where she's probably looking for a long-term relationship, crass humor probably isn't going to fly.
If you have any reservations, either ask one of your female friends for her opinion, or go with something else.
PRO TIP: The Hinge app team analyzed data for London users, and discovered the best prompt to answer was "I know the best spot in town for…" because it led to the most dates. Odds are excellent it will work just as well in other locations, so consider making it one of your three choices. Another great Hinge prompt to choose is "Most spontaneous thing I've done…" per the app's internal data, it's 61% more likely to get a comment or a "like"!
Simply choose something you enjoy that would also make a great first date activity, say craft cocktails, a glass of wine, or tapas – and mention it in a way that makes her want to experience it with you, like this: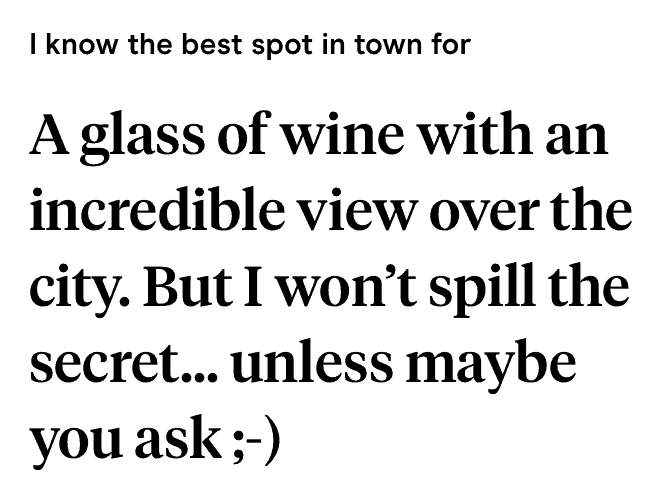 Don't Make This Common Hinge Profile Mistake
Hinge profiles are short – it takes less than a minute to scroll through it from start to finish. Negativity tends to stand out like a sore thumb, and that doesn't do her first impression of you any favors.
On an app like Hinge, it's best to avoid saying what you "can't" do. Instead, try to always frame your answers in a positive way. For instance, if you can't cook, mention it in a playful (and positive) context:
Remember, she doesn't know anything about what sort of person you are. All she's got to go on is your photos and how you answer each Hinge question. So why hand her a reason to tap that red X?
Here are some real examples from guys who are taking up precious profile real estate with Hinge answers that aren't exactly checking items off her "must have" list.
Check out what she's likely thinking when she reads them:
See how important it is to keep everything positive by highlighting only attractive qualities?
Some of the Hinge questions are inherently negative. It's generally best to either give those answers a positive spin, like this:
Or avoid those type of prompts entirely. For instance, would you care about the pet peeves of a total stranger, much less have a conversation about them? Neither does she.
Besides, taking up one third of your profile to let her know what bugs you tends to sound a little whiny. Not a great look when it comes to dating…
Here's one of the problems with this particular Hinge question – when you read the example above, did you automatically think of the last time a coworker did that to you?
And you probably felt at least a flash of irritation, right? So when she reads your answer and feels that same flash – she's likely going to subconsciously associate feeling irritated with your profile.
Definitely not the foot you want to start off on. Want a bullet proof Hinge profile? Here are 5 Hinge mistakes you don't want to make!
Creative Hinge Answers That Work For Anyone
Don't have a lot of time to invest in writing your Hinge profile? Here are 3 funny answers to Hinge questions that you can use right now:
Want more help with your Hinge profile? Check out these expert Hinge tips!
If you're struggling to write your Hinge profile, why not consult an expert?
It's not like they teach "how to sell yourself on the dating app Hinge" in college – and it's not something most guys find easy to do!
But when you're looking for a serious relationship, you need to do exactly that. And that's where VIDA can help.
From profile writing to photo selection, messaging and more – you can rest assured you've got a team of modern dating experts on your side.
Click here to find out how VIDA can get you into a relationship with the woman of your dreams!