I hope you enjoy reading the blog post.
If you want my team to just do your Hinge for you, click here to chat with me.
Top 6 Hinge Mistakes Guys Make (That Are Costing You Dates)
Hinge attracts relationship-minded, successful women in droves. Which is great news for you - but it also means what you can get away with on apps like Tinder won't fly on Hinge.
VIDA Select's dating experts have seen it all - because we've logged hundreds of thousands of hours on this popular dating app since it launched in 2012, curating matches and sending messages on behalf of our clients.
Trust us when we say her standards are high. If you want to meet the woman of your dreams, don't make one of these 6 common Hinge mistakes!
Hinge Mistake #1: Not Being Selective With Your Photos
In order to match with women on Hinge, you need a full photo lineup - 6 pictures. And you can't just roll with your 6 latest Facebook pics if you want to meet the best women on Hinge. Your lineup needs to intentionally maximize your "boyfriend potential."
Unless she's a premium member, the Hinge daily "likes" limit is 10 per day. And she's probably not going to use one on guys who make Hinge photo mistakes like these: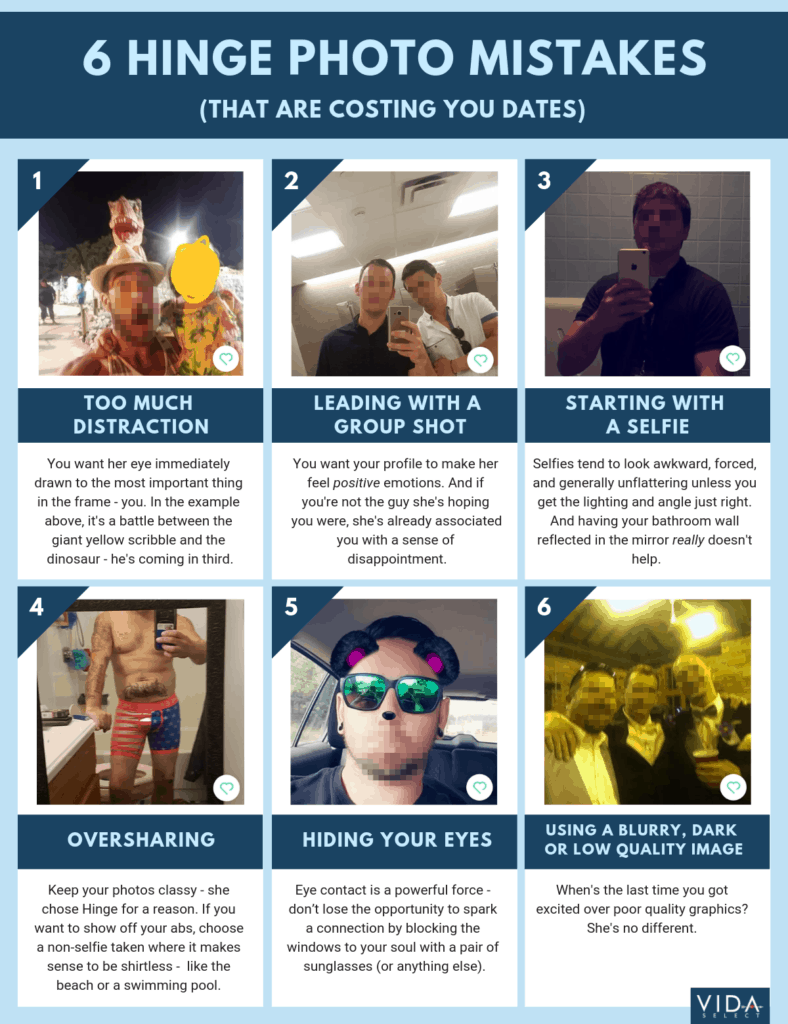 The good news is her Discover feed is filled with guys whose Hinge photos look like that. So if you can elevate yours, the odds are much higher she'll send one of those "likes" your way.
When it comes to your primary photo, a group of neuroscientists helpfully identified the criteria that the most attractive dating photos tend to have in common.
While they studied Tinder pics specifically, it's a good formula to follow on other dating apps as well.
These are the 3 key elements of a primary dating photo: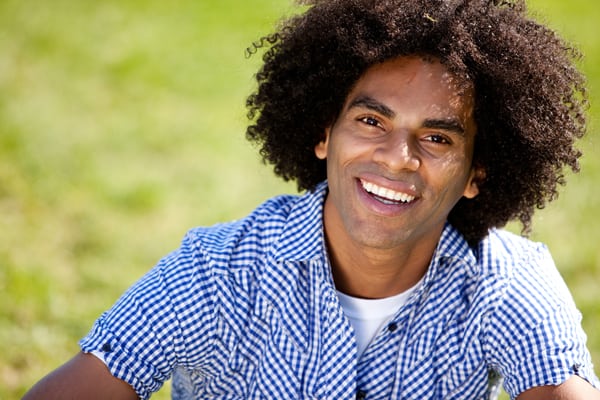 It's of just you - specifically the upper ⅓ of you. Midriff and up was found to be the most attractive cropping for a primary dating app photo. You definitely want to include a full-body shot or two - she wants to check out your body type just as much as you want to know hers. Just save it for later in the lineup.
You "pop" in the frame. The human brain finds beauty in simplicity, which is why people tend to rate images that are instantly understandable as more attractive than complex ones. In other words, the less she has to think about your photo, the more attractive she'll find it - and by extension, you. The ideal Hinge photo has a lot of contrast between you and the background, so you immediately stand out
You make eye contact with the camera. Sunglasses may make you look cool, but they have one major drawback - you can't make eye contact while wearing them. Eye contact with whomever is viewing the photo is a crucial way to spark an emotional connection. Don't let those Oakleys rob you of it.
Keep the "visual clutter" to a minimum. Save the cartoony filters and special effects for SnapChat. They're distracting in a dating app, and she wants to see the real you.
Hinge Mistake #2: Your Photo Lineup Is A Snooze Fest
Six photos and 3 225-word prompt answers doesn't give you much opportunity to showcase all the reasons why you're relationship material. So every single element of your Hinge profile needs to work towards that end goal.
Variety is your friend in this scenario! You need a vibrant, interesting array of photos that invite comments.
Look at it this way - if she's intrigued enough to send a comment along with her "like," she's started the Hinge conversation for you! No need to come up with a first message idea - she just handed you one on a silver platter.
According to Hinge's internal data, "sports" photos get the most "likes." But "activity" photos in general, like vacations, ski trips, scenic hikes, hobbies, and even just enjoying a night out got great results.
So a shot where you're doing something interesting, and you look good doing it, is perfect for your Hinge profile.
Animals also lend themselves to "likes" and comments, whether you're cuddling an adorable puppy or that time you swam with the dolphins.
And if you can combine the best of both worlds, that's gold on Hinge: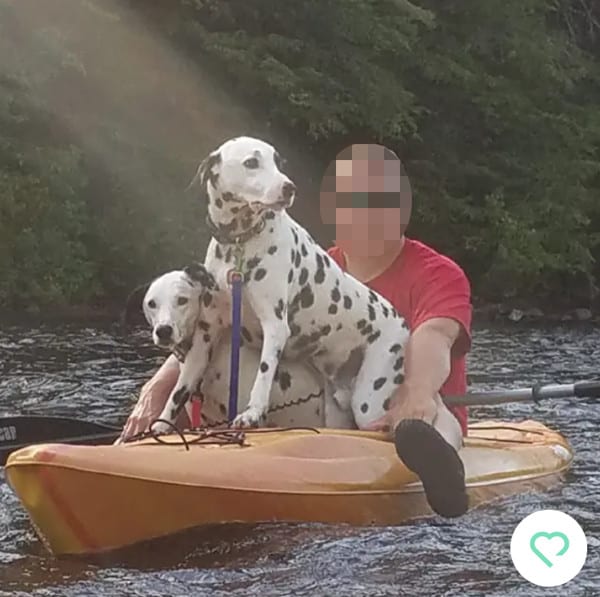 Whichever photos you choose, avoid having an all-selfie lineup. Selfies are the second least-popular type of photo on Hinge, coming in right behind posing with someone that may or not be your ex (don't do that, either - 98% of Hinge users said that's no bueno).
But that's not the only reason to avoid a selfie overload. Research has found that a guy in a non-selfie photo was rated as more attractive and less narcissistic than the same guy in a selfie.
Want to get more likes on Hinge? Check out these expert Hinge profile picture tips!
Hinge Mistake #3: You're Wasting Real Estate
Hinge has over 80 prompts to choose from, so finding 3 that give you a chance to shine should be easy. With a little effort, you can highlight an attractive trait or two with each answer.
Notice the key word there is "effort" - and yes, you need to expend some. Providing a non-answer like these won't impress her: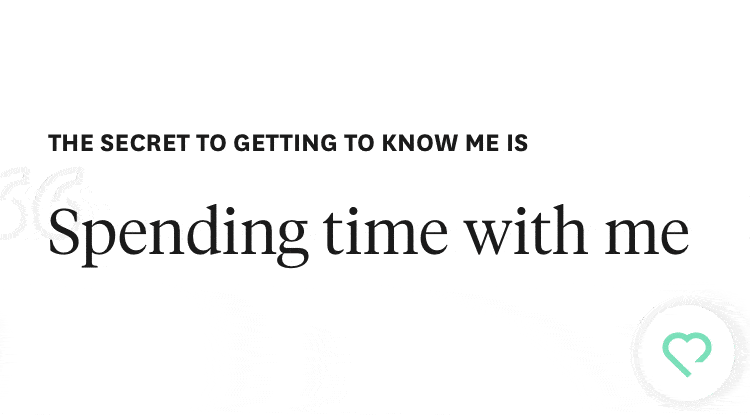 Instead of seizing the chance to let her learn something about you and what you're seeking on Hinge, you're just wasting her time.
Remember Hinge is a relationship app - their tagline is "designed to be deleted." So the best Hinge answers give her a reason why you're a great guy to be in a relationship with.
Here are a few Hinge answer examples to get you started: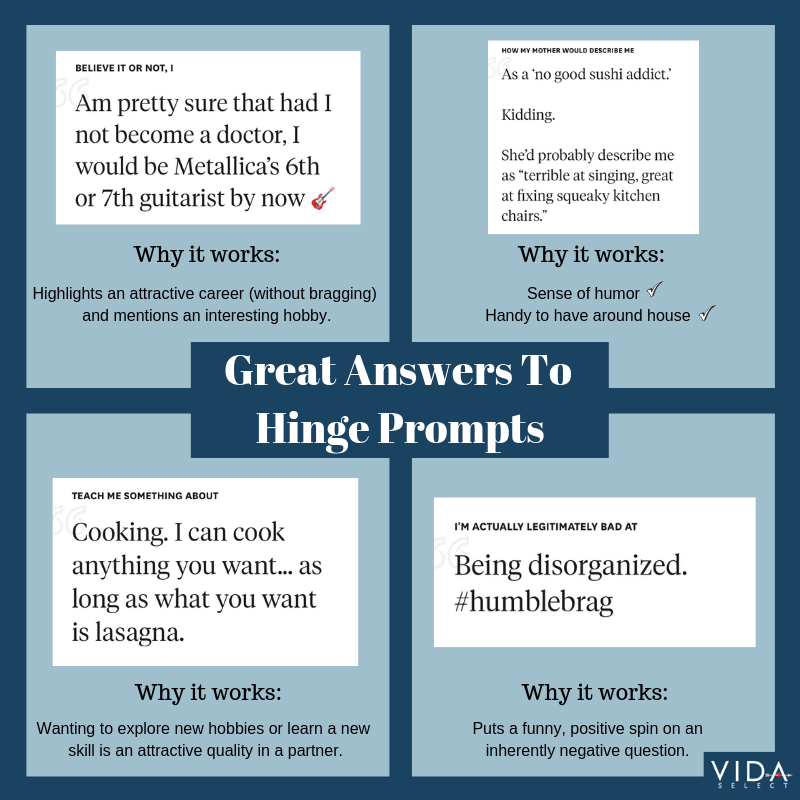 Hinge Mistake #4: Your Prompt Answers Raise Red Flags
Because of how Hinge works, your profile answers are very prominent. The first thing she sees is your primary photo, then the 3 Hinge prompts you choose are interspersed with your remaining 5 photos.
She can scroll through your entire profile from top to bottom - or hit the large red "x" at any time to check out her next potential match.
If one of your prompts sends the wrong message, she'll be tapping that X with a quickness.
Here are 5 things to never mention in a Hinge profile:
Violence of any kind, even if you're joking. That's an automatic red flag for most women.
Hooking up. Hinge is not the app for that.
Drugs. It may be 420 where you're at, but save it for the "Vices" section. Don't mention it in your prompts.
Failed relationships. Even though it's probably not her first rodeo either, past relationships are best discussed when you know each other a lot better.
Blanket statements about what type of women you don't like. It just makes you sound overly judgemental, and most women aren't looking to date (another) jerk.
Hinge Mistake #5: You're Handing Her A Reason Not To "Like" You
A good rule of thumb for dating apps in general is keep your profile positive. Some of the prompts make it easy to take things to a negative place, so avoid those.
For instance, mentioning one or more pet peeves can make you sound whiny and/or pessimistic, and that's not a great foot to start off on.
You also want to make sure you're not inadvertently highlighting what she could perceive as a character flaw.
She'll likely be imagining what spending time with you could be like, so the last thing you want to do is plant suggestions in her mind that it might not be such a fun date.
Every prompt you answer should portray you as confident, likeable and above all dateable.
And if you answer one of the prompts about the type of woman you're interested in dating, keep that description on the positive end of the spectrum as well. Dating app profiles don't mix well with implied drama.
She knows next to nothing about you, but if one of the things she does learn is that you were likely burned and not quite over it yet, that's not a point in your favor.
Hinge Mistake #6: You're Not Logging In Frequently
If you're not getting the results you want on Hinge, you may not be checking the app as much as you did before. And while that's understandable, it's also a huge mistake.
Hinge recognizes when you become less active, and will start showing your profile to fewer and fewer people. That means you've now got even less of a chance of getting Hinge matches, and your frustration just keeps growing.
But don't worry, you're about to get…
The Easiest Solution For Fixing Your Hinge Problem
If you're getting no matches on Hinge, or not matching with the women you're interesting in meeting, odds are good you're making at least one of these 6 common Hinge mistakes.
The advice you've just read can help fix your Hinge profile, and you'll find even more helpful Hinge tips from the pros in our Ultimate Guide To Hinge.
But if you're serious about finding the woman of your dreams on Hinge, doesn't it make sense to have a Hinge expert check out your profile and pinpoint exactly where the weak spots are?
Or even better - have those experts craft an irresistible Hinge profile for you? VIDA can do just that, and more.
From optimizing your most attractive photo lineup to writing Hinge prompts that make her want to meet you, VIDA handles everything. Even the message exchanges - on any dating site or app you'd like to try!
Meeting your ideal partner on Hinge just got a lot easier… click here to find out more!
Want us to do your online dating for you?

Hey, I'm Ally, VIDA Select's Director of Matchmaking.
We take all the frustration, hard work and hassle out of modern dating!
Imagine your very own Dream Team of highly skilled dating experts searching for the very best local matches, sparking their interest, and arranging all the dates for you.
Wouldn't it be nice to finally stop swiping and start dating higher quality matches so you can meet someone special?
We've helped thousands of singles just like you since 2009, and we're ready to make you our next success story!
What are you waiting for? Take the next step now…
See If You Qualify